EAST LANSING, Mich. – Ohio State and Michigan State were locked at 42 points apiece with 7:40 remaining in Sunday afternoon's Big Ten matchup. Kenny Goins had drilled a 3-pointer to give the Spartans a three-point lead, firing up the Breslin Center, but C.J. Jackson responded with a triple just 32 seconds later.
What happened next hadn't happened the entire season, though it wasn't entirely surprising given the offensive struggles. Even though scoring droughts were nothing new to Ohio State, which has experienced quite a few ruts this season, nothing quite compares to the quick, efficient domination Michigan State enacted on the Buckeyes.
Ohio State proceeded to score two points and not make a single field goal the remainder of the game, allowing the Spartans to close the contest on a 20-2 run and pull ahead for a 62-44 victory.
In the final 12 minutes, Jackson's game-tying 3-pointer was the Buckeyes' only made field goal. They missed 10 shots during that stretch, including five 3-pointers, three jumpers and two layups. Ohio State shot just 32 percent for the game and 19 percent for the second half. The team's offensive rating of 69.3 versus the Spartans was the worst since KenPom.com was created 18 years ago.
"We tried a variety of things," Chris Holtmann said. "We tried playing through the post. We tried playing through Kaleb. We tried playing through Andre a few times. Outside of a couple actions we ran out of timeouts, we didn't have a whole lot of luck."
Ohio State's 44 points were the program's fewest since Wisconsin held the Buckeyes to 43 points on Dec. 31, 2009.
The Buckeyes made only 1-of-5 layups and 1-of-9 3-pointers in the second half, and they didn't get to the free-throw line enough to make up for that lack of production. They went 4-for-8 from the charity stripe in the final 20 minutes.
Freshmen Luther Muhammad and Duane Washington Jr. combined to miss all of their eight shot attempts and turn the ball over three times. They played together for the beginning of Michigan State's stretch run, but were subbed out for a pair of redshirt seniors after the Spartans scored 10 points in a row.
C.J. Jackson and Keyshawn Woods didn't fare much better, though. They made 2-of-6 shots in 25 combined second-half minutes. Five players – Musa Jallow, Andre Wesson, Kaleb Wesson, Woods and Muhammad – had two turnovers.
"Certainly it's been a challenge, but it's not like we didn't expect that we were going to have trouble scoring this year," Holtmann said. "So there was an expectation that that was going to be something. I think we've got to keep taking good shots. I think you give Michigan State credit, too, for how they defended, particularly in the second half but really throughout the game. I'm confident that we'll be better offensively, and we'll make those shots around the rim and on the perimeter that we missed."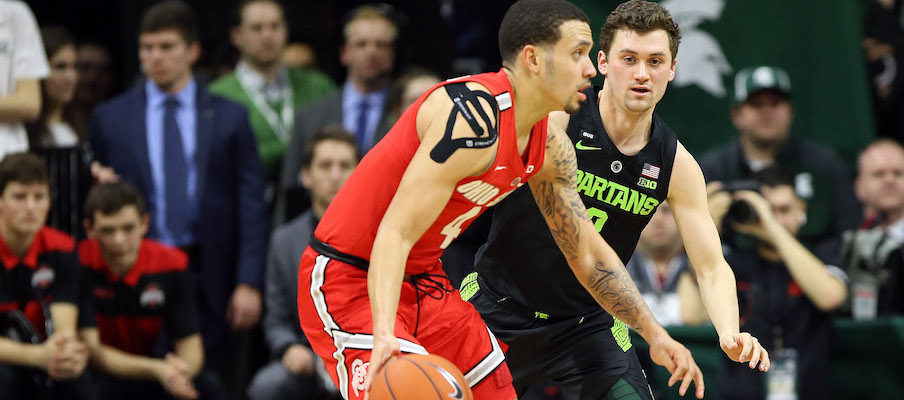 Despite Nick Ward nursing an injured hand and Xavier Tillman battling foul trouble, Ohio State didn't go inside to Kaleb Wesson often, even though the big man wasn't in foul trouble. That might've boosted an aimless-looking offense that had nearly as many turnovers (11) as points (13) in the second half.
But even if Wesson had more touches, that would have tested his conditioning. Tom Izzo said the Spartans tried to force him to exert himself, and it worked.
"He did get fatigued today, moreso than I remember him getting fatigued in a game," Holtmann said. "That's why we had to take him out on several occasions."
Ohio State has had offensive struggles ever since the exhibition against UNC Pembroke in the fall, when Holtmann said the team had struggled with turnovers even in practice, and that translated to turnovers in the game. But throughout the season, the Buckeyes haven't progressed much. They haven't topped 56 points in their past three games, and it's hard to see that changing drastically without a true point guard or a consistent go-to scorer.
Standing outside the visiting locker room following the loss, though, Kaleb Wesson theorized that his team's issues stemmed on the other side of the ball.
"I don't think it's more offense. I think it's mostly defense," Wesson said. "Our game starts on defense. We want to get more stops. Teams are hitting a lot of shots right now, and we're having trouble guarding them off certain actions. But we've just got to keep working on it."
He's right. The Spartans scored far too much in the second half for the Buckeyes to keep up.
But the offensive issues have now reached the point where Ohio State is hitting low points that span years, even decades. The defense keeps the team in games, but the offense has held it back far to often. The Buckeyes are scratching to remain in the NCAA Tournament picture and need an upset or two to get in, and the recent offensive outputs have made that as difficult as can be.