With five combined freshmen and sophomores in the top eight of Ohio State's rotation, head coach Chris Holtmann went into the season knowing he'd need steady leadership and production from seniors C.J. Jackson and Keyshawn Woods, along with junior Andre Wesson, if the Buckeyes were going to make a run at an NCAA Tournament bid. 
Wesson has enjoyed a bit of a breakout campaign and while Jackson's penchant for turnovers has plagued the Buckeyes, his 11.8 points are good for second-best on the squad in league play and he comfortably leads the team in both assists and steals. He's also shooting a respectable 42.6% from beyond the arc and 80.6% from the stripe.
Woods however has fallen on hard times in Big Ten play after providing modest scoring production in non-conference action (8.2 ppg) including a 19-point effort at Creighton, 14 points versus Samford and 13 in a tight win over Bucknell following an electric 18-point night against Illinois in one of two early conference games.
Other than the big December night against Illinois, Woods has reached double figures against just one other Big Ten foe via an 11-point outing against Rutgers four games ago. 
Through 13 conference games, Woods is shooting a dreadful 31% from the floor including 19% from three-point range, making five of 26 attempts. He's shot over 50% from the floor just twice in those 13 games and made at least two three-pointers in only one game. Over his last three contests, Woods has missed 11 of 14 shots from the floor.
These numbers are hard to digest when you consider he arrived at Ohio State after shooting 49.5% from the field as a sophomore and 43.9% as a junior at Wake Forest including years of 43.8% and 37.4%, respectively, from beyond the arc.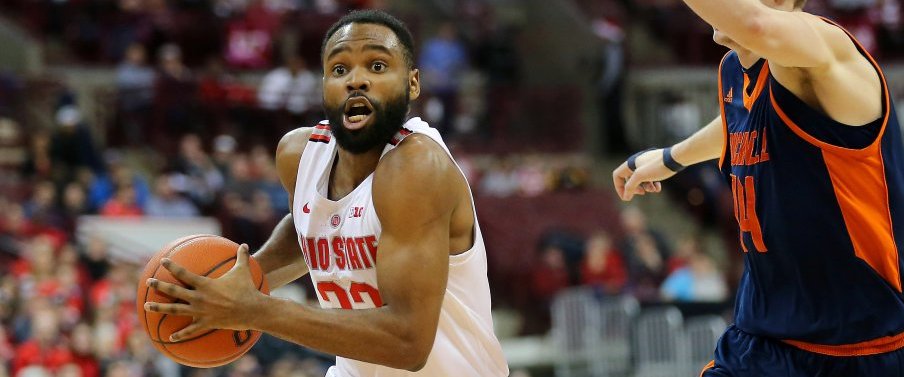 Ball handling has been another issue for Woods in conference play. He ranks third on the squad with 26 total turnovers and turnovers per minute (0.079), trailing Jackson (0.095) and freshman Duane Washington Jr. (0.084).  
Defensively, Woods provides some versatility at 6-foot-3 but he wasn't brought in to create turnovers as evidenced by his 0.5 to 0.8 steals per game during two years with the Demon Deacons. He's actually been worse than that this season recording 0.4 steals per Big Ten game. 
Breaking it down further, Woods is averaging 0.015 steals per minute compared to 0.054 for Jackson, 0.036 for Luther Muhammad and 0.019 for Washington Jr. 
But again, Woods wasn't brought in the play lights out defense. He was brought in to provide some leadership and reserve-level points. 
For that to happen, it's not rocket science to say he must rediscover his stroke especially if he's going to keep averaging the fourth-most minutes on the team at 25.2 per Big Ten contest. 
Past history says he can do so after averaging about 12 points across 61 ACC games before landing in Columbus but time is running short.