Call it an edge. Call it an identity. Call it an intensity. Call it whatever word or cliché you prefer. For a while in Wednesday's game against Syracuse, Ohio State seemed to have it.
In the first minute of the game, Kyle Young rose up to jam an alley-oop. Kaleb Wesson followed that up with a jumper, then C.J. Jackson hit a 3-pointer to give the Buckeyes a 9-2 lead. Luther Muhammad hit another triple the next time down the court. Ohio State's lead extended to 16-9 seven minutes into the game, but that's as far as the Buckeyes could push it.
The rest of the 12 minutes in the half, Ohio State hit just two field goals. Syracuse's offensive woes only lasted the opening half, while the Buckeyes stayed cold in the second half, which allowed the Orange to pull ahead to win by double digits, 72-62.
Ohio State shot just 32.6 percent from the field, but Chris Holtmann didn't see that as the problem. The Buckeyes partially made up for that by grabbing 11 offensive rebounds and shooting 35 free throws.
No, Holtmann wasn't pleased about the other end of the court.
"The most disappointing thing for the night was our defensive effort," he said.
The Orange didn't enter the game as an efficient shooting team, but it had its best offensive performance of the season against the Buckeyes, hitting 22-of-45 shots from the field and nailed 11-of-24 3-pointers. Ohio State knew exactly who would be looking to score, and each of Syracuse's top scorers got buckets.
Tyus Battle entered the game as the top scorer, played all 40 minutes and dropped a game-high 20 points. He hit 6-of-10 shots and 7-of-8 free throws. Elijah Hughes and Oshae Brissett were the only other two Syracuse players who averaged double-digit points per game coming in, and both of them scored in double figures. Hughes had 18 points – he went 4-for-9 from beyond the arc – and Brissett added 14 points.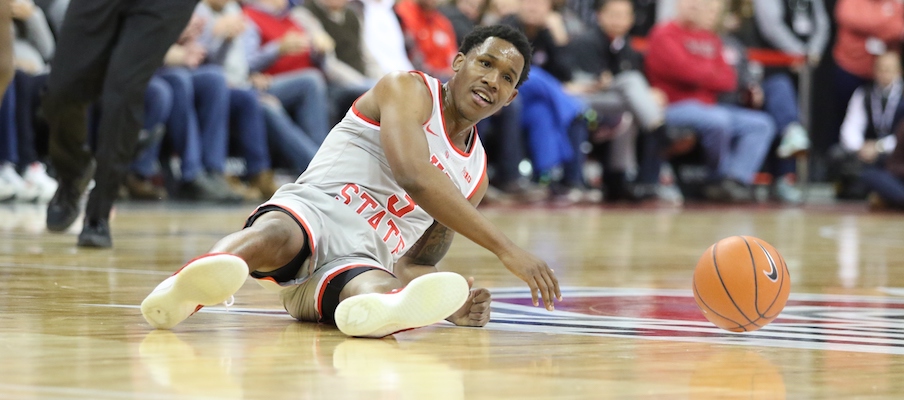 Nothing the Orange did surprised Ohio State, but it still got what it wanted on offense when it needed points.
"The biggest thing for us is defense, and that's kind of where we lost the game," C.J. Jackson said. "We could have got a couple more stops in the first and second half, and that just didn't happen. And so, I guess that led a little to offensively, guys missing a couple more shots than they usually do."
Syracuse had a massive size advantage, and it showed.
Ohio State prefers to operate with three – or even four – guards on the court at once. But against the Orange, which has no starter shorter than 6-foot-5, that's simply not possible. Pachal Chukwu, the starting center, stands 7-foot-2. The size difference certainly showed as the game went on, and it forced the Buckeyes to be more creative on offense and more physical on defense.
"I thought that all night," Holtmann said of Syracuse's size advantage. "Not just down low. Their length is significant. It's a significant difference. Their starting lineup is a long, big group. Felt that the whole night."
With a cadre of athletic wings, the Orange simply tried to take on the Buckeyes off the dribble, which opened up open shots from beyond the arc. 
"They have a variety, as you've seen with their roster, of bigger wings, kind of 6-5 to 6-8 guys that are terrific at doing that," Holtmann said. "You combine that with the fact that those guys who had not really made shots made threes tonight, makes it difficult to guard them. But I still think our effort and our activity could be better than what it was, and I think that was what's most disappointing."
Jim Boeheim said Ohio State has players able to fight through screens, so he opted for an offense that took advantage of his players' abilities off the bounce.
"It was a heavy space isolation with their best players and allowing those guys to kind of go to work on your guys," Holtmann said. "You've got to be able to stop that or else they're going to keep doing it."
Spoiler alert: Ohio State didn't stop it, and Syracuse kept on doing it.
When asked whether the Buckeyes played tough enough on the defensive end, Jackson said, "Definitely not."
As Jackson answered, Kyle Young leaned back in his chair with a blank stare and shook his head side-to-side in agreement.
Jackson continued: "We kind of were just playing to play. We weren't playing to win, how we should play, and we weren't that tougher team that we have to be night in and night out. We're not very good when we're not that team, basically. I think they shot, what, 50 percent in the second half or something like that. We're not going to win very many games like that."
The Buckeyes won't see many – if any – more teams that run a similar zone defense to Syracuse's. But they'll certainly expect to take on teams that have similarly skilled wings who can take defenders off the dribble.
Now, Ohio State has to figure out what went wrong and use it to improve. These games can prove to be important in the long term, especially for a team as young as the Buckeyes, who have seven underclassmen.
"I think they're smart enough to know, given our schedule, that there were going to be some lumps along the way, and there's going to be plenty," Holtmann said. "How we learn from it and how we grow is going to be critical. We'll evaluate the film and bring some closure to it, but we have to get a lot better. We got exposed in a lot of areas."
Those areas will need to be cleaned up pretty quickly, since Ohio State opens Big Ten play with a pair of conference opponents in the next week.
"It's a little different now because Sunday, Big Ten play starts, so we have to get better fast," Jackson said. "Minnesota's a very good team, and they're going to come in just as physical and play just as hard as Syracuse did tonight. So, we have to be ready."