Thad Matta doesn't hold any ill will against Ohio State despite being dismissed from his position as the Buckeyes' head men's basketball coach in June 2017.
In his return to the Schottenstein Center on Wednesday night, Matta expressed nothing but gratitude.
For the first time since his dismissal two summers ago, Matta was in attendance to watch the team he once coached, and he was honored by Ohio State during halftime of the Buckeyes' Big Ten/ACC Challenge game against Syracuse on Wednesday night in Columbus.
After a banner in Matta's honor was unveiled from the rafters above Ohio State's basketball court, Matta – with his wife and his two daughters standing alongside him – became choked up as he spoke to the crowd in attendance and thanked Ohio State, his former players and staffers and Buckeye fans for all that they did for him during his 13-year run as OSU's coach.
"I'm not sure that I deserve that banner up there, but since it's up there, what the hell: Let's keep it," Matta quipped at the end of his speech.
Thad Matta: "Im not sure I deserve that banner up there, but since its up there, what the hell, lets keep it. Thank you." pic.twitter.com/OJoLEdLtOQ

— Colin Hass-Hill (@chasshill) November 29, 2018
Matta became especially emotional when he spoke about his former players, and what he hoped the banner unveiled on Wednesday would mean to them.
"I only hope that every time one of my former players comes in here, and they look up there," said Matta, pausing for a moment to compose himself, "they smile."
Thad Matta: "Its my only hope that every time one of my former players comes in here and they look up there, they smile." pic.twitter.com/VUM3sI9SKJ

— Colin Hass-Hill (@chasshill) November 29, 2018
Matta need not worry: Former Ohio State center Jared Sullinger, one of Matta's most prominent players for the Buckeyes, said Wednesday night on Twitter that they would.
We will!! Thats s fact.

— Jared .X. Sullinger (@Jared_Sully0) November 29, 2018
In an interview session with reporters after Wednesday's ceremony, Matta said that Wednesday night's ceremony meant as much to him as any recognition he had ever received in his career.
"I may be different, but I think that tonight's probably the greatest honor that I've ever received, and at the exact same time, it's probably the most humbling experience that I've ever had in my life," Matta said. "I think back to all the people I've seen in rafters and to do it at a place where I didn't go to school, it quite honestly, it means the world to me."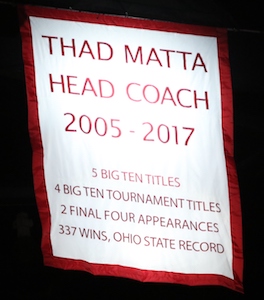 A Butler alumnus who now lives in Indianapolis, Matta won 337 games in his 13 seasons at Ohio State (2004-17), the most in school history. He led the Buckeyes to five Big Ten regular-season championships, four Big Ten Tournament titles and two Final Four appearances, including a national championship game appearance in 2007.
Wednesday night was an opportunity for Matta to reflect back on all the success he had in Columbus, and for Ohio State and its fans to express their appreciation to Matta for his contributions to the university.
Matta's successor, Chris Holtmann, personally reached out to Matta to extend him the invitation – though athletic director Gene Smith spearheaded the effort – to return for a game and be recognized by the program. He said he had the opportunity to spend a few minutes with Matta before Wednesday's game, and was glad to see his predecessor get his due.
"I hope it was a great night for him, because as I mentioned, he and his family are deserving," Holtmann said. "Sounded like he got a great ovation. I'm sure he appreciated the unveiling of the banner, that had to be special for he and his family."
The current Buckeyes weren't able to watch the halftime ceremony because they were in the locker room preparing for the second half of Wednesday's game. But those who previously played for Matta were also glad that he got his moment.
"Having Thad back is just surreal for a lot of the fans, and us guys that played for him, just to see him again," said senior guard C.J. Jackson.
Honored to have played for Coach Matta just want to say Thank You .

— Cj (@C_Jack13) November 29, 2018
Although his tenure with the Buckeyes has been over for more than a year now, Ohio State still holds a special place in his heart. He said he still watches Ohio State football games every Saturday, and has many fond memories of his time in Columbus.
"I don't know what they do to the students and the fans when they're here but they inject something in them," Matta said. "And I found myself rooting so hard last Saturday for Ohio State in the Michigan game, and we don't miss (football) games. Now, basketball's a little bit different. I didn't get to see those guys as much as I wanted to last year. But no, we had a great run here. And I said this summer, when you're coaching you're remember the losses. But when you're not coaching, you remember the wins.
"Thirteen years is a long time, and Columbus is such a great city, Ohio State's such a great institution that it's always going to be a part of who we are."
"I may be different, but I think that tonight's probably the greatest honor that I've ever received, and at the exact same time, it's probably the most humbling experience that I've ever had in my life."– Former Ohio State coach Thad Matta on Wednesday night's banner unveiling at the Schottenstein Center
Matta praised Holtmann on Wednesday for what he has done so far in his time at Ohio State – leading the Buckeyes to the second round of the NCAA Tournament in his first season, and leading them to a 6-1 start this year – and said he remains on good terms with the university, including Smith, who made the decision to take the program in a new direction last summer.
"Gene still remains one of the best friends that I have in life, and I completely understand the nature of the business, and completely respect what has to be done," Matta said. "If things weren't going well right now, maybe I'd have a (different opinion), but this thing is rolling right now."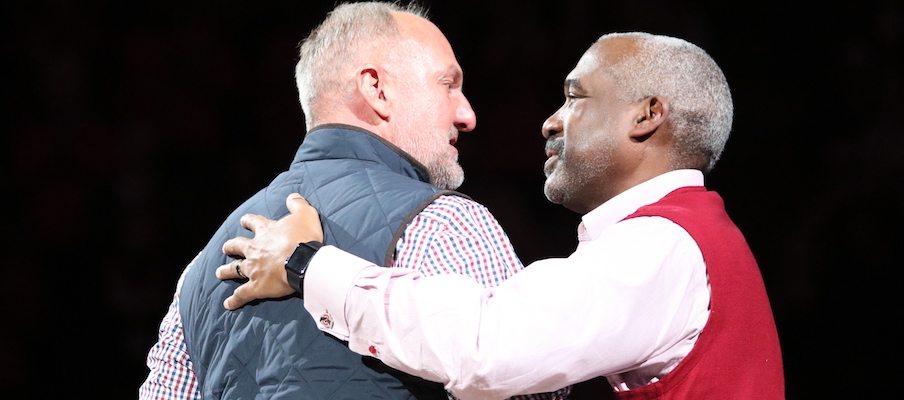 Now, Matta says he is enjoying time away from coaching, giving him the opportunity to spend more time with his family, travel and enjoy college basketball as a fan. Matta did interview for multiple head coaching jobs last offseason – and strongly considered the Georgia job before deciding it wasn't the right fit – but says he isn't sure right now whether he will ultimately return to the sidelines.
Physically, though, Matta – whose struggles in his later years at Ohio State came in part because of health issues related to a failed back surgery – said he is feeling well.
"I wake up every morning and say, 'Something has to go wrong,' because I feel too good," Matta said. "And I told my wife the other night, I said, 'Look, I'm not going to apologize to people for being happy.' So I feel really good, and blessed to do what I did, and one of the biggest things is just continuing to try to get right and all that stuff."