Chris Holtmann looked down at the black cloth-covered table and began to run his hands through the microphone cord in front of him. Sitting in the same room in the bowels of the Schottenstein Center in which he always gives his press conferences, a knowing smirk slowly came across his face as he began to answer a question.
As he and his Ohio State team prepared for an exhibition with Cedarville, which they won 95-52, Holtmann understood he had almost made it to the beginning of the season without one of the main internal motivators for his team becoming public. But eight days before the season tipped off, Duane Washington Jr. offered the public a bit of insight into what's been drilled into the heads of the players the past few months.
"I should've told them that that stays within our locker room. Who volunteered that up, Duane?" Holtmann said with a smile as he stared down.
He guessed correctly; the following two or three seconds of laughter from reporters filling the room rhetorically answered that question.
What Holtmann made sound like a closely guarded secret, though, isn't really anything private at all. Rather, they're four numbers – 8, 12, 15, 193 – that are both publicly available and based on the results from last year's Ohio State team. Each of the four has a specific meaning, and together they've been plastered all over the facility throughout the offseason.
Eight signifies Ohio State's finish in the Big Ten last year.
Twelve represents the amount of losses to conference opponents last season.
Fifteen indicates the number of total losses last year.
One-hundred ninety-three references the team's ranking in turnover percentage last season.
As CJ Walker said, the four numbers were intentionally visible on posters "everywhere" the players went.
"We walk past it every day," Washington said. "Going into the locker room, leaving the locker room. Weight room. It's on the TV screen while we're lifting. Our expectations for this team, and really for Ohio State in general, is really high. For him and us as well, we just look at it like that wasn't good enough. We've got to figure out a way to do better this year, and we've been working really hard. We're all super excited for this year."
Holtmann added: "As much as anything, it's a reminder for all of us that go in and out of our locker room."
If nothing else, they're a message to everybody who walks through the facility that whatever happened last year – even though Ohio State made the NCAA tournament, went 12-1 to begin the season and pulled a first-round upset on Iowa State – wasn't enough for what's expected of this program.
"There were certainly a lot of good things that came out of last year, but there were some things that all of us have to do a lot better, and we recognize that," Holtmann said.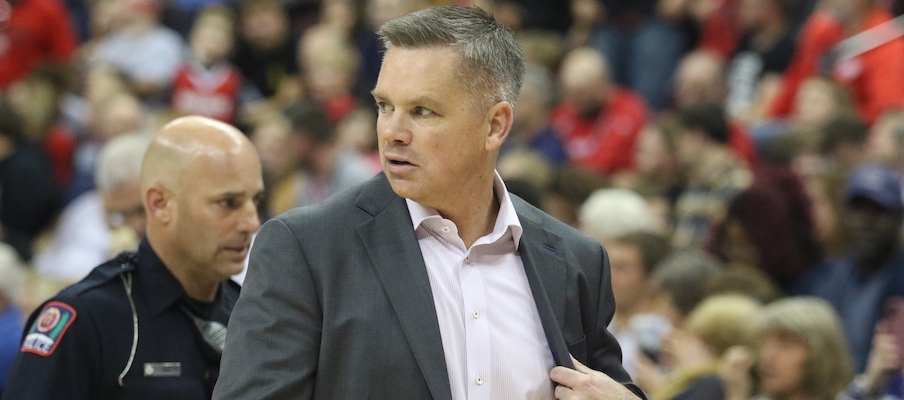 To put it bluntly, it would be a failure for the Buckeyes to not improve all four numbers, especially due to the expectations placed on this year's team.
Not much was thought of Holtmann's bunch prior to each of his first two seasons in Columbus after taking over a sputtering program. In unofficial preseason Big Ten polls jointly conducted by The Athletic and the Columbus Dispatch, Ohio State got picked to finish 11th prior to the 2017-18 season and eighth before the 2018-19 season. The Buckeyes didn't get a single vote in the preseason Associated Press Top-25 poll either year.
This season? Things have changed. 
Ohio State will enter Wednesday's season opener against Cincinnati ranked 18th in the AP top 25. In the unofficial preseason poll, the media picked the Buckeyes to finish third in the Big Ten. KenPom's preseason ratings have them at No. 11 in the country after ranking them at No. 41 prior to last season and No. 78 before Holtmann's first in Columbus.
The increased expectations stem from the return of Kaleb Wesson, the team's leading scorer and rebounder, along with other key veterans and the additions of Florida State transfer CJ Walker and the highest ranked recruiting class Holtmann has ever landed. Among the newcomers are three top-50 overall recruits – point guard DJ Carton (No. 34), forward E.J. Liddell (No. 44) and forward Alonzo Gaffney (No. 50) – who are expected to make significant contributions. Carton was picked as preseason Big Ten Freshman of the Year, and Liddell got the second-most votes for the award.
In the spring, Holtmann said he "didn't get into coaching at the highest level of college basketball to be fearful of expectations," and they've arrived, validating where he has led this program. 
However don't expect him to defend the public's heightened belief in his team. On multiple occasions, he has touted the inaccuracy of rankings before games get played.
"It's not really anything that's been addressed, and I don't think I'll change in how I go about it," Holtmann said. "(The players) probably are aware of it to some degree, or maybe more than to some degree. But I think even players nowadays understand, even players themselves understand that it's relatively meaningless."
What Holtmann says is correct. Preseason rankings don't really affect anything by the time the basketball season begins.
But they do help to set a baseline both locally and nationally of what a team can accomplish in a given season. And as somebody entering his third season as Ohio State's head coach, that matters to Holtmann.
He dealt with nonexistent preseason expectations in his first season, blowing them away, and minimal preseason expectations in his second season, exceeding them by making the NCAA tournament. Ultimately, though, Gene Smith didn't select Holtmann as Thad Matta's replacement for that low of a level of expectation before a season, and he didn't hire him for the eighth-place finish in the Big Ten, 12 losses to conference opponents, 15 total losses and No. 193 ranking in turnover percentage.
Smith picked Holtmann because he believes he can do more, which isn't lost on the third-year head coach who chose to hang those four numbers throughout the facility.
Holtmann has plenty of program momentum, and he has the program relevant before the season. Now, it's incumbent upon him, his coaching staff and his players to live up to the most preseason belief that has existed both in Columbus and throughout the country in the Holtmann era.