Ohio State is the only team in college football that can legitimately boast having three Heisman Trophy candidates.
While Ohio State quarterback Justin Fields has been in the Heisman conversation since the beginning of the season, running back J.K. Dobbins and defensive end Chase Young proved that they belong in that conversation, too, with their performances in the Buckeyes' 38-7 win over Wisconsin on Saturday.
If the Heisman was truly awarded to college football's most outstanding player, Young would now be the frontrunner. With his school record-tying four-sack game against the Badgers, Young leads the nation with 13.5 sacks this year – 3.5 more than anyone else. He ranks second nationally with 15.5 tackles for loss and five forced fumbles.
As Ryan Day said Saturday, Young is "probably the most dominant player in all of college football right now."
The problem for Young's Heisman candidacy: Only one defensive player has ever won the trophy, and Charles Woodson (1997, Michigan) also played wide receiver and returned punts in addition to playing cornerback.
Since then, every Heisman has been won by either a quarterback or a running back, and only three defensive players have even been invited to New York as Heisman finalists: Manti Te'o finished second in 2012, Ndamukong Suh finished fourth in 2009 and Tyrann Mathieu finished fifth in 2011.
Young just might be starting to drum up enough support to make a legitimate run at the Heisman – many national media members, including Yahoo Sports' Pete Thamel and Fox Sports' Bruce Feldman, Gus Johnson and Joel Klatt, advocated for his candidacy after his performance on Saturday – but it would still require a groundswell of voters who are ready to break precedent.
An Ohio State running back winning the Heisman certainly wouldn't be unprecedented, and Dobbins has emerged as a possible candidate to follow in the footsteps of Les Horvath, Vic Janovicz, Hopalong Cassady, Archie Griffin and Eddie George. With 221 yards from scrimmage against a Wisconsin defense that had allowed just 194 total yards per game before Saturday, Dobbins now ranks second nationally with 1,110 rushing yards and third with 1,242 total yards from scrimmage.
Day was ready to advocate for Dobbins' candidacy on Saturday, too, describing him as "the best running back in the country," and he's made a real case with his play in recent weeks. Dobbins has had at least 150 yards from scrimmage in all five of Ohio State's Big Ten games this year, and he's averaged more than 7.2 yards per carry.
That said, the Heisman has trended away from running backs in recent years – since 2000, quarterbacks have won the trophy 16 times compared to just two running backs – and it probably doesn't help Dobbins' candidacy that he might not even be the top Heisman candidate on his own offense.
While Young and Dobbins stole the spotlight on Saturday, Fields was the only Buckeye who oddsmakers were giving a real chance to win the Heisman as of last week, and because of the position he plays, he still might be Ohio State's most realistic candidate for the award.
Fields didn't have the huge game against Wisconsin that he needed to thrust himself into the forefront of the Heisman race, but he's still positioned to make a potential run at the award with a strong finish to the season. Being the quarterback of one of the best teams in college football usually goes a long way, and Fields has the best touchdown-to-interception ratio (24 to 1) and the fourth-best passer rating (185.2) in the country.
Where Fields could fall short, though, is he currently ranks just 48th nationally in total offense (247.3 yards per game) and 27th in yards per play (7.55). By comparison, Oklahoma's Jalen Hurts ranks first in yards per play and second in yards per game, Alabama's Tua Tagovailoa ranks second in yards per play and 20th in yards per game and LSU's Joe Burrow ranks third in both categories – and all of them have passer ratings above 200.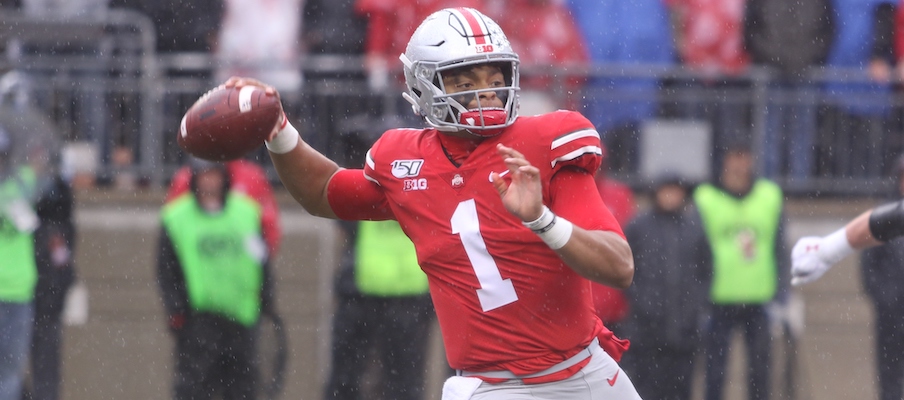 If Young, Fields and Dobbins each continue to play as well in November as they have in September and October, all of them should ultimately receive Heisman votes in December. That could end up working against them in the Heisman race, though, as they could steal votes from each other if there's no consensus on who Ohio State's top candidate is.
In the race that matters most, though – the College Football Playoff race – having three Heisman candidates on the same team is indisputably beneficial.
Ohio State has been arguably the best team in college football this season, and they're three of the biggest reasons why. 
Offensively, Dobbins' elite production as a runner combined with Fields' playmaking as both a passer and a runner has made the Buckeyes tough for any defense to stop, and they've scored at least 34 points and gained more than 400 yards in every game as a result. Defensively, Young has not only filled up the stat sheet by himself but has also put his teammates in position to make plays by constantly bringing pressure and drawing double-teams, which has played a huge role in Ohio State's emergence as statistically the best defense in the country.
While all three of them would surely love to hoist the Heisman, they've also all expressed that they are more focused on trying to win a national championship than achieve individual goals.
"I'm playing for the win, to help my teammates win," Dobbins said Saturday. "I'm here to win games."
Ohio State's Heisman Trophy Winners

| Player | Position | Year |
| --- | --- | --- |
| LES HORVATH | HALFBACK | 1944 |
| VIC JANOWICZ | RUNNING BACK | 1950 |
| HOPALONG CASSADY | RUNNING BACK | 1955 |
| ARCHIE GRIFFIN | RUNNING BACK | 1974 |
| ARCHIE GRIFFIN | RUNNING BACK | 1975 |
| EDDIE GEORGE | RUNNING BACK | 1995 |
| TROY SMITH | QUARTERBACK | 2006 |
Regardless of how the Heisman race plays out, Young, Dobbins and Fields will all have opportunities to reap the rewards of their individual greatness sooner than later.
Young is essentially a lock to have an All-American tree in Buckeye Grove at the end of the year, he's the clear-cut frontrunner for the Chuck Bednarik Award and Bronko Nagurski Trophy – both of which honor college football's best defensive player – and he's positioned himself to be the first non-quarterback selected, if not the No. 1 overall pick, in the 2020 NFL draft.
Dobbins has also positioned himself as a potential All-American and a candidate for the Doak Walker Award, which honors college football's best running back, and he could be running his way into a first-round selection in next year's NFL draft, too.
Fields could potentially have a better shot to make a Heisman run next year, when Young and Dobbins will likely both have gone pro and Fields will enter the season as the clear-cut face of the Buckeyes, and he's already positioning himself to be one of the top picks in the 2021 NFL draft.
All of those things, though, are out of their control. What they can control is continuing to work as hard as they possibly can to help Ohio State keep winning. And if they continue to play as well as they have through the Buckeyes' first eight games of the season, they just might all have the opportunity to hoist a national championship trophy at the end of the year.