Going into his senior season at Ohio State, there was reason to question whether Binjimen Victor would ever become a consistent playmaker in the Buckeyes' offense.
While he demonstrated an ability to make spectacular plays in his first three seasons as a Buckeye, catching 12 touchdowns between them, he never quite emerged as a top target for J.T. Barrett or Dwayne Haskins. In a deep wide receiver rotation, Victor ranked just sixth on the team with 23 catches in 2017 and tied for seventh on last year's team with 21 catches.
In his first six games this season, though, he has proven he can be someone who does more than just flash every once in awhile.
Victor currently leads the Buckeyes with 348 receiving yards – just six less than he had all of last season and just one less than he had in 2017 – and has caught at least one pass in every one of Ohio State's games so far.
He believes the consistency he has finally started to achieve is a result of the hard work he put in over the spring and summer.
"I just feel I'm an overall better player. My biggest goal was to block well and make plays downfield, and that's what I'm doing now," Victor said during an interview session in September. "All that stuff came in the offseason. You just work on that and then all the hard work you put in is going to show up on Saturday."
Victor's star potential has been evident since before he even arrived at Ohio State. Ranked as the No. 97 overall prospect in the recruiting class of 2016, Victor was described by former Ohio State head coach Urban Meyer as "one of the most talented receivers" he had ever coached. 
But even though he saw regular playing time at the X receiver position over the past two seasons, during which he split snaps with Austin Mack and Terry McLaurin, there was always a feeling that he wasn't quite the player he could be. For all the memorable plays he would make from time to time, like his game-changing 47-yard touchdown in the fourth quarter of Ohio State's 2018 comeback win at Penn State, there were other games in which he was a non-factor in the offense.
Victor came into this season determined to change those perceptions and prove he could be a go-to target for Justin Fields this year.
"I feel I had to grind even harder, because that's all they called me: potential, potential," Victor said. "It was all a grind, and I think it was all worth it."
Mack, who was also a member of Ohio State's 2016 recruiting class, said he has seen a different demeanor from his fellow senior wide receiver this year.
"He's a lot more confident," Mack said. "He's playing like he should. And he's been very confident about what he can do and his ability. I know we can see on Saturdays how he's been playing."
Victor's flair for making spectacular plays hasn't gone anywhere. His highlights this season include a 30-yard touchdown caught just inside the back line of the end zone against Miami (Ohio), and a 60-yard scoring catch-and-run against Michigan State last weekend.
18,@justnfields' TDs through 3.5 games, the most for any B1G player in his first four games since 2000. pic.twitter.com/pS3LgOTYC0

— Ohio State on BTN (@OhioStateOnBTN) September 21, 2019
Binjimen Victor really flew into the end zone @OhioStateFB is up 10-0 over the Spartans: pic.twitter.com/TlgdjSNKXz

— Big Ten Network (@BigTenNetwork) October 6, 2019
This year, though, he's combined those big plays with being one of Ohio State's most consistently productive receivers week in and week out – which head coach Ryan Day said the Buckeyes need him to be.
"He's important because as the X receiver, a lot of times it kind of starts with that philosophically," Day said on his radio show this week. "If you get in a 3-by-1 (offensive formation), there's one-on-one to the boundary with the corner and the X, the X has to win. And the minute he starts winning, typically they have to now cloud the coverage or bring another guy over, and that either opens up the run or somebody else to the field. So the X receiver's big, and he's been playing big for us so far."
After splitting snaps with Mack at X for the past two years, Victor is now the sole starter and playing the majority of snaps at the position – with Mack now splitting snaps with Chris Olave at Z – though true freshman Garrett Wilson has also worked his way into regular playing time in the X rotation.
That said, Victor was already seeing plenty of playing time for the last two seasons. With the departures of McLaurin, Parris Campbell and Johnnie Dixon after last season, Victor realized that he needed to elevate his game and become a leader for the Buckeyes' receiving corps this year.
"I had no choice," Victor said. "I'm a senior, and I got to step up just like they did last year. They left that legacy, they left that role for me."
"He's playing like he should. And he's been very confident about what he can do and his ability. I know we can see on Saturdays how he's been playing."– Austin Mack on Binjimen Victor
Those receivers set a good example for Victor to follow, perhaps especially McLaurin, who also struggled with inconsistency for most of his Ohio State career before having his best season as a senior, and is now the leading receiver for the Washington Redskins as an NFL rookie.
Victor could have chosen to declare for the NFL draft after last season, too, but he recognized that he needed to stay at Ohio State and develop for another year.
"I knew I had to come back, because I had a lot of stuff to enhance and get better at," Victor said. "Obviously I wasn't gonna leave, but if I did decide to leave, it would have been an awful decision. So I'm happy I did what I did."
So far, that decision certainly appears to have paid off. Earlier this week, The Athletic's Dane Brugler included Victor on a list of 10 "senior NFL prospects who have put themselves in the draft-worthy discussion."
At 6-foot-4 and 199 pounds with excellent athleticism for a receiver of his size, Victor has always had the physical tools to be a future NFL player – and now, he's starting to play like one.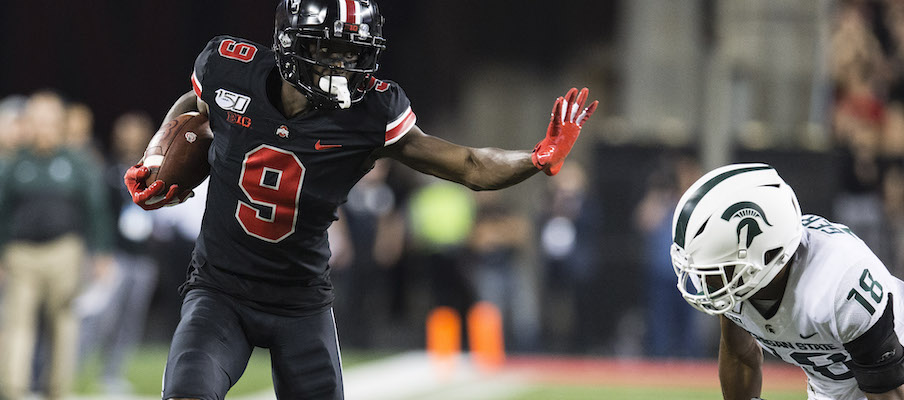 In order to finish his Ohio State career strong and prove he deserves to be selected in the 2020 NFL draft, though, Victor knows he must stay focused and continue to work hard in order to put himself in position to keep making plays.
"I'm playing well, and I just got to keep that going," Victor said. "Consistency is the biggest thing for me, and I just got to make sure it comes every week."
Ohio State wide receivers coach Brian Hartline also believes that how hard Victor continues to work will determine how well he plays out his final season as a Buckeye, even though Hartline is pleased with how Victor has performed so far.
"He's been a huge leader in our room, he's doing a great job on the field and he'll even tell you, he could be better," Hartline said last month. "So if he truly believes that, we're on the right page. If we think that we've made it, and now we can just kind of do what we've done, that's not going to cut it."