Before each week's Ohio State game, Eleven Warriors catches up with a media member who covers the opposing team to get his or her perspective on the Buckeyes' upcoming opponent.
Ahead of the Buckeyes' Big Ten opener in Bloomington, we caught up with Zach Osterman of the Indianapolis Star to get his insight on Indiana, who has lost 23 straight games against Ohio State but has played some competitive games with the Buckeyes at Memorial Stadium in recent years.
Who are the Hoosiers' players to watch in Saturday's game, and how could the potential absence of starting quarterback Michael Penix Jr. – who is a game-time decision for Saturday – affect their chances of being competitive? Do the Hoosiers have what it takes to push for a streak-ending upset this year, and if you're making the trip to Bloomington for this weekend's game, where else should you go besides the game?
Osterman gives us his answers to those questions and more in this week's edition of Across The Field.
Q: Indiana is off to a 2-0 start this season, but the first two wins came against Ball State and Eastern Illinois. How do you think their success in those games will translate to playing a much more prominent opponent this week?
Osterman: I think some of the fundamental stuff is encouraging. Indiana is a lot of the things it said it expected to be this season — more explosive, more athletic, deeper. That applies regardless of opponent and should be relevant well beyond Saturday. That said, obviously the step up in competition is substantial. In one way, I think this weekend will be a good litmus test for IU, not so much in whether the Hoosiers can win, but whether the offseason improvements can endure the clearly more difficult tests Indiana has starting this weekend. A promising, competitive performance would be a positive sign.
Q: The Hoosiers have been consistently mediocre in recent years, finishing with a record of either 5-7 or 6-7 in each of the past four seasons, but they haven't been able to get over the hump and compete with the Big Ten East's top teams. What do you think this team's chances are of taking a real step forward and finishing with a winning record this year? And will Tom Allen be on the hot seat if that doesn't happen?
Osterman: To work backward from the beginning, I don't *think* Allen will be in danger after this season, barring the bottom absolutely falling out or something unforeseen. But I do think he's entering a stage where perceptions can begin to harden and become more difficult to change. Now, will those perceptions be defined by a bowl berth this winter? I think IU is probably right on the razor's edge in that regard. Again, I don't think Indiana has to (or indeed will) win this weekend, but I'm curious to see how the Hoosiers stack up, because most teams left on the schedule won't be Ohio State, in every sense.
Q: What would you say have been the Hoosiers' biggest strengths and weaknesses so far this season?
Osterman: Biggest strengths have been as aforementioned. Defensive depth is a huge puzzle piece Indiana is only just now starting to properly develop. That's particularly true at linebacker and defensive back, but there have been encouraging signs from a pass-rush that's already put up five sacks and 15 tackles for loss through two games. Offensively, the extra explosiveness is a badly needed step, but it's also hard to forecast how impactful that might be if Penix, IU's strongest quarterback, can't play. He's a game-time decision at this point.
In terms of weaknesses, Indiana can still get sloppy at times and look like a team that's fielding second-, third- and fourth-year players. And the lack of a consistent ground game is something the Hoosiers need to get fixed, especially considering their depth there.
Q: Who are some of the players that Ohio State should be paying attention to in its preparation for this week's game?
Osterman: Penix if he can play. Nick Westbrook, Whop Philyor and Donavan Hale, wide receivers who can be deep threats. Peyton Hendershot, a blossoming tight end Penix has used more as a safety valve this season. And then a slew of defensive backs: Bryant Fitzgerald, Jaylin Williams, Juwan Burgess, Devon Matthews. IU's very deep in its secondary, and it's quality depth. I'd list Stevie Scott and maybe a couple of other running backs here too, but again, Indiana hasn't been able to establish a consistent rushing attack yet this season, so that needs to be more consistent first.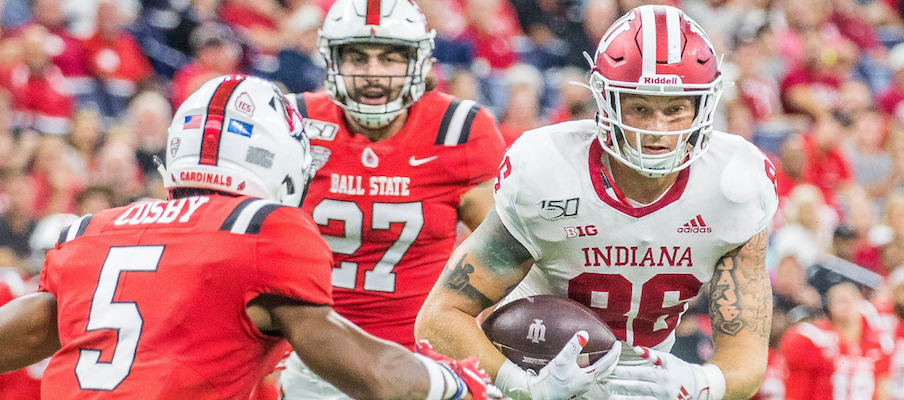 Q: How do you see Saturday's game playing out?
Osterman: If Penix can play, I think Indiana has a better chance of hitting on big plays, even against Ohio State. His arm strength is legitimate. If it's Ramsey, IU can still push the ball down the field but probably not quite so effectively. The Hoosiers will, in that case, need a more consistent ground game to support him.
What I'm particularly interested in is how Ohio State tests Indiana's defense, both in terms of limiting big plays and also in terms of endurance. When the rubber band has snapped in previous seasons, it's often felt like the shoe eventually dropped when Ohio State had the ball. That's the area IU feels deeper in now. Can that depth hold up?
The line seems to have floated to about 17.5 since the news of Penix's status dropped. I think that seems about right. I think Indiana can be competitive, and probably will be competitive to a point, perhaps even deeper into the game than the last couple of times the Buckeyes have come to town. But in the end, I still think Ohio State wins by a couple of scores.
Q: For those who are making the trip to Bloomington this weekend, any restaurants or other attractions you recommend visiting while in town?
Osterman: Nick's is a must, though it will be busy. Strong recommendations for the burgers and the beer selection at either The Tap or Quaff On, an offshoot of Big Woods Brewing, if you're into that sort of thing. Beyond that, the same old Bloomington staples apply — stroll campus, poke your head inside Assembly Hall, marvel at the manmade natural disaster that is I-69 construction between Bloomington and Indianapolis.