Ohio State's defense has to prepare to potentially see two quarterbacks with different skill sets in Saturday's game at Indiana.
Redshirt freshman quarterback Michael Penix Jr., a left-handed dual-threat quarterback who started the Hoosiers' first two games of the season, was expected to be Indiana's starting quarterback once again on Saturday. Thursday's news that Penix is a game-time decision for Saturday's game due to an undisclosed injury, however, means that redshirt junior Peyton Ramsey – the Hoosiers' starting quarterback last season – could end up being their first quarterback on the field against the Buckeyes.
Depending on which quarterback actually starts the game for Indiana on Saturday, Ohio State's defensive gameplan could change.
"They bring different things to the table," Ohio State head coach Ryan Day said Thursday. "Penix is a little bit more mobile, younger guy. Ramsey's a competitive guy, we've seen him play before; he's good, he's tough and a really good, competitive player. So both of those guys bring different things to the table."
What Day said didn't change with Thursday's news, however, is how the Buckeyes are preparing for Saturday's game – because they were already preparing for the possibility of facing either quarterback.
"We've been preparing that way all along anyways," Day said. "So nothing changes that way. I don't really know how it's all going to play out. Even if somebody's healthy, after the second play they could go down. So you have to be ready for both and have a plan for both."
Penix has a bigger arm and more athleticism than Ramsey, which means his skill set would likely pose the tougher test to Ohio State's defense on Saturday. Day, who recruited Penix out of Tampa Bay Technical High School (though Penix did not receive an Ohio State offer), had substantial praise for Penix when he was asked about the young Indiana quarterback earlier this week.
"I'm not surprised that he's playing right away there. He's a really smart kid, understands the game," Day said of Penix. "I think he's going to have a really good career. He's very talented and very versatile.
"He's mobile. He can run. He's accurate throwing the ball, he's pretty decisive throwing the ball and he's smart. So it's still early in his career, but he's talented."
But while Ramsey isn't as physically gifted as Penix, the right-hander has more experience and has had some success against Ohio State before – he completed 26 of 49 passes for 322 yards and three touchdowns with no interceptions against the Buckeyes last season – so Day doesn't want the Buckeyes to take preparing for him lightly, either.
"Ramsey's a competitive guy, we've seen him play before; he's good, he's tough and a really good, competitive player," Day said. "I think they're both definitely Big Ten-quality quarterbacks."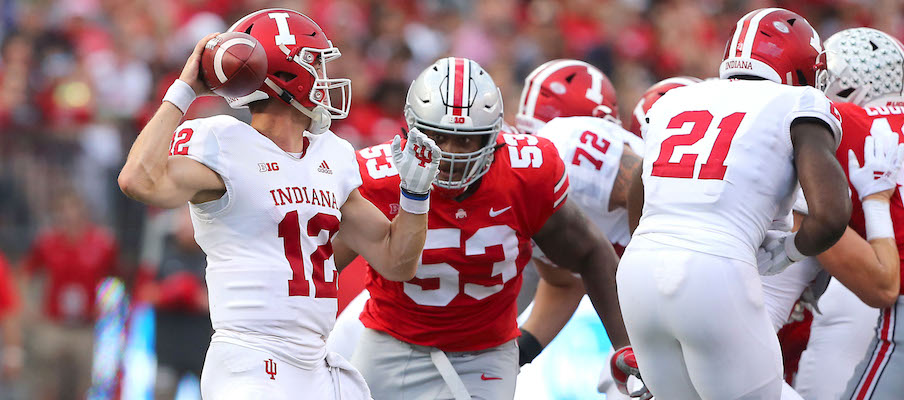 If Penix is able to play in Saturday's game, he'll make his third career start for the Hoosiers after completing 38 of 60 passes for 523 yards and three touchdowns with two interceptions and running nine times for 79 yards in Indiana's first two games against Ball State and Eastern Illinois.
Ramsey, who started all 12 games for the Hoosiers in 2018, completed 13 of 14 passes for 226 yards and two touchdowns in his first game appearance of the season against Eastern Illinois last Saturday.
Jack Tuttle, a Utah transfer who was also recruited by Day out of Mission Hills High School (where he was teammates with Ohio State wide receiver Chris Olave), also saw playing time against Eastern Illinois as the Hoosiers' third-string quarterback, but completed only three of seven passing attempts for 18 yards.
Saturday's game at Indiana is scheduled for a noon kickoff in Bloomington, and Ohio State probably won't know exactly what the Hoosiers' quarterback depth chart will look like until shortly before then, so the Buckeyes will have to be prepared to adjust accordingly.