After starting its season with a pair of non-conference wins over Florida Atlantic and Cincinnati, Ohio State will begin conference play this Saturday, when it will travel to Bloomington to play its first Big Ten game and first road game of the year.
Ohio State has played Indiana 91 times dating back to 1901, and the Buckeyes have won 74 of those games, including 23 straight games dating back to 1991. The Hoosiers have played some competitive games with the Buckeyes in recent years, particularly in their home stadium – they led Ohio State at halftime in 2017 and lost by just seven points in 2015 (34-27) and three points in 2012 (52-49) – but they haven't been able to get over the hump and score an upset over the scarlet and gray.
That said, traveling to play a divisional opponent has the potential to provide some challenges that the Buckeyes' first two games against Group of 5 teams did not. Indiana is off to a 2-0 start this season – though those wins came against a Group of 5 team (Ball State) and a Football Championship Subdivision team (Eastern Illinois) – and Ohio State opened as only a 14-point favorite in Vegas, despite winning each of its first two games by at least 24 points.
We take a look at some of what could capture the Buckeyes' attention in their preparation this week and other fun facts about the Hoosiers in Five Things to Know.
First-Year Dual-Threat Quarterback
Although Peyton Ramsey is still in Bloomington, he's been replaced as the Hoosiers' starting quarterback by Michael Penix Jr. (pronounced PEN-ix), who brings more playmaking ability to Indiana's offense.
The left-handed redshirt freshman from Tampa, Florida, has a big arm and the athleticism to make plays with his legs, and he's off to a solid start in his first year leading the Hoosiers offense. Through their first two games, Penix has completed 38 of 60 passing attempts for 523 yards and three touchdowns with two interceptions and he's also rushed for 79 yards on nine attempts.
Penix earned Big Ten Freshman of the Week honors after his season-opening performance against Ball State, and Indiana coach Tom Allen has said that Penix became the Hoosiers' new starter not because of any dissatisfaction with Ramsey – who threw for 322 yards and three touchdowns against Ohio State last year – but because of the potential Penix demonstrated all offseason.
"The country got to see what I saw in practice," Allen said after the season opener, according to Zach Osterman of the Indy Star, "and what I talked about when I said it wasn't so much about what Peyton didn't do but it was about what I thought Mike could become. I think that was on display."
Their Own Version of the Bullet
While Ohio State became the newest team to add a safety-linebacker hybrid position to its defense this year by designating Brendon White as a "bullet," Indiana has had its own version of that position – "husky" – since 2016, when Allen became the Hoosiers' defensive coordinator, one year before he replaced current Ohio State offensive coordinator Kevin Wilson as Indiana's head coach.
The bullet position remains somewhat of a mystery at Ohio State, as White has only seen occasional playing time in the Buckeyes' first two games of the year. At Indiana, however, the husky plays a huge role in what the Hoosiers do defensively. Marcelino Ball, who has played the husky position since he arrived in Bloomington in 2016, is regarded as one of the Hoosiers' best defensive players.
At 6-foot and 223 pounds, Ball has been a versatile playmaker for the Hoosiers who can be both an effective run defender in the box and cover receivers downfield. A two-time All-Big Ten honorable mention performer who has recorded 164 tackles, 12.5 tackles for loss and three interceptions in his Indiana career, Ball is a player who Ohio State's offense will need to be aware of at all times.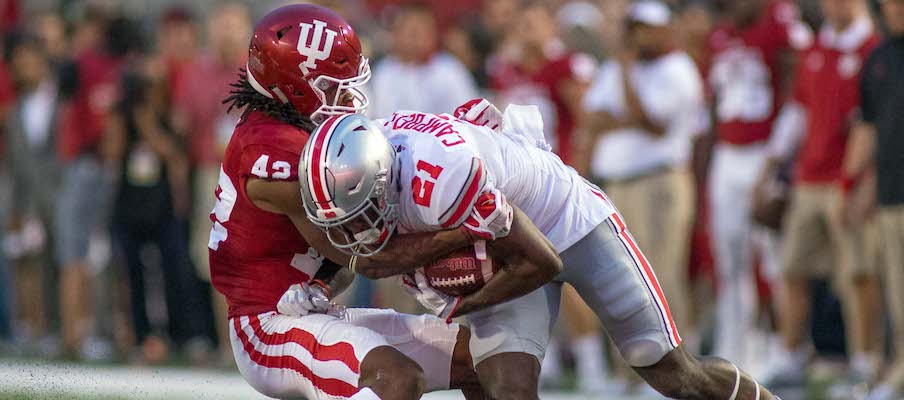 Experience in All Phases
Ranked by Phil Steele as the second-most experienced team in the Big Ten and 26th-most experienced team in the nation entering this season, Indiana's roster includes a multitude of players who Ohio State should be familiar with because they were already starters or otherwise key players for the Hoosiers in previous games against the Buckeyes.
On offense, Penix is surrounded by an experienced group of playmakers that includes Stevie Scott at running back, Peyton Hendershot at tight end and Donavan Hale, Nick Westbrook and Whop Philyor at wide receiver – all of who were starters for at least part of the 2018 season. The Hoosiers' offensive line is anchored by three seniors who all have at least one year of starting experience in left tackle Coy Cronk, center Hunter Littlejohn and right guard Simon Stepaniak.
Defensively, the Hoosiers returned six starters from last season, including defensive tackle Jerome Johnson, linebacker Reakwon Jones, cornerbacks Andre Brown Jr. and Raheem Layne and Ball. Gavin Everett was also a starter at defensive end in 2018, but he's a backup on the depth chart now.
The Hoosiers also return their kicker and punter from last season, and both of them are off to great starts this season. Justus, a second-team All-Big Ten performer in 2018, has made his first four field goal attempts of the year, while Haydon Whitehead has averaged 46.5 yards per punt – tied for the best average in the Big Ten so far this year – without allowing any return yards on six punts.
Eight Players from Ohio
Just a couple hours away from the Ohio border, Indiana's roster currently includes eight Ohio natives. The most prominent players among them include Littlejohn, a Powell native, and Stepaniak, from Hamilton, Ohio.
Sean Wracher, the Hoosiers' starting long snapper, is a product of Cleveland's St. Ignatius High School. Ramsey is a product of Cincinnati's Elder High School, while backup running back Cole Gest – who was a regular in the rotation in 2017 before suffering a torn ACL last year – is a native of Lyndhurst, Ohio who went to St. Edward High School.
Backup defensive back A'Shon Riggins (Hamilton) and backup offensive linemen Luke Lane and Dominic Altimari, both Cincinnati natives, round out the Hoosiers' roster of players from the Buckeye State.
Trying to Escape Mediocrity
While Indiana hasn't beat Ohio State since 1988, none of the Hoosiers' losses since have actually been surprising, because while the Buckeyes have consistently ranked among the Big Ten's best teams, Indiana has been consistently mediocre.
Indiana hasn't won eight games in a season since 1993, and the Hoosiers have only had one winning season (7-6 in 2007) since. The Hoosiers have finished 5-7 in each of the last two seasons and went 6-7 in each of the two seasons before that. 
In the first five years since the Big Ten has moved into East and West divisions, Indiana has yet to win a game against Ohio State, Michigan or Penn State.
It would come as a big surprise if the Hoosiers defeated Ohio State on Saturday, but they're likely to remain doomed to mediocrity unless they can pull out an upset against one of the Big Ten East's top teams this year.