Damon Arnette remembers exactly what happened to Ohio State's defense last year.
The record-breaking more than 400 yards allowed per game. The 25.5 points allowed per game. The 26 rushing touchdowns given up. The 51 points that Maryland scored, and the 304 yards rushed for by Anthony McFarland Jr.. The 93-yard run by TCU's Darius Anderson and the 93-yard pass to Penn State's K.J. Hamler, both of which are now tied for the longest plays from scrimmage ever against the Buckeyes. 
Arnette heard it all through the offseason, and he got tired with the talk about last season's performance. Eleven days before the Buckeyes' season-opening game against Florida Atlantic, he declared a return of the Silver Bullets.
"Reset. Click a reset button," Arnette said on Aug. 20. "Forget it. Don't even think about last year. Don't even think about that because the Bullets are back, for real."
Just a day later, Malik Harrison doubled down.
"Last two years, we went down," he said on Aug. 21. "But, you know, like (Arnette) said, we're back. Put a stamp on that. We're back."
Then they went onto the field and offered the 103,228 people in Ohio Stadium on Saturday some results to back up their words.
"Just overall, just proud of all those guys, especially with the way they came out and played today. They answered the bell and we've got to build from it and we've got to learn from it."– Jeff Hafley on Ohio State's defense
In the first half, Lane Kiffin's Florida Atlantic team went backwards on 32 plays, accumulating minus-14 yards. On 19 rushes in the first 30 minutes, the Buckeyes held the Owls to minus-22 yards on 19 carries. Quarterback Chris Robinson managed to throw for just eight yards in the first half, completing nine-of-13 passes.
"That says a lot about our players and coaches," first-year co-defensive coordinator and secondary coach Jeff Hafley said after the 45-21 win.
By the end of regulation, Florida Atlantic had 21 points on two field goals, two fourth-quarter touchdowns and a two-point conversion, but the production largely came after Ohio State had substituted most of its defensive starters out of the lineup.
In the first half, Ohio State dominated at a level it rarely did a year ago. Even with the Owls' late drives, the Buckeyes allowed just 228 yards, a lower amount than they gave up in any of their 14 games during the 2018 season.
"On defense, again, I thought we ran to the ball early on," Ryan Day said on Saturday. "And then our second team came in a little bit and let them come down the field and we can't let that happen. We've got to play with depth this season. What I was looking for was guys running to the ball and hitting. I felt that. I was watching Pete Werner and Malik Harrison and Jeff Okudah come into the ball and you could feel the violence on the field. That's what we want. 
"We want that toughness. And I felt that. I felt those guys flying around. To me it was intimidating. It was downhill. It was what we want."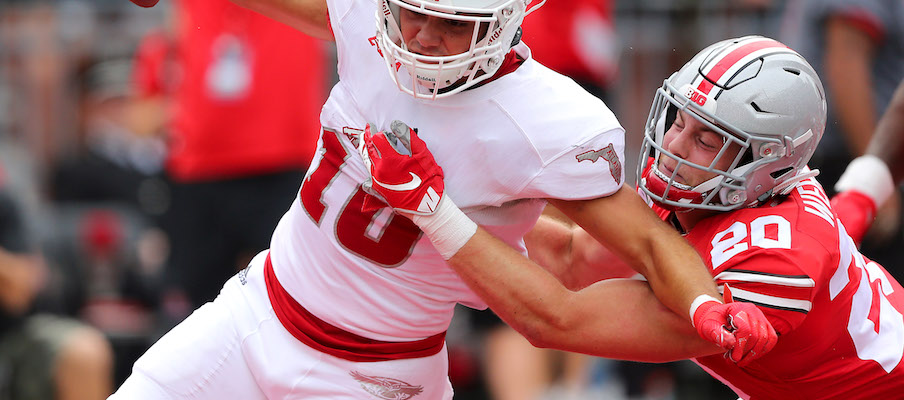 That mindset and flying around style of play from the defense? It's why Day decided to hire four new defensive assistant coaches and hand over the defense to co-defensive coordinators Greg Mattison and Hafley.
Having coached the game from up in the press box as he said he prefers, Hafley agreed with Day's assessment.
"I was really proud of those guys," Hafley said. "I think the way we ran to the ball, the way we tackled look to me, at least from upstairs, like there were seven guys around the ball-carrier on every single play. So from that regard, which was probably the thing that I was most anxious about, I'm really proud of those guys. I think they did a really good job."
For the entirety of the offseason, nobody quite knew what to expect from the defense. Even the coaches needed to watch it in action.
"I wanted to see," Hafley said. "I think we were all anxious. I thought we had an idea of what we had. But I was anxious just to see it in a real moment against somebody else where you have to tackle every play."
He naturally wasn't particularly pleased with how the reserves played near the end of the game. But for the first half and the majority of the third quarter, he didn't have much reason for displeasure.
On the defensive line, Chase Young began his junior season with a 1.5-sack performance in an expected yet still impressive-as-ever fashion. When asked who particularly impressed him in his first game coaching the Buckeyes, Hafley mentioned Young, calling him "unblockable" early on Saturday.
"Chase is incredible," Harrison said. "He's not human. We don't call him predator for nothing."
Jashon Cornell lined up on the edge instead of at defensive tackle due to injuries that held three defensive ends – Jonathon Cooper, Tyreke Smith and Tyler Friday – out of action, and he responded by putting together arguably his best performance as a Buckeye. 
The linebackers, a frequent sore spot a year ago, put together a strong collective performance, which Harrison attributed to the new scheme that allows them to play more freely without as much in-play thinking.
All three of last year's starters – Tuf Borland, Pete Werner and Harrison – once again lined up at the second level of the defense to open Saturday's game, and they combined for 12 tackles. Harrison led them with five tackles and a sack, along with a couple jarring hits that epitomized the violence Day described. Baron Browning played extensively with the trio of starters, too, and recorded four tackles.
"They looked fast, and they looked physical," Hafley said. "There was a lot of tackles made. It was 2nd-and-10 and 3rd-and-10 a lot in the first half."
Damon Arnette and Jeff Okudah played most of the meaningful snaps as outside cornerbacks and didn't get much action for most of the game. Brendon White, playing his first game as the hybrid linebacker-safety bullet, had a tackle for loss and a pass break-up.
Often playing as the single-deep safety in the new-look defense, Jordan Fuller had a team-high seven tackles. Hafley singled him out as somebody who impressed him.
"Just overall, just proud of all those guys, especially with the way they came out and played today," Hafley said. "They answered the bell and we've got to build from it and we've got to learn from it."
Everybody might as well just repeat it together: It's only Florida Atlantic. It's only Florida Atlantic. It's only Florida Atlantic. Kiffin has coached high-level offenses, but the Owls had such a major talent disadvantage that its head coach basically conceded the game before it even began.
Still, the Buckeyes had to show signs of improvement. Had to show signs that even though they largely have the same personnel on defense, the experience gained from the 2018 season and they new scheme implemented by the coaching staff allowed the players to play faster. 
Ohio State doesn't get the Silver Bullet designation after stymying Florida Atlantic's defense, and it shouldn't. But the Buckeyes needed to get back on track after such a porous last season, and that happened on Saturday, leaving Fuller with a different feeling after the game than the ones he had at times last fall.
"Definitely different from last year, but we're by no means at our ceiling," Fuller said. "So you've got to keep going."