24 hours from this very moment, it will be game day.
ICYMI
Word of the Day: Eve.
 THE SELF AWARENESS. All throughout the week, Lane Kiffin has been sounding like a prisoner coming to terms with death before a looming public execution.
He's not happy about it, but he understands the circumstances that led him here, knows exactly what's about to happen, and is at peace.
From FAU Athletics:
As a general rule, how do you feel about opening up against a team like Ohio State, (like) last year you played Oklahoma in week one?

"There's  a lot of different ways to go about these things. Obviously, I didn't schedule these. These were scheduled before we got here, from the last Athletic Director (Pat Chun). I don't think it is the best idea, especially following with UCF, another team that has been a top-10 team the last two years. The format that I think is the best, because you have to make money, you can't not play these games, but you can play somebody that pays the same, because the conference pays the same for the most part. It is not that big of a difference. So, you play teams from major conferences. You just play, not necessarily, the team that year-in-and-year out is the best team in the conference. It is what it is. I'm excited for our kids to be able to go play at a place like that."
 
Is there a certain way that you guys practice knowing you are going to face a team like Ohio State or is it going to be practicing the same things, hoping the players can calm down if they need to?

"No. There is only so much you can do. We do what everybody else does and have crowd noise at practice. We do the best we can that way. There is always some time getting used to it. Your hope is with an early kickoff it is not quite as loud early on as a night game. Hopefully, they will arrive a little late and be nice to us."
And also, this:
AUDIO: Lane Kiffin on today's show

What's the benefit of FAU playing at Ohio State?

Kiffin: "Money"

Gotta love his honesty.

Full interview: https://t.co/Yum724sgrg pic.twitter.com/cd5BhIqEYV

— Andy Slater (@AndySlater) August 23, 2019
I've never in my life heard a head coach talk so candidly about the ass kicking he's about to receiver, but it's strangely refreshing. Obviously, he's not going to show up and lay down, but he's under no delusions about his role on Saturday, and I respect that.
Also, if you're the betting type, when one head coach is essentially admitting publicly that his team doesn't have a snowball's chance in hell in the game, you might want to give that 27.5-point spread a good look.
 THE SECRET WEAPON. The recruiting prowesses (hell yeah that's a real word) of folks like Mark Pantoni, Ryan Day, Brian Hartline and Jeff Hafley are well known and documented, but Ohio State's got a secret weapon on the recruiting frontlines.
26-year-old Tori Magers has been working with the Buckeye football team since her freshman year of college working as an assistant to Pantoni. A few years later, she's directing all on-campus recruiting efforts.
So basically, when kids come to campus, she's in charge of making sure they love it.
From Kyle Rowland of the Toledo Blade:
"Today with everything that goes on in recruiting, she's become a jack of all trades," Ohio State coach Ryan Day told The Blade. "One of the things she does a great job at is relating to recruits, but also event management. She plans all of our recruiting events and dinners. There's so much that goes into it, and she makes sure it runs smoothly. Anytime a recruit commits, she's one of the first people we congratulate, because she has such a huge impact on those guys."

...

Members of Urban Meyer's newly-hired staff quickly realized the she wasn't just some college girl working for a paycheck. Mr. Pantoni, especially, saw the potential. Ms. Magers was a grinder who did all the little things without a single complaint. It didn't hurt that her bubbly personality and humor drew laughs from coaches.

"Very organized," Mr. Pantoni said, describing her traits. "It takes a strong personality just because you're in a building with mostly all males. It's long days and long weekends. She's able to interact really well with all the coaches and staff. She's very witty and can think on the fly. Nothing ever goes as organized, so the ability to adjust is good and she's great at that. She has a great personality and does a great job with the kids and their families when they're on campus."
I doubt she's going to find her name on the 247Sports Recruiter Rankings anytime soon, but remember her when the Buckeyes inevitably sign another top-5 recruiting class.
 RETURN OF THE REAL? We're just a few days away from 53-man roster cuts and I'm trying not to jinx it but...
Man, a lot of people close to the team have strong feelings that Braxton Miller will make the team.

— Ken Carman (@KenCarman) August 29, 2019
If this happens, then Ohio State's found one of the most creative ways imaginable to get three of its former quarterbacks on active NFL rosters.
Now Dolo's channeling his inner to try to become the fourth:
Noted acrobat Cardale Jones. pic.twitter.com/VvMiiVbde4

— Eleven Warriors (@11W) August 30, 2019
Who did it better?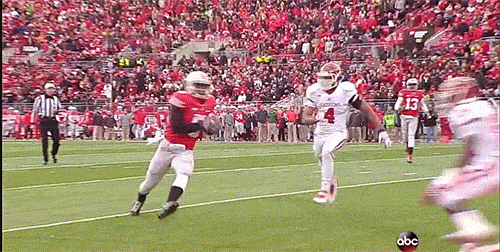 WATCH THE GAME LIKE A BOSS. Ohio State SID Alex Morando Tweeted out a few photos of Ohio State's Loge club seats and folks, I'm not certain this isn't what heaven looks like.
Loge club area in #TheShoe is ready for Saturday pic.twitter.com/aKXHIKFNxv

— Alex Morando (@AlexJMorando) August 29, 2019
Unfortunately, after a quick glance at the prices for seats of these natures, I'm going to go ahead file these photographs away under "Things I Will Never See With My Own Eyes."
 "THERE'S NO REASON HE'S THAT FAST." Watching people get absolutely dominated at something they earnestly believe they're good at is one of my favorite pleasures in life.
So you bet your ass I enjoyed watching a team of blue chip athletes get absolutely torched in a foot race.
Thankfully, I will never experience this as I am keenly aware of how terrible I am at everything so there is no chance for embarrassment.
 NOT STICKING TO SPORTS. Matthew McConaughey is named a professor at the University of Texas... The history of trepanation – the oldest surgical procedure known to humanity... We throw away a lot of food that goes in our fridges... A man allegedly scammed $14 million from investors for a fake Netflix movie... What it's like to eject out of a military jet... Babies develop 'werewolf syndrome' after medicine mix-up in Spain...