Before each week's Ohio State game, Eleven Warriors catches up with a media member who covers the opposing team to get his or her perspective on the Buckeyes' upcoming opponent.
For the season opener, we bring in Florida Atlantic beat writer Jake Elman of the Palm Beach Post for a question-and-answer session on the FAU Owls, who will head to Columbus to play Ohio State in the first game of the year for both teams on Saturday at noon at Ohio Stadium.
After winning the Conference USA title and winning its final 10 games of the season in 2017, FAU finished with a record of just 5-7 in 2018. Do the Owls have what it takes to return to conference championship contention this year? And after losing its last 23 games against Power 5 opponents dating back to 2007, including a 63-14 loss to Oklahoma to begin last season, does FAU have what it takes to stay competitive with the Buckeyes?
Elman gives his answers to those questions and more in this week's edition of Across The Field.
Q: FAU went 11-3 and won the Conference USA title in Lane Kiffin's first season as head coach in 2017, but dropped off to 5-7 last year. What do you think led to that step back last season, and do you think the Owls can return to being a conference title contender this year?

Elman: I think the biggest thing for me is a lack of consistency in the second half of games. FAU actually led in six of its seven losses and had four losses by eight points or less. Players admitted to getting distracted when they looked up in the second half and saw they were up. Some really bad offensive showings in the last 30 minutes against Middle Tennessee, Louisiana Tech and Charlotte turned what could have easily been an 8-4 season to 5-7.
Keeping energy high late in games and making sure players are focused will be key in FAU's hopes of winning the league again, which I think they can do. Last year and seeing all of the preseason expectations and potential amount to nothing humbled a lot of guys.
Q: What do you expect to be FAU's biggest strengths this season, and what are the biggest areas of concern entering the year?
Elman: Senior tight end Harrison Bryant has an NFL future and I think his backup, John Raine, has a chance, too. Look for FAU to break out a lot of two-tight end sets Saturday and get the duo involved early. Defensively, I really think former "Last Chance U" star Tim Bonner has taken a huge step at defensive end; he probably won't generate a ton of sacks in this defense, but he's got great size and will be in plenty of backfields. 
Conversely, wide receivers seem to always be a concern for FAU. That's a position where there's a lot of talent, but also a lot of inexperience. Kiffin said that's FAU's most concerning position. The special teams unit had issues last year, but kicker Vladi Rivas looks like an entirely different player. Starting punter Sebastian Riella could miss some time with a knee injury, though. FAU had two punts blocked last year so Riella's likely replacement, Matt Hayball, needs to avoid such a fate Saturday.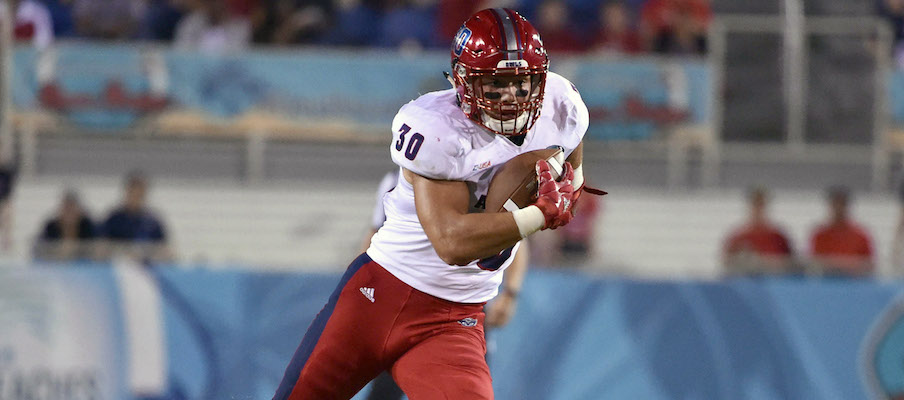 Q: Who are some specific players that Ohio State and its fans should be watching for on Saturday?
Elman: James Charles was buried behind three future NFL running backs, but he stuck it out and should get plenty of first-team snaps Saturday. He's a versatile option who could surprise some people, especially with a veteran offensive line paving the way for him.
Keep an eye on wide receiver Rahsaan Lewis, son of NFL Hall of Famer Ray Lewis. Rahsaan's impressed since transferring from Central Florida this summer and will have a chance at both inside and slot receiver.
Defensively, safety Da'Von Brown is a dark horse all-conference player. He was a turnover machine throughout the offseason and he brings great energy to the defense.
Q: FAU isn't a program that's always in the national spotlight, but Lane Kiffin is a nationally known coach. How has his individual prominence elevated the attention that the program has received over the past couple years?
Elman: The national attention follows Kiffin everywhere, but that attention usually seems to be more on him rather than the program. Outlets like hearing Kiffin's best Nick Saban stories or talking Power Five football with him rather than inquiring how FAU looks, which makes sense because Kiffin praising Saban or bashing the transfer portal sells. The quarterback battle is only so intriguing to ask about in a seven-minute interview when you can ask why he calls the transfer portal "sexy." FAU's had a couple nationally-televised games since Kiffin arrived and ESPN's done a couple features on him and his players, which is definitely progress.
Q: Kiffin acknowledged Friday that the biggest benefit of playing at Ohio State is "money," but surely, the team will be looking to perform at its best in an opportunity to start the season in a network TV game. What do you think needs to happen for this game to be a productive start to the year for FAU?
Elman: I think if FAU stays healthy and competes, it'll be easier to view Saturday as more than just that one game against the Power Five program. FAU's been banged up lately, and going into that home opener against Central Florida without any new injuries will be vital. Getting a consistently positive outing from Chris Robison at quarterback and seeing positive steps in some of those concerning positions, like the receivers and the specialists, would definitely be productive, too. FAU is long past being proud it competed for a half against a Power Five program, but I'm sure they'd rather take a 20-point loss with several positives rather than another 63-14 game.
Q: Ohio State is roughly a four-touchdown favorite to win Saturday's game. Will FAU keep Ohio State from covering?
Elman: Garbage time scores change everything! I think FAU keeps Ohio State from covering, partly because of a late score that sends Twitter into a frenzy.