J.K. Dobbins only cracked 20 carries in three games during Ohio State's 2018 season, and his career-high 37-carry game only happened because of an injury to Mike Weber.
Otherwise, Dobbins and Weber went back-and-forth, often swapping every other series. Neither running back ever publicly complained about the situation, but after Dobbins racked up 37 carries in his team's win against Maryland, he admitted that allowed him to get into a groove. With Weber now on the Dallas Cowboys, Dobbins won't have to worry about an equal split with anybody.
"He's the back now," Ryan Day said this spring.
Neither Day nor running backs Tony Alford have attempted to diminish expectations or cloud how they plan to use J.K. Dobbins, and Dobbins himself understands the deal. He needs to become the bell cow in the backfield alongside Justin Fields, even after a down season in which his yards per carry dropped from 7.2 as a freshman to 4.6 as a sophomore. 
Regarding Dobbins' role, there's no debate. The departure of Weber eliminated the need to view him as a co-starter with any other player.
Still, though, Ohio State needs a backup running back to allow Dobbins to remain both fresh and healthy. That's where Master Teague enters the equation.
As a freshman, Teague barely played. He had just 17 rushes for 106 yards and a touchdown, with all of his production coming in the first month of the season. In blowouts against Oregon State, Rutgers and Tulane, he played 30 combined offensive snaps. The rest of the season, he never lined up in the backfield again, only coming off the bench to play special teams versus Minnesota.
"I've developed a lot," Teague said this spring. "Beginning of last season, I wasn't too happy with my performance. But you know, as time went on, I grew it, grew into the position, bettered my craft and improved a lot. This year, I feel a lot more comfortable on the field."
With Dobbins and Weber complementing each other as co-starting running backs throughout the 2018 season, Ohio State had no need to force Teague on the field. It could have the starters split carries.
Also, though, Alford didn't necessarily want to insert Teague into games. He didn't think the 5-foot-11, 220-pound back was ready yet.
"His growth has been tremendous as well," Alford said this spring. "His maturity levels of how he plays, he not kind of just sitting on the side taking as it comes. He's much more aggressive. There's some tenacity and toughness that comes along with that that he has shown this spring that, quite frankly, it took him a little bit of time to grow into that. And that's not a bad thing. Some guys go at a different rate. 
"J.K. was at a faster rate of speed, as far as his ability to bite and attack things. He was a little faster. That's not a negative toward Master or anybody else. It's just growth maturations are different for guys and the timing that they do it."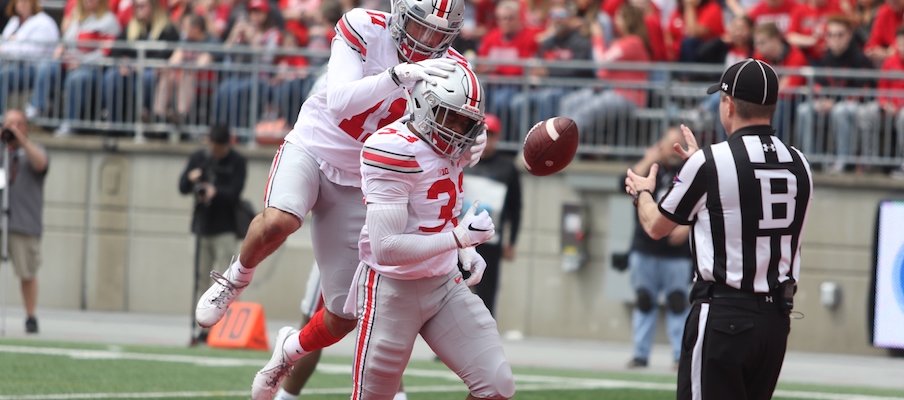 After a year of developing from the sidelines, Teague could receive his first significant playing time this fall.
This spring, he competed with Demario McCall and Marcus Crowley to back up Dobbins, concluding the 15 practices with a seven-rush, 75-yard, two-touchdown performance in the spring game.
"Master looks great," Josh Myers said after the spring game. "He runs the ball really, really hard and as an offensive lineman, I love that. I think our run game is going to be really good."
Teague said he feels different now that as a freshman because instead of only knowing his duties as a running back, he now has begun to understand the assignments of the offensive linemen, too. He also has gained a bit of weight.
"Master Teague's a totally different guy now than what he was midseason or even toward the end of the season," Alford said. "He know it because we've told him that. Like you watch him today, he's putting his face on people, he's running harder, he's much more aggressive. He knows exactly what's going on."
Nobody currently behind Dobbins on the depth chart has much, if any, experience, aligning Teague's second year in college with a wide-open opportunity to become the backup.
Unlike McCall, a much smaller option in the backfield with plenty of speed, Teague has a much more typical build of a college running back. And even though he rarely saw the field as a freshman, he already has a year of experience in the program, giving him a natural advantage over Crowley and Steele Chambers.
Teague, who was the No. 228 overall prospect and 11th-rated running back in the 2018 class, sees himself as a downhill runner in the fashion of many recent successful Ohio State backs.
"Bruiser. Fast," Teague said. "One cut, go. I'm not going to be doing all that – I just try to get north and south as fast as I can."
After a year of college development without playing much preceded by a senior season at Tennessee's Blackman High School that was cut short due to an ankle injury, Teague feels plenty of eagerness to get the ball back in his hands. 
Provided he hangs onto the backup spot, that'll happen this fall.
"I started to feel really comfortable right at the end of the season, right at the start of spring and throughout offseason just learning and going in the film room, talking to coach," Teague said. "Really just allowing everything to sink in and really just being more comfortable. Being more confident in myself. Since I've already experienced that first year, it's hard to explain, but you just feel a lot better after that first year."