Mike Yurcich didn't discuss offensive strategy. He didn't hit on his play-calling philosophies. Instead, standing on a riser in front of a couple hundred coaches at the Ohio State football coaches clinic on the night of April 11, he talked quarterback throwing drills for 45 minutes.
Ryan Day didn't bring in Yurcich to teach quarterbacks – or the high school coaches listening to him – how to run. He hired him as quarterbacks coach, the position he formerly filled, in order to bring his prolific passing offenses from Oklahoma State. As Day said in December, the Buckeyes' offense will be on the "cutting edge," including a pro-style passing offense, a "college run game" and run-pass options. He also made Yurcich passing-game coordinator, in charge of aiding him to create a productive offense through the air.
But Yurcich's top student for the next two years – Justin Fields – might buck the trend of how his quarterbacks will play in future seasons. Jack Miller and Kyle McCord, the Buckeyes' 2020 and 2021 commits, have mobility, but both trend toward pocket passers with the ability to take off and run if necessary.
Fields is a gifted passer, as seen by him becoming the No. 2 overall recruit in 2018 and winning the Elite 11 MVP. However, he has a running ability that will immediately impact games. His athleticism, shown by him clocking a 4.51-second 40-yard dash and a 4.16-second 20-yard shuttle, will translate to the first game of the season. In the spring game, running gains were minimized since defenders couldn't hit him, but he showed his speed and agility on a few carries, picking up 38 yards and a touchdown on eight rushes.
In the fall, Ohio State needs Fields' legs more than it might need quarterback runs in any future season under Day.
In December, before the Buckeyes had locked in a commitment from Fields, Day said he looked for an "extraordinary trait" in his quarterbacks.
"I think one of our strengths on offense is the ability to adjust the offense to fit the quarterback and to fit our personnel, and I think in college that's really, really important because sometimes if you're looking for a specific style, there may not be one in that class, so let's go find somebody that has some sort of extraordinary talent and then build around it," Day said.
Eventually, Fields might show off his "extraordinary trait" to be his cannon of an arm – K.J. Hill said he throws harder passes than Dwayne Haskins. But for now, since he's still learning the offense and has never started a game, Ohio State must figure out some way to take advantage of his ability to hurt defenses on the ground. And given how Day said he will build an offense around the skillset of a quarterback, there's reason to believe that will happen.
Last year, quarterback runs went away with Haskins at the helm.
Regardless of whatever Stephen A. Smith thinks, Haskins wasn't a running quarterback. The trait that Day and Urban Meyer built the offense around? Haskins' accuracy and intelligence as a passer.
For the first time in Meyer's tenure as a head coach, quarterbacks accounted for fewer than 25 percent of the team's rushing yards. Haskins and Tate Martell combined for 236 rushing yards, just 9.8 percent of Ohio State's 2,398 rushing yards.
OHIO STATE QUARTERBACK RUNS SINCE 2012

| YEAR | % OF TOTAL PLAYS ARE QB RUNS | % OF RUNS ARE QB RUNS | % OF RUSHING YARDS ARE FROM QBS | % OF OFFENSIVE PLAYS ARE RUNS |
| --- | --- | --- | --- | --- |
| 2018 | 8.9% | 17.7% | 9.8% | 50.4% |
| 2017 | 18.7% | 32.6% | 25.8% | 57.2% |
| 2016 | 21.9% | 37.2% | 28.3% | 58.8% |
| 2015 | 20.1% | 31.6% | 27.4% | 63.6% |
| 2014 | 22.1% | 35.2% | 31.1% | 62.8% |
| 2013 | 22.7% | 35.9% | 35.3% | 63.3% |
| 2012 | 28.1% | 42.2% | 44.8% | 66.8% |
Prior to the 2018 season, quarterback runs had become a grating punchline.
Third down and short. Ohio State spreads its wide receivers out, thus spreading out the defense. J.T. Barrett takes the snap and pounds it up the middle, seemingly always picking up a first down.
After four years of seeing the same play, Buckeyes fans didn't hate the change to a pass-heavy offense with Haskins. But with Fields taking over the offense, quarterback runs will likely have a notable uptick.
At 6-foot-3, 223 pounds, Fields is bigger than Braxton Miller, but not as fast. He's a less powerful runner than Barrett, but faster than him. Fields described himself in February as a "playmaker." Someone who can "extend plays when a play breaks down."
"There are sometimes where teams will game play for you for your legs or game plan for you to throw," Fields said. "You have to be able to run or pass, just really to win the game."
In other words, he views himself as a dual-threat quarterback.
He said he initially looks to pass when a play breaks down and forces him to scramble because quarterbacks succeed at the NFL with their ability to throw, not run. Yurcich, speaking at the coaches clinic in April, expressed a similar sentiment.
"He's a hell of a runner," Yurcich said. "He's a very athletic quarterback. But if we can train him to throw the ball first downfield, you'll have more positive yards, more big explosion gains."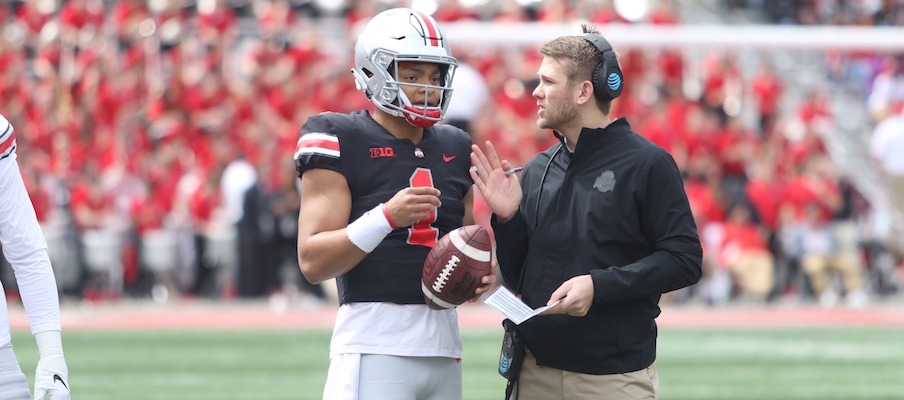 As a first-year starter, though, Yurcich and Day could have to rely on quarterback rushes more than they will in 2020 and beyond.
Fields is a developing passer. Even in just his 13 passes in the spring game, he showed off his impressive arm strength while making some mistakes that his coaches will work with him to correct. But that takes time, and his rushing ability is a ready made attribute.
"I think that's a different element that makes it very hard to defend any spread offense that has the ability to have an athletic quarterback," Yurcich said in March. "Obviously, you have to account for that in the run game. So how much of that, how little of that, I think those decisions will be made later down the road."
Eventually, Fields wants to get to the point where he's viewed as a pass-first quarterback with the ability to run, since that's what teams at the next level want in a player at his position.
But to win games immediately, Day and Yurcich will likely need him to rely on his legs more than they will in future seasons, in order to both ease him into the offense and take advantage of his "extraordinary trait."
How Fields develops as a passer will set his ceiling, but his running ability will set his floor, and Ohio State wants that floor to be as sturdy as possible.