You just can't turn down Justin Fields. No one should, and no one would.
The team lost a commitment from D'Wan Mathis amid the rumblings of Fields leaving Georgia in December, and Ryan Day knew Tate Martell might transfer if Ohio State landed Fields. Thus, if the Buckeyes pulled off the addition of Fields and Matthew Baldwin also chose to leave, the Buckeyes could potentially have a lonely quarterback room of just the Georgia transfer and Chris Chugunov.
Day took the gamble anyway. After all, the risk of adding the No. 2 overall prospect in the class of 2018 (and the eighth-ranked recruit in 247Sports history), who beat out Trevor Lawrence and others to win the 2017 Elite 11 MVP award, isn't exactly a terrifying proposition.
In the following months, the worst-case scenario regarding the other quarterbacks in the room happened. Mathis decommitted in December. Fields transferred into the program in January, and Martell announced his transfer to Miami less than two weeks later. Baldwin went through spring practice before opting to put his name in the transfer portal.
But if a worst-case scenario ends up with a team entering the season with one of the top quarterback prospects in modern recruiting history behind center, just how bad can the situation be?
Depth behind Fields is undoubtedly a real problem.
If the Buckeyes don't add another quarterback and Fields suffers an injury, Chugunov would enter the game. And though the fifth-year signal-caller has starting experience at West Virginia, he was brought in for the sole purpose of being a reserve.
Day and his staff appear to be after someone else to provide depth behind Fields, but Kentucky's backup quarterback likely wouldn't be able to save Ohio State's national championship hopes. Nor would Miami (Ohio)'s backup, USC's backup or Texas Tech's backup or third-stringer. Ohio State could sniff around Gunnar Hoak, Alex Malzone, Matt Fink, McLane Carter, Colt Garrett and a host of others in the transfer portal who could provide depth, but potential season-savers willing to serve as backups aren't in the portal in May.
Title dreams rest on the shoulders of Fields, not Chugunov or other potential backups, and that's not a bad situation for the team, especially when considering the alternatives.
Had Day not added Fields, the quarterback room could have consisted of Martell, Baldwin, Mathis and Chugunov entering spring practice. But considering both Lettermen Row and The Athletic reported Baldwin's transfer largely stemmed from him feeling homesick, he certainly could have transferred if he didn't win the starting job, leaving Martell as a starter with only Mathis and Chugunov behind him. Had Baldwin won the job, Martell could've transferred.
Ohio State didn't have a clear path to a deep quarterback room even if it chose not to pursue Fields, who now has the task of making all the movement worth it by fulfilling his potential.
No one doubts what Fields can become.
He entered Georgia with an immense amount of hype. Even though Jake Fromm had led the Bulldogs to the College Football Playoff, won a semifinal game and had a shot against Alabama to win the national title as a true freshman, Fields thought he had a chance to unseat the returning starter. Ultimately, he wasn't able to make that happen, and he eventually chose to transfer, picking to continue his college career with Day at Ohio State, hoping to follow Dwayne Haskins, who left the program with a bundle of school records.
"I'm not trying to necessarily fill Dwayne's shoes," Fields said after the spring game. "I'm just trying to come to Ohio State and be the best quarterback. Just do whatever I can to help this team win. So I'm not worried about the expectations or anything like that. I'm just gonna focus on the team and myself and just doing the best I can."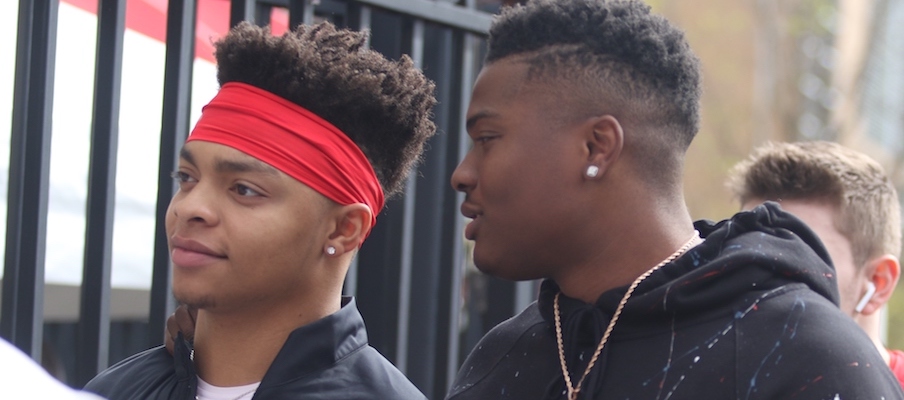 The best version of Fields won't look anything like Haskins.
Haskins has the gift of soft touch, of putting the ball where receivers want it, making it easy for them to haul in passes. He maneuvered the offense while making minimal mental mistakes and tossing few interceptions. When he tried to run, it wasn't always pretty.
K.J. Hill has said multiple times that Fields throws a harder ball than Haskins. That's not necessarily better or worse, but it's different. In time, his arm has a chance to be a significant weapon for the offense if he can hone in on his touch. Immediately, he'll have a chance to impact games on the ground, something that wasn't a major part of the offense with Haskins running it. Fields had eight rushes for 38 yards and a touchdown in the spring game.
"I'm very comfortable in that setting, just the read-option stuff, and I think it's going to be a big part of this upcoming year," Fields said. "So I feel very comfortable in that, and I've been doing it since high school, so I think that can be a big part."
The next few months, Fields will spend time learning the playbook – after the spring game, he said he didn't know it "fully yet" – and developing rapport with his receivers. A lot will be expected of Fields, and without Baldwin, there's no safety net.
The Buckeyes will surely add another quarterback or two to serve as depth along with Chugunov, but there's no doubt who's in control of the offense, which is exactly why Fields chose Ohio State over the many other programs interested in him. He has a chance to become special, and he thought Ohio State could maximize his abilities.
All first-year starters have flaws, especially underclassmen. Day and Haskins have both said Haskins wouldn't have been ready to start in 2017 as a redshirt freshman, even though just a year later he developed into a first-round draft prospect and Heisman Trophy Finalist.
Day doesn't have a choice this time. Fields is entering his second year of college football on his second team, and Ohio State has to have him ready to start – it doesn't have any alternatives.
Surely, Fields will have some unavoidable flaws of all underclassmen first-year starters. But given his potential based on his track record before college, he can make all the quarterback departures worth it if Day, Mike Yurcich and Corey Dennis can help him refine his game as a passer quickly enough.