The next pass Dwayne Haskins tosses in a game won't come wearing an Ohio State uniform. As a first-round pick of the Washington Redskins, he'll suit up in burgundy and gold and trot onto the field as an NFL quarterback.
But don't for a second think his impact on the Buckeyes dissolved in just a few months.
Without Haskins' record-breaking 2018 season that ended with him as a Heisman Trophy finalist and first-round draft pick, Ryan Day might not be the team's head coach, Justin Fields likely wouldn't have chosen Ohio State, an Urban Meyer-less team might not have held onto the commitment of Jack Miller and the Buckeyes might not have landed four-star quarterback Kyle McCord on Tuesday.
Haskins altered the program's future in a single season. That's all he needed. Just one year as a starter before heading for NFL as a first-round pick.
For however long Haskins is in the NFL and Day is coaching Ohio State, Day can point to his former quarterback and say some, "I developed him." He's already using that pitch, and it's been successful.
"I do think that after the season we had with Dwayne, the interest level is at an all-time high," Day said on Dec. 19. "People are very, very excited about what we're doing on offense. The quarterbacks are very, very excited about getting into this offense, and so that's exciting. That's fun to have that opportunity."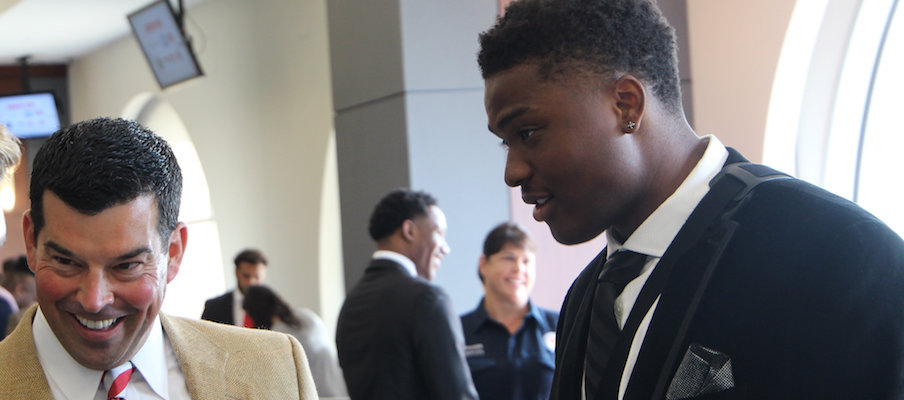 Miller, whose father is close to Meyer, remained committed after his sudden retirement in December. And even though Day hasn't coached a game since being named head coach, McCord chose Ohio State over nearly 20 offers, including those from Texas A&M, Michigan State, Arizona and Michigan, which offered him a year ago.
Of course, Day's ability as a coach and the chance to play for a storied program had an effect on McCord and Miller, but the Haskins effect looms. The ultimate goal of almost every highly recruited football player is to eventually make it to the NFL. Well, all Day has to do is point to the quarterback who will soon sign an eight-figure deal after spending one year as a starter in his system.
"Obviously you can say whatever you want and people talk about theory, but the testimony for us is what happened this year," Day said. "And you just look at the numbers and what happened in his sophomore year for a kid who had no college starts going into his sophomore year, and then in 13 starts he is where he is, and having an opportunity to possibly be a first-round draft pick and a Heisman Trophy finalist and look at all the records he broke in one year. I think it's a huge selling point."
Testimony to Fields. Testimony to Miller. Testimony to McCord, who noted Day's background with "NFL quarterbacks" as a reason for his confidence in the program. Testimony to Gunnar Hoak, who saw what someone can do in just one year as a starter.
Also, testimony to Gene Smith.
Day, like Haskins, earned a substantial pay bump, becoming Ohio State's head coach. And though Smith has cited his leadership in fall camp and in the first three games of the season during Urban Meyer's suspension as a key reason for his hiring, there's no doubt his work developing Haskins and putting together a prolific offense played a major part in his confidence in promoting Day to head coach.
Together, Day and Haskins powered an offensive attack that averaged the second-most total yards per game, second-most passing yards per game and second-most passing touchdowns per game in 2018. Without Meyer around for the first three games of the season, the duo helped drop 169 points in three wins.
Day was hired as a co-offensive coordinator in 2017, technically holding a title below Kevin Wilson, who was offensive coordinator. Ohio State then promoted him to offensive coordinator in 2018. Less than a year later, Smith made him head coach. Day leading the Haskins-powered offense did enough.
Once Day had the position, he targeted Fields, who specifically cited Day's work with Haskins as a primary reason for him becoming a Buckeye.
"They really didn't give me a sales pitch because they already knew I'd been through the recruiting process, so they weren't trying to sell me," Fields said on Feb. 6. "They didn't really have to that much, just going based off what Dwayne did last year and how much success he had in this offense. I felt like I could come in and hopefully do the same thing that he did."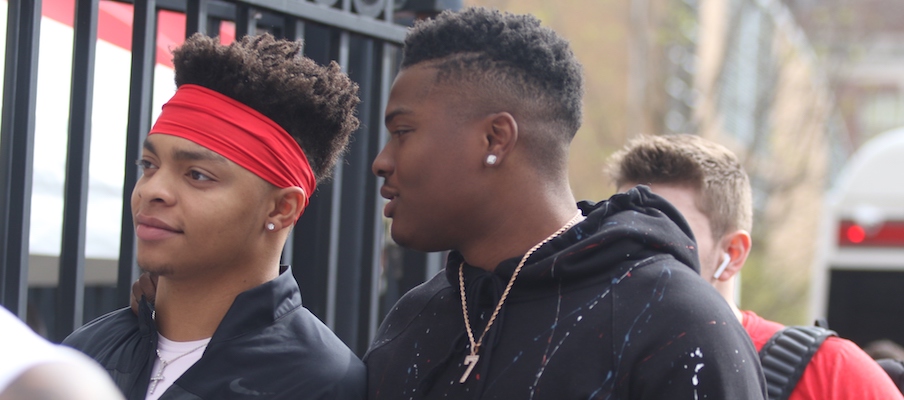 Fields isn't Haskins. They don't have the same game. He's a special talent on the ground with the ability to beat defenses with his feet, while Haskins thrives when standing in a clean pocket and delivering.
But Day doesn't care about their similarities or differences. He simply wants the country's top talent to pick Ohio State, and that happened in large part because the country watched Day and Haskins lead one of the best offensive seasons in college football. It has had a direct effect on the Buckeyes landing high-level offensive recruits, while the defensive prospects appear to be in wait-and-see mode.
Early in the 2018 season, Haskins showed he had NFL potential. By the middle of the season, it wasn't difficult to tell he'd have a chance to leave after one season as a starter. And by the time December hit, he was being bandied about as a possible first-round pick.
So he made the logical decision: head to the NFL, become a first-rounder and sign an eight-figure deal to set his family up for generations. Fields, Miller and McCord hope to have a chance to make that same logical decision in the coming years.
Haskins is gone, but he isn't forgotten. Ohio State is using him, and has been using him, as a blueprint for the future of the program.