Soon, the months of speculation about how the 2019 NFL draft will play out will be replaced by actual results.
When the first round of this year's NFL draft is held on Thursday night, we will find out where former Ohio State stars Nick Bosa and Dwayne Haskins will begin their professional football careers. By the end of the night Friday, we're likely to know where Dre'Mont Jones, Parris Campbell and Terry McLaurin are headed. By the end of the day Saturday, a multitude of other Buckeyes will also be set to begin their careers at the next level as either draft picks or undrafted free agent signings.
The only thing that's truly predictable about the NFL draft is that it will be unpredictable. Case in point: only three of my projected picks in my first-round mock draft last year actually came true. None of my projections for Ohio State's draft prospects actually came to fruition.
That isn't going to stop me from taking my best guesses again.
With hopes of being a little more accurate this time around, here are my final projections for all 32 first-round picks, followed by my projections for the rest of Ohio State's 14 draft hopefuls.
1. Arizona Cardinals: Kyler Murray, QB, Oklahoma
The Cardinals' plan to draft Murray with the No. 1 overall pick has been rumored for months, and even though the quarterback they drafted in the first round just last year – Josh Rosen – is still on their roster and participating in offseason workouts, it would be a surprise if the Cardinals go in any other direction. New Cardinals head coach and former Texas Tech head coach Kliff Kingsbury has seen what Murray can do firsthand from coaching against him in the Big 12, and the belief among most NFL insiders and draft prognosticators is that they will draft Murray to be the new face of their franchise and subsequently trade Rosen.
If Murray is the selection, he will join Baker Mayfield as the second straight Heisman Trophy-winning quarterback from Oklahoma to be the No. 1 overall pick.
2. San Francisco 49ers: Nick Bosa, DE, Ohio State
Bosa is widely regarded to be the best overall prospect in this year's draft, and as such, he's expected to be the first non-quarterback selected – just as his older brother Joey was in 2016 after his own Ohio State career. Alabama defensive tackle Quinnen Williams could also be the pick here, but it would be a surprise if Bosa isn't bound for San Francisco as the No. 2 overall pick on Thursday night.
3. New York Jets: Quinnen Williams, DT, Alabama
Because Bosa and Williams are considered to be the two best prospects regardless of position in this year's draft, it's likely that the No. 3 overall pick will be whoever the 49ers don't take at No. 2. The Jets are rumored to be seeking a trade down, but even if they do so, Williams would be a likely trade-up target – though it's also possible a team coveting a quarterback could trade up to this spot to secure the chance to draft Dwayne Haskins.
4. Oakland Raiders: Ed Oliver, DT, Houston
Jon Gruden and Mike Mayock are rumored to have a surprise pick up their sleeves, and some believe that surprise could even be Haskins. With Derek Carr still locked into a lucrative contract, however, it would be more logical for the Raiders to select one of the draft's highly touted defensive prospects, and according to a report by The Athletic's Connor Hughes, the Raiders "love" Oliver, a highly athletic defensive tackle with the potential to be an elite interior pass-rusher.
5. Tampa Bay Buccaneers: Josh Allen, DE/OLB, Kentucky
With the New York Giants sitting at the No. 6 overall pick, this could be another potential trade slot for a team looking to land Haskins. If the Buccaneers stay put, though, they're likely to draft a defensive player, and the top two candidates in this scenario are Kentucky edge rusher Josh Allen and LSU linebacker Devin White. White has been the more popular mock draft projection, but elite pass-rushing prospects are typically valued over elite linebackers, and that could ultimately sway the Buccaneers to draft Allen if he's available.
6. New York Giants: Devin White, LB, LSU
Many people believe the Giants should draft Dwayne Haskins with this pick, and with good reason. Eli Manning is nearing the end of his career, and Haskins – a New Jersey native who would seemingly love to play for the Giants – could be a perfect fit to succeed Manning as their next franchise quarterback.
There have been conflicting reports throughout the draft process on how interested the Giants actually are in Haskins, though. They're not ready to completely move on from Manning yet, and Giants general manager Dave Gettleman is a big believer in the "best player available" draft strategy, which leads many prognosticators to believe they will select one of the draft's many defensive stars with the No. 6 overall pick instead. In this scenario, with the top defensive linemen off the board, that would likely mean selecting White, the draft's top linebacker.
7. Jacksonville Jaguars: Jawaan Taylor, OT, Florida
The Jaguars are expected to decide between drafting Iowa tight end T.J. Hockenson or an offensive lineman at this pick. Hockenson has been a popular choice in recent mock drafts, but it's typically far more common for offensive tackles to be top-10 picks than tight ends. Taylor is considered by many to be the top offensive tackle in this draft, and the Jaguars are in need of a right tackle. Drafting a player from their home state who is also the top prospect at one of their biggest positions of need would make a lot of sense.
*PROJECTED TRADE* 8. Washington Redskins (from Detroit Lions): Dwayne Haskins, QB, Ohio State
Among all teams in this year's draft, there might not be any team with more reason to pursue Haskins than the Redskins. They don't have anyone who can be considered a franchise quarterback at this point in their careers, and Haskins' family lives in Maryland – about halfway between the Redskins' team headquarters and FedEx Field, where they play their games on Sundays.
That said, the Redskins currently hold the No. 15 overall pick, and even if the Giants pass on Haskins, there are at least three teams sitting in front of the Redskins – the Denver Broncos at No. 10, the Cincinnati Bengals at 11 and the Miami Dolphins at 13 – who could be threats to draft the Ohio State quarterback.
The Detroit Lions, meanwhile, are rumored to be looking to trade back, and ESPN's Todd McShay believes the Redskins – with their eye on Haskins – could be a match. A trade between the two teams – which would likely involve the Redskins sending their second-round pick (No. 46) or a package of multiple picks to the Lions to move up seven spots – could be a win-win for both teams that nets the Redskins a potential star quarterback and Haskins the opportunity to compete for a starting job immediately.
9. Buffalo Bills: Christian Wilkins, DT, Clemson
The Bills are another team that is rumored to be targeting a defensive lineman with their top-10 pick, according to McShay. The draft's top tier of defensive linemen are off the board in this scenario, but the second tier of defensive linemen in this draft class offers several potential early first-round picks as well, including Michigan's Rashan Gary, Mississippi State's Montez Sweat and Florida State's Brian Burns. The most complete defensive lineman still on the board here, though, is Wilkins, an athletic and versatile player who offers the ability to play all along the Bills' defensive front.
10. Denver Broncos: Devin Bush, ILB, Michigan
The Broncos have been projected in most mock drafts to take either a quarterback or linebacker with this pick. With Haskins off the board, the best player available between those two positions is Bush, the reigning Big Ten Defensive Player of the Year.
11. Cincinnati Bengals: Andre Dillard, OT, Washington State
The Bengals also are rumored to be targeting Bush, but he's off the board in this scenario. A quarterback could be in play at this pick, but the Bengals haven't brought in any of the draft's top quarterbacks for pre-draft visits, which could indicate they're planning to stick with Andy Dalton. That could lead the Bengals to draft an offensive tackle, and Dillard is an excellent athlete who has as much upside as any offensive lineman in this year's class.
12. Green Bay Packers: T.J. Hockenson, TE, Iowa
Hockenson, who had his breakout game when he caught two touchdown passes against Ohio State in 2017 and emerged as college football's best tight end in 2018, could be considered the best player available here and would seemingly be a natural fit for the Packers as another weapon for Aaron Rodgers. Hockenson is both a skilled receiver and a strong blocker and would be the fifth Iowa player drafted by the Packers since 2010.
13. Miami Dolphins: Jonah Williams, OT, Alabama
The Dolphins need help on both their offensive and defensive lines, so this pick could come down to who their highest-graded player available is at either of those spots. Williams has been projected as a top-10 pick in some mock drafts and could be an immediate fix at right tackle, where the Dolphins have a big need after losing Ja'Wuan James in free agency.
14. Atlanta Falcons: Montez Sweat, DE, Mississippi State
Sweat has reportedly been removed from some teams' draft boards after being flagged for a heart condition at the NFL Scouting Combine, but health concerns aside, he's an elite pass-rushing prospect. He was highly productive at Mississippi State and ran a jaw-dropping 4.41-second 40-yard dash at the NFL Scouting Combine. From a talent standpoint, he's the best prospect available at this point, and the Falcons are looking to upgrade their pass-rush. He's worth the risk.
15. Detroit Lions (from Washington Redskins): Brian Burns, DE, Florida State
Burns is another explosive athlete who offers high upside as an edge rusher, which could make him an option for the Lions even if they stay put at the eighth overall pick. He needs to get bigger and stronger to hold up as an NFL run defender, so he'd be a bit of a reach as a top-10 pick, but the Lions can afford to take a chance on his potential at the end of the top 15 after trading back.
16. Carolina Panthers: Cody Ford, OT/G, Oklahoma
The Panthers appear to be targeting an offensive lineman with their first-round pick, and Ford – who has the potential to compete for an immediate starting job at either tackle or guard – is the best available blocker in this scenario. The Panthers reportedly hosted Ford for a pre-draft visit last week.
17. New York Giants (from Cleveland Browns): Daniel Jones, QB, Duke
If the Giants don't draft Haskins with the sixth pick, they could use the 17th pick – which they acquired when they traded Odell Beckham Jr. to the Browns – to draft their quarterback of the future. Some reports have suggested that the Giants have preferred Jones over Haskins as their quarterback of choice all along, and as a mid-first-round-pick, there would be less pressure for Jones to play immediately as he develops behind Eli Manning.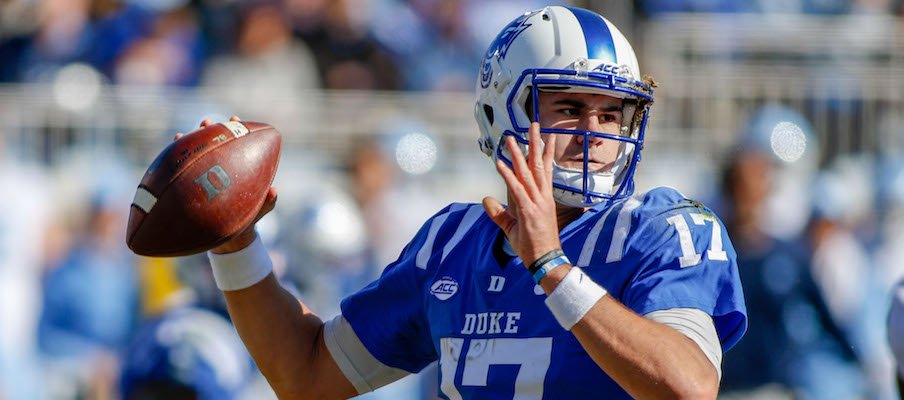 18. Minnesota Vikings: Chris Lindstrom, G, Boston College
The Vikings' biggest need entering the draft is offensive line reinforcement, especially at the guard spot. A four-year starter at Boston College, Lindstrom is a powerful and athletic guard who could likely slide in next to former Ohio State center Pat Elflein right away and make the Vikings stronger up front.
19. Tennessee Titans: Rashan Gary, DE, Michigan
Gary is one of the most polarizing prospects in the draft. He's been hyped as a future superstar since he was in high school – he was ranked as the No. 1 prospect in the recruiting class of 2016, ahead of Bosa and Oliver, among others – but as Ohio State fans won't hesitate to point out, he never quite performed up to expectations at Michigan. He is also reportedly dealing with a labral tear in his shoulder. He's still an elite athlete with huge upside, though, and he's been projected to be drafted as early as the top 10. Defensive line is one of the Titans' biggest areas of need, so they could be compelled to take a chance on Gary if he falls this far.
20. Pittsburgh Steelers: Byron Murphy, CB, Washington
The Steelers have been doing their homework on the draft's top cornerbacks, making it appear as though that could be the position they are targeting with their first-round pick. Georgia's Deandre Baker, LSU's Greedy Williams and Temple's Rock Ya-Sin are also candidates, but we'll go with Murphy, who Pro Football Focus graded as the best cover corner in college football last season.
21. Seattle Seahawks: Clelin Ferrell, DE, Clemson
The Seahawks need a pass-rushing defensive end after trading Frank Clark to the Kansas City Chiefs on Tuesday, and Ferrell is the best available in this scenario.
22. Baltimore Ravens: Garrett Bradbury, C, N.C. State
The Ravens need a center, and Bradbury is expected to be selected in this area of the first round as the best center in this year's draft class.
23. Houston Texans: Greedy Williams, CB, LSU
The Texans' biggest need is at offensive tackle, but all the consensus first-rounders at that position are off the board in this scenario. Cornerback is the Texans' second-biggest need, and either Williams or Georgia's Deandre Baker would likely be graded higher than any offensive lineman still available at this pick.
24. Oakland Raiders (from Chicago Bears): Noah Fant, TE, Iowa
The Raiders lost their top tight end from last season (Jared Cook) in free agency, and Fant is arguably the best player still on the board at this mock. He's not the blocker that his college teammate Hockenson is, but he's an outstanding athlete for the tight end position who can add another receiving playmaker for Derek Carr to pair with free-agent wide receiver additions Antonio Brown and Tyrell Williams.
25. Philadelphia Eagles: D.K. Metcalf, WR, Mississippi
Metcalf could potentially be drafted much earlier after a spectacular showing at the combine in which he ran a 4.33-second 40-yard dash at 6-foot-3 and 228 pounds, but his upside could be too good to pass up if he falls to the Eagles at this spot. They've shown interest in potentially selecting a wide receiver early in the draft, and Metcalf is one of the most freakish athletes in the entire class.
26. Indianapolis Colts: Jeffery Simmons, DT, Mississippi State
Simmons is a risky first-round draft pick – he tore his ACL in February, which could sideline him for his rookie season, and he comes with controversy after being caught on tape punching a woman while he was in high school – but red flags aside, he's considered to be one of the most talented prospects in the entire draft. Bleacher Report's Connor Rogers reports that "there is a ton of buzz" around Simmons as a potential pick for the Colts, and they just might be the team that takes a chance on his potential.
27. Oakland Raiders (from Dallas Cowboys): Josh Jacobs, RB, Alabama
Marshawn Lynch announced his retirement on Wednesday, which leaves the Raiders in need of a new running back to replace him, and Jacobs could be a perfect fit. Like Lynch, Jacobs is a powerful between-the-tackles runner, and he's considered to be the best running back in this year's draft.
28. Los Angeles Chargers: Jerry Tillery, DT, Notre Dame
Defensive tackle is one of the Chargers' biggest areas of need, and two of the top first-round prospects still available are defensive tackles: Tillery and Clemson's Dexter Lawrence. Lawrence is a massive nose tackle with great athleticism for his size, but Tillery is a better fit for the Chargers' needs as a quicker interior penetrator.
*PROJECTED TRADE* 29. Denver Broncos (from Kansas City Chiefs via Seattle Seahawks): Drew Lock, QB, Missouri
After acquiring this pick from the Chiefs in exchange from Frank Clark, it's likely the Seahawks will look to trade down from one of their first-round picks, as they still have only five total picks in this year's draft. If Lock is still on the board this late in the first round, a team who covets a quarterback could trade back up into Round 1 to select him, and the Broncos – who traded for Joe Flacco this offseason, but could still be in the market for a quarterback of the future – are a strong candidate to make that move. The Broncos hold the No. 41 overall pick in Round 2, and could throw in another draft pick or two to entice the Seahawks to move down.
30. Green Bay Packers (from New Orleans Saints): Darnell Savage Jr., S, Maryland
Savage has been rumored to be a late riser in the draft process – both NFL Network's Ian Rapoport and ESPN's Todd McShay have suggested that he could climb into the first round – and the Packers, who could be in the market for a safety with one of their three top-45 picks, would be a logical landing spot.
31. Los Angeles Rams: Erik McCoy, C/G, Texas A&M
The Rams are another team that could explore trading out of the first round to accumulate more draft picks, but McCoy is a player who could compel them to stay put. The Rams are replacing two of their starting interior offensive linemen from last season, and McCoy could slide into a starting role at either center or guard.
32. New England Patriots: Dexter Lawrence, DT, Clemson
Wide receiver and tight end might be the Patriots' biggest needs after the retirement of Rob Gronkowski this offseason, but they also need to reinforce their defensive line, and Lawrence would be great value to fill a need at nose tackle with the final pick of the first round.
---
While Bosa and Haskins are the only other Buckeyes who are sure bets to be selected in the first round, there are several other Ohio State prospects who have a good chance of being selected in the first two rounds and at least 10 who appear to have a real shot of being drafted, and here are my best guesses for where each of them could end up:
Parris Campbell, WR: Seattle Seahawks, Round 2, No. 41 overall
If the Seahawks trade out of one of their late first-round picks into the early second round as projected above, Campbell could end up being their target. The Seahawks brought Campbell in for a pre-draft visit, and he fits the profile of players they typically draft. They're known for drafting players who have a high SPARQ rating, and according to 3sigmaathlete.com, Campbell's explosive athleticism gives him the third-highest SPARQ rating among all wide receivers in this year's draft class.

Dre'Mont Jones, DT: Carolina Panthers, Round 2, No. 47 overall
If the Panthers draft an offensive lineman in Round 1, defensive line could be their target area for Round 2, and they brought Jones in for a pre-draft visit. In most draft classes, Jones would have a good chance to be a first-round pick; the depth of defensive line talent in this year's draft will likely push him down into the second round, but he's one of the best interior pass-rushers in the draft, and the Panthers need pass-rush help.
Terry McLaurin, WR: New England Patriots, Round 2, No. 56 overall
The Patriots need to add playmakers in the passing game, and McLaurin would seemingly be a perfect fit. They need to add a wide receiver who can stretch the field, and McLaurin has the speed to do that, while his excellence on special teams and commitment to doing the little things well would be a make him a natural fit for Bill Belichick's "Do Your Job" culture.
Kendall Sheffield, CB, New York Jets: Round 4, No. 105 overall
It's likely that someone will take a chance on Sheffield early on Day 3 because of his elite speed, and that team could be the Jets, who reportedly hosted Sheffield for a pre-draft visit at their facility. The Jets appear likely to target a cornerback in the middle rounds of the draft, and Sheffield's physical tools could make him a tempting choice.
Michael Jordan, OG: Detroit Lions, Round 4, No. 111 overall
The Lions are likely to target a guard in the middle rounds of the draft, especially if they trade down and add more picks, and Jordan – projected in several mock drafts as a third- or fourth-round pick – would be a logical choice. The Michigan native offers the versatility to play both guard and center, though he prefers to play guard, and with three years of starting experience at Ohio State, he's a candidate to play immediately if needed.
Mike Weber, RB: Dallas Cowboys, Round 5, No. 165 overall
After opting not to re-sign former Ohio State running back Rod Smith in free agency, the Cowboys could draft another former Ohio State running back to be their new backup for Ezekiel Elliott – who, of course, is also a former Ohio State running back. Weber projects as a solid rotational running back in the NFL, and he has received interest from the Cowboys in the pre-draft process.
Isaiah Prince, OT: New York Giants, Round 6, No. 180 overall
The Giants will be looking to add some offensive linemen over the course of this year's draft, potentially as early as Round 1, but Prince could be a target in the later rounds as a backup offensive tackle. He'll need to improve upon the inconsistency that plagued his Ohio State career in order to establish himself in the NFL, but his size and run-blocking ability give him intriguing developmental potential as a Day 3 pick.
Johnnie Dixon, WR: Houston Texans, Round 7, No. 220 overall
The Texans have had a close eye on Dixon in the pre-draft process, working him out at Ohio State and reportedly bringing him into their facility for a visit, and could target him as a potential late-round steal. They need some depth on the back end of their wide receiver rotation, and Dixon has the skills to be a solid rotational target for Deshaun Watson.

Demetrius Knox, OG: Seattle Seahawks, Undrafted Free Agent
The Seahawks brought Knox to their facility for one of their 30 allotted pre-draft visits, which they probably wouldn't have done if they weren't interested in potentially bringing him in as at least as a late-round pick or undrafted free agent. The Seahawks don't have a ton of interior offensive line depth, so he'd have a chance to compete for a roster spot in Seattle.
Malcolm Pridgeon, OG: Atlanta Falcons, Undrafted Free Agent
The Falcons should be looking for some offensive line reinforcements this week, and they were one of four teams that reportedly met with Pridgeon at Ohio State's pro day, according to Stampede Blue's Zach Hicks. A one-year starter at left guard for the Buckeyes, Pridgeon has experience playing both guard and tackle, and that versatility could help him earn a roster spot even if he goes undrafted.
Dante Booker, LB: Cleveland Browns, Undrafted Free Agent
Booker attended the Browns' local pro day and he's a Northeast Ohio native, so there'd be reason for them to be near the top of his list of teams to sign with if he goes undrafted. The Browns don't have a ton of linebacker depth, so they'll likely to be looking to add some late-round picks or free agents who can compete for roster spots in training camp, and Booker could fit the bill.
Sean Nuernberger, K: Cleveland Browns, Rookie Minicamp Tryout
Kickers don't often get drafted, and those who don't typically have to try out at a rookie minicamp (or multiple) in order to earn a roster spot. That said, Nuernberger has been in contact with six NFL teams leading up to the draft and worked out at local pro days for both the Browns and Bengals, so he'll likely get an opportunity to try out somewhere – and the Browns, who are likely to have an open competition at kicker this summer, could be an ideal landing spot as a team where he'd have a real chance to compete for a job.