Dwayne Haskins knew from the moment he declared for the NFL draft that he would not actually be attending the NFL draft.
As one of the top quarterbacks in this year's draft class and a projected early first-round pick, Haskins was invited to Nashville to be in the green room, hear his name called in person and walk across the stage to meet commissioner Roger Goodell.
For Haskins, however, the opportunity to experience that moment in person is less important than the opportunity to experience that moment with all of his extended family and close friends – which he wouldn't have been able to do if he attended the draft.
"I can't put into words how many people have helped me along the way," Haskins told Eleven Warriors on Sunday at the Woody Hayes Athletic Center, where he held a camp for grade-school kids. "And for me, the biggest thing is trying to share that moment with them, and it would be selfish of me to just go to the draft and only invite my mom and my dad and my sister and my girlfriend, and that's the only people that get to go."
Instead of watching the draft in Nashville, Haskins will be hosting a private draft party at Bowlmor Lanes in Gaithersburg, Maryland, where he expects to have nearly 100 relatives and friends in attendance.
Draft Day Blessings for the people who supported me over the years this day is for you as well. Cant wait to celebrate with you..
It takes a village: Kingdom Building
Philippians 1:3-5ESV pic.twitter.com/pK1tUYVGSr

— Dwayne Haskins, Jr (@dh_simba7) April 14, 2019
"Of course, as a kid, you watch the draft, you see everybody go and that looks amazing, looks like fun," Haskins said. "But I knew as soon as I declared that I was going to be at home for the draft. I'm just looking forward to having my friends who have been with me since the day I played football, to cousins and uncles and aunts and nieces and nephews that have been there for me since Day One. I don't get too many tickets for the draft, so I was just able to extend my family and be able to share the moment with them."
"I can't put into words how many people have helped me along the way."– Dwayne Haskins on why he is holding his own draft party instead of attending the NFL draft
Haskins expects at least three of his former Ohio State teammates to be in attendance: Fellow Maryland natives Keandre Jones (who transferred to Maryland in January) and Chase Young, as well as Brendon White. Haskins also said he has extended an invitation to Ryan Day, though he is unsure whether his former quarterbacks coach will be able to make it yet.
With less than two weeks remaining until the first round of the NFL draft, which will begin at 8 p.m. on April 25, Haskins is looking forward to wrapping up the pre-draft process. He's been keeping busy in the weeks leading up to the draft: He visited the Washington Redskins and Denver Broncos last week, has had private workouts with the Miami Dolphins and Oakland Raiders in Columbus and said Sunday that he is visiting the New York Giants this week.
He's about ready for the months of speculation and flights all over the country to be over with, but Haskins said he has enjoyed going through the draft process, which has given him the opportunity to meet some of the NFL's all-time great quarterbacks, including John Elway (who is now the general manager of the Broncos) and Dan Marino (who is a special advisor for the Dolphins) – who are both in the Pro Football Hall of Fame – and Doug Williams, the first African-American quarterback to win a Super Bowl, who is now the Redskins' senior vice president of player personnel.
"Meeting guys like that at that caliber and for them to give me advice, I think that I can be like them one day," Haskins said. "So it's been a great experience, and I appreciate Ohio State for getting me ready."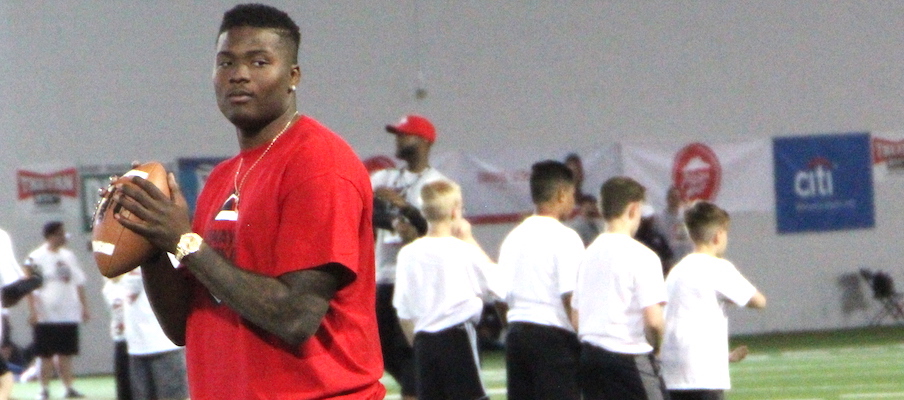 As he returned to Ohio State this weekend to attend the spring game at Ohio Stadium on Saturday, Haskins acknowledged that there was a moment in which he considered the possibility that he could still be a Buckeye, having left two years of collegiate eligibility on the table when he made the decision to enter the 2019 NFL draft.
"I was in the stadium, like 'Man, I should have came back for another year,'" Haskins said. "But I just know that no matter what, I'm going to always have a home here and I can come back and enjoy myself and be a part of something special, and that's that brotherhood."
Haskins has no actual regrets about his decision to go pro, though, because that's always been his goal. As he caught up with other former Ohio State players who have since gone on to play in the NFL in the Shoe on Saturday, he felt fortunate that he now has the opportunity to follow in their footsteps.
"In high school and college, I looked up to guys like Zeke and Braxton, and now I'm right in their shoes. So it's crazy," Haskins said. "The end goal is to be a professional athlete, and that's what you want to be when you play football and hopefully one day in the Hall of Fame, so I'm definitely glad that I have the opportunity to go do that."