Nick Bosa is expected to be one of the first players selected in this year's NFL draft, and in turn, he will become one of the top overall draft picks in Ohio State history.
Of the more than 400 Buckeyes who have been selected dating back to the first-ever NFL draft in 1936, eight Ohio State players have been selected among the top three overall picks. Most recently, Nick's older brother Joey Bosa was drafted with the No. 3 overall pick in 2016.
Nick Bosa is widely projected to join him in that exclusive club on Thursday night. While most mock drafts have the Arizona Cardinals selecting Oklahoma quarterback Kyler Murray with the No. 1 overall pick, most of them also have the San Francisco 49ers selecting Bosa with the No. 2 overall pick. Even if the 49ers pass on Bosa, however, he's expected to fall no further than the No. 3 overall pick, where the New York Jets are slated to draft.
With that in mind, we take a look back at the eight previous Buckeyes who have set the mark for being Ohio State's highest overall draft selections of all-time, starting with the three Buckeyes who have gone on to be No. 1 overall picks.
Tom Cousineau: No. 1 overall, Buffalo Bills, 1979
Ohio State had its first-ever No. 1 overall draft pick 40 years ago when the Buffalo Bills opened the draft by selecting Tom Cousineau, a two-time consensus All-American linebacker for the Buckeyes who still owns the school record for tackles in a single season with 211 as a senior.
The Bills deemed him to be the best player in the 1979 NFL draft, but he never actually played for Buffalo. Instead, Cousineau signed with the Canadian Football League's Montreal Alouettes – who offered Cousineau more money than the Bills, at a time when NFL players did not make the multi-million dollar salaries they make today – and became an immediate star north of the border, earning Grey Cup MVP honors in his rookie season.
A Northeast Ohio native, Cousineau returned to his roots after three seasons in the CFL, joining the Cleveland Browns. He made the NFL's All-Rookie team in 1982 and earned second-team AP All-Pro honors in 1984. After four years with the Browns, Cousineau played only two more NFL seasons with the San Francisco 49ers.
Dan Wilkinson: No. 1 overall, Cincinnati Bengals, 1994
As a redshirt sophomore for the Buckeyes in 1993, Dan Wilkinson was one of the most dominant defensive linemen in college football, earning Big Ten Defensive Player of the Year and consensus All-American honors after recording 44 total tackles, including 13 tackles for loss, from his defensive tackle position. He opted to declare for the 1994 NFL draft with two remaining seasons of eligibility, and his decision paid off, as the Cincinnati Bengals made him the top pick in the entire draft.
Although his pro career never quite lived up to the hype, "Big Daddy" still went on to be a 12-year starter in the NFL. He spent four seasons with the Bengals before being traded to the Washington Redskins, then spent five years in D.C. before signing with the Detroit Lions. He was with the Lions for three years before finishing his career in a reserve role with the Miami Dolphins in 2006.
Orlando Pace: No. 1 overall, St. Louis Rams, 1997
Few offensive linemen have ever entered the NFL draft with more hype than Orlando Pace, who became one of the biggest star offensive linemen in college football history during his three seasons at Ohio State. After becoming an immediate starter at left tackle as a true freshman, Pace went on to be a two-time consensus All-American and two-time winner of the Lombardi Award. In his final season as a Buckeye in 1996, Pace also won the Outland Trophy and even earned a fourth-place finish in the voting for the Heisman Trophy, an award for which offensive line rarely garner consideration.
Pace continued his dominance at the next level, starting 165 games over the course of 13 NFL seasons – 12 with the then-St. Louis Rams, including a Super Bowl-winning season in 1999, before one final season with the Chicago Bears. A seven-time Pro Bowler and three-time first-team All-Pro, Pace was one of the best offensive tackles of his generation and was honored accordingly in 2016, when he was inducted into the Pro Football Hall of Fame.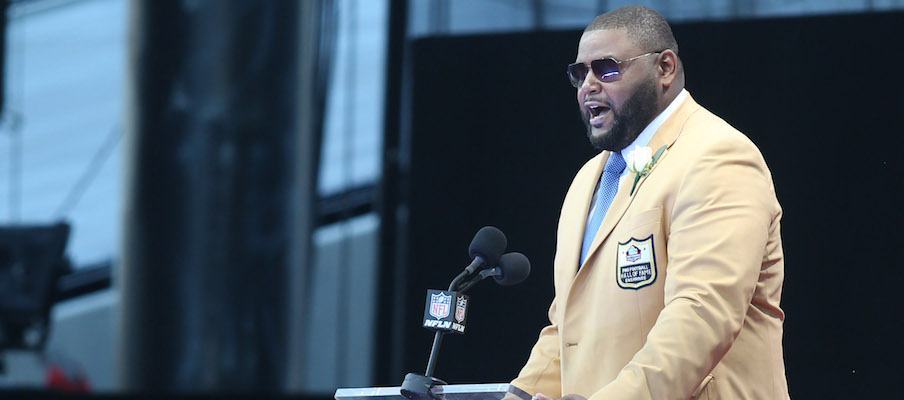 Jim McDonald: No. 2 overall, Philadelphia Eagles, 1938
Jim McDonald, Ohio State's first-ever first-round NFL draft pick, remains the only Buckeye who has ever been selected with the No. 2 overall pick.
As a two-sport athlete at Ohio State, McDonald was a first-team All-American quarterback on the football field and a team captain on the basketball court.
Like Cousineau, McDonald never played for the team that drafted him. Though he was selected by the Philadelphia Eagles, he played his only two NFL seasons for the Detroit Lions, rushing 25 times for 80 yards and catching seven passes for 112 yards. The Springfield, Ohio native later went on to coach at Tennessee, including one season as the Volunteers' head coach in 1963.
Joey Bosa: No. 3 overall, San Diego Chargers, 2016
Much like his younger brother this year, Joey Bosa was widely regarded as the best overall prospect in the 2016 draft class. A two-time consensus All-American and Big Ten Defensive Lineman of the Year in his final two seasons at Ohio State, Bosa was the first non-quarterback selected and the first of 12 Buckeyes selected in their historically loaded 2016 draft class.
Three seasons into his NFL career with the Los Angeles Chargers, who were based in San Diego when they drafted him, Bosa has started 33 games and recorded 134 total tackles with 28.5 sacks. He's established himself as one of the best defensive ends in the league.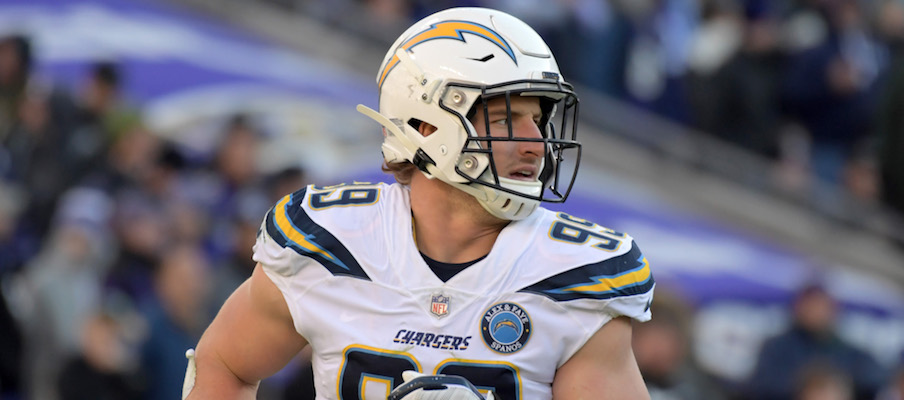 Shawn Springs: No. 3 overall, Seattle Seahawks, 1997
Ohio State had two of the first three overall picks in the 1997 draft. Two picks after the Rams selected Pace, the Seattle Seahawks drafted Shawn Springs, the Big Ten Defensive Player of the Year and a consensus All-American for the Buckeyes in 1996, when he was arguably the most dominant cornerback in college football, recording 39 tackles and 15 pass breakups.
Springs played for the Seahawks for seven seasons, earning a Pro Bowl berth in just his second NFL season, when he recorded a league-high three defensive touchdowns. While that proved to be his most productive season in the league, he spent 13 years in the NFL – including five seasons with the Washington Redskins and one final season with the New England Patriots – and started at least seven games in each of them.
Like Joey Bosa, Springs also has a connection to one of Ohio State's projected top picks in this year's draft. Springs has known Dwayne Haskins since Haskins was a child, and continues to serve as a mentor for Haskins, who is set to follow in Springs' footsteps and become a first-round draft pick – and quite possibly, a very high first-round pick – on Thursday.
John Hicks: No. 3 overall, New York Giants, 1974
As the only offensive lineman in the two-platoon era to finish higher in Heisman Trophy voting than Pace, John Hicks was also one of the top overall selections in the NFL draft after an exceptional career at Ohio State. In his final season as a Buckeye in 1973 season, Hicks not only won the Outland Trophy and Lombardi Award as college football's best lineman, but also finished second in the Heisman race.
A three-year starter at right tackle and two-time All-American for the Buckeyes, Hicks was one of the most dominant offensive linemen in college football history but was unable to achieve the same success at the next level. He played only four NFL seasons, all with the New York Giants, before injuries ended his career.
Hopalong Cassady: No. 3 overall, Detroit Lions, 1956
A Heisman Trophy winner and two-time All-American who made plays all over the field for the Buckeyes, Howard "Hopalong" Cassady was unsurprisingly one of the first players selected in the 1956 NFL draft. At the time, he was one of the sport's biggest stars; he became the first-ever player to exceed 2,000 points in Heisman voting when he won the award in 1955, when the Associated Press also named him as its Male Athlete of the Year.
Cassady went on to play in the NFL for eight seasons, including seven seasons with the Detroit Lions, in which he ran for 1,229 yards and six touchdowns and caught 111 passes for 1,601 yards and 18 touchdowns. He helped lead the Lions to an NFL championship in his second season in the league.