Terry McLaurin has reason to feel good entering this week's NFL draft.
The Ohio State wide receiver's rise as a draft prospect has been well-documented over the last few months; he was one of the top performers at the Senior Bowl in January, had an excellent workout at the NFL Scouting Combine that included a 4.35-second 40-yard dash in early March and followed that up with another strong showing at the Buckeyes' pro day a few weeks later.
McLaurin has continued to stay busy in the weeks since; he made visits to the New York Jets, Cincinnati Bengals and his hometown Indianapolis Colts, while he also spent time with the New England Patriots, Detroit Lions, New Orleans Saints, Oakland Raiders and Houston Texans in Columbus.
So as the beginning of the NFL draft approaches on Thursday night, McLaurin feels as though he's done everything he possibly could have to make his case for himself as a draft prospect, and he's confident that will pay off at some point in the next couple days.
"I'm not even really nervous going into this weekend, because I know I put myself in the best situation possible to get drafted really high," McLaurin told Eleven Warriors in a phone interview on Tuesday. "I don't think I could have done anything more to help myself. So knowing that I did everything I can, it's a really good feeling."
McLaurin said he has heard from all 32 NFL teams leading up to the draft, so he's going into this week with the belief that he could end up with any organization. He said he's made an effort to communicate with everyone who has reached out to him over the course of the draft process, knowing that all of those relationships could be beneficial in the future even though he can only ultimately be drafted by one team.
"One thing I've learned is that this is a really connections-type business and league, and the No. 1 thing I wanted to do is keep all my contacts open and just continue to talk to everybody that I can," McLaurin said. "So call them back if I missed their call or anything I can do just to continue to further those connections, because you hope to play your entire career with one team, but just in case you don't, you're going to be a free agent at one time, you want to keep those connections. Because they'll remember that time where they scouted you or had you in for a visit or what have you, and those are things that will stick out to them if they're looking to possibly pick you up again."
McLaurin has been projected to be selected everywhere from the late first round to the early fourth round – which means he could be drafted as early as Thursday or have to wait all the way until Saturday – but with all the momentum he has built up over the course of the draft process, it seems likely that his wait will last no longer than Friday.
ESPN's Todd McShay wrote earlier this week that "a source said he'd be surprised if McLaurin made it past the second round."
"I don't think I could have done anything more to help myself. So knowing that I did everything I can, it's a really good feeling."– Terry McLaurin on improving his stock for the NFL draft
While McLaurin wasn't expected to be drafted that early before going through the pre-draft process, he had his best season as a receiver in his final season at Ohio State. He caught 35 passes for 701 yards and 11 touchdowns, while he was also a two-time captain and a special teams standout, specifically as a gunner on the punt team.
He believes his five years at Ohio State prepared him to perform the way he has throughout the pre-draft process, and he believes NFL scouts have recognized the same qualities that led to consistent praise from former coach Urban Meyer over the course of his Buckeyes career.
"I'm very thankful for my time at Ohio State, and how much it prepared me for the next level," McLaurin said. "The No. 1 thing I've really heard from all the NFL teams is no matter if it's as a receiver ... or special teams, I just have all the makings of a guy that can play 10-plus years in the league. So that's very humbling and exciting to hear, but I just know that it's a starting point, and I'm just looking forward to getting to work."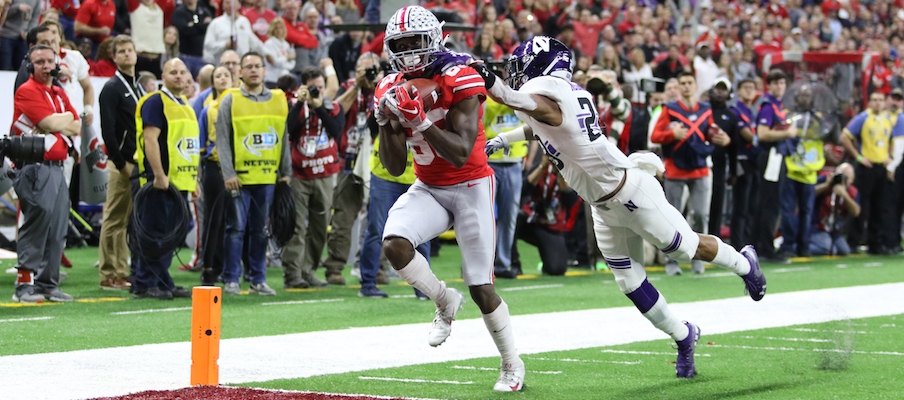 McLaurin plans to watch the draft with his family and friends in Indianapolis. Members of Ohio State's video staff will be on hand to capture his life-changing moment, but he declined a request by ESPN to film at his house during the draft because he wants to be able to focus on sharing the moment with the people who are closest to him.
"I didn't do this all by myself," McLaurin said. "I've had an unbelievable support system from my parents to my friends and just everybody. It's like the saying, 'It takes a village to raise a child,' and now I'm a man, and I just want to share this great moment with my family and my friends."
Whenever McLaurin does receive the call from an NFL team informing him that he is being drafted, it will be the realization of a dream he has had since he was 7 years old.
"I'm in the process of trying to get a hold of this little kindergarten project that I had, where everybody wrote down what they wanted to be when they grow up, and I wrote down I wanted to play in the NFL," McLaurin said. "And just to see that it's here, a few days away, it's very exciting."