History sides with Ohio State's assistant coaches – at least in the short term.
In his 17 years as a head coach at Bowling Green, Utah, Florida and Ohio State, Urban Meyer has never fired an assistant coach in the middle of the season. However bad the Buckeyes played in their 49-20 upset loss to Purdue on Saturday, don't expect any changes in the coaching staff in the immediacy.
"We have good players, good coaches," Meyer said after the game. "We're going to get to work. We lost a game last year and came right back. So we have good guys, and we're going to work our you-know-what's off, and get this thing right."
Meyer expects his assistants to remain on his staff for two seasons, and he rewards that by treating them with respect – even to the point some might fault him – by giving them at least two full seasons as coaches.
Still, after the running game continued its steep decline, the offense once again struggled in the red zone, the defense gave up 500-plus yards and big plays once again bit them on Saturday, questions of the staff's ability to prepare the team arose. None of the issues that arose against the Boilermakers were new, which explains the inquiries into the preparation work done by the coaches.
"That's part of this whole week," Meyer said when asked how much he must assess the coaching staff. "I do love our coaching staff. We're going to have a lot of work get done this week."
The ability of Meyer and his assistants to alter the course of the season in the middle of the year will be tested.
Up until this point, the Buckeyes seemingly haven't fixed any of their major issues. Ohio State had more talent than Purdue, yet got beat by 29 points. Much of that performance falls on the poor job of the coaching staff getting the players prepared for the Boilermakers.
The Buckeyes have an open week to work before taking on a struggling Nebraska team, so there's time to make major adjustments at key areas. But no matter how well or poorly the team responds to its first loss, it would be a shock if Meyer opted to make a change on the coaching staff in the next month.
Will the staff eventually, at the end of the season, experience a shake-up? That's a different, less conclusive quandary.
After the 2016 season, Ohio State parted ways with co-offensive coordinators Tim Beck and Ed Warinner. Even then, when Beck left to take the offensive coordinator job at Texas and Warinner was hired as Minnesota's offensive line coach, Meyer never framed the exits from the program as either coach getting fired. But, after watching the offense trudge through the season, Meyer determined he needed to make a change and did so.
That could – and likely will – happen again, even though he did not get a full fall camp to prepare for the upcoming season with the players and assistant coaches due to him serving his suspension. Some position groups have ample talent, yet simply haven't produced as a level expected at Ohio State.
So, let's take a look at how each of Ohio State's assistant coaches have performed.
Ryan Day: offensive coordinator and quarterbacks coach
After just one year on Meyer's staff, Ryan Day was promoted from co-offensive coordinator to offensive coordinator. With the new title, he was given a substantial pay raise that led to him earning over $1 million this season and signed a three-year contract. Every other assistant coach on the staff has contract for either one or two years.
Day, who was a graduate assistant for Meyer's Florida program in 2005, presided over the team during Meyer's absence as interim head coach, leading the Buckeyes to a 3-0 record. For his work during the stretch, Day was paid $487,000.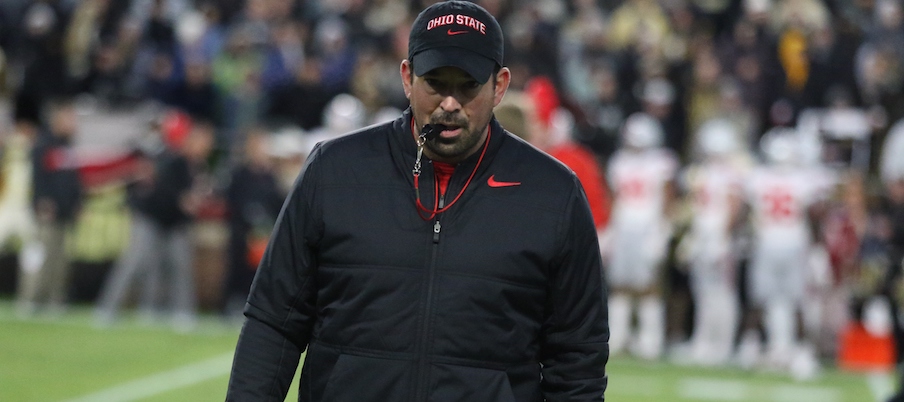 Though the offense has struggled in the red zone this season and the running game hasn't progressed, Day has been lauded for the his handling of the team in the first three games of the season and the advancement of the offense. Dwayne Haskins has progressed into one of the top pocket-passing quarterbacks in the country under his tutelage. In December, Meyer said Day turned down an SEC head coach job to remain on staff at Ohio State. As long as he doesn't become a head coach elsewhere, expect him to continue leading the offense moving forward.
Kevin Wilson: offensive coordinator and tight ends coach
Kevin Wilson's first year at Ohio State did not go as swimmingly as Day's. While Day earned a promotion and a substantial pay raise, Wilson continued his duties as offensive coordinator and tight ends coach. The Buckeyes went with Day as interim coach over Wilson, who was Indiana's head coach just two years ago before being fired.
Neither the running game nor the tight ends – both key areas for Wilson – have particularly flourished this season. Ohio State has rushed for fewer than 100 yards twice in the past month. Meyer's Buckeye teams had rushed for fewer than 100 yards just twice before, and both resulted in crushing losses to Michigan State in 2015 and Clemson in 2016.
Wilson has vast experience with successful offenses and helped coach an efficient run game last year, but that hasn't translated to this season. Plus, the tight ends haven't factored much into the pass game and haven't been impactful blockers. If Ohio State can figure out an answer to its run-game and red-zone issues, Wilson would likely have a big part in it. As it stands right now, though, he hasn't been able to help solve the persistent problems.
Tony Alford: running backs coach
Ohio State's running back coach since 2015, Tony Alford has coached a Big Ten offensive player of the year (Ezekiel Elliott in 2015), a Big Ten freshman of the year (Mike Weber in 2016) and the program record-holder for most rushing yards by a freshman in a season (J.K. Dobbins in 2017). Given the state of the running game this season, it's unlikely Alford will be credited for one of his players earning an award or breaking a record.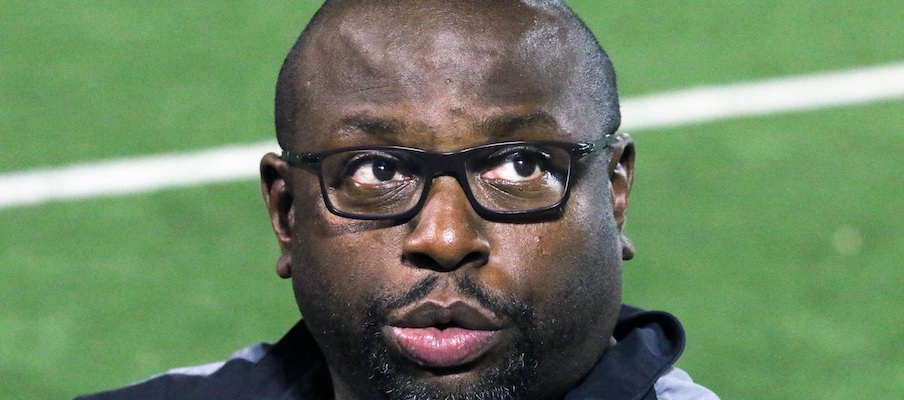 Despite having both Weber and Dobbins in the backfield, Ohio State is averaging 4.4 yards per carry, 1.4 yards fewer per carry than it averaged last season. Without a mobile quarterback, the rushing attack has suffered, though that's not necessarily Alford's fault. Both Dobbins and Weber are talented. They simply haven't found enough open lanes to run through. It's hard to fault Alford too much for a lackluster running attack when neither Weber nor Dobbins have much space to move.
Greg Studrawa: offensive line coach
After coaching back-to-back Rimington Trophy winners and presiding over solid offensive lines for the past two years, third-year offensive line coach Greg Studrawa hasn't been able to put together a bulldozing line that Ohio State has had in the recent past. Thayer Munford and Malcolm Pridgeon are in their first seasons as starters, and Demetrius Knox is midway through his first full season as a starter. Michael Jordan is playing his first season at center after a pair of seasons at guard. Isaiah Prince, a senior captain, returned as right tackle for the third season, but has had his fair share of struggles the past couple games.
Ohio State has sufficiently pass protected for Haskins, but Studrawa's unit hasn't been able to get a substantial push up front. Whether it be physical limitations, blown assignments or a combination, the line hasn't managed to get the job done. That has led to Ohio State lacking any threat in the run game and in the red zone. Though Ohio State has dealt with injuries to Brady Taylor and Branden Bowen, Studrawa should have enough pieces for the offensive line to put together more productive performances. The Buckeyes need answers up front, and they need them now. It's up to Studrawa to figure out how best to make the necessary improvements.
Brian Hartline: interim wide receivers coach
Ohio State's wide receivers have been revelations compared to the unit's recent years. Sure, some of the success can be attributed to Haskins being a substantial upgrade as a passer, but the improvements are visceral and undeniable. Though both Parris Campbell and K.J. Hill played well last season, they each took the next step and developed into consistent threats on the outside under Hartline. Terry McLaurin leads the team with eight touchdowns and Binjimen Victor has made a few spectacular plays.
Hartline remains just an interim coach, but it wouldn't be surprising if Meyer dropped the interim tag and made him a permanent coach at the end of the season. On a team with multiple shaky position groups, Hartline's wideouts have been a consistent bright spot, even in the Purdue loss.
Greg Schiano: defensive coordinator
Greg Schiano nearly became Tennessee's head coach before a public-relations disaster forced the Volunteers to recant their offer. Instead, he returned for his fourth season as Ohio State's defensive coordinator. Though the red-zone and run-game issues are the most immediate problems on the team, the defense certainly has its fair share of question marks.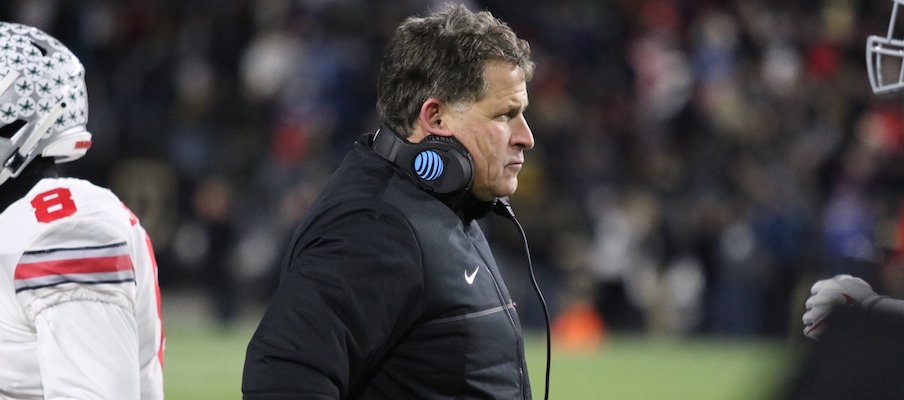 The big-play problem popped up in Week 1 and continues to persist. Ohio State remains committed to playing aggressive man-to-man coverage with its cornerbacks, though they have been burned for large chunks at times. The pass rush has declined. Still, through three quarters against the Boilermakers, the Buckeyes held a top-10 scoring offense to just 21 points.
Schiano's defense hasn't had a great year and gave up 500-plus yards of offense on Saturday. So, he certainly deserves some scrutiny for the yardage given up this season. But until Purdue's 49-point outburst that included 28 fourth-quarter points, the defense had not given up more than 31 points in a game.
Alex Grinch: co-defensive coordinator and safeties coach
After pulling the Washington State defense out of the dregs and turning it into a productive unit, Alex Grinch was hired by Ohio State as its 10th assistant coach and was immediately made co-defensive coordinator, along with his duties as safeties coach. He entered the program with high expectations and midway through his first season, he hasn't reached them.
Jordan Fuller was expected to take the next step and become an impactful safety, but he hasn't yet made that leap. Some of his issues might stem from lining up beside subpar safeties. Grinch was unable to sufficiently prepare either Isaiah Pryor or Jahsen Wint for the season. The safety spot beside Fuller has been an issue the entire season and remains a problem after eight weeks. He's in his first season on the staff, so Grinch deserves some time, but his first impression hasn't been exemplary.
Billy Davis: linebackers coach
Before Billy Davis took over as an assistant coach last season, the linebackers had high expectations. Jerome Baker was viewed as a potential All-American and Chris Worley had played at a high level. Under Davis, the linebackers turned into a liability. Iowa picked on them in coverage, which played a big part in the Hawkeyes' upset win last year.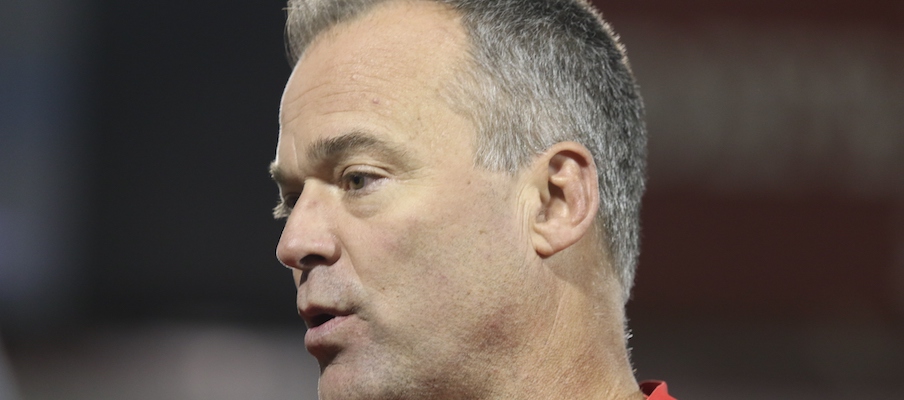 This season, the linebackers remain a problem. They haven't been nearly as impactful as linebacker units in past years, and they often seem either out of position or a step slow. James Laurinaitis called out their pre-snap positioning close to the line on Twitter this weekend. Their lack of development falls at the feet of Davis, Meyer's best man at his wedding and the only assistant coach on a one-year deal.
Larry Johnson: defensive line coach
Larry Johnson remains one of the best assistant coaches in college football. The defensive line certainly misses Nick Bosa, and that has showed in recent weeks. Even without Bosa, Ohio State has ample talent up front, though it has been the most banged-up group on the team. Johnson is the best developer of talent on Ohio State's staff, and he coaches what has been one of the top units in football.
Taver Johnson: cornerbacks coach
After a stint as Ohio State's cornerbacks coach during Jim Tressel's tenure, Taver Johnson coached at Arkansas, Purdue and Temple. He returned in the spring for his second stint at the program and his first time as a coach under Meyer. Ohio State returned a pair of starters in Damon Arnette and Kendall Sheffield and two five star-prospects in Jeffrey Okudah and Shaun Wade, but has struggled with press-man coverage.
Teams average more than 13 yards per completion against the Buckeyes. It's Johnson's first year as an assistant under Meyer, so it's early, but the cornerbacks have seemingly dropped off since Kerry Coombs left for the Tennessee Titans.