The persistent issues in limiting big plays, committing too many penalties and featuring one of the worst rushing attacks in school history all finally came back to bite Ohio State as the Buckeyes got rolled by a game Purdue squad, 49-20, last night in West Lafayette. 
While Urban Meyer's troops were their own worst enemy, Purdue head coach Jeff Brohm had his guys ready to go and they executed all night long highlighted by true freshman Rondale Moore who gashed Ohio State with 12 catches for 170 yards and a pair of scores. 
The loss dropped Ohio State to 7-1 ahead of a much needed open week to get healthy both mentally and physically and see if they can do anything to improve upon the same problems that have plagued them, even in wins, through the first two months of the season. 
With that, here are Five Things from last night's 29-point loss to the Boilermakers. 
---
SWINGERS
It's hard to pretend that just two possessions were insanely critical in a game with a final score of 49-20 but I think you can make a solid argument that the last two possessions of the first half proved fatal for Ohio State. 
Trailing 7-3 with just over six minutes left in the half and having just gotten the ball back at its own three yard line, Ohio State converted three-straight third downs advancing all the way to the Purdue 16 yard line. But things went south in a hurry from there as Dwayne Haskins felt pressure on a first down play and threw the ball a hair too early, and incomplete, toward a wide-open Johnnie Dixon. After a 1-yard run from J.K. Dobbins, the Buckeyes went back to the air on third down but Ben Victor couldn't hold on to a pass in the left corner of the end zone hotly contested by Antonio Blackman. Forced to try a field goal, Blake Haubeil shanked a 33-yarder with 1:51 left in the half, killing Ohio State's momentum and giving the ball back to Purdue. 
Not content with the 7-3 lead, Brohm's offense marched 80 yards in eight plays, shredding the Buckeyes with chunks of 19 and 37 yards before converting a fake field goal on 4th-and-3 to set up a 9-yard strike from David Blough to Moore giving the Boilers a 14-3 lead with 27 seconds before the half. 
The deflating score on the heels of Ohio State's missed field goal felt like a microcosm of the game overall.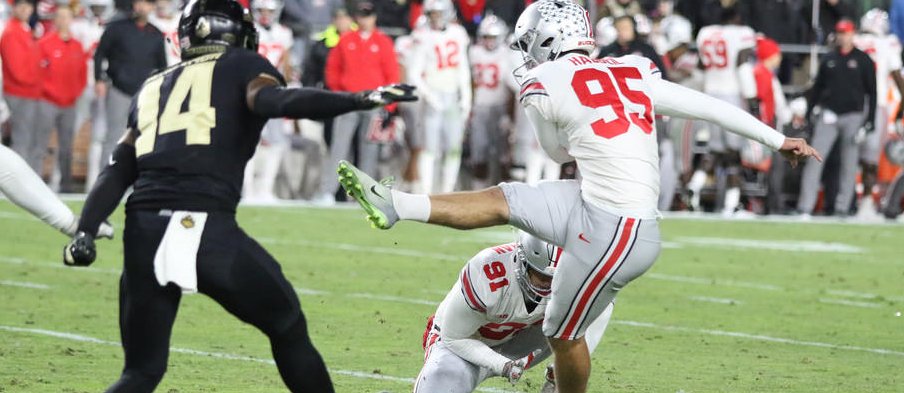 BREAK BUT DON'T BEND
Another game, another 16 total chunk plays in which Ohio State's opponent cranks out runs of 10+ yards or passes of 15+ yards. In fact, only two FBS teams out of 130 have given up more plays of 20+ yards than Ohio State's 26. Kent State has given up 29 and Connecticut 33.
The 16 chunk plays generated by Purdue tied the season-high set by Oregon State's 52nd-ranked total offense in the opener. 
With Ohio State's back seven MIA, the plethora of gashes enabled the Boilers to churn out 539 yards of offense marking the second time this season the defense has given up over 500 yards. 
Ohio State's defense ranks 91st nationally giving up 5.88 yards per play. Rutgers, for comparison, ranks 93rd giving up 5.92 yards per play.
A few of the big plays were even more painful as they came on third down. The Boilers converted just a solid 6-of-15 third downs and and four of those came as the defense gave up chunk plays, including touchdowns of 42 and 43 yards. 
The worst total defense of the Meyer era entering the season, the 2013 crew, gave up 377.4 yards per game, good for 47th in the nation. Through eight games, the 2018 unit is giving up 390.8 yards per game, or 70th in the land. 
In fact, six of Ohio State's eight opponents-to-date, have churned out more yards than the 2013 squad's season-average. 
FAMILY TIES
It pays to be in Meyer's inner-circle. Zach Smith is the easy example here and as far as on-field-only performance goes, linebacker coach Billy Davis is on his way to setting a new standard. 
Davis supporters, wherever they are, would probably note his experience (an assistant coach of some sort since 1991) and in particular, his NFL experience with 10 different stops. Davis realists would counter to say that while assistant coaching jobs in the NFL don't grow on trees and learning from a wide-range of peers can bring value, it might be red flag that he never lasted more than four years at any of those stops. In fact, seven of those 10 stops lasted two years or less. 
At Ohio State, after another dismal performance from the linebackers in both deployment and execution, Davis is currently presiding over a group that one could reasonably argue is the worst in at least the last 30 years. 
Going strictly by the eye test, what group from years gone by rivals this one in effectiveness? I stopped looking after reaching John Sullivan, Michael McCreary, Orlando Craig, Srecko Zizakovic, a young John Kacherski and Brian Benio from the 1988 squad that gave up 30 points or more six times and went 4-6-1 in John Cooper's first season.  
Malik Harrison is by far the best of the bunch and a pretty decent player but if he's your best linebacker, it might be tough to be an elite team if we're not afraid to be honest. And while his stats looked good last night (10 tackles, 2 TFL) he's not physical enough to keep from getting pushed back at the point of attack either by blockers or ball carriers and he's probably Ohio State's best coverage linebacker but still got lost or just couldn't stay with the tight end a handful of times (you can't blame a LB for not being able to stick with Moore obvi). But this isn't about Harrison specifically – again, he's not a bad player – it's about the lack of improvement from game one to game eight. Yeah, Tuf Borland was hurt but has he gotten any better this year? Baron Browning? He was a five-star and while gifted physically, is still as unreliable as day one. 
So at what point is Davis held accountable for the lack of development? Does Meyer have the fortitude or will this be an ongoing scenario of "watching the film and trying to get things corrected"?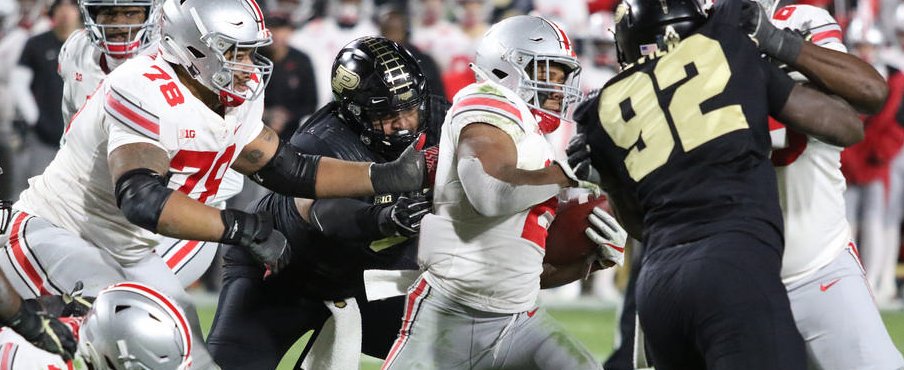 RUNNING IN QUICKSAND
Ohio State's rushing attack mustered just 76 yards on 3.0 yards per carry marking the second-straight week that the Buckeyes failed to reach the century mark. Since 2012, that's now happened just four times. 
The real trouble here is there isn't one magic bullet to correct to get the ground game off the mat. The offensive line is woefully average especially after Isaiah Prince's inexplicable return to 2016 form and Michael Jordan's troubles with the difficult transition from guard to center. Those are two veterans Ohio State needs a ton from and it simply isn't happening no matter what lazily-compiled mid-season All-American teams might suggest. And that's not a free pass for the others, just that Meyer needed his veterans to be great and that's a tough standard, often taken for granted, that's difficult to reach. 
What I find more interesting – and what a few of us talked about on 11W's skype well into the early morning hours – is how Dwayne Haskins' looked a little more fluid as a runner against Michigan compared to what we've seen all season. Obviously, the sample size is minuscule and nobody is mistaking him for Randall Cunningham. Before you get amped up, I'm in no way shape or form discounting Haskins here. He's the primary reason Ohio State has seven wins in eight tries. 
But what is interesting to ponder is whether or not during the course of the offseason the staff felt Haskins could at least be a marginal enough threat in the running game that defenses would pay some level of attention to because it certainly doesn't look like any different running plays have been implemented. Instead, the playbook looks to lean pretty heavily on running plays that require defenses to think the quarterback might actually be a threat to run. Is Haskins' running ability a non-issue in Ohio State's rushing woes or is the fact Meyer's offense has always relied on the QB run adding to the problem? 
Obviously the answer isn't that black and white but the reality is that for all his greatness as a passer, Haskins sorta runs like C3PO and teams have no reason to respect what he might do with his legs like they did with Barrett. 
CREDIT THE BROHM SQUAD
Ohio State shot itself in the foot more times than you can count but that shouldn't take away from what Jeff Brohm and company were able to do against the Buckeyes. 
Brohm's squad lost its first three games after entering the season with high hopes and instead of throwing in the towel, it has now won four-straight including wins over two ranked teams. 
Brohm is an impressive coach and what can you besides tip your cap to the offensive gameplan and execution. Brohm knew Ohio State's back seven is a disaster and he got his receivers in favorable matchups all night long.
Moore on anyone isn't exactly a favorable matchup but to see a linebacker on him more than a few times was cringeworthy. The fake field goal was a great call, his team went 2-for-2 on fourth downs and seemingly had an answer every time Ohio State even hinted that they might try and get up off the mat. 
Losing sucks especially when its by 29 points to a team that was a 12-point underdog but it wasn't just Ohio State's mistakes that led to defeat. Far from it. 
And congrats to Purdue for getting it done with Tyler Trent looking on. That kid's story sure puts losing a football game in perspective.