"If it was that easy, I'd give you a one-sentence answer. But it's not that easy to answer it, so we're going to work real hard to get it fixed." - Urban Meyer on his team's ground game issues following the loss in West Lafayette.

Since taking over at Ohio State, Meyer has led an offensive explosion never before seen in school history. In six seasons, his team has finished in the top ten in total offense three times, and are on pace to do the same this fall with perhaps his most explosive unit yet.
Unlike the recipe that saw his teams grind opponents into a fine powder through an efficient running game, this year's version has taken to the air like no Buckeye team before it. Quarterback Dwayne Haskins is on-pace to shatter virtually every single-season school record this fall, having already matched or surpassed the totals of Troy Smith's 2006 season in which the Heisman winner threw for 2,542 yards and 30 touchdowns.
While the game has become more wide-open in the decade since Smith was under center, this aerial bombardment is nothing like Buckeye fans have ever seen before. The team currently ranks second nationally in pass offense, sitting directly between #1 Washington State and #3 Texas Tech. The highest such ranking the program has ever achieved in a full season since the NCAA began tracking statistics nationally in 1984 was 12th when Joe Germaine set the soon-to-be-broken school record of 3,330 passing yards in 1998.
Unlike the Cougars or Red Raiders, however, such a heavy attack through the air has not traditionally been apart of the Buckeyes' offensive philosophy. Instead, Meyer has sought to create a balance between both the run and the pass, using one to set up the other. As the second page of his playbook states: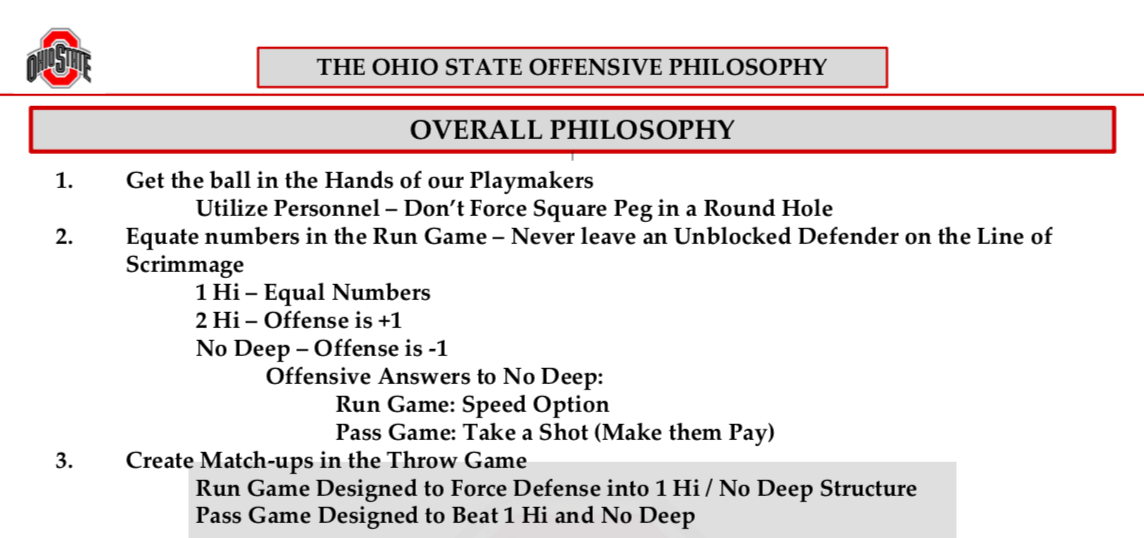 Early this season we saw the Buckeyes punish defenses for loading the box against their two 1,000-yard backs, J.K. Dobbins and Mike Weber, with Haskins taking (and hitting) shots downfield against secondaries with no one deep downfield. If the unit doesn't score on those long shots, however, they become far less formidable.
2018 Ohio State Rushing by Field Position (thru 8 games)

| Field Position | Yards/Carry |
| --- | --- |
| Own 1-20 Yd Ln | 4.32 |
| Own 21-39 Yd Ln | 5.29 |
| Own 40-Opp 40 Yd Ln | 4.18 |
| Opp 39-21 Yd Ln | 5.02 |
| Opp 20-1 Yd Ln (Red Zone) | 2.65 |
Once entering the red zone, the Buckeyes rank a putrid 117th nationally as they've only put points on the board 75.7% of the time. Despite the short field, they've only found the end zone on 56.8% of their trips.
One major reason why has been their inability to run the football once there, and at no point has this been more apparent than in last Saturday's stunning 49-20 loss to Purdue. Despite only giving up 14 first-half points to the nation's 10th-ranked offense, the Buckeyes could muster only three points of their own despite reaching the red zone twice in that time.
Without the ability to take a shot downfield and punish the Boilermaker defense for putting so many bodies near the line of scrimmage, the Buckeyes ran into a wall of defenders on play after play down near the goal-line.
Of course, the easiest way to get those numbers back in favor of the offense is to pose the threat of a running quarterback, as Braxton Miller and J.T. Barrett often did while reading a defender and carrying the ball in crucial situations. Haskins, of course, is a different kind of player and doesn't pose that same kind of threat, meaning Meyer and his coordinators, Ryan Day and Kevin Wilson, must adhere to the first bullet above and design a game plan suited to his strengths.
The Buckeyes were able to hit some deep shots against Purdue once the game was out of reach but save a couple pass interference penalties, those efforts were largely futile in the first three quarters. However, there are more ways to re-equate the numbers in favor of the offense, such as by reading defenders in other ways or using misdirection.

In the loss to Purdue, these efforts were halted by a barrage of mental and physical errors that saw the Buckeyes rush for only 73 yards in the contest, the lowest such total in any game since Meyer took over.
"I feel like it's just execution," senior wide receiver Terry McLaurin said after the game. "Our plays work. They're running the same plays all year. Defense got some stops, and as an offense, we just want to execute a lot better. We're not pointing fingers, we just run the plays that our coaches call, and that we practice all week."
These mistakes weren't just limited to a single player, with miscues coming from all over the field. Even Haskins, responsible for reading the defense before the snap and tossing a screen pass when there is an advantage outside, failed to do so on multiple occasions.
"Probably just execution," Haskins said in his post-game interview. "Like I said, a lot of missed opportunities tonight that resulted in this loss, but nothing to do with play-calling or bad scheme, we just got to play better."
But simply reading second-level defenders and throwing wide receiver screens can only work for so long, as the Buckeyes must also try to create conflicts for edge defenders instead of using a body to block them. One such way is through the Jet sweep, which we only saw one time. Though Parris Campbell took that pitch around the edge for what appeared to be a first down after coming across the field in motion, center Michael Jordan's holding call negated the effort and we never saw the play called again.
Such motion did create other opportunities via misdirection. While Campbell faked the handoff on this first quarter play, the backside guard and tackle (#66 Malcolm Pridgeon and #75 Thayer Munford) pulled around on a GT-Counter play that has been called more frequently in recent weeks. While Weber was unable to make the cornerback miss in the open field, the play was well blocked.
But, as was often the case against the aggressive Purdue defense that night, the Buckeyes weren't able to properly execute the play a second time. Despite a similar motion to distract the defense in the third quarter, right guard Demetrius Knox (#78) wasn't able to hold his block and was tossed aside by the nose tackle before he made the tackle for only a short gain.
Such failures weren't always physical, however. On another red zone opportunity, the Buckeyes appear to have equal numbers in the box, and Haskins correctly gives to Dobbins on a pin & pull outside zone play. Right tackle Isaiah Prince (#59) pulls around the tight end Luke Farrell (#89), who pins the defensive end inside. 
But Prince shouldn't have been the only one pulling, as at least one of the interior defenders should have done so as well. Instead, both guards and the center all block down on the nose tackle, leaving the inside linebacker completely unblocked and able to corral the runner.
These errors weren't limited to the line, either. Despite the repeated praise from Meyer for the receiving corps' blocking efforts this fall, they also had some hiccups, such as the example below in which Binjimen Victor gives a half-hearted effort to block the cornerback on an outside handoff.
Errors like these not only cost the Buckeyes yardage and stalled drives but also underscored another aspect of Meyer's offense that has been missing this season. While the Buckeyes are tied with Alabama for the most plays from scrimmage that gained 10+ yards this season, they've done it primarily through the air.
Ohio State explosive running plays under Urban Meyer

| Year | % of runs that go for 10+ yards | % of runs that go for 20+ yards |
| --- | --- | --- |
| 2012 | 17.7% | 4.6% |
| 2013 | 23.1% | 6.6% |
| 2014 | 20.0% | 5.2% |
| 2015 | 17.1% | 4.2% |
| 2016 | 17.1% | 5.1% |
| 2017 | 15.9% | 5.9% |
| 2018 | 13.3% | 2.5% |
Last fall, Dobbins set the college football world on fire in his debut season, breaking 16 runs of 20 yards or more. This season, he only has one.
While Weber has four such runs this fall, their appearances have been few and far between. While the pair of runners has seven touchdown runs between them, only Weber's 48-yard jaunt in the opener against Oregon State began outside the opponent's 20-yard line.
The duo certainly has the ability to make the last defender miss, but rarely have they been given the chance to do so this fall. Instead, we've seen them become quite dangerous as receivers out of the backfield, which could be a precursor of what's to come.
So-called "reliefs" are the easiest way to force a defense that's overloading the box to loosen up and sit back, as well as to get the ball to playmakers like Dobbins and Weber in space. However, as of now, these plays are called from the sideline, and not by Haskins at the line. This fact, more than any other, underlies where the single-biggest change may need to take place in the two weeks before Ohio State's next game. 
Throughout this season, Day has been the primary play-caller and has continued to work from the sidelines after acting as head coach during Meyer's suspension for the first three games. In that time, he has tried to go uptempo quite often, looking to catch the defense before it's set in a manner reminiscent of his mentor, Chip Kelly. 
However, what we've rarely seen from the Buckeyes this fall is a complementary medium tempo that asks the offense to hurry to the line, but look to the sideline for final instruction before actually snapping the ball. In the current setup, Day can't see the defense from above, relying instead on Wilson to relay what he sees before Day can make a decision to change the play-call. By placing Day up in the press box with Wilson, this process could easily be sped up, giving the Buckeyes the chance to change the play when an opportunity arises.
Meyer, Day, and Wilson don't need to overhaul the system or bring in a new playbook, as the schemes needed to be successful are already installed, they just aren't being executed for a variety of reasons. Adding in a special 'package' for backup quarterback Tate Martell is likely not the answer, either, as it drastically diminishes the unit's ability to throw the ball.
While this was famously Meyer's answer to featuring a pocket passer in 2006, by spelling Chris Leak with Tim Tebow in short-yardage, that solution failed spectacularly four years later when he tried to copy it by using Trey Burton and Jordan Reed (both of whom were accomplished high school quarterbacks) in the same fashion. That season, Meyer's Florida Gators went 8-5 and averaged only 4.31 yards-per-carry, which is nearly identical to the 4.36 ypc his Buckeyes are averaging on the ground this year.
Instead, the Buckeyes must get back to the basics and develop a consistent identity running the ball. While the tight zone play continues to be a staple, few other concepts show up consistently from week-to-week. Having a multitude of play-calls only matters if they can be executed properly, and right now that is an issue for the OSU front five.
Though a bye week and subsequent matchup against a relatively toothless Nebraska defense should help Ohio State solve some of these problems, there isn't much time after that. Both Michigan State and Michigan feature top-ten rush defenses that have allowed fewer than three yards-per-carry this fall, and Iowa likely awaits with a similarly stingy unit in the Big Ten title game, should the Buckeyes get that far.
Correcting the issues with their rushing attack won't be easy, but luckily, the Ohio State players and coaches don't have to look too far for answers. They just need to go back to the first few pages of the playbook.
Eleven Warriors is committed to smart, timely and exhaustive coverage of Ohio State athletics. Unlike other outlets, we choose not to put up a paywall. We want to keep our journalism as open as we can.
As an independent media organization, we count on the generosity of our readers to help us achieve this mission. If you enjoy our coverage, please consider becoming a 12th Warrior or supporting us in other ways.
Thank you for your continued support.