As is usually the case going into an Ohio State football season, there are plenty of Buckeyes receiving plenty of attention – both locally and nationally – as potential stars for the upcoming season.
Defensive end Nick Bosa is being touted as a potential No. 1 overall pick in next year's NFL draft, while running back J.K. Dobbins is considered to be a potential Heisman Trophy candidate. Dwayne Haskins is expected to be Ohio State's next star quarterback, while Dre'Mont Jones and Jordan Fuller are among the Buckeyes' projected stars on defense. Kendall Sheffield and Parris Campbell have received national attention for their freakish physical traits, while Chase Young, Baron Browning and Jeffrey Okudah are among the five-star recruits being hyped as potential breakout stars even though they've barely played.
What really makes the Buckeyes a potential championship contender, though, is their depth of talent, and some of the players who aren't getting as much preseason attention could be just as important to Ohio State's chances of success this year.
Determining which players are overlooked is certainly subjective, so there might be other people that are being doubly overlooked here, too. The following five players, though, are among those who aren't receiving a great deal of attention leading up to the season, but could well prove to be among those who deserve it once the season begins.
K.J. Hill, WR
While Campbell's speed and big-play ability have made him the Buckeyes' most nationally reputed receiver, and juniors Austin Mack and Binjimen Victor are typically touted as the most likely breakout stars of the Buckeyes' receiving corps, K.J. Hill actually led Ohio State with 56 receptions and was the Buckeyes' most reliable pass-catcher last season.
Although Mack's now-famous 3rd-and-13 catch in Ann Arbor and his close relationship with Haskins as the new starting quarterback's roommate makes him perhaps the obvious choice to emerge as Haskins' go-to receiver, Hill actually had the biggest performance on the receiving end of Haskins' relief effort at Michigan, turning third-down catches into gains of 29 and 24 yards.
Hill is the most sure-handed receiver in the Buckeyes' regular rotation – which is why he also served as Ohio State's punt returner last season, though Demario McCall is expected to take over that role this season – and also its sharpest route-runner. He doesn't have the speed of Campbell or Terry McLaurin, or the length of Victor or Mack, but he's still likely to be a key player in the offense – perhaps even moreso – if the Buckeyes place a greater emphasis on downfield passing.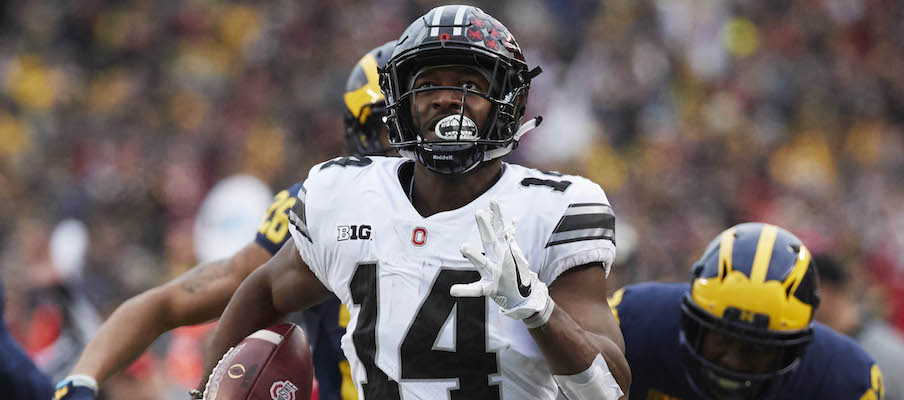 Jonathon Cooper, DE
Almost all the hype around Ohio State's defensive ends entering the 2018 season has surrounded Bosa and Young, and understandably so. Bosa is already arguably the best defensive end in college football, and Young certainly appears to have the tools to play at that same level.
Yet even though Bosa is already a star and Young is widely expected to become one, defensive line coach Larry Johnson is going to continue to rotate at least four players at the defensive end position. So much like last year – when the Buckeyes had four star defensive ends in Bosa, Sam Hubbard, Tyquan Lewis and Jalyn Holmes – the opportunity remains open for defensive ends other than Bosa and Young to also play huge roles this year.
The strongest candidate to take advantage of that opportunity is junior Jonathon Cooper, who will likely split snaps about evenly with Young this year after seeing occasional playing time over the past two seasons. While Cooper wasn't the composite five-star recruit that Bosa and Young were, he was close (No. 33 overall in 2016), and he too has the potential to be an impact player both as a pass-rusher and in the run game.
Robert Landers, DT
Like Cooper, Robert Landers is another Ohio State defensive lineman who tends to be overshadowed by his talented teammates along the line, but deserves his own attention as a potential impact player for the Buckeyes up front.
While Dre'Mont Jones is another star for the Buckeyes at the 3-technique defensive tackle position, Landers is in line to be the Buckeyes' starting nose tackle this season after rotating in at the position for the past two seasons.
Some have expressed reservations about Landers being more than just a rotational player, but he played only 49 less snaps than starting nose tackle Tracy Sprinkle last season, and was often on the field for entire series at a time. He's shown the ability to be a disruptive interior penetrator – recording 12.5 tackles for loss over the past two seasons – and with the likes of Bosa, Young, Jones, Cooper and others playing around him, he should help the Buckeyes continue to wreak havoc up front in 2018.
Malik Harrison, LB
Like Young on the defensive line, Browning has been touted as the potential breakout star among Ohio State's linebacker corps because of his past as a five-star recruit. While Browning still has to earn his way into the starting lineup, though, the linebacker who could end up playing the biggest role this season is Malik Harrison.
Already a regular in Ohio State's nickel defense last season, Harrison is the frontrunner to start at strongside linebacker in the base defense this season, which could make him a three-down linebacker – perhaps the only three-down linebacker – for the Buckeyes this year.
While Harrison is Ohio State's biggest linebacker, listed at 6-foot-3 and 245 pounds, he's also one of its most athletic, giving him the ability to drop back and cover ground in pass coverage. Harrison had some issues with missed tackles last season, so he'll need to become more consistent in that area, but if he can do that, he could be one of the Buckeyes' top defensive playmakers this season.
Damon Arnette, CB
With Sheffield being touted as Ohio State's potential next first-round pick at cornerback and Okudah also expected to emerge as a star sooner than later, some believe Damon Arnette should be the odd man out of the Buckeyes' starting lineup at cornerback. Arnette, though, is Ohio State's most experienced cornerback, and he has the tools to potentially be a future pro as well.
Arnette's play has been somewhat inconsistent in his first two playing seasons, but he's shown playmaking ability, too, recording two interceptions, eight pass breakups, one forced fumble, three tackles for loss and 44 total tackles while starting 12 out of 14 games last season.
Possessing good size for the position at 6-foot and 195 pounds, Arnette is the best run defender among Ohio State's cornerbacks, and he's deserved more credit than he's gotten for his play in pass coverage, as well. Even with Okudah expected to be in the rotation, Ohio State cornerbacks coach Taver Johnson has said he expects Arnette to start this season, and if he can continue to cut down on mistakes this year, he should join the many other Buckeye cornerbacks in recent years who have captured attention from NFL scouts.