When Ohio State lands a three-star or even a less heralded four-star recruit these days, Buckeye fans often seem conflicted about whether to feel excited or underwhelmed.
As Ohio State has put eight straight classes ranked in the top seven nationally (per 247Sports' composite rankings), including all seven classes since Urban Meyer's arrival in Columbus, the bar of expectation has been raised so high that any recruit not ranked among the nation's elite can be perceived as the program settling for lesser talent.
Looking back at Meyer's first six seasons with the Buckeyes, however, have shown that he and his coaching staff have often been right about less touted recruits, as many of them have gone on to be just as or even more productive than the five-star or highly rated four-star recruits ranked above them.
Since 2012, 15 scholarship signees who have been three-star recruits and/or ranked outside the top 250 recruits nationally (also per 247Sports' composite rankings) have gone on to become key players on offense or defense for Meyer's Buckeyes, while at least a dozen others who will be on the 2018 roster still also have the potential to emerge as impact players in Columbus.
We take a look at those 15 players and their journeys from being underrated members of Meyer's recruiting classes to earning spots in the Buckeyes' lineup, as well as a look at some of the other Buckeyes who are still trying to follow in their footsteps.
The following list only includes players who enrolled at Ohio State following Meyer's arrival, and therefore does not include Jim Tressel recruits – such as Devin Smith, Jeff Heuerman, Johnathan Hankins and Bradley Roby – who went on to star for Meyer's early teams despite being less heralded recruits. The following list also does not include kickers, punters and long snappers, who are typically rated as three-star recruits or lower even if they are ranked among the nation's best at their positions.
Cardale Jones, QB – ★★★, No. 398 overall (2011), 2012
Cardale Jones was originally a member of the 2011 recruiting class, but ended up enrolling at Ohio State in 2012 after a semester at Fork Union Military Academy. Jones' career at Ohio State got off to a rocky start, as he was suspended for his infamous "didn't come here to play school" tweet, but he instantly become a Buckeye legend in 2014, when he replaced injured starting quarterback J.T. Barrett and led Ohio State to a Big Ten championship win over Wisconsin, College Football Playoff semifinal win over Alabama and national championship game win over Oregon.
After splitting starts with J.T. Barrett in 2015, Jones was selected by the Buffalo Bills in the fourth round of the 2016 NFL draft, and is now a backup quarterback for the NFL's San Diego Chargers.
Michael Thomas, WR – ★★★, No. 765 overall (2011), 2012
Thomas, who decided to become a Buckeye after rooming with Jones at Fork Union, also became a star in Columbus despite being a three-star recruit. Like Jones, Thomas had a slow start to his Ohio State career – in an unusual move, redshirting his sophomore year instead after playing sparingly as a true freshman – but became a star in 2014, leading Ohio State's national championship team in receptions, before leading the Buckeyes in receiving once again in 2015.
Since leaving Ohio State, Thomas has become an even bigger star. Since being selected by the New Orleans Saints in the second round of the 2016 NFL draft, Thomas has caught 196 regular-season passes, the most ever by an NFL receiver in his first two seasons.
Tyvis Powell, DB – ★★★, No. 483 overall, 2012
A native of Bedford, Ohio, Powell was a staple of the Buckeyes' defense in all three of his playing seasons at Ohio State. After redshirting as a true freshman, Powell saw regular playing time as a nickel back in 2013 before starting for the Buckeyes at safety in 2014 and 2015, recording 195 total tackles and eight interceptions over the course of his career. Despite going unselected in the 2016 NFL draft, Powell has spent time with several NFL teams, including the Seattle Seahawks, and is currently on the San Francisco 49ers' roster.
Jacoby Boren, C – ★★★, No. 578 overall, 2012
Boren followed in the footsteps of his older brother, Zach, by becoming a productive player for the Buckeyes despite arriving at Ohio State as only a three-star recruit. Boren – whose oldest brother, Justin, also played for the Buckeyes as a more highly touted recruit – was a two-year starting center for Ohio State, including the 2014 national championship team, and a team captain (like Zach was in 2012) in 2015.
Pat Elflein, C/G – ★★★, No. 998 overall, 2012
The lowest-rated member of Ohio State's 2012 recruiting class – and like Boren, a native of Pickerington, Ohio – Elflein went on to become a three-year linchpin of the Buckeyes' offensive line. After getting his first opportunity to start in the 2013 Big Ten Championship Game after Marcus Hall was suspended for his infamous double-bird salute in Ann Arbor, Elflein started every game for the Buckeyes from 2014 to 2016, playing right guard for two seasons before moving to center for his senior season, when he won the Rimington Trophy as college football's best center.
Elflein was selected by the Minnesota Vikings in the third round of the 2017 NFL draft, and started 14 games as a rookie for the Vikings, immediately becoming an anchor for their offensive line.
Tyquan Lewis, DE – ★★★★, No. 293 overall, 2013
A low-end four-star recruit from Tarboro, North Carolina, Lewis went on to be a three-year starter and a two-time captain for the Buckeyes at defensive end. The 2016 Big Ten Defensive Lineman of the Year and a two-time first-team All-Big Ten selection, Lewis finished his Ohio State career with 112 total tackles, 36.5 tackles for loss and 23.5 sacks. He was selected in the second round of this year's NFL draft by the Indianapolis Colts.
Chris Worley, LB – ★★★, No. 505 overall, 2013
Part of the Glenville pipeline that brought more highly touted recruits like Ted Ginn and Marshon Lattimore (as well as Jones) to Ohio State, Worley proved to be a valuable signing for the Buckeyes as well. After contributing on special teams early in his career, Worley was a starting linebacker for each of the last two seasons and was a team captain in 2017. He finished his Ohio State career with 154 total tackles, including 11 for loss. Worley is currently on the Cincinnati Bengals' roster after signing with the team as an undrafted free agent following last month's draft.
Darron Lee, LB – ★★★, No. 636 overall, 2013
A product of nearby New Albany, Lee wasn't heavily recruited by many power programs outside the state of Ohio, yet he proved to be one of the first stars of the Buckeyes' storied 2013 recruiting class.
As a redshirt freshman in 2014, Lee emerged as a big-time playmaker for the national champions' defense, starting all 15 games and recording 81 total tackles, 16.5 tackles for loss, two interceptions and two fumble return touchdowns. After another productive season at strongside linebacker in 2015, when Lee recorded 66 total tackles, 11 tackles for loss and returned an interception for a touchdown, he was selected in the first round of the 2016 NFL draft by the New York Jets.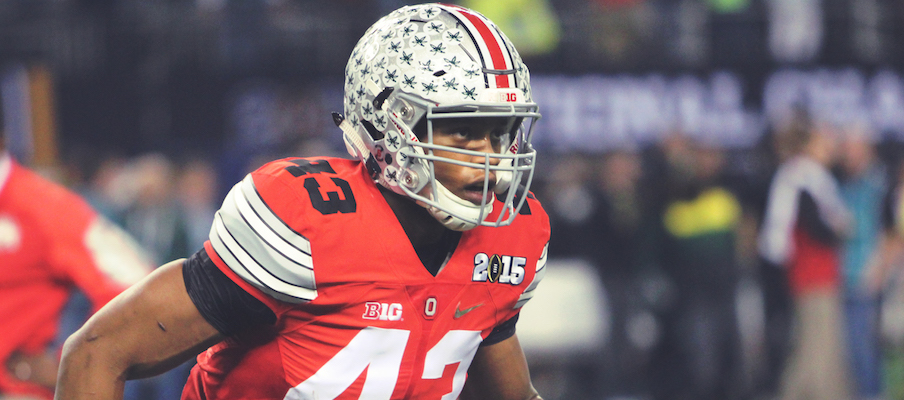 Tracy Sprinkle, DT – ★★★, No. 642 overall, 2013
The lowest-rated enrollee of Ohio State's 2013 recruiting class, Sprinkle's career as a Buckeye nearly came to an end in the summer of 2014, was dismissed from the team following an arrest on drug charges. After the worst of those charges were dropped and Sprinkle was reinstated, he faced more adversity on the field, suffering a knee injury that was nearly career-ending in 2016. Yet Sprinkle overcame all of that to not only become the Buckeyes' starting nose tackle last season, but also a team captain, as he emerged as a leader of Ohio State's defensive line. Sprinkle is now on the Carolina Panthers' roster after being signed as an undrafted free agent.
Malik Hooker, S – ★★★, No. 360 overall, 2014
After redshirting his first year on campus and playing only occasionally in 2015, Hooker had a rapid rise to stardom in 2016. In his only season starting for the Buckeyes, Hooker recorded 74 total tackles and seven interceptions – three of which he returned for touchdowns – and earned unanimous first-team All-American honors. The Indianapolis Colts selected the New Castle, Pennsylvania native with the No. 15 overall pick in the 2017 NFL draft.
Denzel Ward, CB – ★★★★, No. 270 overall, 2015
While Ward was the highest-ranked recruit among the 15 players on this list, he still certainly proved to be underrated as a low-end four-star recruit. In his three years at Ohio State, Ward developed into a dominant cover cornerback, ultimately earning first-team All-American honors for his play in 2017 after a season of lockdown pass defense. The Cleveland Browns selected the Macedonia, Ohio native with the No. 4 overall pick in last month's NFL draft.
Robert Landers, DT – ★★★, No. 481 overall, 2015
Landers hasn't started a game for Ohio State yet, but that's set to change in 2018, when the Dayton native will replace Sprinkle as the Buckeyes' starting nose tackle. And while Landers hasn't actually been a starter yet for the Buckeyes, he's still contributed more than enough to earn a place on this list. A regular in Ohio State's defensive tackle rotation for each of the past two seasons, Landers enters his redshirt junior season with 570 defensive snaps played and 12.5 career tackles for loss.
Branden Bowen, OL – ★★★, No. 543 overall, 2015
Bowen started Ohio State's first six games of last season at right guard – beating out several more highly touted recruits including Malcolm Pridgeon, Matthew Burrell and Demetrius Knox to win the job – and performed well before suffering a season-ending leg injury. Now going into his redshirt junior season, it's uncertain whether there will be a spot for him in the 2018 lineup after Knox performed well at right guard in Bowen's absence last season. But the three-star recruit from Draper, Utah should at least see some playing time this season and get another shot to start on the Buckeyes offensive line before his career in Columbus is done.
Damon Arnette, CB – ★★★, No. 653 overall, 2015
Arnette became a regular in Ohio State's cornerback rotation last season, starting 12 games and playing in all 14, and he's set to be a starting cornerback once again for the Buckeyes in 2018. While the Buckeyes are still looking for more consistency from Arnette as he goes into his redshirt junior year, he's nonetheless managed to establish himself as a starter in a cornerback room full of more highly touted recruits.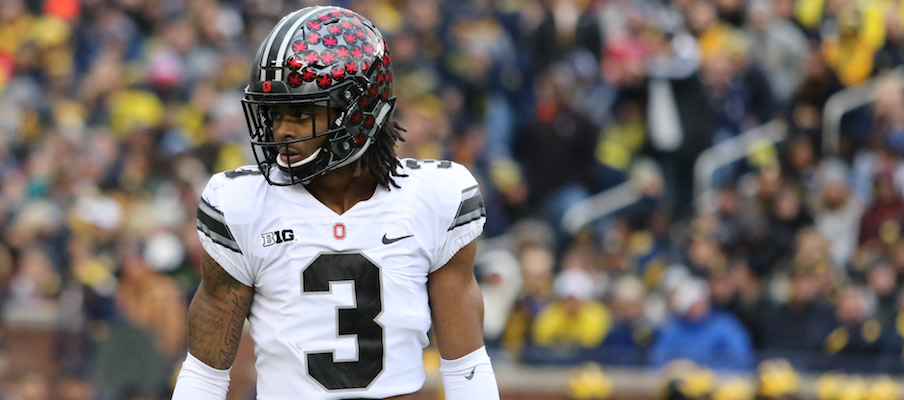 Tuf Borland, LB – ★★★★, No. 324 overall, 2016
In a somewhat surprising development last season, Borland emerged as Ohio State's starting middle linebacker – ahead of more highly touted recruits including Justin Hilliard and Baron Browning – when Worley suffered a foot injury early in the season, and proved himself to be the Buckeyes' top player at the position even when Worley returned from injury, ultimately moving Worley back to outside linebacker.
Going into his redshirt sophomore season, Borland was set to be the leader of the Buckeyes' 2018 linebacker corps until suffering an Achilles injury this spring. Borland's future in Ohio State's defense remains bright, though, as he has already made a big impression on his Buckeyes coaches.
Who's Next?
While the number of three-star or other non-top-250 recruits signed by Ohio State have become fewer and further between as the Buckeyes have assembled classes featuring some of the top talent from throughout the nation, there are still plenty of less heralded recruits on Ohio State's roster – in addition to Landers, Bowen, Arnette and Borland – who have the potential to become key players.
Brady Taylor, a three-star recruit in the class of 2013 (No. 584 overall), enters the summer as the favorite to start for Ohio State this season as a fifth-year senior. Malik Harrison, a three-star recruit from the class of 2016 (No. 683 overall), will enter fall camp as a favorite to start at linebacker.
Thayer Munford, the third-lowest ranked recruit of Ohio State's 2017 class (No. 285 overall), is the frontrunner to be the Buckeyes' new starting left tackle. Pete Werner, the fourth-lowest ranked recruit of Ohio State's 2017 class (No. 277 overall), appears to be well on his way to being a starting linebacker for the Buckeyes in the future, if not this season.
Offensive tackle Joshua Alabi (No. 555 overall), tight end Rashod Berry (No. 728 overall) and defensive tackle Davon Hamilton (No. 998 overall) are all three-star recruits from the class of 2015 who haven't played big roles for the Buckeyes yet, but have made enough progress to still potentially earn substantial playing time this year or next.
Ohio State's recruiting class of 2018 includes five non-top-300 recruits who will look to defy their ratings and become impact players for the Buckeyes: cornerback/wide receiver Cameron Brown (No. 323 overall), quarterback Matthew Baldwin (No. 331 overall), wide receiver Chris Olave (No. 399 overall), defensive end/tight end Alex Williams (No. 617 overall) and safety Marcus Hooker (No. 642 overall), Malik Hooker's younger brother.
Looking ahead to 2019, the Buckeyes have already landed four commitments from recruits who are ranked outside the top 250 but who they nonetheless believe can be impact players: defensive end Noah Potter (No. 271 overall), offensive tackle Ryan Jacoby (No. 281 overall), running back/linebacker Steele Chambers (No. 325 overall) and safety Bryson Shaw (No. 584 overall).