In the middle of Tar Heel country, where baby blue and white rules eastern North Carolina, sits a small ranch in Pinetops, N.C. – 15 minutes outside of Tarboro – where a weathered scarlet and gray flag is proudly displayed in the front yard.
That flag is hung at the home of Tyronda Whitaker, the mother of Tyquan Lewis.
Whitaker moved to Pinetops in 2014, after her son had already left for Ohio State. The flag still flies there with just 1.5 hours to go until the second round of the 2018 NFL Draft, but Lewis is nowhere to be found as his mother prepares dinner for family and friends who are expected to come over in anticipation of Lewis being selected by an NFL squad. 
The man of the hour is back in Tarboro, where he won three state 2A football titles, watching his younger brother Kenai play a high school baseball game on what very well could be the biggest day in his football career. 
His life is just hours from changing forever, but Lewis has not – and won't soon – forget where his football career started, and the people that helped get him to this point in his career. 
---
Lewis, along with his three younger brothers, grew up without a father. Tyronda, who had Lewis when she was just 17 years old, raised her oldest son along with three younger boys by herself.
"We had no support from nobody. Just me and my fab four, that's what I call them," Tyronda said with a smile. "Running from little league baseball all the way to (Lewis) being a big time recruit. At one point I was working three jobs just to make sure we could eat and do all this other stuff."
As a senior in high school, Lewis was a four-star prospect and had offers from a plethora of schools, including the hometown Tar Heels, just a short drive from Tarboro. Everett Withers, who had recently been hired as the first defensive coordinator under Urban Meyer at Ohio State, was his recruiter. What's more, Withers had just spent the 2011 season as the interim head coach at UNC. He was North Carolina-raised, just like Lewis.
When Lewis explained to his mother that Ohio State was the place he wanted to go, Tyronda was hesitant at first. The idea of her first-born traveling nine hours north to go to college was hard for her to accept.
"That is the hardest thing I've ever done. It was harder than childbirth, sending my child nine hours away to a school I knew nothing about," Tyronda said. "I didn't know nothing about Buckeye football. The only thing I knew is that my child wanted to play football and had a great opportunity, so I was going to stand behind him.
"I lost 23 pounds because I was so stressed."
He committed to the Buckeyes during his senior season at Tarboro High School – the first season of the Urban Meyer era at Ohio State – when Mike Vrabel was coaching the defensive line in Columbus. He spent his redshirt year under Vrabel's tutelage, but then Vrabel left for the NFL ranks. The Buckeyes replaced Vrabel with longtime Penn State assistant Larry Johnson in 2014, the first year Lewis would take the field for Ohio State.
Growing up without a father in his life, Lewis was always the eldest man in the house. He grew up with three younger brothers, his mother and great-grandmother, who passed away just after Christmas in 2014.
"Larry Johnson is his father figure. That was the best thing that happened to Tyquan at Ohio State."
Johnson's arrival at Ohio State was a life-changing moment for Lewis, who now had a consistent older male influence in his life.
"Larry Johnson is his father figure," Tyronda said. "That was the best thing that happened to Tyquan at Ohio State.
"Coach J instills confidence. He built him up as a person. A lot of guys who come out of single-parent homes, it is important to know that you have another male that is pushing for you and believes in you and is behind you," Tyronda said, glowing any time Johnson's name comes up. "He is nurturing, he is compassionate. He couldn't have had a better position coach."
In 2014, Ohio State went on to win its first national title in 12 years with Lewis playing 13 games. The next two seasons, Lewis went on to lead the Buckeyes in sacks, collecting eight in both 2015 and 2016. He was named the Big Ten's Defensive Lineman of the Year in 2016, yet decided to return to Columbus as a fifth-year senior because he was "hungry for more." Mind you, he had already won three state titles at Tarboro and a national championship at Ohio State.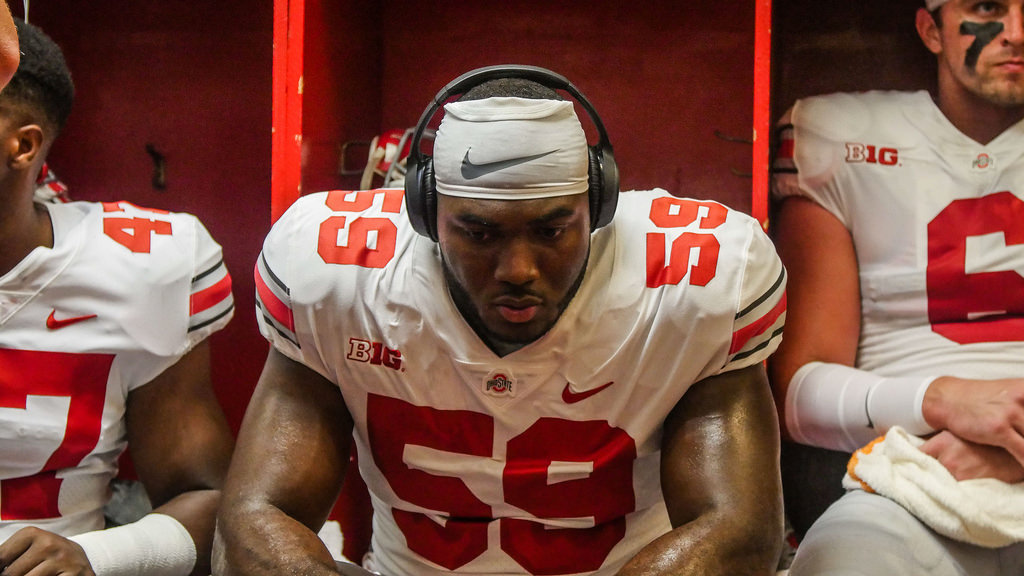 A captain his final two seasons at Ohio State, Lewis helped lead the Buckeyes to a 2017 Big Ten and Cotton Bowl title. None of it ever came as a surprise to Tyronda, who had confidence in her son's ability to go off on his own and excel on and off the field.
"Everyone sees him as Tyquan the superstar, I see him as Tyquan my baby," she said. "Whatever my baby believed in his heart he could do, he could do."
---
About 30 minutes before the second round of the NFL Draft is about to start, the 6-foot-3, 270 pound Lewis walks into his mother's house with his younger brother Kenai, who is still donning his yellow baseball jersey with purple lettering.
Lewis is surrounded by former high school teammates and friends as he walks in the door, receiving hugs and handshakes from friends and family who have already arrived at the house. He and Tyronda are the first to offer their guests something to drink or eat, as the draft gets underway.
Tyronda has Lewis' Ohio State memorabilia scattered throughout the one-floor home. A framed picture given to her by the Ohio State football program on Lewis' Senior Day is proudly displayed near the front door. Mini figurines of Lewis made by an Ohio State fan were put out on the coffee table just before guests began to arrive. A blown-up photo of the game program for Ohio State's Sept. 26, 2015 win over Western Michigan that displays Lewis and other Buckeyes sits just off to the left of the black leather couch where Lewis is sitting.
Two TV's are deployed for the big event. Lewis and his high school friends sit in the living room by the main TV, while other friends and family crowd around a second TV in the front room of the house. Tyronda's house is packed with friends and family. The second TV and room are necessary.
As the draft begins, Lewis seems calm. He is constantly checking his phone, as calls and texts pour in from friends and family not able to be in attendance. Tyronda gets a call from the mother of Tracy Sprinkle, Lewis' longtime teammate and roommate at Ohio State.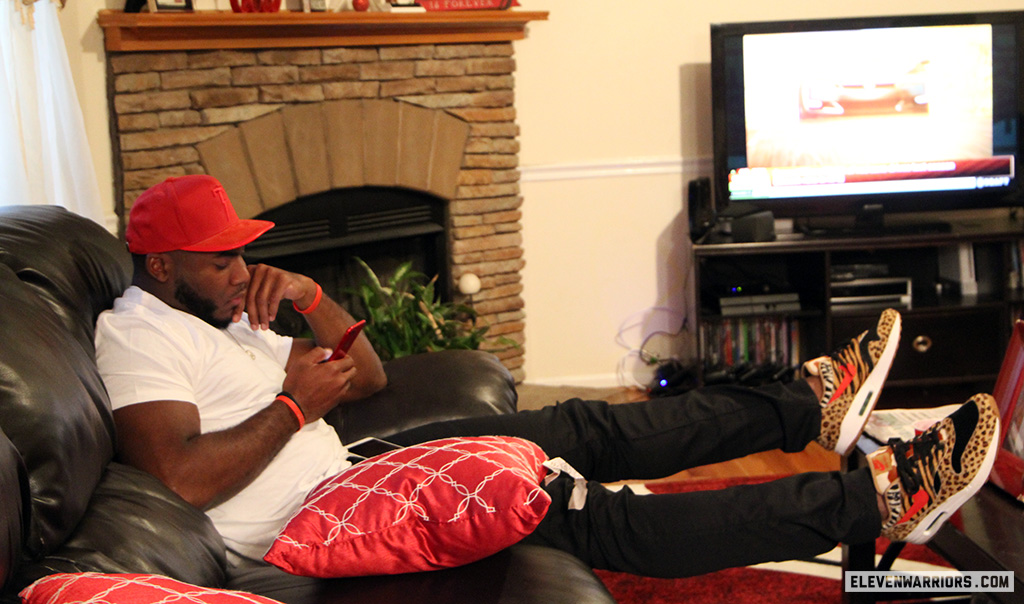 After the first 10 or so selections of the second round, Lewis' phone begins to ring. He immediately answers, putting his other hand over his ear so he can better hear the caller. Could this be the call?
His friends stir and get quiet. This, though, isn't the call everyone has been waiting for.
Lewis though, isn't deterred. He is around family and friends who have been by his side throughout his whole journey. The night is still young.
"I just like being around my brothers," he said.
---
Family has been a staple of Lewis' entire life.
Prior to her death, his great-grandmother was a monumental influence on him. She lived with the family when Lewis was growing up. The family values have never left him, as he spends his Friday afternoon at the baseball fields at Tarboro High School.
He is without question a hero to his younger brothers, including Kenai, who had his eldest brother in attendance for his baseball game just hours before the draft started.
"He is the reason I play sports. It all started with him," said Kenai, who plays outfield for his freshman baseball team and cornerback and quarterback for the Vikings football team.
When Lewis left for Ohio State in 2013, it wasn't just Tyronda who had a difficult time coping with his absence. His three younger brothers now had to learn what life was like with Lewis, who had been the man of the house their entire life, now living in Columbus.
The experience, while difficult, was made easier because of the example he had set for his younger siblings.
"When he went off to college it was hard, but we learned to adapt. When we would see him at games, it just felt better. We felt safe," Kenai, a high school freshman, said. "It made me grow up."
While it may come as a surprise to some that an NFL prospect was at a freshman high school baseball game just hours before what could be the biggest moment of his life, it isn't at all out of the ordinary for Lewis.
"He tries to support us whenever he can," Kenai said. "Whenever he is down (in North Carolina) and I have a game, he will see me, watch me and give me advice."
For Lewis, watching the draft back in his hometown, surrounded by family and friends, was an easy decision. He knows what kind of opportunity is in front of him, and he wanted to share it with the people who have supported him on his journey, including his younger brothers.
"This is a once-in-a-lifetime opportunity. Just having everyone around, enjoying the moment, it definitely brings everyone closer together," Lewis said. "I am just so happy that everyone can experience this with me."
---
Time is ticking away in the second round of the 2018 NFL Draft, and Lewis is getting visibly antsy.
He checks his cell phones more and more frequently, and at one point left the room for a brief moment, before returning to his seat at the end of the couch.
The Cleveland Browns have the final pick in the second round, which they acquired from Philadelphia in exchange for the No. 2 overall pick in the 2016 NFL Draft. Lewis is still on the board, and the Browns are still in the market for a defensive end.
However, the Browns traded the pick to the Indianapolis Colts, who earlier in the round drafted Kemoko Turay from Rutgers, also a defensive end.
Lewis' phone rings.
The boisterous crowd that has accumulated in Tyronda's house gets quiet as Lewis takes the call. Family and friends from the front room pour into the living room as Lewis' head falls into his hand. It's Indianapolis general manager Chris Ballard on the other line.
Lewis is going to be a Colt.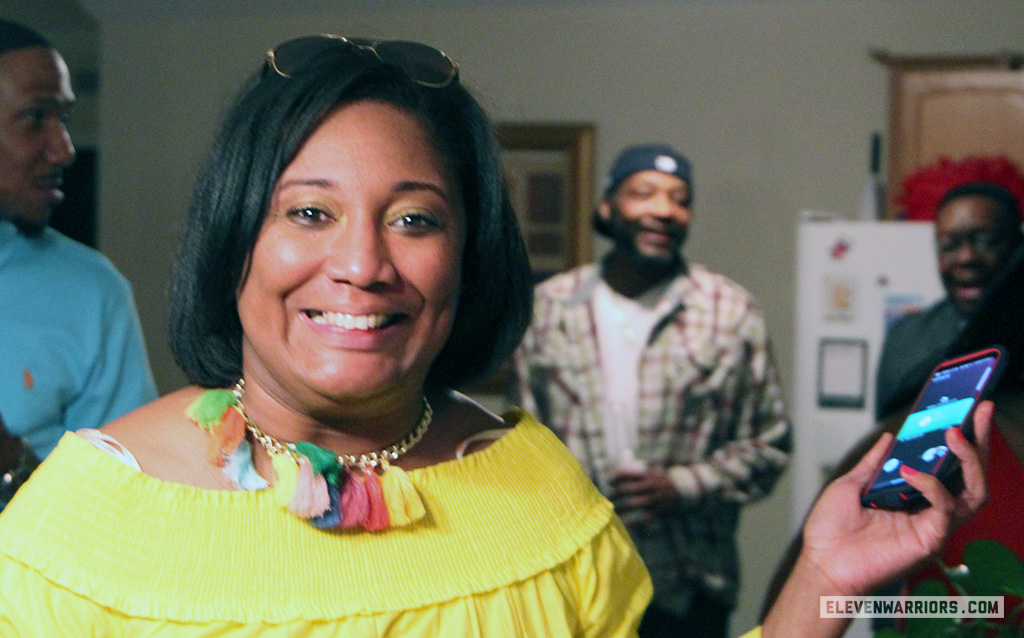 Lewis hangs up the phone and Tyronda immediately embraces her son in a moment of pure elation. His wait is over. The family and friends erupt, but once again get silent as they wait for the pick to officially be announced at the podium in Dallas.
The moment is surreal. Lewis is bombarded with hugs, kisses and handshakes from everyone packed into his mother's home. His smile, which Ohio State fans, media and anyone who knows Tyquan have seen time and time again, never leaves his face.
The first call Lewis makes after he was selected was to his youngest brother Chris, who is on his eighth grade field trip to Washington, D.C. It is so important that Chris is involved in the celebration, in fact, that when taking a family photo later in the night, Lewis holds out his phone with Chris on the other end via FaceTime, so that he could be a part of the photo.
"I enjoy every single moment of my life. I never take my life for granted."
While some prospects in the past have openly viewed the draft process as just that, Lewis has had a smile on his face throughout it all, and never more so than Friday night in his hometown as the newest member of the Colts organization.
"I enjoy every single moment of my life. I never take my life for granted," Lewis said. "The whole process I enjoyed. I am never tired of it."
From here, Lewis is set to head back to Indianapolis, where he won two Big Ten titles as a Buckeye and will re-join former Ohio State teammates Malik Hooker and Joshua Perry.
He even knows where he will fit in, stating that the Colts run a similar scheme to that of Ohio State.
"It's a 4-3 defense, and I know how to do that very well. Most of the stuff they talked about during pre-draft interviews, plays and things, we talk the same language," Lewis said. "Everything they did is something similar to what I did.
"I knew all my life I could play at the top. I never once doubted. I always knew I was capable of this."
A college graduate with a degree in sociology, Lewis will always be a Buckeye. But now, perhaps Tyronda can add an Indianapolis flag to join the Ohio State flag in her front yard, as her son takes the next step in his football journey.