It is shortly after 9 p.m. on a Monday and Tyronda Whitaker has to pause for a few seconds to collect her thoughts. On the phone from her North Carolina home, the mother of Ohio State redshirt sophomore defensive end Tyquan Lewis is having a hard time putting into words what it is like watching her son out on the field for the Buckeyes.
"It fills my heart with so much joy," Whitaker says after a brief silence. "We come from small-town North Carolina, and to know that he has made it and to see that and know there's younger kids looking at him and know what he has done for them, it's amazing."
Once she gets going, Whitaker could seemingly talk about her eldest son for hours. She beams with pride and exuberance like any mother would; one can almost see the ear-to-ear smile on her face through the phone.
"[Tyquan] is the Superman in their world. He's their hero. They look up to him, they adore him, they admire him and he feels the exact same way about them."– Tyronda Whitaker
As a single mother of four, Whitaker says she loves all of her children equally. But she also admits there's something different about her relationship with Tyquan, her first born.
"The relationship is actually totally different," Whitaker said. "I love them all equally, but they're just different people and you meet them at a different place in life."
Her pride doesn't solely stem from Tyquan's success on the football field, though. Sure, he's a starting defensive end on the No. 1 team in the country, but this goes beyond that. She's proud of Tyquan the football player, but even more proud of Tyquan the son and Tyquan the older brother.
Whitaker has three other children in addition to 20-year-old Tyquan. Chris, the youngest, is 8; Tylie is 10 and Kenai is 12. All three run around town showing off their big brother whenever he returns home from college. They don't have to tell people, of course, as "everybody in a 100-mile radius knows Tyquan Lewis is their big brother," Whitaker says.
To his brothers, though, Lewis is more than just the star football player. He's someone they can look up to, a positive role model in their lives. Lewis means the world to those closest to him.
"He is the Superman in their world," Whitaker says. "He's their hero. They look up to him, they adore him, they admire him and he feels the exact same way about them."
---
Perhaps to best illustrate Lewis' bond with his younger brothers, all it takes is a simple recap of one of his most recent trips back to his hometown last spring.
The youngest of Whitaker's four sons, Chris, tells everyone his oldest brother is his best friend. Because of that, every time Tyquan makes a trip home the two must have a sleep over.
The only problem with that? Chris has a twin bed.
"Tyquan, being the person that he is, won't complain," Whitaker said. "He would just ball up and sleep in the twin bed beside his little brother."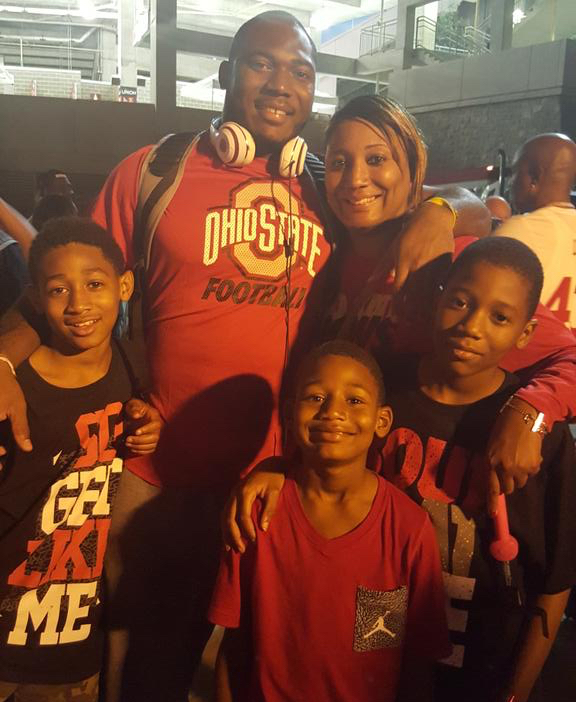 There's an image. The 6-foot-4, 260-pound starting defensive end sleeping in a twin bed next to his 8-year-old brother.
Those are the types of things that are important to Lewis, though. Family has always come first for him and it's the main thing that drives him to be successful. His relationship with this three younger brothers is all part of that.
"Me and my brothers, coming up together, it's just a real good bond. Me and my brothers and my mom, we always stuck together, stuck out everything that we faced," Lewis said. "We faced a lot of trials and coming up everything wasn't easy but we always stuck together and we always had the best of times no matter what."
The most recent of those trials came just days before Ohio State played Alabama for the Sugar Bowl last season. Lewis flew back to Columbus the day after Christmas when he received some troubling news. His great-grandmother, who had lived in the same house as the rest of his family, had passed away.
"I was just devastated," Lewis said. "After that, I just had a turning point where like, I just can't take the back seat on some things no more. I've gotta just give it my all."
Lewis was nine hours away and felt like there wasn't much he could do. For a family that was so close, this situation was heartbreaking. It tested them, but for this group, it was just another hurdle. Nothing could unravel this unbreakable bond.
---
Living in the heart of ACC country near Tobacco Road, Whitaker was never really keen on college football. She had always been an avid North Carolina basketball fan and her sons were, too.
"Nothing Duke around here," she says, laughing.
But when it was clear Tyquan was going to be a star football recruit, Whitaker had to adopt the sport. She had to learn to love the game her eldest son did and be there for him throughout the entire process that is major college football recruiting.
Lewis was a four-star prospect at Tarboro High School, where he starred at defensive end, but also played some tight end for the Vikings. Lewis did plenty of winning while at Tarboro, too, as the Vikings won three straight state titles under head coach Jeff Craddock. Tyquan was a starter on two of those teams and was a high school teammate of St. Louis Rams running back and former Georgia star Todd Gurley.
"The biggest thing I can say about Tyquan is he has always been a great kid from Day 1," Craddock said. "Obviously he progressed in my program quite nicely, not because of anything I had done, but because he's just a phenomenal football player and a great kid."
When Lewis first discussed Ohio State with his mother, Whitaker admits now she wasn't too high on the idea back then. Mom wasn't exactly thrilled with the fact Columbus, Ohio was a nine-hour drive from her home in North Carolina.
"Originally, we both had a Top 10, and Ohio State made his Top 10 and didn't make mine," Whitaker recalled of her son's recruitment. "It was so far away."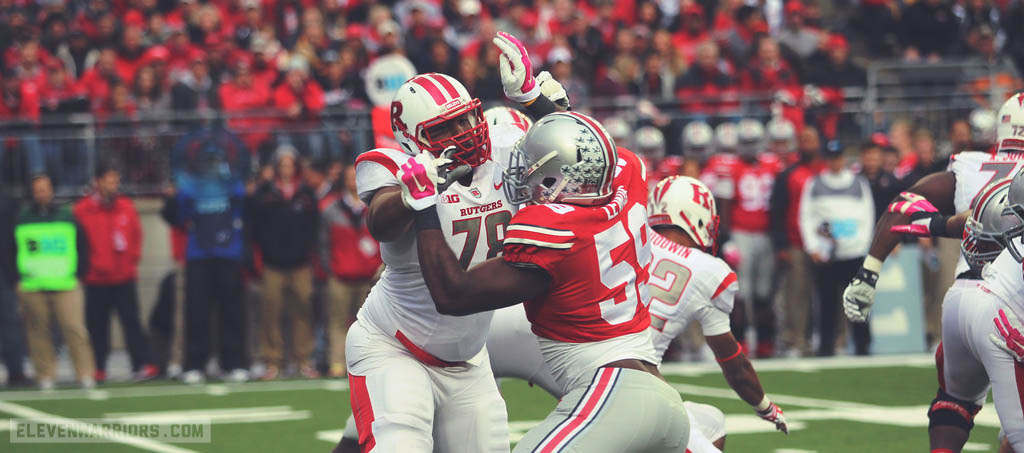 But Lewis was adamant about the Buckeyes. And after he and Craddock returned from a summer football camp at Ohio State, Lewis couldn't stop raving about Urban Meyer and the rest of the Buckeyes' coaching staff.
"Now, you have to understand, I never did football until Tyquan," Whitaker said. "He was like, 'Mom, you don't understand; Urban Meyer is the head coach.' I'm like, 'Tyquan, who the hell is Urban Meyer?'"
She quickly found out, though, when Meyer and director of player personnel Mark Pantoni called the day after Lewis left his first visit. They wanted Whitaker to come up and check out Ohio State for herself.
At this point, it was impossible for Whitaker to ignore her son's enthusiasm for Ohio State, so she figured she'd hear them out. The two traveled back to Columbus roughly a month later for Ohio State's annual Friday Night Lights camp. It was there where Whitaker realized she might not be able to keep her son close to home.
"I went up for a visit and I couldn't find nothing wrong with the place," Whitaker said. "Trust me, I looked."
On Sept. 20, 2012, Lewis sat inside the gymnasium at Tarboro High School, his mother to his right. His brothers also sat at the table, which had trophies from the Vikings' success on the football field scattered all over it.
After a brief message to the crowd, Lewis put on an Ohio State hat and pulled out a scarlet No. 1 jersey to hold up to the audience. A wide-eyed smile came across his face as he hugged his mother.
The whole process was finally over.
"I felt like this was the best opportunity for my family, me, everything," Lewis recalled of his commitment. "I wanted to come to the best place in the world and be the best player that I could be. Potentially make it to the NFL, have a great degree and great connections everywhere."
---
The first year Lewis was in Columbus, things back home were difficult for Chris, Tylie, Kenai and their mother. All four felt like they lost their best friend.
"I cried every day," Whitaker recalled. "I wouldn't post on social media if we were doing like family stuff or if we were doing stuff with the boys I wouldn't post pictures because I didn't want him to feel bad or like he was missing something."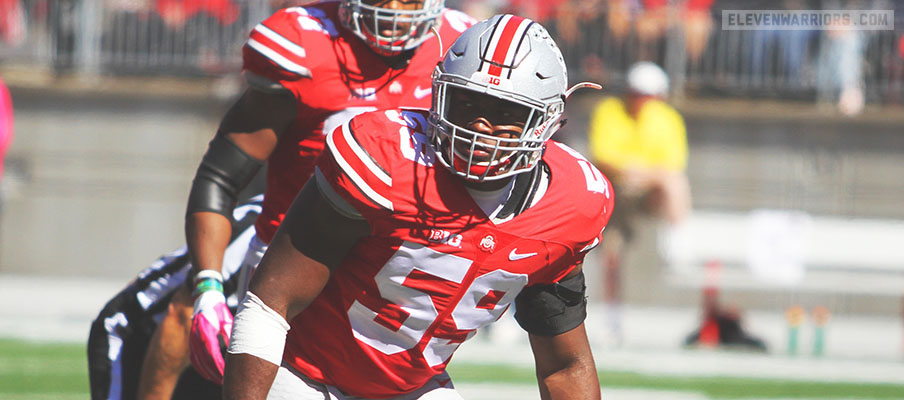 Things are different now, but that first year was rocky. With Lewis now in his third year at Ohio State, both he and his family have adjusted to the long-distance relationship.
"When I committed here, one of my brothers, they were kind of heartbroken; they wanted me to stay close," Lewis said. "Now, it's like you just had to adapt to it. It hurt me a lot because I knew I was losing them, but I knew they was always with me no matter what."
Still, it bothers Whitaker that she and her three other sons can't attend every one of Tyquan's games. They get to a few a year — Penn State and Rutgers are on their schedule this year and they already went to Virginia Tech — but that still doesn't sit right.
Whitaker said she missed only one of Tyquan's games in-person throughout his entire football-playing career: from pee-wee through high school. At Tarboro games on Friday nights, she and her three other sons sat in the same spot in the stands.
"On the 20-yard line, third row from the top," she said. "That's was just how it was."
Whitaker has learned to adjust to how different things are now, but that doesn't mean it's any easier for her and the rest of the family.
"My son is on TV and he got his first sack of the quarterback and he's making tackles," Whitaker said. "He's living his dream and I'm watching on TV and it just don't feel right."
---
Whitaker and her three youngest sons stood outside Lane Stadium in Blacksburg, Virginia, on Sept. 7 waiting for Tyquan to arrive on the team bus. There was no way this family was going to miss the first start of his Ohio State career.
When the 6-foot-4, 260-pound defensive end got off the bus and spotted his family, he quickly made his way over. Tyquan gave hugs and high-fives to everybody there; he had his typical ear-to-ear smile on his face.
"After he walked away from me," Whitaker says, "I'm in tears again."
"I'm in awe," she continues. "I'm like, 'My son has worked hard and achieved all of his goals and done everything he's set out to do and now I'm about to watch him start at defensive end for The Ohio State University.'"
Lewis jogged out onto the field opening night for the No. 1-ranked Buckeyes and started at defensive end. That night, as Ohio State had to play without its All-American defensive end Joey Bosa, Lewis recorded six tackles (two for loss) and a team-high 1.5 sacks in the team's 42-24 victory.
Fast-forward five weeks and the Buckeyes are 6-0 as they prepare to welcome Penn State to Ohio Stadium Saturday. On a defense flooded with NFL talent, Lewis has been one of the biggest surprises for Ohio State this season.
"I wouldn't trade this opportunity for nothing. It was always an emphasis of just working hard. Hard work will get you where you need to be. I thank my mom for that because she did the same and I just always looked at it as a great opportunity so I just kept with it, just kept going."– Tyquan Lewis
Playing on the defensive line with players like Bosa and future early-round NFL Draft pick Adolphus Washington, Lewis has more than held his own. He leads the Buckeyes with 5.5 sacks and nine tackles for loss this season. In Ohio State's recent 34-27 road win at Indiana, Lewis was named co-defensive player of the game.
"Tyquan's played great," Washington said. "He's come on and been doing a lot more than what I expected so I know he's doing a lot more than what the coaches expected. I think if he just keeps it going, he can surprise a lot of people this year."
Added Buckeyes' co-defensive coordinator Luke Fickell: "I think you're just starting to see the surface of what we think that Tyquan can be. He can be a dominant force in the run game because he's so strong, but yet he's got the explosion to be quite the pass rusher."
Ohio State will stroll out onto the field Saturday night against the Nittany Lions in all black uniforms. The crowd, too, will be dressed head-to-toe in black.
And somewhere in that crowd will be Lewis' mother and three younger brothers. It will be their first opportunity to see Tyquan start a game in front of the home crowd. They'll make the nine-hour drive from Tarboro, North Carolina, to Columbus to root on one of the most important people in their lives.
Because this relationship is about much more than football for this family. It's about a connection between a mother and her oldest son; an unbreakable bond between a big brother and his three younger siblings.
"I couldn't have picked a better son myself," Whitaker said. "I'm just so thankful and I just give God all the praises and glory when it comes down to that because he couldn't have given me a better person to be my child."
Added Craddock: "If people from Ohio State enjoying watching him play the game of football, he's a 10 times better young man. He's just a great kid and I'm proud that I've got to know him."
That is Tyquan Lewis. That is 'Superman.'
"I wouldn't trade this opportunity for nothing," Lewis said. "It was always an emphasis of just working hard. Hard work will get you where you need to be. I thank my mom for that because she did the same and I just always looked at it as a great opportunity so I just kept with it, just kept going."