Last week Wayne Davis announced he would be heading elsewhere.
The two-time state champion and Virginia's Gatorade Player of the Year (and Ohio State's lowest-rated 4-star commitment of 2016, if you're still somehow unconvinced of how well this program is recruiting) once chose the Buckeyes' defensive back tradition - renaître BIA - over home state Virginia Tech's.
At the time, Vico prognosticated:
MUST WORK ON

Davis has fine speed at cornerback, but he is not a burner. He may not turn heads with his ability to recover ground lost to a wide receiver. This is my view, though I have read reports that accentuate his closing speed.

He is also physical and quite strong at cornerback, but surprisingly does not jam receivers well. 
Davis' forensics aren't in and may never be, but it's safe to assume the cracks Vico diagnosed in 2016 went unfilled.
Two years after committing to the Ohio State football program - and with seven other 4-starish players intent on occupying his position in 2018 - Davis is leaving Columbus without having breached BIA's NFL runway. This is a routine off-season exercise across the country within the mantle-level depth of every football roster. Players transfer in and out of schools all of the time. The Buckeyes have never been the exception.
What is different these days - at least for those of us who have followed this sport for, oh, at least a decade - is captured by the closing line in the article from Dan that defines the true impact of Davis' exit on the roster, coming days after fellow Virginia native Matt Burrell (above) announced similar intentions:
Davis' departure brings the Buckeyes down to 85 scholarships for the 2018 season.
Ohio State was over its NCAA limit for scholarship players. In May. Sweet Tressel's Ghost.
We are still living in the same decade when Oversigning was identified as the immoral, unfair advantage and lynchpin powering the SEC's run on BCS titles, using means B1G programs not only didn't use, but weren't permitted to exploit as Oversigning has now been outlawed by the Big Ten for 62 years.
When Alabama rematched with LSU to close the 2011 season for an all-SEC circlejerk BCS champion, those two [Herbstreit voice] stacked! loaded!, 5-stars backing up 5-stars! rosters were built by signing five players for every four that programs in conferences regulated like the Big Ten signed. Nick Saban and Les Miles would then trim the considerable fat each summer to get down to their best 85. Their recruiting misses and natural attrition left no marks or residue.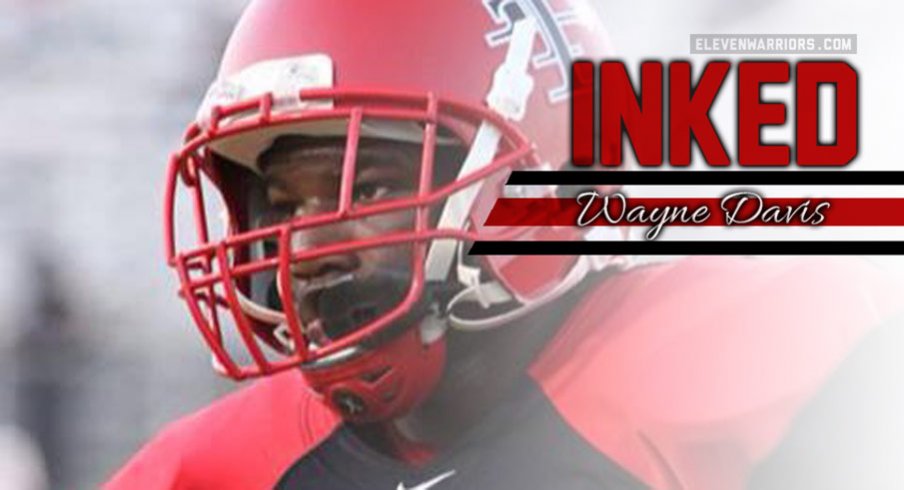 You don't hear about Oversigning in 2018. It's not because Ohio State - whose fans probably chirped the loudest about the practice - is now routinely at or slightly above 85 scholarships each offseason.
It's for a number of reasons, most notably that it's not 2011 anymore. When the Buckeyes met the Arkansas Razorbacks in the 2011 Sugar Bowl, there was a 36-player (!) advantage among scholarships offered over the previous four years in favor of the SEC West representative. That's well over an entire class of talent to sift through and purge.
That's what Oversigning was. What's amazing is that the Razorbacks' peak under that model was having the S-E-C chant shouted back at them ironically in New Orleans.
The silence from Columbus and other colder campuses since then has nothing to do with being sheepish or hypocritical. It's 2018, and roster management has coalesced around a national standard. College football doesn't dance around Saban-Miles-Randy Shannon-etc -inspired Oversigning anymore. Saban doesn't even do that these days.
And Jim Tressel's old style of roster management has now been repackaged and distributed as a method for commercializing altruism by athletic departments across the country. Oversigning is gone. Now, it's just oversigning.
---
Ohio State was primed for a big run to start the 2006 season, beginning the year ranked No.1 and featuring the eventual Heisman winner under center. But before it embarked on its run to Glendale, its head coach made some unannounced changes to the roster.
Just two days prior to kicking off, Tyler Whaley, Ryan Franzinger, Derek Harden and Trever Robinson abruptly lost their status as walk-ons. The Buckeyes were at just 80 scholarships heading into camp, and Tressel rewarded those four with free college along with all of the perks and obligations that come with being a football player on a ride in Columbus.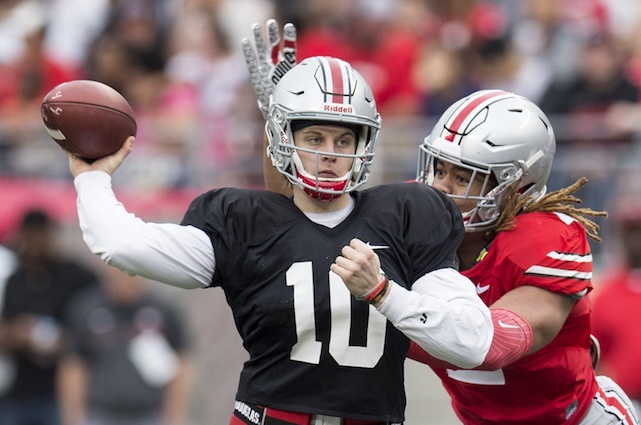 Four seems like a lot. But when Tressel arrived in Columbus in 2001 to turn around a program that had already begun to rot from the inside-out, he converted six walk-ons to scholarship players. He had plenty of space to do it.
You may be surprised that the circumstances today - with cutthroat, conspicuously competitive to his core Urban Meyer running the program - aren't much different than they were in 2001. Walk-ons getting scholarships is still a regular celebration at the Woody. The math is only slightly different; the current coach operates only slightly north of where Tress did.
Last month when C.J. Saunders shed his status as a walk-on, it brought Ohio State's roster up to 87 scholarship players. Last season Zach Turnure and Elijaah Goins both got 'shipped and the Buckeyes were right at 85. Previously it was Craig Fada and Joe Burger - during a non-football term and with the roster slightly over the limit, meaning there would have to be NFL declarations (at Ohio State? What?!) or attrition for them to stick, and in unshocking news, they did.
Player exits that created the space for walk-ons haven't been dubious or surprising. The biggest shock of the Meyer era was the departure of Joe Burrow last week, who had already graduated. He would have been very close to completing a Masters degree had he stuck around to fortify Ohio State's QB depth.
Walk-ons BEING AWARDED scholarships WAS COMMON UNDER JIM TRESSEL AND still HAPPENS REGULARLY UNDER URBAN MEYER.
Otherwise, medical disqualifications, academic flame-outs or players choosing to transfer to better fits have either ended up closer to home, or more recently - at other Power Five schools (Evan Lisle and Jack Wohlabaugh at Duke, Antonio Williams at UNC). They made sense and surprised no one, let alone football beat writers. I don't think I'm giving away trade secrets here, but 11W has these transfer stories templated for months and we almost never pre-write something that doesn't eventually run.
There hasn't been anything approaching Miles summoning Elliott Porter from his dorm room and expelling him because his roster didn't have room during fall camp (which he also did to Chris Garrett and Houston Bates). Nobody has been spontaneously grayshirted in Columbus, the way Saban did in multiples to players who were already with the Tide, expecting rides that had been promised and signed. The egregious cases that were chirped about the loudest have not been replicated in this era of oversigning.
That's a low bar to clear...but it's been cleared in Tuscaloosa, Baton Rouge and just about everywhere else Buckeye fans keep their side-eyes engaged. You can thank the Houston Nutt rule, which effectively ended Oversigning and produced the oversigning that is now much tighter and generally not accompanied by horror stories or pearl-clutching.
That LSU-Alabama rematch was the last generation of SEC rosters to be completely forged by Oversigning. Today, and for several seasons now, just about everyone is playing by the same recruiting (numbers) rules. Back-counting mid-year enrollees is one way to play within the law, but it doesn't involve removing the 86th-best player on the team from his bunk bed against his will.
---
Elevating a walk-on like Saunders to scholarship while above the 85 limit - at a crowded position going on its fourth-straight season of featuring six starters - is one of several examples post-Tressel that pass the red-face test in defense of how Ohio State's roster is still being managed. Whereas the previous coach waited for room to be made, the current one knows it's coming to his roster.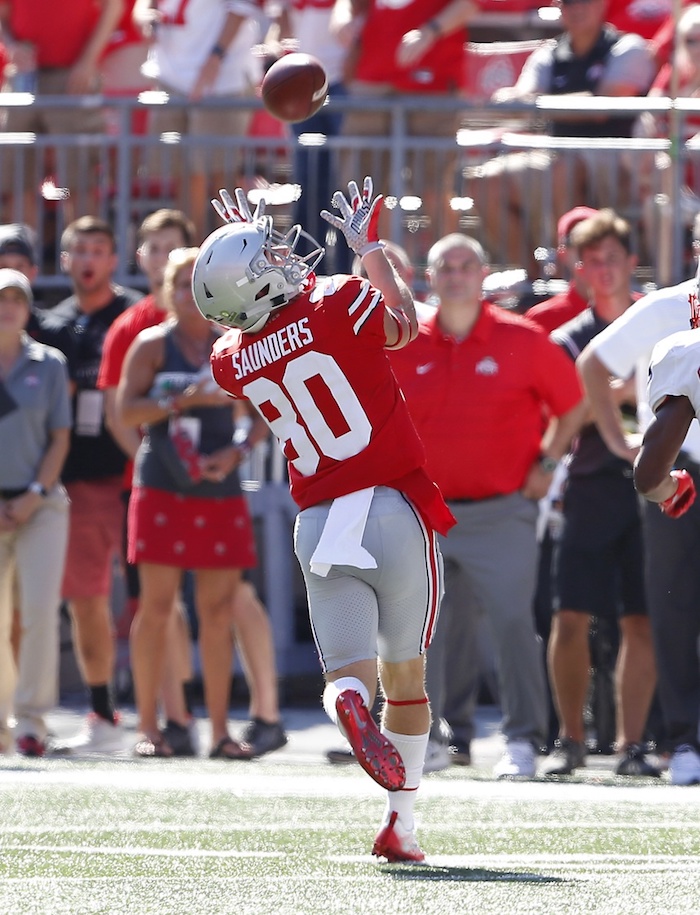 No one is being purged to make room for more bluechip recruits. No coach is being surprised by departures, and more importantly - no players are either. There are just about as many former Ohio State players now competing for ACC titles as there are anywhere else.
Davis never made it in BIA, but he might find a home in Blacksburg or Charlottesville, two familiar places where he has a better shot at breaking a sweat during live game action against the same-or-better level of competition he sought in Columbus.
The game to win the game has changed, and with that playing field now leveled elite programs have found new ways to tilt the table in their favor. You don't hear much (yet) about how programs like Alabama's carry a support staff - which is basically extra coaches that don't count toward the 19 the NCAA permits (10 assistants, five strength and conditioning, four grad assistants).
Georgia and Alabama each employ about 30 extra coaches who "don't coach." Ohio State claims just four (there are more, albeit far fewer than 30; just watch a practice sometime and ask yourself why Brian Hartline - unlisted - is so actively involved).
If you were to bet on what's going to be reviled as the next Oversigning, support staffs a safe one. However, that's merely an arms race that doesn't defile amateurism further or remove scholarships; it's off-books job creation and creative accounting. Competitors will do whatever it takes to compete, the same way that college football programs are still willing to do everything to win.
They just stopped doing anything a few years ago.