The Ohio State University prides itself on the people, the tradition and the excellence of its athletics programs. Buckeye traditions and the excellence need no introduction. But how well do we know the people? Fans know players by the awe-inspiring feats they perform. Mask Off takes a closer look at those individuals as human beings.
Matthew Burrell arrived at Ohio State as a four-star recruit and one of the highest-rated offensive guards in the country. 
Over the course of three years battling to earn a starting role, Burrell was often on the cusp of a break out. When Branden Bowen was injured last season, Burrell was the presumed replacement, but he lost the job to Demetrius Knox. This spring, Burrell competed with Brady Taylor and Josh Myers for the open center position. Once again, Burrell struggled to demonstrate the consistency Urban Meyer demands of starters. 
On April 18, Burrell announced he will transfer away from Ohio State. It is not yet clear where he will land.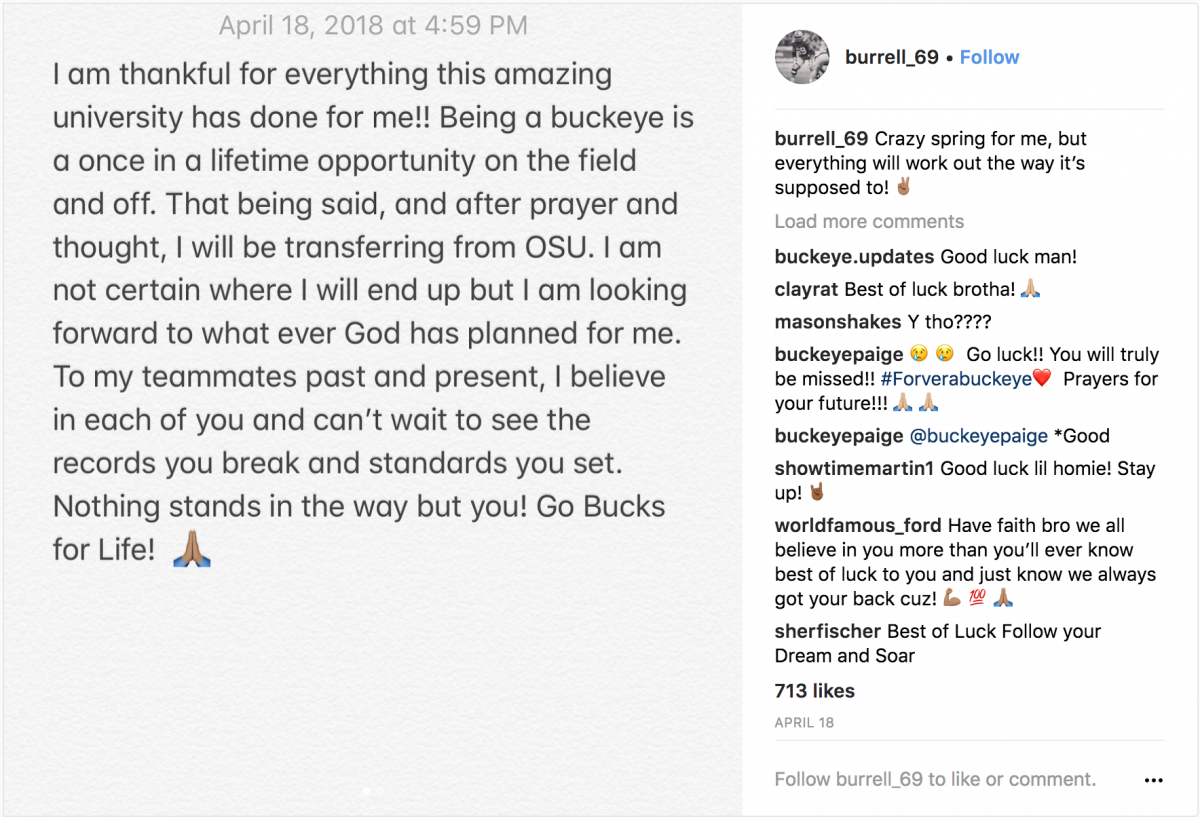 While this series has focused on Ohio State's greatest successes, Matthew Burrell's story is a reminder that elite competition does not always end in triumph. 
While his career at Ohio State did not go as hoped, Burrell's sense of gratitude is all the more impressive in the face of adversity. 
IN HIS OWN WORDS
What is your mindset right now?
My thought process has been: ok, how did I get here? Why isn't it where I want to be? And what do I need to do better to be… happy, more than anything, and improve my game at the same time?
I don't know, dude. I've just been stuck. I've been completely stuck, and I've been – not confused – just… it's all so gray for me because it's all new. I have so many mixed emotions, it's slowing the whole process down for me.
A lot of the things I was struggling with, from anxiety and depression to my family situation, everything that I never made public, I fought it on my own.
Can you remind readers what your process has been? Where are you from?
I grew up in Woodbridge, Virginia. Actually, this question is always so hard because I've been to five different schools in my life prior to college.
I went to Mary G. Porter and Rippon in Woodbridge. Then I went to Stonewall Middle School in Manassas. Then I went to Marsteller Middle School in Bull Run, Virginia. Then I went to Chancellor High School in Fredericksburg. Then I went to Hylton for my last two years.
I can't really say where I grew up, but I grew up in Virginia, close to DC. Not a very big area, but a lot of competition.
Coming out of high school, all my friends had offers. We all wanted to play the same place. I was kind of the oddball because one of my best friends went to Bama, and I went to Ohio State.
I was always told it was a terrible decision, I wasn't going to play. I needed to stay home and start and follow my dreams. I didn't really believe it, but it definitely played out the way everyone told me.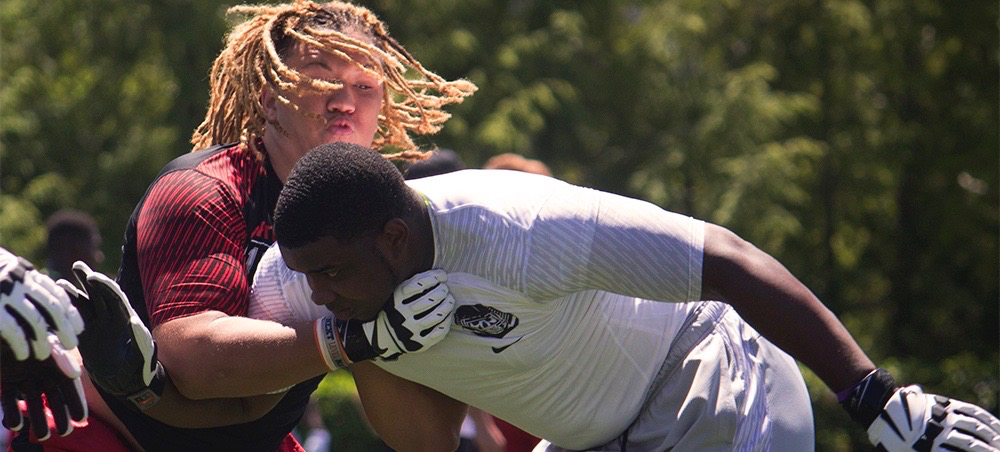 Coming out of high school, you were a four-star guy, a highly touted recruit. What made you attracted to Ohio State?
Don't get me wrong, no matter how everything went, Ohio State is still the best in every aspect of college football.
I say that because I've been put in a position to go wherever I want to as far as a D1AA school that can get me into the NFL one day, finish my degree and meet the standards. Just because I've played enough at Ohio State and put my name out there. They believe in Ohio State, and they believe in any product from Ohio State.
So, it's bittersweet leaving, but, at the same time, Ohio State has set me up to be a leader for another program or a leader for my family one day. I knew that from the first time I met coach Mick on the phone and coach Pantoni. Guys like that who I will always hold close to me, it just clicked from the beginning – from the day that I met them until I signed my papers
There's D1, but then there's the very tip-top of it. At this level, it's like NFL or you were a bust. I believed that.
What will you cherish most from Ohio State? 
Oh man… that's one of those sensitive questions. The fellowship… I mean… yea, man. It's hard to think there's 150 people on the team because it feels like you know every single one of them for something else. You know everyone's name, you know everyone's position, you know what they do. I don't know if it's like that for everyone on the team, but it's like that for me.
Our locker room was so close, and we spent so much time together. I hardly remember anyone disliking anyone, I hardly remember disputes over anything besides basketball and video games. It was like a household in a way. Coach Meyer was the center of it all, and we all followed him.
I'm going to miss the family, the fellowship and the love that we have for each other.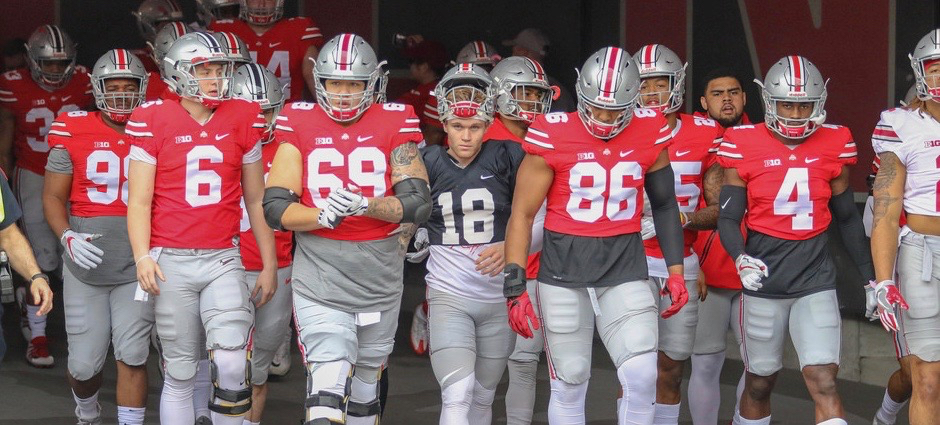 You're transferring away, so, obviously, things haven't worked out the way you hoped they would. People might expect you to be bitter at the program, but you seem to have so much love for the players and the coaches. Why do you feel that way?
Don't get me wrong, I'm pissed. I'm very pissed and very upset. There's a lot that I could say that I don't agree with. Everyone knows it's always a number crunch for Ohio State.
We're a great team, top to bottom. Every practice is like an NFL combine because there're 32 coaches from every team, coaches from every high school team, coaches from other colleges. There are coaches from other colleges who have already seen me play because they come and watch our practices and take notes on how we do shit out here. Now, I'm going to those schools.
As far as it being love for my team, I mean, yea, that's way I stayed in the first place.
I hit this bump in the road probably a year in where I wanted to leave and go start somewhere. I never said anything to anybody, and I just let it roll off.
A lot of the things I was struggling with, from anxiety and depression to my family situation, everything that I never made public, I fought it on my own. My teammates held me down so crazy to where it was like, I can't leave these guys no matter what happens. If they need me, I'm gonna do whatever they need me to do to make it happen.
Now it's like, I've come to wits with the fact that I can only control what's in my life – not my family's, not nothin' else. My academics are important to me now. I'm ready to take the next step in my life. If it means leaving here, then I will.
Everyone wants to go to the NFL and take care of their family and experience that euphoria, but, at the same time, it's a rare thing. No matter how many people you see do it, it's still one in a million.
What was the hardest thing about coming to Ohio State and making the leap from high school to college?
Consistency. Even in high school, there are some games where I look like the best player in the country, and there are some games when I don't even look like I should be in the top 100.
That translated to college because I could go seven practices in a row looking like a starter and then have one practice where I lose two and four and five reps.
Coach Meyer always said to lose one rep, you need 100 reps to get that back. That replayed in my head over and over again. I really have to do this shit nonstop in order for him to see me as a starter. It was like: I did it, I did it, I did it, and I would get so close, then it would fall off. And I'd get so close, and it would fall off. It was all a consistency issue.
That was the biggest transition from high school to the best in America, which is Ohio State, clearly. If you don't bring your shit every day, 365, you're not going to compete. Because there's somebody bigger than you, somebody faster than you that's gonna come in a year. Literally a year from the time you get there, there gonna be someone to replace you. If you don't take it serious the entire time, there's no point in doing it at all. I came to a realization about that, and that's really what happened with me.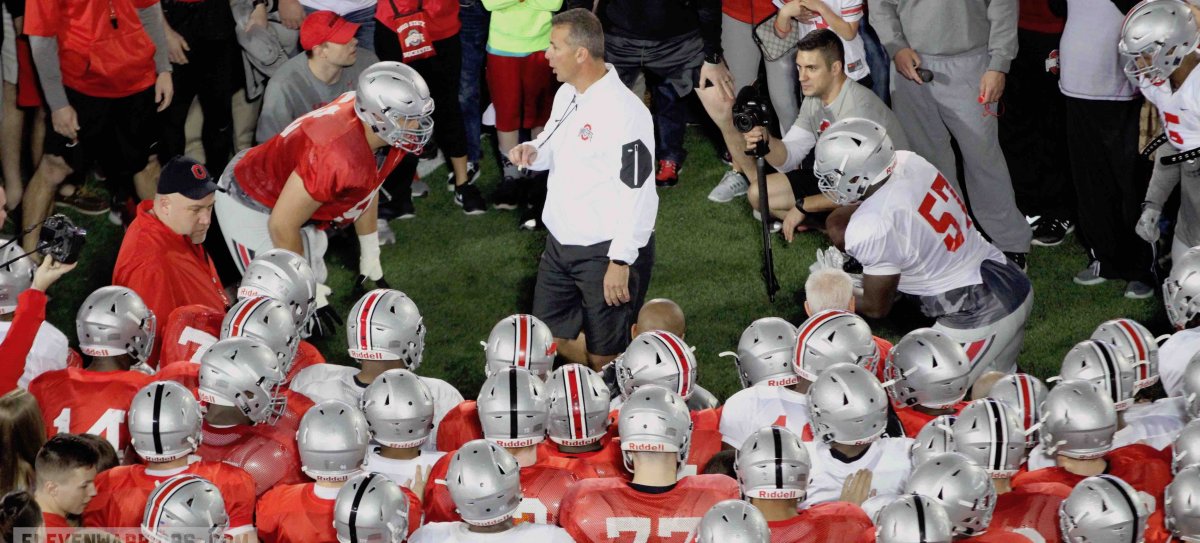 Was the consistency piece a matter of off-field distractions making their way onto the field?
Yea, and no. I had a girlfriend for a while, and that was a bit of a distraction, but it wasn't a negative distraction. It was something I put too much time into. Being older now and being out of that type of social relationship, I know that the time could have been used better.
As far as going out stuff, I mean, yea, it was fun when it happened. There was always a gathering or cookout or just being around the boys. Maybe there was a bit too much of that, but there was also a lot of hard work. Every single day I was doing something to get better.
College wasn't just fun, it was stressful – stressful trying to get better, wondering why my past set looked like this when I wanted it to look like this, why it did look good when I didn't try to make it look good.
It ate at me a lot. I took it personal after a while, so I stopped going out completely. The coaches stopped seeing me on lists because I started to take it a lot more serious.
So, yes, there were distractions. But over the past year and a half, no. The past few years there have been no distractions, and there really hasn't been anything that has kept me from getting better.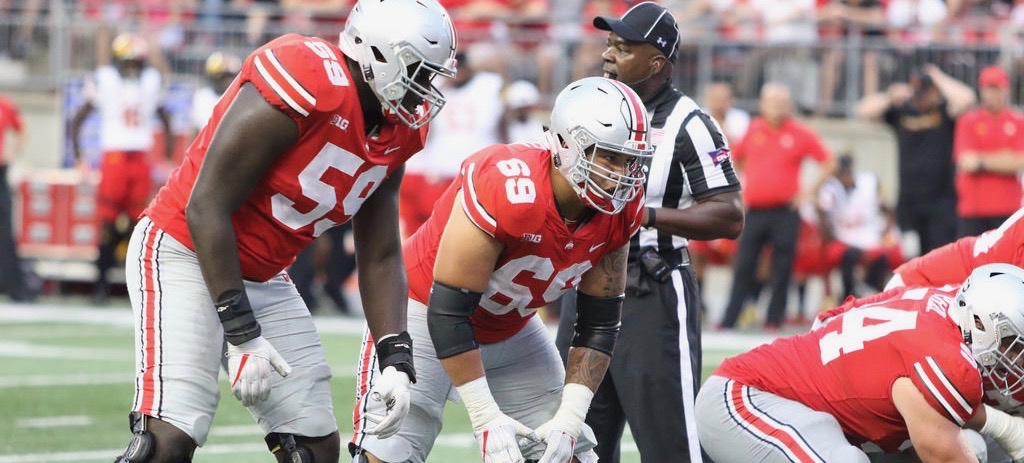 Looking ahead from the point you're at right now, what are your goals?
Just to get better. Coach Mick told me: no matter where you are, no matter what you're doing, if you're goal is to start and to get in the NFL or be a captain, then you're doing it wrong. Your goal should always simply be to get better. That will take you where it needs to take you.
Everyone has this idea of, ok, if I'm doing this, I'm going to go to the NFL. Everyone wants to go to the NFL and take care of their family and experience that euphoria, but, at the same time, it's a rare thing. No matter how many people you see do it, it's still one in a million.
Coach Mick made it so clear to me this spring that if I keep focusing on getting better, I'll be where I need to be. So that's what I'm concerned with – that's all I'm concerned with. Even now, not being on the team anymore, my main goal is getting better every day.
Have you been too focused on specific forms of success in the past?
Absolutely. Of course, there's D1, but then there's the very tip-top of it. At this level, it's like NFL or you were a bust. I believed that. That's unfortunate, but it is. It makes things foggy for recruits that are highly touted, or even small recruits, it makes things more difficult than what it needs to be.
Will you stay part of the brotherhood with people who have move on or are still part of the program?
Absolutely. I've got lifetime ties with some of the guys. Various guys on the team or who were on the team in the past will be in my wedding one day. Hopefully I'll be there for theirs. My kids will know my teammates. My whole family already knows my teammates. We're so tied into that to where it doesn't matter where we go. We'll always have love for everyone.
Good luck and Godspeed brotha https://t.co/eyOKX2K0CF

— Branden Bowen (@BrandenBowen) April 19, 2018
Best of wishes to my brudda! Love you man! Well link at the top https://t.co/JcALnQ3jtZ

— Dwayne Haskins, Jr (@dh_simba7) April 18, 2018
Wish you ALL the best, Matt. Thanks for all youve done for Buckeye Football and I hope you have great success wherever you go.

— Shelley Meyer (@spinnershells) April 19, 2018
Is there anything you'd like to add?
I'm thankful.