COLUMBUS – Ohio State football doesn't currently have any former Ohio State players on its full-time coaching staff, but there is one former Buckeye helping the team prepare for the season.
Former Ohio State wide receiver Brian Hartline, who played for the Buckeyes from 2005-08 and went on to play seven seasons in the NFL, has been back on campus since spring and working with the Buckeyes this season as a quality control coach.
Hartline's path to joining the Buckeyes staff began last December. His younger brother Mike, who interned with Ohio State for the last two seasons as an assistant quarterbacks coach, asked Brian to come to bowl practices and work as a scout-team wide receiver. Brian accepted the invitation and made a positive impression on Ohio State coach Urban Meyer, which led to his current opportunity.
Now that he's gotten his feet wet, Hartline has fallen in love with coaching and plans to pursue it as a full-time career. But that wasn't always his plan.
"I was always told I was going to be a good coach, and I always said I would never coach because it took too much time, but I'm just hooked on it," Hartline said Monday. "I can just see how the line and sinker's in my mouth and I'm getting dragged in."
Hartline's NFL career came to an end last May, when he was released by the Cleveland Browns after one season with the team. Just 29 years old at the time, Hartline probably could have continued playing in the NFL for one team or another, but he decided to call it a career. He's not regretting that decision now.
"I said I'd only play if I still loved it and I'd only want to play for someone that's potentially a contender and if it's not those, I'm not doing it," Hartline said. "The opportunities that I was looking for did not arise, the teams I wanted to play for were not the options, so I took my step away, hoping the passion would come back. It did not, and now I'm here. And I love it."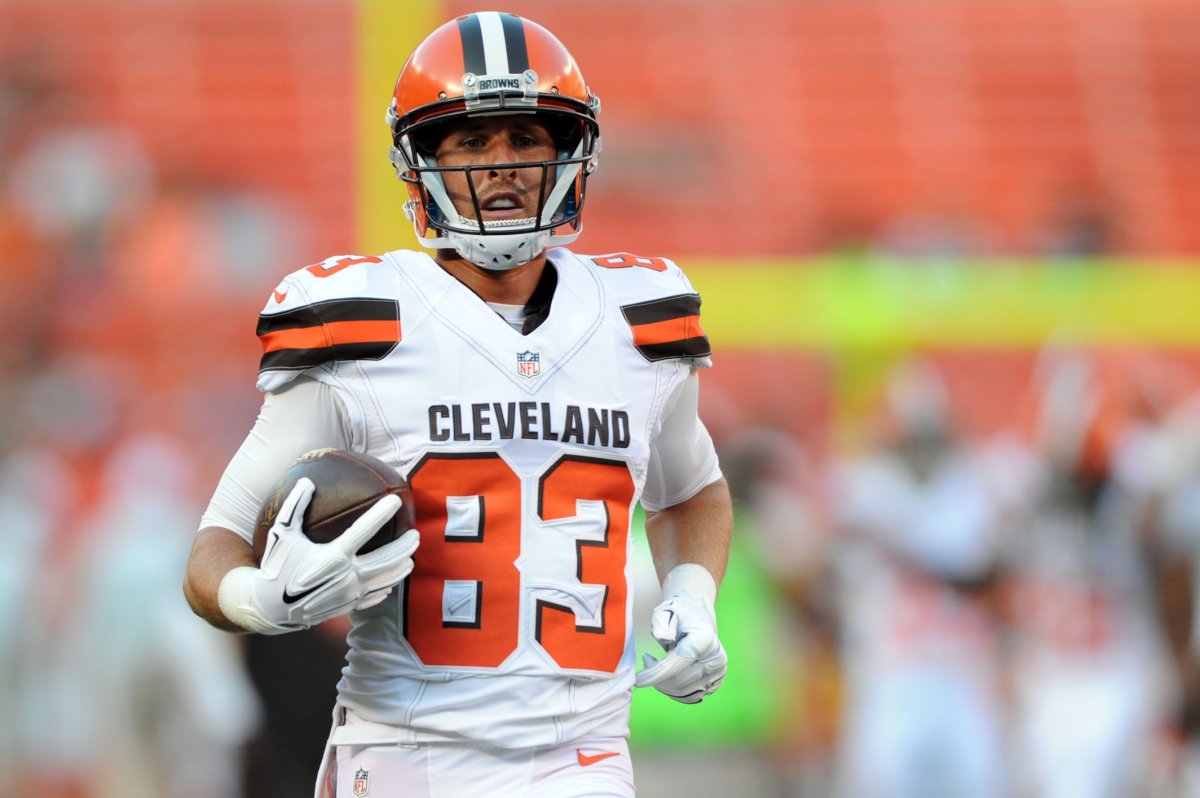 Hartline originally planned to take at least a year away from football, but he decided the opportunity to join the staff at his alma mater was too good to pass up. While Hartline currently sits on the bottom of the coaching totem pole, he believes the opportunity to work with Meyer and his staff will provide the foundation he needs to work his way up the ranks.
"As a football junkie, it's a huge opportunity and a huge blessing, and I can't be grateful enough," Hartline said. "The amount I've learned in the last three months has been very beneficial."
Hartline has gotten a behind-the-scenes view at what makes Meyer a successful coach, and he likes what he's seen so far.
"His ability to establish culture and hold to that culture and not waver … is something that's very special," Hartline said of Meyer. "You have to be behind the curtain to understand. But his ability to create a culture and just do what he does has been a special thing to see."
"As a football junkie, it's a huge opportunity and a huge blessing, and I can't be grateful enough."– Brian Hartline
He even admits he would have liked to have had the opportunity to play for Meyer, offensive coordinator Kevin Wilson and the rest of Ohio State's current coaching staff.
"I would have loved to seen what this staff could have gotten out of me," Hartline said. "Not that they didn't when I was here, that's not what it is, but it's just different. Coach Wilson's done an incredible job of taking an offense and enhancing and bringing some things he did, has done in the past and applying to Coach Meyer's offense, and he's got some skill in calling the plays."
While Hartline won't have the opportunity to play for the Buckeyes again, he's excited to be helping the current Buckeyes who could eventually follow in his NFL footsteps.
"To say I'm really excited would be an understatement," Hartline said.
As a quality control coach, Hartline is working with the entire offense, but he says he has been sitting with the wide receivers in meetings. Hartline's value, in part, could be that he has experience playing that position for the Buckeyes himself. But as he does what he can to help the current Buckeyes succeed, he says he's not focusing on his past.
"I'm just trying to provide as much value as possible for these guys," Hartline said. "To map or lead them to success is really on the coaches, and again I'm a part of that, so if they give us their all, I'm trying to give my all."