It's time for Ohio State to begin setting its depth chart for the 2018 season.
With spring football practice in the rear view mirror, the Buckeyes should now have a good idea of who their starters and other top contributors will be at most positions in their offensive and defensive lineups.
That's not to say that the depth charts will be set in stone. There's several positions – such as safety, center, linebacker and potentially, quarterback – where battles for starting jobs appear set to rage on into fall camp. But while Ohio State's coaches focused primarily on splitting reps and developing everyone at their respective positions during spring practice, they will want to have at least preliminary pecking orders at their positions going into preseason practices.
Urban Meyer and his assistants have been more open about who they expect to start at some positions than they have been about others, but now that spring practice is over, it's time to take another shot at projecting what the Buckeyes' two-deep depth chart will look like his fall.
As always, we can expect that Ohio State's published depth chart will be littered with "or" designations at positions where the Buckeyes don't have firmly established starters. This projection, however, is meant to predict what the coaches' actual depth chart will look like in terms of who starts and sees the most playing time.
Quarterback
1. Dwayne Haskins
2. Tate Martell
Joe Burrow had the most consistent spring game performance of any of Ohio State's three potential starting quarterbacks, which could be enough for him to win the job in a competition in which Meyer said there was little separation throughout the spring.
At the same time, though, the starting quarterback job has always felt like Haskins' to lose after he was the No. 2 quarterback all of last season and led the Buckeyes to a comeback win at Michigan. So in a race that very well could be tied coming out of spring, I believe that the tiebreaker will ultimately go in Haskins' favor.
In an ideal scenario, Ohio State would likely prefer to continue the competition between Burrow, Haskins and Martell into fall camp. Also in an ideal world, the Buckeyes would presumably prefer Haskins and Burrow to be the top two quarterbacks on their depth chart regardless of who wins the job, given that they are the most polished passers and most experienced quarterbacks on the roster.
Burrow, however, has already said on multiple occasions that he will consider a graduate transfer if he does not win the starting job, which would elevate Martell to the second row of the depth chart. Additionally, it seems likely that the Buckeyes will implement a package – regardless of whether Haskins or Burrow wins the job, and even if both are still on the roster – that puts Martell on the field situationally to take advantage of his explosive running ability.
Running Back
1. J.K. Dobbins
2. Mike Weber
Ohio State running backs coach Tony Alford said Antonio Williams was one of the most improved players on the entire team this spring, but there simply isn't room for him on the two-deep. Dobbins rushed for 1,403 yards last season, while Weber ran for 1,096, and together, they should split the lion's share of the Buckeyes' carries as long as they are both healthy.
Wide Receiver (X)
1. Austin Mack
2. Binjimen Victor
Wide Receiver (Z)
1. Terry McLaurin
2. Johnnie Dixon
Slot Receiver/H-Back
1. Parris Campbell
2. K.J. Hill
The Buckeyes need to figure out how to incorporate Demario McCall into their offense, but it would still come as a surprise if there were any major changes to the wide receiver depth chart from last season. Campbell, McLaurin and Dixon are all viewed as team leaders, while Hill led the Buckeyes in receptions last year. Mack looks like a solid starter at the X position.
If any receiver's spot in the six-man rotation is on the hot seat, it would be Victor, but he made a strong case for staying in the rotation with his five-catch, 91-yard, one-touchdown performance in the spring game. And because McCall is an H-back whereas Victor is an X receiver, Victor's top competition for his playing time is Jaylen Harris, who Meyer said after the spring is "very close to being in the rotation."
Tight End
1. Luke Farrell
2. Rashod Berry
Meyer said after the spring game that Farrell, who admittedly wasn't even on my previous projection of Ohio State's two-deep, has earned the starting job at tight end after having a great spring. The redshirt sophomore will still have to compete to retain that starting spot in fall camp, but it's his job to lose right now.
Berry, the presumptive favorite to start at tight end entering spring practice, slots in as the likely second-stringer at the position right now. But he'll need to perform well in fall camp to fend off incoming freshman Jeremy Ruckert, who has more than enough talent to end up earning an immediate spot on the depth chart.
Left Tackle
1. Thayer Munford
2. Joshua Alabi
Although Ohio State's initial plan this spring was moving Isaiah Prince to left tackle, Munford ended up finishing the spring as the Buckeyes' left tackle, and offensive line coach Greg Studrawa said Wednesday that Munford is "pretty close" to locking down the starting job at that position.
Munford could still face competition for the starting job in fall camp from Alabi, who also had a "tremendous spring" according to Studrawa. Alabi could still face competition just to maintain his spot on the two-deep, though, from incoming five-star freshman Nicholas Petit-Frere, who is certainly talented enough to push for immediate playing time.
Left Guard
1. Michael Jordan
2. Malcolm Pridgeon
Meyer and Studrawa have both gone as far as to say that Pridgeon has earned playing time for the upcoming season, but there's no open spot for him in the starting lineup. At the least, though, Pridgeon has cemented his place on the two-deep as the backup left guard – the position where he practiced all spring – to Jordan, whose spot in the lineup is safe as a third-year starter.
Center
1. Brady Taylor
2. Josh Myers
Meyer said after the spring game that Taylor concluded the spring as the Buckeyes' starting center. Studrawa said Wednesday, though, that he expects the competition for the starting center job to continue into fall camp after Myers was "outstanding" for the last two weeks of the spring. So while the starting job is Taylor's to lose, Myers appears to have at least secured himself a spot on the two-deep, and could still make a preseason push to climb into the starting lineup.
Right Guard
1. Demetrius Knox
2. Wyatt Davis
After Branden Bowen missed the spring while continuing to recover from the broken leg he suffered last season, it remains uncertain where exactly he will factor in on the offensive line after beginning last season as the starting right guard. Knox seems likely to retain the starting job, though, after performing well as Bowen's replacement last season and continuing to take all the first-team reps at right guard this spring.
Davis, meanwhile, should be in line for a spot on the two-deep as a redshirt freshman after coming to Ohio State as a highly touted recruit and taking the second-team reps at right guard this spring.
Right Tackle
1. Isaiah Prince
2. Branden Bowen
With the original plan to move him to left tackle shelved, Prince is now in line to be a third-year starter at right tackle. The second-team right tackle spot, meanwhile, seems like the logical spot for Bowen on the depth chart when he returns from injury. Early enrollee freshman Max Wray was the second-team right tackle with Bowen sidelined this spring, but the Buckeyes have enough veteran offensive line depth that they would probably prefer to redshirt Wray.
Defensive End
1. Nick Bosa
2. Jashon Cornell
Defensive End
1. Chase Young
2. Jonathon Cooper
Cooper will see plenty of playing time in the defensive end rotation – and it remains likely that Young and Cooper will end up seeing a similar amount of playing time – but Young, who was the most dominant player at any position in the spring game, might simply be too talented to keep out of the starting lineup.
Bosa, of course, is locked in as a starter and should see the most playing time of any defensive lineman as a returning All-American. Cornell, meanwhile, is set to be the fourth defensive end in the Buckeyes' rotation as long as he can fend off the challenge from a quartet of incoming freshmen, led by Tyreke Smith and Tyler Friday, this summer.
Defensive Tackle (3-Tech)
1. Dre'Mont Jones
2. Tommy Togiai
Defensive Tackle (Nose)
1. Robert Landers
2. Davon Hamilton
While Jones and Landers appear to be locked in as the Buckeyes' starting defensive tackles, defensive line coach Larry Johnson is likely to use a deep rotation at the position once again this year. The Buckeyes have as many as six defensive tackles who could make a push for playing time off the bench, including Haskell Garrett, Jerron Cage, junior college transfer Antwuan Jackson and incoming freshman Taron Vincent.
That said, Hamilton looks as though he should be in line for a spot on the two-deep as a redshirt junior who was also among the players singled out by Meyer for his improvement this spring. Togiai, meanwhile, appears to be well on his way to earning an immediate spot in the rotation after losing his black stripe as an early enrollee this spring, becoming just the second freshman to accomplish that feat since Meyer implemented the tradition.
Middle Linebacker
1. Baron Browning
2. Justin Hilliard
Tuf Borland was set to be the Buckeyes' starting middle linebacker before suffering an Achilles injury in spring practice, and his return for the 2018 season has not been ruled out. It seems likely, though, that he will miss at least some time to start the year, which means Browning and Hilliard will continue competing in fall camp for the chance to start in his place.
Hilliard finally appears ready to take on a significant role for Ohio State's defense after being plagued by injuries early in his Buckeye career, and he was the Buckeyes' first-team middle linebacker this spring after Borland went down. Browning, however, is an elite talent who Meyer praised for his spring game performance in which he recorded four total tackles and two pass breakups. If Browning continues his upward trajectory into fall camp, he's likely to prove too talented to keep out of the starting lineup – even if that means moving to outside linebacker when Borland returns.
Strongside Linebacker
1. Malik Harrison
2. Dante Booker
Weakside Linebacker
1. Keandre Jones
2. Pete Werner
Linebackers coach Bill Davis has said that the outside linebacker positions in Ohio State's defense are interchangeable, and has not committed to anyone being a starter at either spot yet. Harrison, though, appears to be the most likely candidate to start at strongside linebacker after playing regularly in the nickel defense last season.
Jones ran with the first-team defense opposite Harrison all spring, making him the presumptive favorite to start at weakside linebacker, but Werner – who has drawn consistent praise from Meyer since he arrived at Ohio State – has the potential to seize a starting job away in fall camp.
Booker seems unlikely to get back into the starting lineup after falling out of the rotation last season and missing the entire spring after undergoing multiple shoulder surgeries, but he could still be one of the Buckeyes' top backup outside linebackers if he can make a full recovery. That said, early enrollee Dallas Gant is also a candidate for a spot on the two-deep after an impressive spring.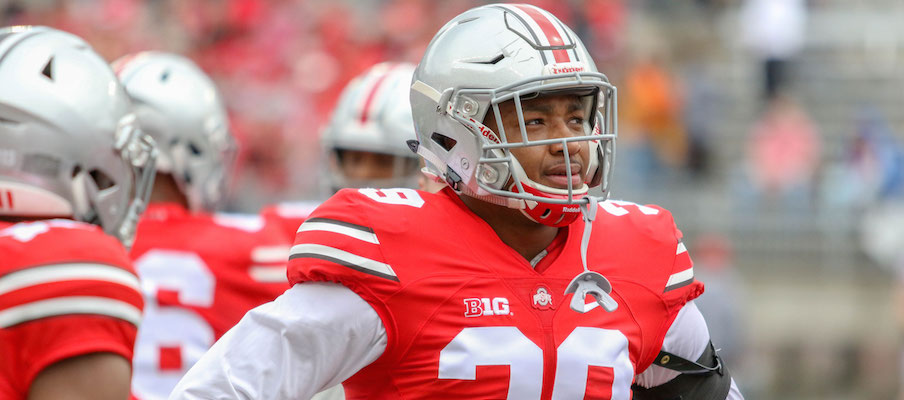 Cornerback
1. Kendall Sheffield
2. Shaun Wade
Cornerback
1. Damon Arnette
2. Jeffrey Okudah
Cornerbacks coach Taver Johnson said Wednesday that Sheffield and Arnette come out of spring as established starters, while Meyer said after the spring game that he expects Okudah to also be a part of a three-man cornerback rotation. That might not leave a spot in the regular cornerback rotation for Wade or Marcus Williamson, but both of those second-year cornerbacks made a strong push for playing time with their performances this spring, too.
Safety (Boundary)
1. Jordan Fuller
2. Jahsen Wint
Safety (Field)
1. Isaiah Pryor
2. Josh Proctor
The only thing settled at the safety position at this point is that Fuller will be one of the two starters. The field safety spot remains wide open for competition, with Meyer describing the position as the Buckeyes' "No. 1 concern" coming out of spring.
That said, Pryor ran with the first-team defense all spring and started alongside Fuller in the spring game, so he remains the favorite to earn the starting job as of now. Wint drew praise for his development as well this spring, which he capped with an 11-tackle performance in the spring game, likely earning him a place on the Buckeyes' two-deep.
Amir Riep and Brendon White could also be in the mix to earn a spot on the two-deep or potentially even push for the open starting spot. The fact that no one stepped up enough to prove they should be a starter this spring, however, appears to leave the door wide open for Proctor to earn a spot on the two-deep – and potentially even push for the starting job – when he arrives as a highly touted freshman this summer.
Kicker
1. Sean Nuernberger
2. Blake Haubeil
Nuernberger solidified his standing as the Buckeyes' starting kicker with his performance in the spring game, where he made four straight field goals from distances of 40, 42, 47 and 52 yards.
Punter
1. Drue Chrisman
2. Jake Metzer
Coming off a strong redshirt freshman season, Chrisman remains the only scholarship punter on the roster and will safely retain his starting job.
Kickoffs
1. Blake Haubeil
2. Sean Nuernberger
While it remains to be seen whether Ohio State will alter its kickoff strategy in light of the NCAA's recent rule change that allows fair catches for touchbacks inside the 25-yard line, Haubeil should be the Buckeyes' kickoff specialist either way after overcoming early struggles to perform well down the stretch of last season.
Long Snapper
1. Liam McCullough
2. Bradley Robinson
McCullough enters his third season as the Buckeyes' long snapper as a solid starter, while either one of two walk-ons – Robinson or Phillip Thomas – could be his backup.
Holder
1. Drue Chrisman
2. C.J. Saunders
Chrisman and Saunders were the top two holders on Ohio State's depth chart last season, so there's no real reason to expect a change there this year.
Kickoff Returner
1. Demario McCall
2. Jaelen Gill
Punt Returner
1. Demario McCall
2. K.J. Hill
As aforementioned, the Buckeyes need to find a way to get McCall on the field, and one way they appear set to do so is by making him both their lead kickoff returner and lead punt returner. Hill, Ohio State's starting punt returner last season, likely would be next in line if the Buckeyes need to replace McCall in that role for any reason. Gill is an explosive athlete who might be too talented to redshirt, so making him the secondary kickoff returner could be one way to get him on the field. (Update: Antonio Williams was previously projected to be the Buckeyes' secondary kickoff returner. Williams announced Monday that he is transferring to North Carolina.)
Projected Depth Chart

Offense

Defense

LT

 

75

THAYER MUNFORD

6-6

319

SO

 

DE

 

97

NICK BOSA

6-4

263

JR

 
 

58

JOSHUA ALABI

6-5

305

JR

 
 
 

9

JASHON CORNELL

6-3

274

JR

LG

 

73

MICHAEL JORDAN

6-7

310

JR

 

DT

 
86

DRE'MONT JONES

6-3

290

JR

 
 

66

MALCOLM PRIDGEON

6-7

310

SR

 
 
 

72

TOMMY TOGIAI

6-2

300

FR

C

 

79

BRADY TAYLOR

6-5

302

SR

 

DT

 

67

ROBERT LANDERS

6-1

283

JR
 
 

71

JOSH MYERS

6-5

308

FR

 
 
 

53

DAVON HAMILTON

6-4

310

JR

RG

 
78

DEMETRIUS KNOX

6-4

312

SR
 

DE

 
2

CHASE YOUNG

6-5

265

SO

 
 

52

WYATT DAVIS

6-4

315

FR

 
 
 

18

JONATHON COOPER

6-4

257

JR

RT

 

59

ISAIAH PRINCE

6-7

310

SR

 

SLB

 

39

MALIK HARRISON

6-3

240

JR

 
 

76

BRANDEN BOWEN

6-7

312

JR

 
 
 

33

DANTE BOOKER

6-3

240

SR

TE

 

89

LUKE FARRELL

6-6

250

SO

 

MLB

 

5

BARON BROWNING

6-3

238

SO

 
 

38

RASHOD BERRY

6-4

255

JR

 
 
 

47

JUSTIN HILLIARD

6-1

230

JR

QB
 
7
DWAYNE HASKINS
6-3
218
SO
 

WLB

 

16

KEANDRE JONES

6-2

228

JR

 
 

18

TATE MARTELL

5-11

207

FR

 
 
 

20

PETE WERNER

6-3

235

SO

RB
 
2
J.K. DOBBINS
5-10
212
SO
 
CB
 
8
KENDALL SHEFFIELD
6-0
193
JR
 
 

25

MIKE WEBER

5-10

212

JR

 
 
 

24

SHAUN WADE

6-1

192

FR

H-B

 

21

PARRIS CAMPBELL

6-1

208

SR

 
SAF
 
4
JORDAN FULLER
6-2
204
JR
 
 

14

K.J. HILL

6-0

198

JR

 
 
 

23

JAHSEN WINT

5-10

196

SO

WR
 
11
AUSTIN MACK
6-2
215
JR
 
SAF
 
14
ISAIAH PRYOR
6-2
197
SO
 
 

9

BINJIMEN VICTOR

6-4

200

JR

 
 
 
 

JOSH PROCTOR

6-2

190

FR

WR

 
83
TERRY MCLAURIN
6-1
204

SR

 

CB

 

46

DAMON ARNETTE

6-0

195

JR
 
 

1

JOHNNIE DIXON

5-11

198

SR

 
 
 

1

JEFFREY OKUDAH

6-1

199

SO

Special Teams

K

 

96

SEAN NUERNBERGER

6-1

228

SR

 

H

 

91

DRUE CHRISMAN

6-3

215

SO

 
 

95

BLAKE HAUBEIL

6-4

225

SO

 
 
 

80

C.J. SAUNDERS

5-11

185

JR

P

 

91

DRUE CHRISMAN

6-3

215

SO

 

KR

 

30

DEMARIO MCCALL

5-9

193

SO

 
 

19

JAKE METZER

6-2

220

SO

 
 
 
 

JAELEN GILL

6-1

182

FR

KO

 

95

BLAKE HAUBEIL

6-4

225

SO
 

PR

 

30

DEMARIO MCCALL

5-9

193

SO
 
 

96

SEAN NUERNBERGER

6-1

228

SR

 
 
 

14

K.J. HILL

6-0

198

JR

LS

 

49

LIAM MCCULLOUGH

6-2

228

JR

 
 
 
 
 
 
 
 
 
 

42

BRADLEY ROBINSON

6-1

220

SO