As Ohio State's coaches continue to evaluate who their starting quarterback should be this season, they are going back and watching every throw the quarterbacks attempted this spring.
While we aren't privy to the practice film that the coaches have at their disposal, we can go back and watch every throw Joe Burrow, Dwayne Haskins and Tate Martell attempted during the spring game – so that's exactly what we've done.
From a statistical standpoint, Burrow was clearly the most efficient passer in Saturday's game, while Martell was the least efficient. As you'll see in the passing charts below, Burrow had success completing passes to almost all areas of the field, while Martell barely completed any downfield passes at all.
Statistics, though, never tell the whole story. So while it's fair to say Burrow had the best all-around spring game as a passer, and that Martell had the worst, it's worth diving deeper – as Ohio State head coach Urban Meyer and quarterbacks coach Ryan Day certainly have or will – to look at how specifically each quarterback had success, where they struggled and in what ways the statistics might be misleading.
For the purposes of this evaluation, we're only looking at the passes the quarterbacks threw, so it should be noted that while Martell had the worst spring game as a passer, he easily showed the most playmaking ability as a runner, gaining 69 yards and scoring a touchdown on 11 carries.
Considering how much affinity Meyer has shown for running quarterbacks over the course of his coaching career, that could very well give Martell a chance to win the job – or more likely, a chance to see the field in a situational package this season. Ultimately, though, passing ability is paramount to success at the quarterback situation – especially if the Buckeyes want to elevate their offense to a new level – and should the primary quality of on-field play that Ohio State's coaches look for in their new starting signal-caller.
With that being said, we take a comprehensive look at all three potential starting quarterbacks' passing performances from Saturday's spring game.
Author's note: The passing charts below designate how far each pass thrown beyond the line of scrimmage, not how many yards the play gained. Therefore, if a pass was completed eight yards beyond the line of scrimmage but went for a gain of 10+ yards, that pass would still be charted in the 0-9 yards zone of the chart. Throws not included in the box score due to penalties are not included in the passing charts, but they are listed along with the rest of the throws below.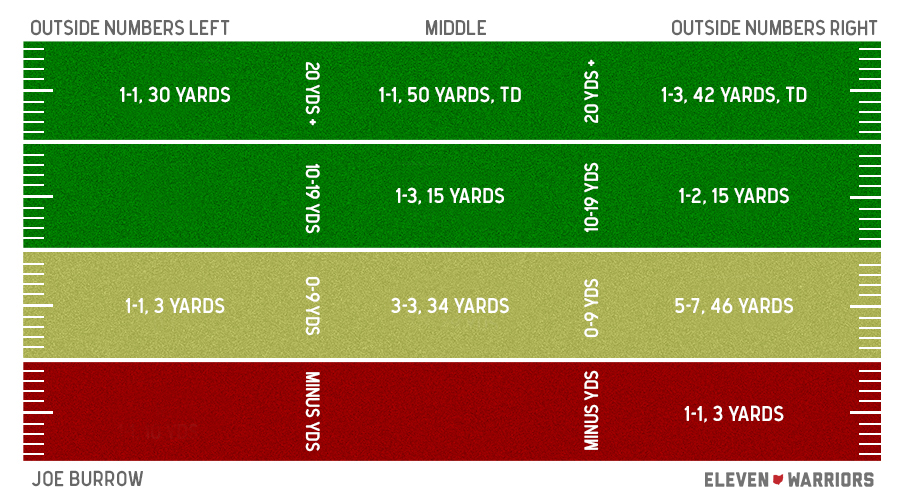 Throw 1: Incomplete throw under pressure lands near no one, 18-19 yards past line of scrimmage outside right hash
Throw 2: Checkdown pass to Demario McCall on left side for 3-yard gain
Throw 3: Deep ball intended for McCall about 30 yards downfield on right side, but McCall blanketed in coverage by Fuller
Throw 4: 3-yard drag route over middle to Parris Campbell that goes for a 23-yard gain
Throw 5: 15-yard out to Luke Farrell to right sideline
Throw 6: 9-yard comeback to Binjimen Victor on right sideline
Throw 7: 5-yard comeback to Austin Mack on right side
Throw 8: 4-yard drag to McCall that goes for 15-yard gain
Throw 9: 8-yard comeback to Ellijah Gardiner on right side that goes for 23-yard gain
Throw 10: Slightly behind but complete to McCall on 8-yard out
Throw 11: Pass rolling right bounces off the back of Wyatt Davis' helmet, but Burrow catches it himself to gain 3 yards
Joe Burrow completes a three yard pass to... himself. pic.twitter.com/6IFGeuANST

— Eleven Warriors (@11W) April 14, 2018
Throw 12: Pass intended for Jaylen Harris on right side about 20 yards downfield draws pass interference penalty on Jahsen Wint (not included in chart)
Throw 13: Late throw on 12-yard drag route to Harris over middle, allowing Amir Riep to break up the pass
Throw 14: Deep ball up left sideline slightly behind but caught by Victor for 30-yard gain
Throw 15: 10-yard comeback to right sideline on rollout dropped by Gage Bican
Throw 16: 3-yard drag over middle to McCall under backside pressure
Throw 17: Deep ball to Victor back right end zone from 18-yard line draws defensive pass interference (not included in chart)
Throw 18: 3-yard out route along goal line dropped by Darryl Sinclair (would have been nullified by offensive pass interference if caught)
Throw 19: Throw out of bounds on 3-yard comeback to Victor at right front pylon of end zone
Throw 20: 32-yard deep ball slightly behind but caught by McCall that goes for 50-yard touchdown
Throw 21: 2-yard out to McCall on right side
Throw 22: Incomplete 8-yard comeback to Victor to right sideline, but draws defensive holding
Throw 23: 7-yard comeback to Victor on right side
Throw 24: 25-yard deep ball intended for Victor on right sideline goes out of bounds
Throw 25: Perfectly placed deep ball up right sideline to McCall for 42-yard touchdown
Breakdown: Burrow had the best performance of any quarterback in the spring game, completing 15-of-22 passes for 238 yards, and his numbers could have been even better if not for a pair of penalties that prevented receivers from making catches on accurate throws, including one on a perfectly thrown pass to Victor that would have been an 18-yard touchdown if not for defensive pass interference from freshman cornerback Sevyn Banks.
With at least one completion to every downfield passing zone but one, Burrow showed an ability to distribute accurate throws all over the field. His deep-ball velocity wasn't quite as impressive as Haskins' (more on that to come), but he nonetheless completed three throws of 30 yards or more with only two deep-ball incompletions.
Outside of his first throw of the game, on which he appeared to be hit as he threw, Burrow did not have any other downfield throws that were badly inaccurate. And he also showed some ability to throw on the move and improvisational skill, catching his own throw when accidentally bouncing a ball off an offensive lineman's helmet on a rollout.
Winning the spring game won't necessarily win Burrow the starting quarterback job, but he certainly performed well enough to justify his case for the starting job.
"I think this spring I played just about as well as I could," Burrow said after Saturday's game. "I've put everything I had into it."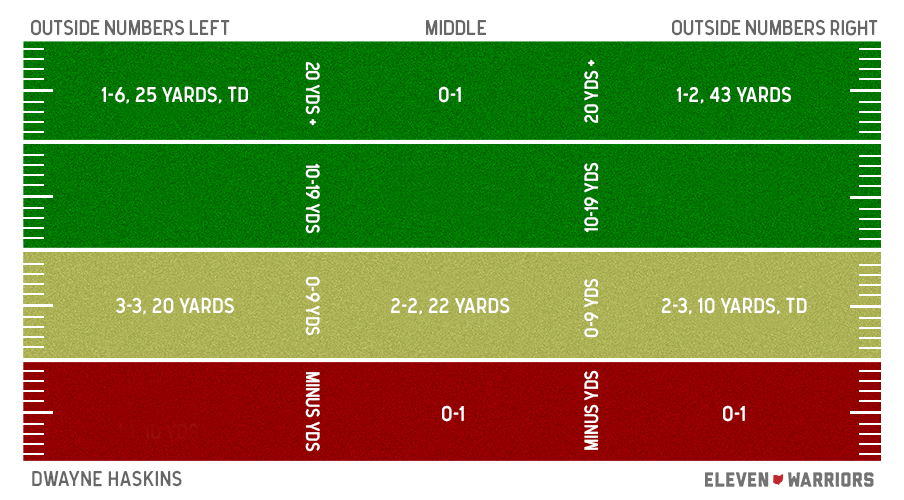 Throw 1: 5-yard out to Campbell on right side that goes for 8-yard gain
Throw 2: 5-yard out to Campbell on left side that goes for 6-yard gain
Throw 3: 3-yard drag over middle to Campbell
Throw 4: Deep ball intended for Mack going into left side of end zone from 26-yard line, pass out of bounds
Throw 5: 45-yard deep ball on right side thrown slightly too far for Terry McLaurin
Throw 6: Throw too far in front of J.K. Dobbins, with Keandre Jones in coverage, at right sideline at line of scrimmage
Throw 7: 3-yard drag route over middle to McCall that goes for a 19-yard gain
Throw 8: 5-yard curl to Harris off play action, throw low but complete
Throw 9: 25-yard deep ball to Harris into tight window over Marcus Williamson up left sideline for touchdown
Dwayne Haskins threading this strike to Jaylen Harris go give Scarlet a 14-10 lead. pic.twitter.com/Vh9k6m7U2r

— Eleven Warriors (@11W) April 14, 2018
Throw 10: 30-yard deep ball intended for Harris up left sideline broken up by Williamson
Throw 11: 20-yard deep ball intended for Harris up left sideline broken up by Williamson again
Throw 12: 35-yard deep ball to Victor on right side that goes for 43-yard gain
Dwayne Haskins to Bin Victor I: pic.twitter.com/N0GyLHSgj7

— Eleven Warriors (@11W) April 14, 2018
Throw 13: Back-shoulder out to Victor in right side of end zone for 2-yard touchdown
Dwayne Haskins to Bin Victor II: pic.twitter.com/faNNHPQPh2

— Eleven Warriors (@11W) April 14, 2018
Throw 14: 40-yard deep ball up left sideline intended for Harris broken up by Williamson again
Throw 15: Pass batted down in backfield by Baron Browning
Throw 16: 9-yard comeback to Harris at numbers on left side
Throw 17: Pass a bit low and short on 8-yard comeback intended for Gardiner
Throw 18: 25-yard deep ball intended for Harris falls out of bounds incomplete, Williamson blanketing Harris in coverage
Throw 19: 25-yard deep ball to right side thrown too far in front of Gardiner
Breakdown: Although Burrow, perhaps surprisingly, had more overall success than Haskins in the deep passing game on Saturday, there's a case to be made that Haskins had the two most impressive throws of the day.
Haskins' first touchdown throw to Harris, which required perfect placement and ball velocity to beat tight coverage, was the type of throw that will excite NFL scouts about his potential. His third-quarter deep ball to Victor was also perfectly thrown, demonstrating his top-notch arm talent that has made him a presumptive favorite for the starting job.
Haskins also had seven incompletions on deep throws, however, in large part because he repeatedly tried to complete 50/50 balls up the left sideline to Harris against Williamson, which worked for the aforementioned touchdown on the first attempt but resulted in an incompletion on all four subsequent attempts. Haskins also did not make any intermediate throws for the entire game.
That said, Harris was the most talented receiver on the field for most of those throws, as Ohio State's more established receivers except for Victor had been pulled out of the game in the first half, so it's understandable that Haskins kept looking his way.
Haskins defended his inconsistency in his postgame interview on Saturday, stating that while he thought he could have been more efficient, he also believes he is capable of making every throw and that deep passing becomes a bigger part of the game plan when he is on the field.
"I just feel like because I have a big arm, we throw a lot of deep passes when I'm in the game, but I feel like I do a great job of throwing all over the field whether it's intermediate or short," Haskins said. "I started off the game with a couple out routes to Parris. I just feel like I can throw all over the field."
It only took a couple big throws for Haskins to show his immense potential as a passer on Saturday. But whether he is ultimately named the starting quarterback could depend on how confident Ohio State's coaches are that he can complete a wider array of throws on a more consistent basis in real games this fall.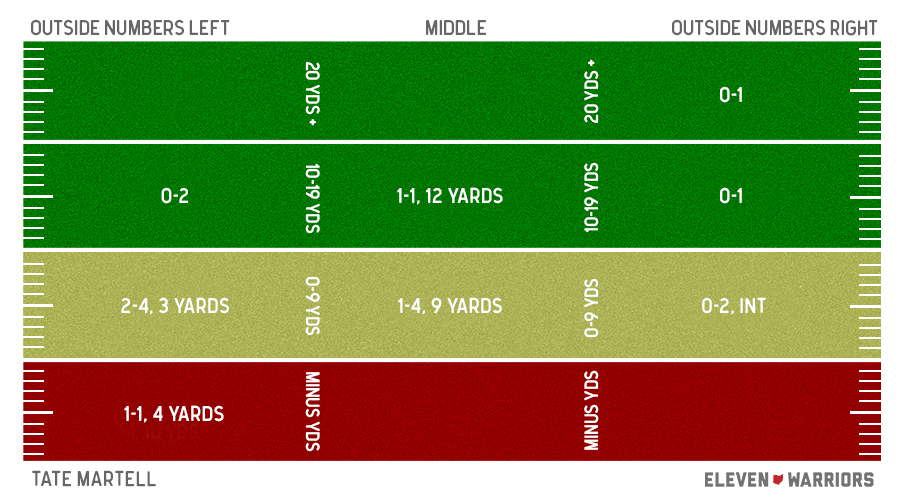 Throw 1: Screen pass to Master Teague for 4-yard gain
Throw 2: Pass intended for De'Shawn White on 5-yard slant over middle batted down in backfield by Browning
Throw 3: Deep ball intended for Harris about 30 yards downfield sails too long, with Shaun Wade blanketing Harris in coverage
Throw 4: 12-yard completion to McCall inside the numbers on out route breaking toward left sideline
Throw 5: 7-yard curl to McCall on rollout right that goes for 9-yard gain
Throw 6: Slightly behind but complete to McCall on 3-yard out on rollout left
Throw 7: Pass over Teague's head on 2-yard throw to left side
Throw 8: 10-yard fade to Harris on left side of end zone broken up by Wade
Throw 9: Rolls out right, throws ball away out of bounds with no open receiver on 4th-and-goal
Throw 10: Misses wide left on 5-yard out to McCall
Throw 11: Throws ball away on rollout right under pressure
Throw 12: 5-yard out intended for White broken up by Hayden Jester
Throw 13: 8-yard slant over middle dropped by Derrick Malone
Throw 14: 6-yard slant dropped by Gardiner
Throw 15: Pass intended for Gardiner on 12-yard drag going outside numbers left slightly behind receiver and incomplete (would have been nullified by holding penalty)
Throw 16: 1-yard out to Malone at left sideline
Throw 17: Intercepted by Wade on 8-yard comeback intended for Harris at right sideline
Breakdown: There really isn't anything impressive about Martell's passing chart from Saturday's game. The redshirt freshman quarterback completes just one throw of more than 10 yards downfield, and completed less than a third of his passes overall.
As Meyer noted after Saturday's game, however, Martell did not have the benefit of throwing to Ohio State's more experienced receivers – as Burrow and Haskins at least did on some of their early series – which affected Martell's stat line as a result. Multiple accurate throws by Martell were simply dropped by their intended targets, while there were also multiple plays on which Martell was forced to throw the ball away because no receiver was open.
"A lot goes into every play, when you look at it, so you have to look at it objectively. If there is an incomplete pass, either the receiver was covered, it was a poor throw or it was a drop, usually, one of those three things. So we've actually gone through all the incompletions and charted all those things to get an idea on that," Day said. "Because sometimes, especially in spring when the older guys maybe aren't practicing as much, there are some younger guys in there running routes, and so that can be a little frustrating, or maybe some of the protection may break down, so we try to consider all that stuff into it. But Tate did improve as a passer from last fall to the first practice of spring to the end of the spring. He did show a lot of improvement in some of his technique, and getting his front foot down and throwing the ball, so that was good."
All of that said, Martell didn't have any throws in Saturday's game that he can hang his hat as an indicator of his passing ability, which likely hurt his chances of winning the starting job. He's easily the most explosive runner of the three quarterbacks, which makes it likely that there will be a situational role for him in Ohio State's offense, but it does appear that he must still improve significantly a passer to be the Buckeyes' starting quarterback of the future.