Alabama has now won five of the past nine national championships.
Astonishing. It makes you wonder if putting winning above all else is worth it (it is) or if capturing national titles with that level of frequency gets old (it doesn't). Nick Saban has won four national championships since Alabama erected a statue of him in 2011.
They did it backwards. Backwards, in Alabama. Whoever heard of such a thing.
The Crimson Tide did something on Monday night for the first time since losing to Auburn - which in hindsight was an understandable setback, considering all of the emotion they must have poured into taking down Mercer the previous week: They were interesting. Saban threw freshmen at Georgia out of desperation - and it worked.
Alabama followed up a boneheaded 16-yard sack in OT with a marvelous season-ending 41-yard touchdown pass. If you were still awake, it was great television - and totally out of character.
Sterile, methodical, process-driven Alabama was uncharacteristically incongruous in 2017, perhaps college football's least harmonious kings since LSU in 2007. Closer to home, Ohio State was characteristically incongruous, racking up penalties, ejections and self-owns en route to what anyone who died prior to 1999 would still consider the ideal season.
The 2017 Buckeyes, Urban Meyer's fourth top-5 finisher in six seasons (last year's finished 6th) could throttle any team on any given day, provided there weren't sick kids from Iowa almost in attendance. Or Baker Mayfield.
They're past-tense now. Today we eulogize 2017, and all of its...very goodness. Let's get Situational!
---
THE SITCHIES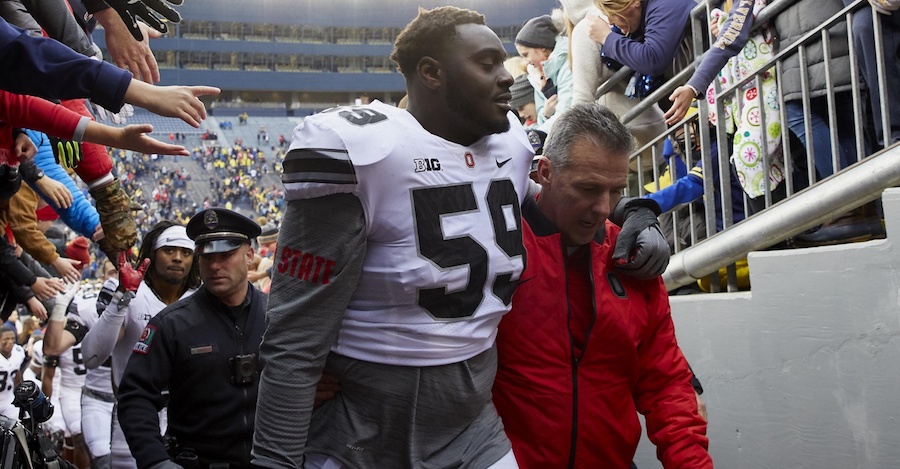 Imagine how obnoxious it would be if you created and named your own season-ending awards. And on top of that - they're not even really awards, just...things. Whew, I just got lightheaded.
Here are the first-ever Sitchies, the particulars of the 2017 season I will remember for at least the next 20 minutes and possibly forever:
THE TIME CAPSULE
Beating Michigan in Ann Arbor is a top-two sports happening for me personally, tied with Beating Michigan in Columbus. The Buckeyes did that. The comeback win against Penn State was also one for the ages.
At the same time, you could go the rest of your life without re-watching the disastrous 1st quarters from either of those games and be fine with it. Ohio State's entire 2017 season happened on the afternoon of Oct 7 against Maryland.
J.T. Barrett scored four 1st half touchdowns, which predictably failed to impress half of the fan base. Denzel Ward legally and justifiably killed a guy and was wrongfully imprisoned for it. Maryland finished with six 1st downs and 66 yards of offense, which should produce approximately negative five points. But the Terps scored 14, in part because of a 100-yard kickoff return which would have counted even in a game of one-hand touch football.
Talent, execution, discipline, dumb refs, special teams, domination, dumber breakdowns, fans fighting each other over the QB. It was Homecoming in Columbus.
What were the 2017 Buckeyes like? Rewatch the entire Maryland game.
THE PARADOX
It wasn't J.T. Barrett being wildly efficient, or gobbling up more school records every week. No matter where you stood on the matter of Ohio State Football's Greatest QB Controversy, there was zero argument over Barrett's stats. Adulated or diminished, they existed. Everyone could explain them or explain them away. He wasn't the paradox.
Ohio State lost at home to Oklahoma in Week Two with extra time to prepare after shrewdly moving the season opener in Bloomington up to Thursday night from Saturday. Considering Urban Meyer's track record with or without extra time to prepare - that was weird. But it was only the beginning of the weirdness.
The Buckeyes limped out of that loss ranked 130th in the FBS in passing yards allowed, which after two games was dead last. And somehow only one team held Oklahoma to fewer points than Ohio State did that night. And it was Texas, who also lost to the Sooners.
At the same time, the Buckeyes only outscored three of Oklahoma's other opponents this season, and they were all terrible teams: UTEP (0-12) Kansas (1-11) and Tulane (5-7). So the Oklahoma loss was....a wasted a good defensive effort? A comprehensive bed-shitting, which the Buckeyes led deep into the 3rd quarter? A hole in the matrix? The removal of the Seventh Seal? What the hell was it? 
Burn that game tape. There's nothing to be learned from it, and furthermore - the more you think about it, the more supernatural it gets in an Amityville Horror kind of way.
THE BEST SURPRISE
Isaiah Prince was so bad in 2016 Ohio State had to line up Branden Bowen at TE to help prevent the right side of the line from collapsing on itself. A season later, Prince is a candidate to forgo his remaining eligibility for the NFL.
The Buckeyes haven't seen a single-season improvement like this since Eddie George transformed himself from a fumble machine who should be moved to linebacker into a place where you can get a quick burger at CMH before your flight takes off. 
THE CHARITY
Last year the SEC went 6-7 in bowl games. This year it went 5-6. Fewer bowl-eligible teams; same blah postseason results. There's a trajectory there. Stare long enough and you'll see it.
Meanwhile, the B1G was staring at a triumphant postseason sweep of mostly the Pac-12 when Michigan graciously decided to transfer a sure W to God's Conference, for dignity's sake. Rest assured, no one you care about lost this game.
Alabama and Georgia claiming three of just four wins out of 11 opportunities would have failed the red-face test while decidedly dampening the hype leading to their title match. The Wolverines intervened and made the optics just good enough that America forgot just how bad the middle and bottom of the SEC were. Again.
So thank you, Michigan. Sincerely, people who cheer for conferences.
THE DEVIL'S TRICK
Here were Iowa's scoring totals over a five-week stretch from mid-October into mid-November:
10, 17, 55, 14, 15
Here were the final FBS scoring ranks of the defenses it faced in those weeks:
20, 36, 15, 3, 24
That 3rd-ranked scoring defense belonged to Wisconsin, and it didn't allow a point against the Hawkeyes - those two touchdowns came at someone else's expense. The double-nickel in the middle - via the Silver Bullets - was impossible in 55 different ways.
Ohio State was a double-digit favorite. Iowa has trouble scoring, period, always. Only four other times in history have the Buckeyes allowed that many points, and one of those times resulted in Carmen Ohio being written. Did we get a new song out of the Iowa game? We deserve a new song.
You know who Iowa knocked out of 5th place in the historic Buckeye Humiliation Rankings with that scoring output? The Spartans. Not Michigan State. The Case Western Reserve Spartans of 1891. This team, a top-five finisher nationally, allowed that day to take place.
Iowa finished the year 116th in total offense. That's Jim Bollman-bad. Ohio State only allowed over 30 points two other times in 2017, to Penn State and Oklahoma - objectively good offenses. If this game was played 100 times Iowa might break 30 once.
The Hawkeyes will respectfully decline those unused 99 opportunities. And somewhere, the Case Western Spartans of the Benjamin Harrison era kick a can in disgust over being displaced.
THE CRYSTAL BALL
The Sitchies are my non-awards. I am required to win one. From June 8, 2017:
BAKER MAYFIELD CAN ONLY LOSE THE HEISMAN
Sam Darnold, Josh Rosen, Nick Chubb, Lamar Jackson, Saquon Barkley, Derrius Guice, Jake Browning - sorry fellas. That award was pre-ordained for the conductor of Oklahoma's offense. Please don't google any of my other predictions; they were obviously hacked.
THE WORST THINGS EVER
Kickoffs. Sometimes they're returned for touchdowns. Other times, just long gains that flip field position in the bad guys' favor. Perhaps the ball sails out of bounds. Maybe Ohio State should have figured out how this mainstay of the sport should be handled prior to mid-November.
Opposing Tight Ends. They're eligible to catch passes. For much of the season competent TEs lit up Ohio State, along with bad TEs and average ones. Hopefully Linebacker U enjoyed its sabbatical.
Winning your conference and beating a bunch of highly-ranked teams - including an undefeated one in December - doesn't automatically produce a playoff bid anymore. Surprise!
THE WEAKEST LINK
B1G coaches gave Parris Campbell, he of blazing speed and oven mitt hands a 3rd team All-B1G nod, and that's the only award his unit got - it of the six interchangeable starters.
B1G media wasn't as charitable; it didn't recognize any member of Zone Sicks. Every other unit except linebackers (this was an outlier year; they're typically well-represented among All-B1G selections) got at least one 1st or 2nd teamer
Ohio State's wide receivers were underwhelming, again. Who could have possibly seen this coming.
Here's a look back at all the receivers J.T. Barrett targeted in his career at Ohio State.. @CurtisSamuel4__, @Cantguardmike and @MarcusBaugh85 were his favorite targets pic.twitter.com/7Eie1gIPFn

— CFB Film Room (@CFBFilmRoom) January 4, 2018
You, a committed hater, say JTBIV made his money throwing bubble screens because he can't throw downfield whereas I, holding a PhD in Well Actually studies, point to the chart that shows what happens too often to catchable passes when they're thrown at this unit downfield.
Everything about Ohio State football is a competition, with one glaring exception. Why?
Eight units commit to starters and backups. The ninth rolls out six interchangeable guys with three dozen recruiting stars and one 3rd teamer all-conference to show for it. Braxton Miller and Michael Thomas were both criminally underutilized in 2015 in the spirit of getting everyone enough touches to stay happy.
Herein lies Zone Six's isolated path to mediocrity - giving out participation ribbons instead of defining who won the competition.
The talent is there. It's not the players. Let's be wrong about Ohio State wide receivers in 2018. I've never wanted to take an L so badly.
THE MORTGAGE BETS
Throughout 2017, terrible things happened to guys who attempted to take on Billy Price.
(good job to everyone who predicted this, literally 100% of people)
Can anyone remember the last time Ohio State didn't have a serviceable punter? Thank you, Jim Tressel.
Everything that's ever been coached by Larry Johnson performs well. Witchcraft!
THE BEST THING EVER
Tracy Sprinkle went from shirtless brawler arrested at the Grown n' Sexy Lounge on charges of possession of drugs, heroin, drug paraphernalia, rioting/failure to disperse - to one of Ohio State's best character guys, team leaders, captains and ambassadors.
Second chances are good. Ohio State and Sprinkle made each other better. That's how this is supposed to work.
---
THE BOURBON
There is a bourbon for every situation. Sometimes the spirits and the events overlap, which means that where bourbon is concerned there can be more than one worthy choice.
Alabama has participated in every College Football Playoff since its inception in 2014. Predicting it to be back in the fold in 2018 isn't a bold statement, especially when you look at its upcoming title defense schedule. In order:
Louisville (Orlando), Arkansas State, at Ole Miss, Texas A&M, UL-Lafayette, at Arkansas, Missouri, at Tennessee, Bye, at LSU, Mississippi State, The Citadel, Auburn.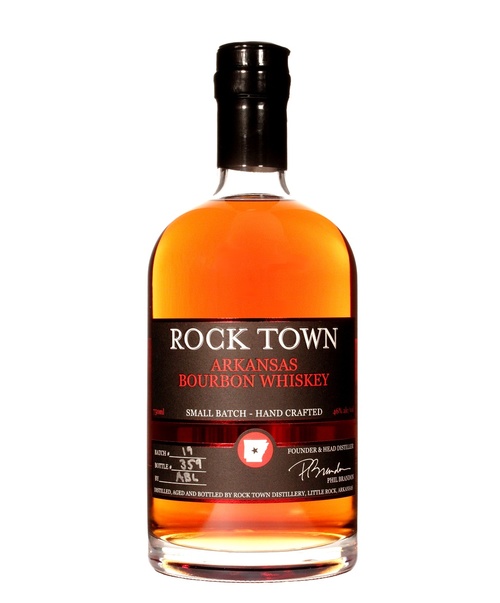 If the Crimson Tide can get past Louisville's terrible defense and whoever replaces Lamar Jackson, it's going to face a murderers' row of programs that combined for one bowl win in 2017. Five of those opponents are breaking in new coaches. ESPN Gameday may have to stretch its creative legs to justify getting an Alabama visit in the cards.
But look closer, there are a couple of landmines: Two Arkansas teams. On the same schedule. There's a bourbon for that.
It's Rock Town, which if you participate in the cocktails that are shared in this space - you might have used for Cotton Bowl libations. Arkansas has numerous exports it is known for, notably Johnny Cash, Walmarts and Clintons. But it also produces and distributes one bourbon of scale, and this is it.
This is how Rock Town reviews its own bourbon:
A sweet and smoky perfume of roasted corn, breakfast cereal and brown sugar with delicate baked cherry notes. Smooth and sweet on the palate. Very subtle and deep notes of almond, brown sugar and freshly baked biscuits. The sweet and nutty notes linger into the finish.
That's...inaccurate. Bert's self-assessment as Razorbacks head coach was probably closer to the truth.
Rock Town is corn-heavy, sure. It contains no rye, which leaves a gaping hole where any spice might be. It tastes like almonds on fire. If you add an ice cube or a splash of water, you get a hint of fruit. There's nothing sweet about it; that's explicitly why I recommended it for inclusion in the aforementioned Cotton Bowl cocktail with brut champagne.
We won't know just how bad Alabama's schedule will be until 2018 plays out, but Rock Town - and its embellished review - are a nice preparation for what's certain to be a hollow defense of it, when Alabama deservedly returns to the CFP on merit that does not include its resumé. Again.
---
THE PLAYOFF
No playoff. This is intended to be more symbolic than hurtful. RIP, 2017 season. You were enjoyed nonetheless.
Thanks for getting Situational today. Go Bucks.