We are dangerously close to the start of the college football season, folks. Things technically will kick off next Saturday with matchups like Colorado State vs. Hawaii, Wyoming vs. New Mexico State, and Rice hosting Prairie View.
Is that the most exciting slate? Absolutely not, but things will start to pick up the following Thursday when Northwestern heads to West Lafayette and then of course on Sept. 1 when the Buckeyes take on Oregon State.
The quest for college football's highest individual honor will also get underway. Current Heisman odds have Alabama quarterback Tua Tagovailoa and Stanford's Bryce Love as the top contenders. According to the folks in Vegas, the early favorites also include Wisconsin's Jonathan Taylor, Georgia's Jake Fromm, Penn State's Trace McSorley, and new Buckeye signal-caller Dwayne Haskins. 
Heading into the 2017 season, the Eleven Warriors staff presented its picks around this same time. The list included names like Saquon Barkley, Sam Darnold, and Jake Browning. My Jarrett Stidham pick also didn't work out so well, but he's considered a contender this year so perhaps I should toss my eggs back into that basket? Props to Ramzy for being the only staff member to correctly forecast Baker Mayfield as last season's winner. 
Without further ado....
---
Ramzy Nasrallah
Pick: Jonathan Taylor, Running Back, Wisconsin
Breakdown: The only non-QB to win the Heisman in recent memory was Derrick Henry. I think 2018 will be the year of the running back as a serious Heisman contender, with J.K. Dobbins, Wisconsin's Jonathan Taylor and Stanford's Bryce Love making it impossible to have a non-QB as just a token in the conversation. Taylor is my pick; Dobbins has more teammates to share the ball with in what should be a prolific air attack offense while Love plays on the west coast and will be a rumor for 1/3 of the country.
Johnny Ginter
Pick: Trace McSorley, Quarterback, Penn State
Breakdown: He's excellent, and though a lot of other guys will be percieved as a more interesting or sexier pick, McSorley's got several things going for him. He's got talent to throw to, will be the focus of the offense, and most importantly, will have a ton of extremely high profile opportunities during the season to prove his mettle against the likes of Ohio State, Michigan State, Michigan, and Wisconsin. Assuming that he plays well against all of those teams and beats most of them, that'd be a hell of a resume going into November. Christian Hackenberg punches a hole through his straw hat.
Dan Hope
Pick: Tua Tagovailoa, Quarterback, Alabama
Breakdown: Bold prediction – A quarterback who played only one half of meaningful football in 2017 will win the Heisman Trophy in 2018.
That quarterback could be Dwayne Haskins, who has all the tools to emerge as one of college football's best quarterbacks this season and had the look of a future Heisman contender in leading Ohio State to a comeback win at Michigan last season.
But I'm going with Tagovailoa, who became an instant star by leading Alabama to a second-half comeback win over Georgia in last season's College Football Playoff National Championship Game. The five-star recruit shows the potential to be an elite passer, and Alabama should be one of the best teams, if not the best team, in college football once again.
Andrew Lind
Pick: Bryce Love, Running Back, Stanford
Breakdown: Though he plays on the West Coast and the majority of his games will take place after most Heisman voters go to bed, Stanford running back Bryce Love — last year's runner-up — is my pick to win the 2018 Heisman Trophy. 
Love rushed for 2,118 yards last season and broke FBS records for yards per carry (8.1) and rushing touchdowns of 50 yards or more (13) last fall, so he should be the favorite from a statistical standpoint. 
However, it appears the award has become just as much of a team award as it is an individual honor in recent years. If the Cardinal can win the PAC-12 and make it to the College Football Playoff, Love should be able to break the mold of five Stanford runner-up finishes in the last decade and win the Heisman. 
If not, he'll be remembered in the same breath as Toby Gerhart (2009), Andrew Luck (2010-11) and Christian McCaffrey (2015). 
Andy Vance
Pick: Will Grier, Quarterback, West Virginia
Breakdown: This feels like a year a running back will take home the award, with Bryce Love, Jonathan Taylor and even J.K. Dobbins getting some preseason love. But I can't pick a running back, because quarterbacks have won something like 15 of the last 20 years. Statistically speaking, picking a running back is a bad bet. Looking at the field of quarterbacks, there are some good choices, but I'm going with the redshirt senior from Morgantown.
Already on the Johnny Unitas watch list and mentioned as a candidate for the Davey O'Brien award, Grier averaged better than 317 yards per game last season en route to Big XII offensive player of the year honors. He's not the caliber of running quarterback as is Khalil Tate at Arizona, but with one of the best receiving corps in the country at his disposal, a healthy Grier can keep Big XII defenses on their heels.
Kyle Jones
Pick: Khalil Tate, Quarterback, Arizona
Breakdown: After amassing 3,002 yards of total offense last fall in Rich Rodriguez's run-centric option system, the junior from Inglewood, CA takes the helm of Kevin Sumlin's offense in the desert this season. That system has already produced one Heisman winner, and Tate should benefit from learning veteran play-caller Noel Mazzone's passing game.
If the aerial attack lives up to expectations, Tate should put up freakish numbers similar to another Heisman winner, Lamar Jackson.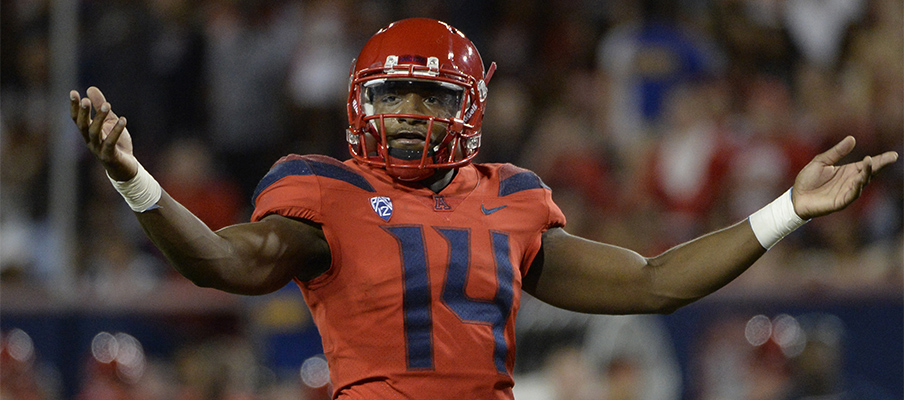 Kevin Harrish
Pick: Khalil Tate, Quarterback, Arizona
Breakdown: For starters, I think Bryce Love is and should be the favorite to take home the hardware in December, but I'm going to be slightly contrarian and go with Khalil Tate out of Arizona. He isn't on great team and he plays on the west coast, hurting his chances, but I think he's probably the most dynamic and electric player in the country. He's a true dual threat guy that's going to put up enormous numbers on the ground and through the air.
The question is whether or not eye-popping numbers on a mediocre team will be enough to earn him the trophy. It was enough for Lamar Jackson in 2016, but not so much in 2017 even when he technically had better numbers. We'll see how voters respond to Tate if he lights it up this season.
David Wertheim
Pick: Khalil Tate, Quarterback, Arizona
Breakdown: It's a quarterbacks award, with gunslingers winning seven of eight times since 2010. Tate is very similar to some of the other winners in that he is an elite runner in addition to a volatile passer. Tate finished second to 2017 Heisman Winner Baker Mayfield in total QBR last season, and rushed for 1,411 yards, which was good for 17th in all of college football (running backs included) and ahead of names such as Saquon Barkley and Nick Chubb. Tate epitomizes a "dual-threat" quarterback.
If there is one problem, it is that Tate will have to learn a new offense under new head coach Kevin Sumlin. Although, as we saw with Johnny Manziel at Texas A&M, Sumlin has no problem effectively using dual-threat quarterbacks. Manziel, of course, won the 2012 Heisman.
Andrew Ellis
Pick: Joe Burrow, Quarterback, LSU
Breakdown: First of all, I fully recognize the fact that Baton Rouge has become known as a quarterback graveyard. LSU has produced an absurd amount of NFL talent, and while there have been some Tiger alums playing quarterback on professional rosters, it just seems like the one position group that's always lacking. Touted players like Brandon Harris – a guy the Buckeyes really wanted in 2014 – never worked out and several others failed to live up to the expectations.
Orgeron says hes seen a complete difference in the offense the last couple of days as Joe Burrow and Myles Brennan get more reps.

— Cody Worsham (@CodyWorsham) August 15, 2018
I just think this is a tremendous fit for Joe Burrow – even with LSU's struggles at the position –  and that is why he's my pick for 2018. Derrius Guice is gone and the running game may not be quite as formidable as it's been under Guice and Fournette. Meanwhile, the Tigers have plenty of talented wideouts on the roster. I feel this could be the perfect storm that finally sees a quarterback step up and lead the way in Baton Rouge. 
Or maybe Myles Brennan gets the nod under center when LSU travels to Jerry World to take on Miami and this pick totally blows up in my face.