For the second year in a row, Ohio State has a chance to win a Big Ten championship without knowing whether that will be enough to make the College Football Playoff.
The Buckeyes lost only one of their 12 regular-season games, and have a chance to win their second straight conference title when they play Northwestern on Saturday at Lucas Oil Stadium. Despite that, the Buckeyes are ranked only sixth in the College Football Playoff standings with one more weekend of games to go. Unless Texas beats Oklahoma and Alabama beats Georgia, which would hand both the Sooners and Bulldogs for their second losses of the season, Ohio State could be left on the outside looking in even with a win over the Wildcats on Saturday.
That's out of the Buckeyes' control. They can't change the past – namely, the 49-20 loss to Purdue on Oct. 20 that could ultimately be held against them – nor can they determine the outcome of games they're not involved in.
What they can do, though, is try to put together a complete performance against Northwestern to win their third Big Ten Championship Game in five seasons and make one final statement to the College Football Playoff committee that they belong in the field of four.
The playoff and which teams make it will draw the nation's attention on Sunday, but for Ohio State, Saturday will be all about trying to win another conference title. And that in itself should be motivation enough for the Buckeyes to put maximum effort toward playing their best on Saturday night.
"You get a ring when you win this championship, and that's the conversation always around here," Ohio State coach Urban Meyer said this week.
Buckeye Breakdown
Ohio State is coming off what was unquestionably its most impressive performance of the season, rolling over its archrival Michigan for a 62-39 victory with a Big Ten East title on the line. After weeks of play widely considered to be underwhelming, the Buckeyes finally put together a complete performance against one of the top teams in the country, demonstrating that they still have what it takes to compete with college football's elite.
The Buckeyes were particularly impressive on offense, putting up 62 points – the most ever scored in regulation against Michigan in any game, dating back to 1879 – and 567 total yards on a Michigan defense that had allowed just 13.5 points per game and 234.8 yards per game in its first 11 games of the season.
Dwayne Haskins led the way for the Buckeyes, completing 20 of 31 passes for 396 yards and six touchdowns with no interceptions, thrusting himself back into the Heisman Trophy conversation as one of college football's best players this season. For the second game in a row, Haskins also made plays with his feet when the situation called for it, gaining 34 yards on seven rushing attempts.
Haskins got plenty of help from his teammates. Parris Campbell and Chris Olave each caught two touchdown passes, with Campbell taking one that was initially defined as a run 78 yards to the end zone by himself, and Olave also blocking a punt that was returned by Sevyn Banks for a touchdown. Ohio State's offensive line also had a stellar performance against the Wolverines, allowing zero sacks and leading the way for the Buckeyes to run for 4.75 yards per carry.
"That was the biggest part of the game that was the game-changer for us," Meyer said of the offensive line's play against Michigan.
Having scored 52 points on 688 yards – the Buckeyes' most-ever in a Big Ten game – two Saturdays ago against Maryland, Ohio State's offense has had spectacular showings in back-to-back weeks, and the Buckeyes are confident that they can continue building off that momentum this week.
"We really executed our crosses and we took some shots last week," said Ohio State wide receiver Terry McLaurin. "And then we have our run game going pretty good right now. So I feel like we have a balance, we put a lot of stuff on film that teams have to account for, and I just feel like we're doing a great job of executing the game plan that our coaches are putting in front of us."

The final box score didn't necessarily reflect it, but Ohio State's defense also had one of its best performances of the year against Michigan, allowing only one lengthy touchdown drive in the first three quarters.
The Wolverines' only other touchdown of the first three quarters came after a fumble recovery at the 9-yard line on a botched kickoff return by Demario McCall, and their three fourth-quarter touchdown drives all came with the Buckeyes leading by 22 points or more. Michigan did put up 401 yards of offense, but Ohio State's defense made the plays it needed to make throughout the game to keep the Buckeyes ahead on the scoreboard, including a pair of interceptions in Michigan territory that set up touchdown drives for Ohio State's offense.
After struggling to stop big plays and get off the field for most of the season, the Buckeyes feel like their defense finally started to show what they were capable of against the Wolverines.
"We went into the game saying like, 'This game is going to be close. We have to prove to everybody that we can dominate,'" said Ohio State defensive tackle Dre'Mont Jones. "And I think we did an excellent job of doing that Saturday."
One thing that Meyer was disappointed with during the Michigan game, however, was the Buckeyes' continued battle with pass interference penalties, as they were flagged for five of them last weekend. While some of those penalty calls were more questionable than others, both Meyer and defensive coordinator Greg Schiano said that is an issue that the Buckeyes must fix.
"We're better than that," Schiano said. "I'm not pleased with that, and we're working very hard this week to make sure that doesn't happen again."
Altogether, though, the Buckeyes have reason to feel good about the way they played against their rivals.
And if they can play at that same level again this week, Northwestern coach Pat Fitzgerald knows his team will be in for a big challenge.
"They played phenomenal against Michigan," Fitzgerald said this week. "That was as clean of a game offensively that I've maybe seen a team have in a long time. There were not very many mistakes that I could see, that I could point to that 'Hey, there's a weakness here.'
"We're going to have our hands full," Fitzgerald added. "There's no doubt about that."
Ohio State will be without one starting offensive lineman this week, after right guard Demetrius Knox went down with a Lisfranc injury in his foot on the Buckeyes' final possession against Michigan. Redshirt freshman Wyatt Davis is set to make his first career start in Knox's place. Otherwise, though, the Buckeyes aren't expected to make any other substantial lineup changes this week.
Northwestern Breakdown
While Ohio State has become a regular in Indianapolis, qualifying for four of the first eight Big Ten Championship Games, Northwestern is set to make its first Big Ten Championship Game appearance on Saturday.
2018 Statistical Comparison
 
OFFENSE
43.3
7th
POINTS FOR
23.7
107th
187.9
52nd
RUSHING OFFENSE
114.8
119th
359.7
2nd
PASSING OFFENSE
237.0
61st
547.6
2nd
TOTAL OFFENSE
351.8
110th
.468
16th
3rd DOWNS
.404
57th
.767
117th
RED ZONE
.825
77th
DEFENSE
25.8
57th
POINTS ALLOWED
21.7
29th
164.9
69th
RUSH DEFENSE
134.7
32nd
237.6
77th
PASS DEFENSE
238.0
79th
123.9
46th
PASS EFFICIENCY DEFENSE
126.5
53rd
402.5
72nd
TOTAL DEFENSE
372.7
48th
.314
10th
3rd DOWNS
.347
31st
.889
104th
RED ZONE
.829
64th
SPECIAL TEAMS
8.3
72nd
PUNT RETURN
6.3
95th
17.5
114th
KICKOFF RETURN
22.3
37th
41.7
7th
NET PUNTING
37.7
60th
MISCELLANEOUS
+0.4
35th
TURNOVER MARGIN
+0.3
44th
8.2
123rd
PENALTIES
2.8
1st
11
EDGE
7
Four games into the season, a Big Ten West title looked highly unlikely for the Wildcats, as they started their year 1-3, losing three straight September games to Duke, Akron and Michigan. After that, however, the Wildcats finished the regular season 7-1 – with their only other loss coming to Notre Dame – to finish with an 8-1 record in Big Ten play, clinching their division title with two games to spare, despite going 0-3 in non-conference play.
"We were a much better team than our record showed, so I think credit to the guys in our locker room, we stayed together," said Northwestern quarterback Clayton Thorson. "We had to regroup there, when we started out 1-3, and we did."
Northwestern's strength has been its defense, which has held five of its last six opponents to 17 points or less. The Wildcats have been particularly strong in red zone defense, allowing touchdowns on only 45.7 percent (16 of 35) of opponents' trips to the red zone, the 10th-best rate in the Football Bowl Subdivision.
The Wildcats are led by their defensive front seven, namely defensive end Joe Gaziano, defensive tackle Jordan Thompson and the playmaking linebacker trio of Blake Gallagher, Paddy Fisher and Nate Hall.
On the back end, the Wildcats have dealt with some injuries, but unlike Michigan's man coverage defense last week – which had Haskins licking his chops – Northwestern plays mostly zone coverage, which could limit the Buckeyes' opportunities to take deep shots and make big plays through the air.
"They do a lot of things together on defense that you have to be able to pick them apart," Haskins said. "They don't give up many big plays. A lot of base coverage, not too many pressure. So got to play really great football against them."
Offensively, Northwestern hasn't been spectacular, never scoring more than 34 points in a game this year and scoring 24 points or less in five of their last six games. The Wildcats rank outside the top 100 nationally in both points per game (23.7) and yards per game (351.8) this season.
That said, they have a veteran quarterback who has Ohio State's respect in Clayton Thorson, who has started 51 consecutive games dating back to the start of the 2015 season.
"I think he's probably one of the one or two best quarterbacks we're playing this year," Jones said. "He has a great arm, and has the ability to run, and we have to be very stout in what we do."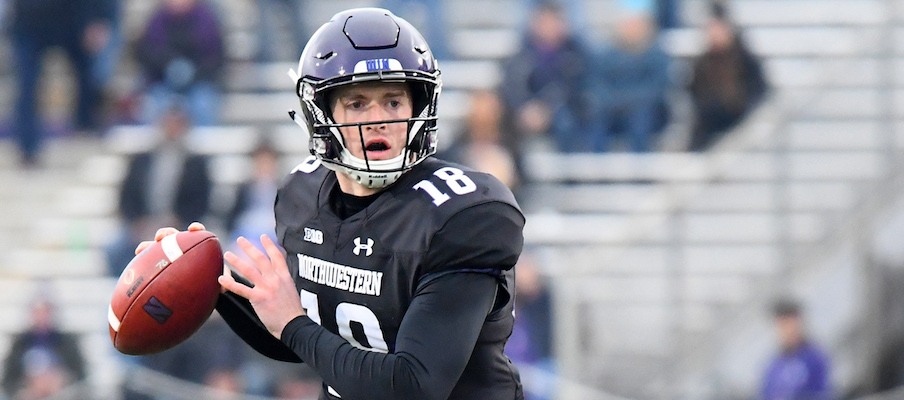 Northwestern has had one of the worst running offenses in the FBS over the season as a whole, averaging only 3.03 yards per carry and 114.75 yards per game on the ground, but true freshman running back Isaiah Bowser emerged in the second half of the regular season, gaining at least 85 yards in each of the Wildcats' final six games (and more than 100 yards in four of those six games).
The Wildcats' offensive line has had its share of struggles, allowing 29 sacks this season, but it is an experienced group with four multi-year starters. They also have three pass-catchers who have each caught at least 40 passes for more than 400 yards this season in wide receivers Flynn Nagel and Bennett Skowronek and superback (tight end) Cameron Green.
Playing in the Big Ten Championship Game for the first time is a big deal for Northwestern and its players, and the Wildcats are excited to have the opportunity to play on the big stage in Indianapolis.
"It's really special," Fisher said. "Coming in as a freshman (in 2016), we went 6-6. Ever since we've been setting the standards much higher. We've been always preaching about the Big Ten Championship and winning the Big Ten West and even more bigger goals. So we're working. It's been a great few years here, to see this program grow, and to change the culture is awesome, and it means a lot to me."
Now that the Wildcats are in the Big Ten Championship Game, though, they don't merely want to appear in it. Despite being 14.5-point underdogs for Saturday's game, according to Vegas Insider as of Thursday night, their goal is to upset Ohio State and win their first conference title since 2000.
"We're not just happy just to be here," Thorson said. "We want to go out there and win it."
How It Plays Out
After its biggest statement win of the season last weekend, Ohio State will certainly be looking for one more on Saturday. To make the impression on the College Football Playoff committee needed to get a chance to compete for a national championship, the Buckeyes might need a similar performance to that which they had in the 2014 Big Ten Championship Game, when they dominated Wisconsin and rolled to a 59-0 victory.
That said, the Buckeyes' primary focus needs to simply be on doing what they need to do to beat Northwestern, because the Wildcats aren't likely to roll over without a fight.
Ohio State's Last 10 Games Against Northwestern

| Year | Location | Result |
| --- | --- | --- |
| 2016 | Columbus | Ohio State 24, Northwestern 20 |
| 2013 | Evanston | Ohio State 40, Northwestern 30 |
| 2008 | Evanston | Ohio State 45, Northwestern 10 |
| 2007 | Columbus | Ohio State 58, Northwestern 7 |
| 2006 | Evanston | Ohio State 54, Northwestern 10 |
| 2005 | Columbus | Ohio State 48, Northwestern 7 |
| 2004 | Evanston | Northwestern 33, Ohio State 27 |
| 2003 | Columbus | Ohio State 20, Northwestern 0 |
| 2002 | Evanston | Ohio State 27, Northwestern 16 |
| 2001 | Columbus | Ohio State 38, Northwestern 20 |
If Ohio State plays at the same level at which it played against Michigan last week, a blowout is possible. The Buckeyes are certainly more talented than Northwestern on both sides of the ball, and they're entering this game with the most momentum and confidence that they've had all season.
However, Northwestern entered this week with one distinct advantage of its own; with the Big Ten West title already wrapped up, Fitzgerald and his coaching staff were able to begin preparing for Ohio State in advance, while using what Fitzgerald described as a "vanilla" game plan against Illinois last week, while the Buckeyes were entirely focused on beating Michigan.
Given that, one can expect the Wildcats to have some new tricks up their sleeves for Ohio State to deal with, while the Buckeyes could just be trying to replicate what they did last week. And considering the inconsistency the Buckeyes have had this season – including just two weeks ago, when they needed to overtime to win at Maryland, largely due to poor defensive play – it might be wishful thinking to expect them to play their best football of the season two weeks in a row.
Ultimately, Ohio State should win Saturday's game. Considering the talent disparity between the two teams, and the motivation the Buckeyes should have to win in the most impressive fashion possible, covering the spread even seems like a solid bet for the scarlet and gray.
The outcome that seems most likely, though, is Northwestern keeping this game close for a while before Ohio State ultimately pulls away in the end to secure its second straight conference championship and third in five years.
---
ELEVEN WARRIORS STAFF PREDICTION: Ohio State 42, Northwestern 21