Northwestern's unexpected run to the Big Ten Championship Game has come without the Wildcats having many nationally renowned star players or being spectacular in any one phase of the game.
The Wildcats don't have many household names on their roster, and they've been statistically subpar on offense, ranking just 108th nationally in points scored per game (23.7) and 111th in yards gained per game (351.8). They've been stronger on defense, but still not elite, ranking 29th in points allowed per game (21.7) and 48th in yards allowed per game (372.7) – though they have improved as the season has progressed, limiting five of their six regular-season opponents to 17 points or less.
All of that said, Northwestern found a way to win the Big Ten West, going 8-1 in its conference games this season despite going 0-3 in non-conference play. The Wildcats haven't won any games in spectacular fashion – never winning a game this year by more than 14 points – but they've been able to grind out victories week after week in close games.
There's nothing that jumps off the page about Northwestern on paper, but they do have an experienced roster on both sides of the ball that includes one of college football's most established veterans at quarterback, an emerging star freshman running back and a quality defense, particularly in the front seven.
We take a closer look at Northwestern's entire starting lineup in this week's Scouting Report.
Quarterback
18 Clayton Thorson – 6-4, 226, Redshirt Senior
A fourth-year starter for the Wildcats, Thorson ranks fifth all-time among Big Ten quarterbacks with 10,223 career passing yards. Statistically, he's been consistently mediocre – this season, he's completed 60.3 percent of his passes for 6.4 yards per attempt with 14 touchdowns and 12 interceptions – but he's started every Northwestern game dating back to the start of the 2015 season, and he brings leadership and stability with his veteran presence.
A pro-style passer with good size and arm strength, Thorson is mostly a pocket passer. Even though he has the arm to make deep throws, though, he does most of his work in the short-to-intermediate game, and doesn't make a lot of big plays, with just 11 passes that have gone for 30-plus yards this year.
He can make some plays with his feet, having rushed for eight touchdowns this year, but he hasn't looked as mobile this season after tearing his ACL in Northwestern's final game of 2017.
Running Back
25 Isaiah Bowser – 6-1, 216, Freshman
Northwestern suffered a huge and unfortunate blow to its offense when sophomore running back Jeremy Larkin, who had 346 rushing yards and 127 receiving yards in just three games this season, was forced to retire from football after being diagnosed with cervical stenosis, leaving him with an increased risk of neck injury.
Fortunately for the Wildcats, Bowser has been a breakout star in the second half of the season, rushing for 734 yards and six touchdowns in their last six games alone. The freshman from Sidney, Ohio is a big, tough back who can run through contact, but also demonstrates quick feet and good vision. He's rushed for more than 100 yards in four of Northwestern's last six games, and 165-plus yards in two of its last three.
Behind Bowser, though, the Wildcats lack depth. No other active Northwestern player has rushed for more than 127 yards this season.
Wide Receiver
2 Flynn Nagel – 5-11, 195, Senior OR 19 Riley Lees – 6-0, 206, Sophomore
88 Bennett Skowronek – 6-4, 211, Junior
8 Kyric McGowan – 5-10, 198, Sophomore
Nagel is Northwestern's leading receiver, with 64 catches for 746 yards this season, but missed the Wildcats' most recent game against Illinois with a leg injury. Northwestern coach Pat Fitzgerald said Sunday that he held several players out against the Illini who could have played, though, so there's reason to believe Nagel will be back. When healthy, he's a skilled slot receiver who does most of his damage in the short-to-intermediate passing game.
Skowronek is Northwestern's biggest wide receiver and its top downfield receiving threat, with 40 receptions for 514 yards and three touchdowns this season. He offers a wide catch radius for Thorson to target, and he's demonstrated an ability to make spectacular catches this season, including what went on to be the game-winning touchdown catch in Northwestern's Big Ten West clincher at Iowa.
McGowan, who replaced fellow sophomore Ramaud Chiaokhiao-Bowman (6-2, 202) in the starting lineup five games into the year, has caught eight passes for 188 yards, showing his big-play ability with a 77-yard touchdown against Michigan State and a 24-yard touchdown against Wisconsin. He's also gained 313 yards on 13 kickoff returns and 33 yards on three running plays.
Lees, Chiaokhiao-Bowman and freshman JJ Jefferson (5-10, 167) have also caught double-digit passes this year and are part of the Wildcats' regular receiver rotation. Lees is also the Wildcats' lead punt returner, with 107 yards on 19 punt returns this year.
Tight End (Superback)
84 Cameron Green – 6-3, 237, Junior
While Northwestern officially refers to Green's position as "superback," there's little difference between the way the Wildcats use him and most modern collegiate offenses (including Ohio State's) use their tight end. He'll line up on the line of scrimmage as a traditional tight end, flexed out as a slot receive and in the backfield as a fullback, but he's used as a receiver and blocker far more than he is as a runner.
Green has just one carry for a four-yard loss this season, but he has been effective as a pass-catcher, with 46 receptions for 411 yards and three touchdowns. He's a good athlete for his size, and he's a strong blocker as well.
Trey Pugh (6-4, 239, sophomore) is also listed on the depth chart at superback, but he's used almost exclusively as a blocker, having caught only one pass for four yards this year with no rushing attempts.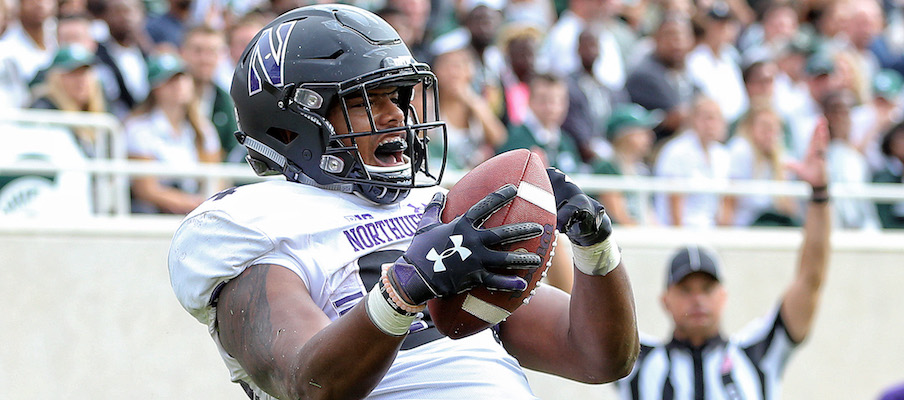 Offensive Line
72 Blake Hance – 6-5, 310, Redshirt Senior (Left Tackle)
59 J.B. Butler – 6-3, 308, Redshirt Senior (Left Guard)
65 Jared Thomas – 6-4, 294, Redshirt Junior (Center)
71 Tommy Doles – 6-4, 296, Redshirt Senior (Right Guard)
70 Rashawn Slater – 6-3, 314, Sophomore (Right Tackle)
Northwestern has had a consistent lineup up front all season, starting the same offensive linemen in all 12 regular-season games. Both tackles and both guards are returning starters from 2017, too, with Hance, Butler and Doles all being third-year starters. Even with all of that experience, though, the play of the unit has left something to be desired.
The Wildcats allowed 29 sacks during the regular season, second-most in the Big Ten. Northwestern's running game, meanwhile, ranked dead last in the conference during the regular season with only 3.03 yards per carry and less than 115 rushing yards per game. The Wildcats gotten better in both areas as the season has progressed, but the offensive line remains a unit that could be ripe for Ohio State to exploit.
Defensive End
97 Joe Gaziano – 6-4, 275, Redshirt Junior
91 Samdup Miller – 6-3, 258, Sophomore
In Gaziano and Miller, Northwestern's defensive line features a big pair of bookends who are strong run defenders. Miller leads Northwestern's defensive line with 47 total tackles this season, while Gaziano is also stout, having recorded 37 total tackles.
Gaziano is also the Wildcats' best pass-rusher, leading the team with 11 tackles for loss and six sacks, and is credited with eight additional quarterback hurries. He's not the most explosive athlete, but is great with his hands and has enough closing speed to get to the quarterback when he's able to work his way around a blocker.
Redshirt junior Trent Goens (6-3, 265) and sophomore Earnest Brown IV (6-5, 254) also see playing time in the defensive end rotation. Both second-team defensive ends have recorded 2.5 sacks this season.
Defensive Tackle
99 Jordan Thompson – 6-3, 292, Senior
92 Fred Wyatt – 6-4, 288, Senior
A third-year starter, Thompson is the Wildcats' top defensive tackle, leading Northwestern at that position with 27 total tackles, five tackles for loss and 2.5 sacks. Wyatt, a first-year starter, has similar production this season, having recorded 26 total tackles with 3.5 tackles for loss. Together, they have been a quality duo in the middle of Northwestern's defensive line, leading the way for a run defense that has limited opponents to 134.7 yards per game (32nd in the Football Bowl Subdivision).
Junior defensive tackle Alex Miller (6-3, 268) also sees regular playing time in the rotation, having started three games this season, and has recorded nine total tackles.
Linebacker
51 Blake Gallagher – 6-1, 227, Sophomore (Weakside Linebacker)
42 Paddy Fisher – 6-4, 241, Redshirt Sophomore (Middle Linebacker)
32 Nate Hall – 6-2, 231, Redshirt Senior (Strongside Linebacker)
Gallagher has been the breakout star of Northwestern's defense this season, leading the team with 112 total tackles – tied for the second-most in the entire Big Ten – in his first season as a starter. He's recorded at least five tackles in all 12 of Northwestern's games and at least 10 tackles in six games, as he has consistently made plays all over the field for the Wildcats defense.
Fisher and Hall, who were already established stars on Northwestern's defense entering this season, have been playmakers for the Wildcats, too. Fisher ranks second on the team with 92 total tackles, leads the team with three forced fumbles and intercepted a pass last Saturday against Illinois. Hall, who arrived at Northwestern as a safety and is the Wildcats' best coverage linebacker, has recorded 46 total tackles and is tied for the team lead with three interceptions despite missing four games this year.
As you might expect from a team whose head coach is a College Football Hall of Fame linebacker, this is arguably the strongest unit on Northwestern's entire team.
Cornerback
24 Montre Hartage – 6-0, 195, Senior OR 10 Alonzo Mayo – 5-11, 186, Redshirt Junior
3 Trae Williams – 6-0, 209, Redshirt Junior OR 18 Cam Ruiz – 5-11, 180, Redshirt Freshman
Hartage, a third-year starter, is Northwestern's top cornerback. He's strong in coverage and skilled at making plays on the ball, leading with teams 14 passes defensed this year while also recording 47 total tackles. He's missed the Wildcats' last two games, however, due to injury, with Mayo starting in his place.
Williams, meanwhile, has also been sidelined by injury for the last three games, with Ruiz starting in his place.
The Wildcats' passing defense has held up solidly without their starting cornerbacks in their last couple games without them, but the passing offenses of Minnesota and Illinois don't pose even close to the same threat that Dwayne Haskins and the Ohio State offense do. So if Hartage and/or Williams aren't back and at full strength on Saturday, that could be a problem for Northwestern.
Both Hartage and Williams are listed on Northwestern's depth chart this week, but when Fitzgerald was asked Monday whether that meant they would play this week, he responded only by shrugging his shoulders.
Safety
13 JR Pace – 6-1, 200, Sophomore (Free Safety)
41 Jared McGee – 6-1, 226, Redshirt Senior OR 7 Travis Whillock – 6-1, 199, Redshirt Sophomore (Strong Safety)
Pace, the only defensive back who has stayed healthy enough to start all 12 of Northwestern's games this year, is one of the top playmakers on the Wildcats defense, ranking third on the team with 70 total tackles, tied for the team lead with three interceptions and second on the team with nine total passes defensed. He's tasked with patrolling the back end of the defense and shows good playmaking range.
McGee, a big safety who is built like a linebacker, plays both in the box and deep in the secondary for Northwestern's defense and is also a solid playmaker for the Wildcats, with 49 total tackles this year. He has also battled injuries, missing the Wildcats' last three games, but Whillock has filled in solidly in his place, recording 15 total tackles two games ago against Minnesota.
Specialists
49 Jake Collins – 6-1, 210, Graduate Transfer (Kicker/Punter)
With Northwestern's first two kickers, Charlie Kuhbander and Drew Luckenbaugh, both sidelined by injuries, Collins has taken over as the field goal kicker and kickoff specialist for the Wildcats, making two out of three field goals – but none longer than 29 yards. As such, the Wildcats could struggle to score if Ohio State's defense is able to keep them away from the end zone.
The Western Kentucky transfer has been Northwestern's starting punter all season, but he's been just mediocre in that regard too, averaging 40.7 yards per punt, which ranks him just 69th in the FBS in punting average.
Overall Outlook
In playing its best football of the year in its final game of the regular season, Ohio State rolled to a 62-39 victory over Michigan this past Saturday. If the Buckeyes can play at that same level this upcoming Saturday, they should be able to roll to another convincing victory over Northwestern.
While the Wildcats have been solid enough across the board to win the Big Ten West and earn their first-ever Big Ten Championship Game berth, there isn't any one specific area in which they should have an advantage over Ohio State. The Buckeyes are more athletic and talented on both sides of the ball.
Considering how effectively Ohio State moved the ball against Michigan, whose defense was ranked No. 1 in the country in yards allowed per game entering last week, it should be able to do so against Northwestern. And the Wildcats don't present a particularly tough challenge on offense, either, though Thorson is good enough to take advantage if the Buckeyes make mistakes on the back end and Bowser has momentum on his side.
Ultimately, though, the question entering this game is which version of the Buckeyes – just two weeks removed from needing overtime to beat Maryland – will show up on Saturday. They're clearly the better team from a talent standpoint, which opens up the possibility of Ohio State winning big and making a strong final statement before the College Football Playoff field is set. Northwestern has consistently found ways to win close games, however, so the Wildcats could push for an upset if the Buckeyes allow them to hang around.