Pat Fitzgerald has had ample time to get caught up on Ohio State considering Northwestern clinched the Big Ten West two weeks ago. The Wildcats have had the division locked up for so long that, until Saturday, he wasn't even sure which team to begin scouting in the conference title game.
So, Fitzgerald opted to take a peek at both teams.
As the Buckeyes prepared for a game against Maryland, Fitzgerald formulated a plan to beat Northwestern's upcoming opponent, Minnesota, but also indulged himself in watching Michigan, a possible Big Ten Championship Game opponent. The following week, while Ohio State geared up to face Michigan, Fitzgerald spent time working on Illinois prior to the Wildcats' final game of the regular season. He had some time, so he checked out Ohio State, as well.
His conclusion? Nothing positive for Northwestern.
"After I got done watching Michigan, I'm like, 'Man, I hope we don't play these guys,'" Fitzgerald said on Sunday's Big Ten Championship Game coaches teleconference. "And then after I got done watching Ohio State, I'm like, 'Man, I hope we don't play these guys.' It was a lose-lose from a schematic standpoint, coaching standpoint and pads standpoint. It's going to be a great challenge. Our guys, they're going to prepare well, and we're going to go down there and hopefully play our cleanest game of the year and go compete."
Ohio State's 62-39 battering of Michigan earned the Buckeyes a berth into the Big Ten Championship Game, where they will face the Wildcats at 8 p.m. Saturday.
In the week leading up to the rivalry game, Urban Meyer didn't allow Northwestern to slip into his mind. He focused solely on Michigan, knowing Ohio State had a hefty challenge against the top defense in the country.
So, when reporters questioned him about Northwestern on Sunday afternoon, just a day removed from earning the Big Ten East title, Meyer had no answers. He hadn't fully watched Ohio State's defensive film from Saturday's win against the Wolverines, let alone turned on games of the Wildcats.
Fitzgerald, on the other hand, knew pretty much every single key player on Ohio State. Most coaches, including Meyer, call opponents by their numbers, but Fitzgerald rattled off individual players by name all over Ohio State's roster.
However, similarly to Meyer, he had no answers – no answers about how to stop the Buckeyes, to be specific.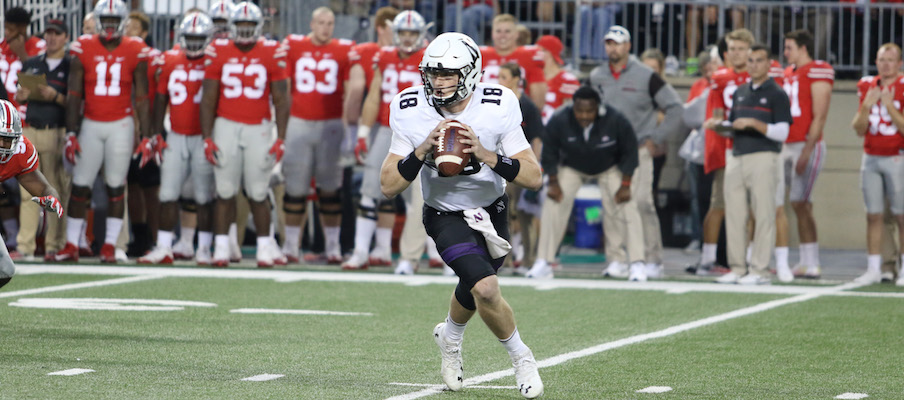 When asked what he's most concerned about, he only needed one word in response.
"Everything," Fitzgerald said, beginning to laugh.
He elaborated.
"They're massive up front on the offensive line," Fitzgerald said. "The skill positions on offense, you know everybody's a guy who can score by catching a hitch or a slant. You know (J.K.) Dobbins and (Mike) Weber can take it to the house by missing a tackle, and Dwayne Haskins is as efficient and explosive of a quarterback as we've seen. The tight ends jump out to me, too. I've been really impressed by (Luke) Farrell and (Rashod) Berry. They both are very, very impressive on video."
That's not all.
"On defense, this front is big, they're physical, they're athletic," Fitzgerald said. "(Chase) Young and (Robert) Landers, (Dre'Mont) Jones, (Jonathon) Cooper, and then they roll their second wave through. Really dynamic, explosive. The linebacking corps. We knew Tuf (Borland) in recruiting, a local kid here in Chicago-land. He's a heck of a football player. Got to know Pete Werner, also in recruiting. (Malik) Harrison, to me, is really athletic. They do some fun stuff. I love what coach (Greg) Schiano's doing schematically. The back end has got – it's all NFL talent. It's elite-level guys. It's a younger group than maybe we saw a couple years ago. They're really long, really athletic. They obviously are very, very talented."
Mercifully, he continued.
"You watch the kick game, and that's where the talent jumps out to you, the depth of the talent," Fitzgerald said. "They're fast and physical in every unit. The punt game is ridiculous. You watch that Michigan State game, and (Drue) Chrisman won that game with the execution. We're going to have our hands full."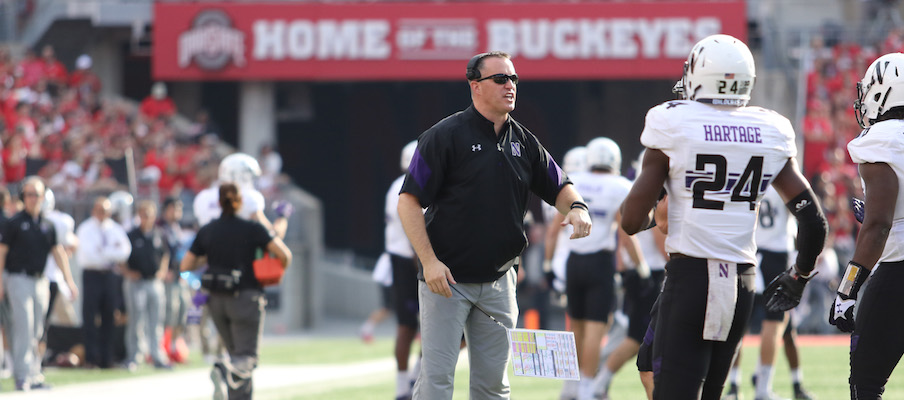 Get the picture?
Fitzgerald thinks Ohio State is good. Really good. And now, after Ohio State's beatdown of Michigan during which even the biggest areas of concern turned into strengths, he has reason to be concerned. The Buckeyes just put together their most impressive performance of the season.
Northwestern locked up the other half of the Big Ten back on Nov. 10. That day, Ohio State beat Michigan State, 26-6, but didn't look dominant in the victory, needing a spectacular performance from its punter.
In the following weeks, the Buckeyes put together a tremendous offensive performance against Maryland before playing their most complete game of the season against Michigan, which beat Northwestern by three points in late September. During that time, the Wildcats beat Minnesota on the road, 24-14, then headed back home and beat Illinois, 24-16, in the regular season finale.
Those weren't the most dominant, intimidating performances to end the season, though Fitzgerald said the coaching staff backed off at the end of the season.
"I really limited what I allowed our coordinators to do this week against Illinois," Fitzgerald said. "I took most of our starters out pretty early on offense, and defensively we were very vanilla and didn't play some guys that could've played."
Players earned rest, which could help against an adversary that Fitzgerald called "as fast a team" as Northwestern will play all year, and the Wildcats didn't show anything that might allow the Buckeyes to gain intel on scheme or personnel.
Any edge helps.
"I've been here a long time, brother. I don't know how many (blowout wins) we've had," Fitzgerald said. "We're a white-collar school with a blue-collar mentality as a football team. That's who we're always going to be as long as I'm the head ball coach here."
Ohio State certainly won't be the underdog for the second week in a row. The Buckeyes are two-touchdown favorites and undoubtedly have the talent advantage. They have landed between one and five five-star recruits every season since Meyer was hired, while Northwestern has picked up just two five-star prospects in program history.
Fitzgerald called their speed advantage a "huge concern," and said Ohio State has "as good of a staff" as any opponent this season.
"Our guys, they're going to prepare well, and we're going to go down there and hopefully play our cleanest game of the year and go compete," Fitzgerald said. "All you want is an opportunity, and our guys will obviously have an opportunity of a lifetime in front of them here."