The legend of Dwayne Haskins as an Ohio State quarterback began in the Buckeyes' 2017 win against Michigan.
In Ohio State's 62-39 win over Michigan on Saturday, Haskins brought that legacy to new heights.
After J.T. Barrett was forced to leave last year's game in Ann Arbor in the third quarter due to a knee injury, Haskins led the Buckeyes to a comeback win over the Wolverines, establishing himself as Ohio State's starting quarterback of the future and earning his place in rivalry game lore.
This year, however, Haskins led the Buckeyes to victory from start to finish, putting together a spectacular performance against the Wolverines while continuing to rewrite the record books of both Ohio State and the Big Ten.
Against a Michigan defense that was ranked No. 1 in the nation with only 234.8 total yards allowed per game and 123.2 passing yards allowed per game and had only allowed seven passing touchdowns entering Saturday, Haskins completed 20 of 31 passes for 396 yards and six touchdowns, the most passing yards and touchdowns ever by an Ohio State quarterback in a game against Michigan and tying his own school record (along with J.T. Barrett and Kenny Guiton) for passing touchdowns in any game.
Haskins was also effective as a runner for a second consecutive game, gaining 34 yards on seven attempts.
With Haskins leading the way, Ohio State rolled to a lopsided victory in its rivalry game, as the Buckeyes scored the most points ever scored in regulation against Michigan in a single game.
"He just had a mindset," said Ohio State right tackle Isaiah Prince. "He was aggressive. He ran the ball. He dropped his pads. He made the throws, he made the right calls, he made plays without the ball in his hand just by making the right decision."
Despite the success that Michigan's defense had all season before Saturday – holding all but one of its first 11 opponents under 200 passing yards – Haskins entered Saturday's game with confidence.
After his successful half against the Wolverines in 2017, Haskins liked what he saw when he watched Michigan's defense on film, and sensed an opportunity that he could have a big day.
"I was licking my chops," Haskins said. "I had seen one-high coverage, and that's a quarterback's dream. So the big responsibility for me all week was to be able to pick up blitzes in protection, because we saw a lot of different fronts and exotic looks. So I spent hours in the film room just trying to figure out how we could pick the blitzes up, and once we picked it up, receivers make plays. I'm going to put it there, and it was just a great overall team effort."
Haskins certainly had plenty of help from his teammates. Parris Campbell, Johnnie Dixon, K.J. Hill and Chris Olave were all among the receivers who got open and made big plays on the finishing end of Haskins' throws, with all four of them scoring at least one touchdown (and Campbell and Olave each scoring two).
Haskins also received excellent pass protection from his offensive line, which didn't allow a single sack in Saturday's game, and Ohio State coach Urban Meyer brought that up immediately when asked about Haskins after the game.
"I think he'd be the first one to tell you that the quarterback's a product of those in front of him," Meyer said. "So I think the first thing he would say, and I'd be disappointed and shocked – as a matter of fact, I'm going to tell him to make sure he says it – thank the big guys up front because they won the game for us."
Meyer didn't have any reason to be disappointed in Haskins, though, because he had already expressed his gratitude for his offensive line during his postgame press conference, describing their performance as an "A-plus job."
"I've got to take my linemen out to dinner," Haskins said. "As far as picking up protection, there was no pressure. I really had all day in the pocket. I can't complain. The line did a great job."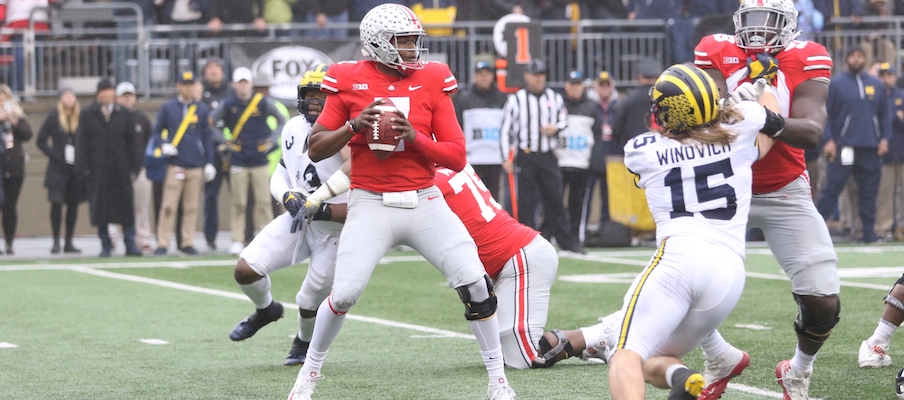 In the process of leading Ohio State to its 11th victory of the season on Saturday, Haskins broke the Big Ten's single-season records for both passing yards and passing touchdowns. Haskins has now thrown for 4,081 yards and 42 touchdowns this season, surpassing the previous records of 3,985 yards by Purdue's Curtis Painter in 2006 and 39 touchdowns by Purdue's Drew Brees in 1998.
Haskins, who already held Ohio State's single-season school records for passing yards and touchdowns, also broke Ohio State's single-season record for total offense on Saturday. With 4,208 yards of total offense on the season now, surpassing J.T. Barrett's previous school record of 3,851 yards, Haskins is now just 64 yards from the Big Ten's single-season record for total offense, set by Michigan's Denard Robinson in 2010.
Statistically, Haskins has already had the most prolific season ever for an Ohio State quarterback, and the Buckeyes still have at least two games to go.
Will that be enough to thrust Haskins into the Heisman Trophy conversation? Alabama's Tua Tagovailoa and Oklahoma's Kyler Murray remain the two frontrunners for the award, but Saturday's certainly felt like a so-called Heisman moment, and might have at least been enough to elevate him to third in the Heisman race and earn him an invitation to New York for the Dec. 8 ceremony.
Dixon is among the many Buckeyes who have been impressed with what their quarterback has accomplished this year.
"The kid, he's very elite, man," Dixon said after Saturday's game. "He takes things serious. He prepares really hard. In my category, he's elite."
As the Buckeyes shift their attention toward preparing for next Saturday's Big Ten Championship Game against Northwestern, however, Haskins wants to continue building his legacy even bigger.
"I'm not done yet. But I want to be one of the best to ever do it when I get done playing here at this university. And this is a dream come true for me," Haskins said. "It's been a dream of mine to play here for this university for a while. And to break all these records and to go win these games the way we've won these games, that's a blessing. And I'm going to put on a show next week."
---
Update: Ohio State spokesperson Jerry Emig announced Sunday morning that Campbell's 78-yard touchdown in the fourth quarter of Saturday's game had been changed from a run to a pass from Haskins on the stat sheet. The statistics in this story have been updated accordingly.