The No. 9-ranked Ohio State football team is on a roll.
Since losing to Oklahoma on Sept. 9, the Buckeyes have won each of their last four games by at least 31 points. Even as the Buckeyes have faced perceived jumps in competition from UNLV to Rutgers to Maryland, they have only become more dominant, winning each of their last three games by at least 33 points while blowing out their opponents quickly enough to give their backups extended playing time.
Ohio State (5-1, 3-0) will have an opportunity to keep that roll going, once again facing an opponent that is expected to provide slightly tougher competition than the last, when it plays Nebraska (3-3, 2-1) at Memorial Stadium in Lincoln, Neb. at 7:30 p.m. on Saturday night.
Whether Nebraska actually will provide tough competition for the Buckeyes is uncertain. The Cornhuskers were expected to give Ohio State a tough game last year, when they came to Columbus as a top-10-ranked team, and ended up getting beat 62-3. Coming into this game, the Cornhuskers are nowhere near the top 10, having already lost to Oregon, Northern Illinois and Wisconsin, with their only wins coming against Arkansas State, Rutgers and Illinois.
Recognizing the level of football that Ohio State has played over the past four weeks, Nebraska coach Mike Riley knows his team will be in for a tough test.
"They're versatile and productive offensively in almost every category, near the top (nationally) in everything," Riley said of Ohio State. "Same thing defensively. So it's a major, major challenge for us."
Nebraska, however, has been a historically tough place to play. It's the only place in the Big Ten where Ohio State has never won; the Buckeyes, though they have come a long way since, lost their only previous game there in 2011.
Ohio State is just one game away from its bye week, with a potentially season-defining showdown against Penn State looming after that. But the Buckeyes say they are not looking past the potential challenge they could face on the road this weekend.
"I feel like you can never really take a team lightly, especially in the Big Ten," said Ohio State left tackle Jamarco Jones. "Because any time you take an opponent lightly, anything can happen."
Nebraska Breakdown
Nebraska had a 7-1 record and had positioned itself among the top teams in the Big Ten when it arrived in Columbus last season.
Including their loss to the Buckeyes, the Cornhuskers have gone just 5-6 since.
Nebraska has a new look in many ways than it did last season – a new quarterback on offense, a new coordinator and scheme on defense and some new playmakers on both sides of the ball – but none of that has led to impressive results in the Cornhuskers' first six games.
Riley, in his third year as Nebraska's coach, appears to be already sitting on the hot seat; Shawn Eichorst, the athletic director who hired him, was fired after the Cornhuskers' embarrassing, 21-17 home loss to Northern Illinois in September.
Tanner Lee, Nebraska's new starting quarterback, was surrounded by hype as a potential game-changer for the Cornhuskers' offense and NFL draft prospect entering the season. The Tulane transfer hasn't lived up to the hype so far. In his first six games as a Cornhusker, Lee has completed only 54 percent of his passing attempts and thrown 10 interceptions, second-most among all Football Bowl Subdivision quarterbacks.
At the same time, Lee has shown some playmaking ability, throwing for 1,406 passing yards and 11 touchdowns, with 22 passes that have gone for gains of 20 yards or more. The Buckeyes view him as a serious threat entering Saturday's game.
"He's very talented. He has a big arm. He has all the tools to be a great quarterback. So we definitely respect him," said Ohio State safety Jordan Fuller.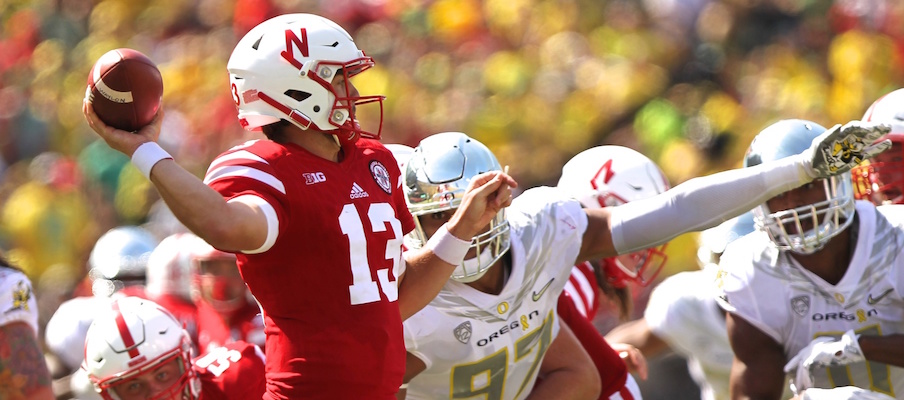 Lee has some talented playmakers to work with in the passing game, led by junior wide receiver Stanley Morgan Jr., who has 30 catches for 510 yards and five touchdowns this season. Senior wideout De'Mornay Pierson-El, who has 24 catches for 363 yards and four touchdowns, has big-play ability as both a receiver and as a punt returner. Redshirt freshman slot back JD Spielman, who has 20 catches for 275 yards and one touchdown as well as a 99-yard kickoff return touchdown, is also emerging as a dynamic weapon.
Ohio State coach Urban Meyer says the speed of Nebraska's receivers, who also include true freshman former Ohio State commit Tyjon Lindsey, stands out.
"Very fast, like really fast at the receiver position, and also the kick returner (Spielman) and punt returner (Pierson-El)," Meyer said. "They're fast guys."
Another emerging playmaker for Nebraska's offense is junior running back Devine Ozigbo, who leads the Cornhuskers in rushing yards after rushing for more than 100 yards in each of their last three games.
Ohio State defensive coordinator Greg Schiano describes Ozigbo, who is listed at 6-foot-0 and 230 pounds, as "very hard to get down."
"He has a lot of yards after contact," Schiano said. "He's a built guy. They have a scheme that's designed for a back like him, and I think they're confident in what they're doing. What happens is, in those kind of offenses, what might be a one- or two- or three-yard gain in the first quarter, if the game is close and they're able to keep running and running and running, those turn into five- or six-yard gains, if you don't really muster it up. So it's going to be a challenge."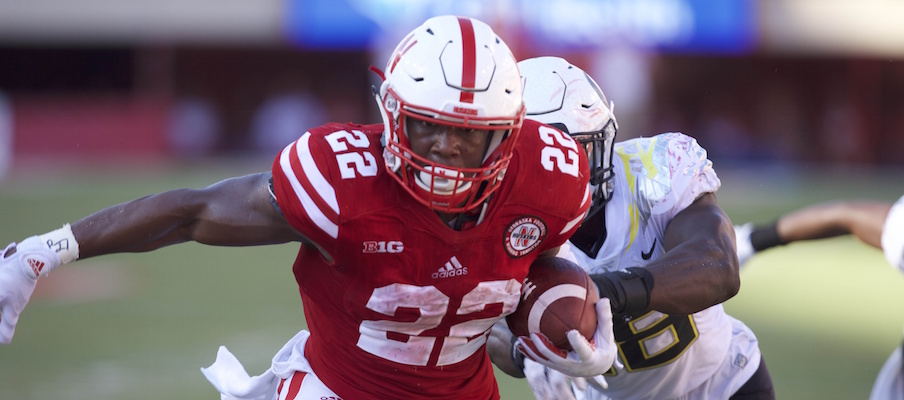 Like nearly every other team that Ohio State has played this season, Nebraska runs a 3-4 scheme – a scheme newly implemented this season by first-year defensive coordinator Bob Diaco – on the defensive side of the ball.
Meyer said the Cornhuskers' scheme, which features two-gapping defensive linemen and often drops eight defenders into coverage, is similar to what you would see from an NFL team's defensive scheme. He doesn't expect the Cornhuskers to give the Buckeyes many easy big-play opportunities.
"It's the type of defense that you're going to have to work for everything," Meyer said. "You're not going to have many shots downfield the way they play. They're very sound in what they do and their secondary, they keep everything in front of them and they rally up and run to the ball very, very well. They kind of give you the short stuff. They're very well-coached."
The Cornhuskers defense ranks as a middle-of-the-pack unit statistically, but they have allowed only 17 plays of 20 or more yards.
Nebraska has had some breakout players on its defense this year, particularly in its defensive front seven. Sophomore defensive end Carlos Davis, who leads the Cornhuskers with 1.5 sacks and four quarterback hurries, has emerged as a disruptive defensive lineman up front. Redshirt freshman linebacker Ben Stille leads the team with four tackles for loss, while fellow first-year starting linebacker Luke Gifford has emerged as a difference-maker on the edge.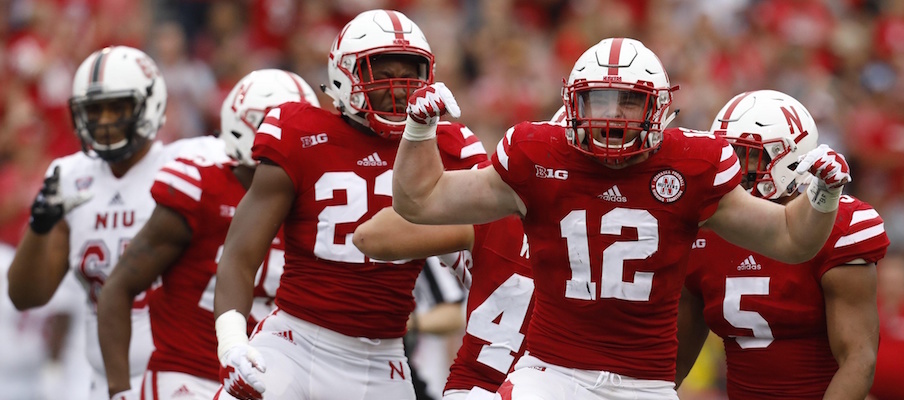 The Cornhuskers' secondary is led by Aaron Williams, who leads the team with 40 tackles and two interceptions, including one returned for a touchdown against Wisconsin. Williams is questionable for Saturday's game, however, due to a neck injury.
Altogether, Meyer says the Cornhuskers are a team that have the potential to be dangerous in their home stadium on Saturday night.
"We're getting ready for a very good team that plays a unique style of defense, and if this quarterback catches fire, he's a very accurate passer," Meyer said.
Buckeye Breakdown
As Riley said in his press conference on Monday, Ohio State has been "hitting on all cylinders" for the past month, winning each of its last four games in dominant fashion.
Ohio State has accumulated 2,462 yards of offense over those four games – the most over a four-game span in school history – and has shot up the national ranks to fourth in both total offense (568 yards per game) and scoring offense (45.8 points per game) as a result.
The Ohio State defense, meanwhile, has held each of its last four opponents under 300 yards – the first time the Buckeyes defense has accomplished that feat for four straight games since 2010 (when they achieved that feat twice) – and rank in the top 14 nationally in both total defense (290.7 yards allowed per game) and scoring defense (15.7 points allowed per game) as a result.
2017 Statistical Comparison
 
OFFENSE
45.8
4th
POINTS FOR
27.8
77th
245.8
18th
RUSHING OFFENSE
148.5
79th
322.2
14th
PASSING OFFENSE
235.8
63rd
568.0
4th
TOTAL OFFENSE
384.3
85th
.447
35th
3rd DOWNS
.411
55th
.857
57th
RED ZONE
.783
91st
DEFENSE
15.7
10th
POINTS ALLOWED
26.7
73rd
120.5
29th
RUSH DEFENSE
147.0
61st
170.2
17th
PASS DEFENSE
208.8
47th
110.9
26th
PASS EFFICIENCY DEFENSE
126.0
67th
290.7
14th
TOTAL DEFENSE
355.8
43rd
.293
16th
3rd DOWNS
.413
90th
.667
8th
RED ZONE
.773
42nd
SPECIAL TEAMS
3.1
111th
PUNT RETURN
7.0
64th
30.7
3rd
KICKOFF RETURN
29.1
6th
41.6
18th
NET PUNTING
38.5
52nd
MISCELLANEOUS
+ 1.0
17th
TURNOVER MARGIN
- 0.5
92nd
7.5
104th
PENALTIES
5.2
30th
16
EDGE
2
The Buckeyes' offensive outburst, after a slow start to the season, has been led by the improvement of quarterback J.T. Barrett and the passing offense, which now ranks 14th nationally in passing yards per game.
Ohio State has also been strong in the running game, with at least 270 rushing yards and three rushing touchdowns in four of its six games this season; the Buckeyes have been led in that phase of the game by freshman phenom J.K. Dobbins, but Barrett – with 311 rushing yards and three rushing touchdowns, in addition to his 1,513 passing yards and 16 passing touchdowns – has continued to be a key player in Ohio State's ground game.
Nebraska has been impressed by what it has seen from Ohio State's offense, particularly Barrett.
"He's just the definition of a dynamic quarterback," said Nebraska defensive tackle Mick Stoltenberg. "He can do a lot of things. He can make a lot of throws, also can kind of hurt teams with his feet. He obviously offers some problems for our preparation. He's someone we need to look at and kind of prepare hard for."
Defensively, the Buckeyes' rise has been keyed by the improved play of their passing defense, which now ranks 17th nationally in passing yards allowed per game after ranking dead last in that category after the first two games. Ohio State has not allowed more than 100 passing yards in a game since its loss to Oklahoma.
Nebraska offensive coordinator Danny Langsdorf says Ohio State's defense stands out for its "athleticism all across the board," especially on the defensive line.
"They're very good," Langsdorf said. "They're exceptionally fast up front, strong and fast. I think their safeties are very good. They've got good cover guys that play a lot of press. And they're able to create some pressure without having to pressure too much."
Nebraska's passing offense is the most talented unit Ohio State has faced since Oklahoma, so the Buckeyes defense – particularly its secondary – will face a tougher test in this game. The Buckeyes are confident, though, that they will respond to that challenge and continue to perform well.
"Really, every single week, we've been focusing on us and our deficiencies and what we need to get better at, and I think we're doing a really good job of that, so I'm excited to see how we do on Saturday," Fuller said.
While Lee is a threat Ohio State has to take seriously in the passing game, one thing he is demonstrably not – unlike Oklahoma's Baker Mayfield and some of the other quarterbacks Ohio State has faced this year – is a running threat. The Buckeyes, particularly their defensive linemen, say they are looking forward to the opportunity to face a pro-style passer who operates primarily from the pocket.
"He wants to sit back there and scan the field a little bit, which we haven't seen very much of, so we're excited for that, to get after him," said Ohio State defensive end Nick Bosa, who leads the Buckeyes with 10 tackles for loss and four sacks this season.
Meyer says the battle between Ohio State's defensive line and Nebraska's offensive line – an experienced unit with 62 career starts – is "the matchup we have to win."
"The quarterback, as talented as he is, if you pressure him, sometimes like great quarterbacks do, they'll put it in your hands," Meyer said. "So we got to get after the quarterback."
"we've been focusing on us and our deficiencies and what we need to get better at, and I think we're doing a really good job of that, so I'm excited to see how we do on Saturday." – Ohio State safety Jordan Fuller
One area where Ohio State needs to be better this week is on special teams, where the Buckeyes had a nightmare day against Maryland last week. Meyer suggested Thursday that the Buckeyes will make changes to their kickoff strategy this week in an effort to cut down the issues – which included allowing a kickoff return touchdown – that plagued them last week.
Overall, though, Riley sees Ohio State as a complete team with few weaknesses for his team to exploit.
"The way they're playing right now, they're playing at a high level since that one loss and outscoring opponents," Riley said. "They're talented, and they play fast, and they're well-coached."
How It Plays Out
The fourth-winningest team all-time in the Football Bowl Subdivision, Nebraska was long considered to be one of college football's elite programs – and not all that long ago – so it doesn't feel quite right predicting that an opposing team will go into Lincoln and beat the Cornhuskers with ease.
There's plenty of evidence to suggest, though, that that's exactly what could happen on Saturday night.
Ohio State is favored to win Saturday's game by 24 points, making the Buckeyes the largest road favorite going into a game at Nebraska in 60 years, according to Dirk Chatelain of the Omaha World-Herald.
Nebraska hasn't been this big of an underdog at home in 60 years -- 1957 Oklahoma. (That's according to my source, @JeffieHusker)https://t.co/14asi3tA9M

— Dirk Chatelain (@dirkchatelain) October 9, 2017
Although the Cornhuskers have made upgrades in some areas of their team, their results so far this season have been worse than they were last season, when the Buckeyes completely dominated them. Whether the Buckeyes are better or even as good as they were last season remains debatable, and will be at least until they play Penn State later this month, but Ohio State appears to be the stronger team on both sides of the ball and has a strong wave of momentum on its side.
Ohio State vs. Nebraska, All-Time Results

| YEAR | LOCATION | RESULT |
| --- | --- | --- |
| 2016 | Columbus, Ohio | Ohio State 62, Nebraska 3 |
| 2012 | Columbus, Ohio | Ohio State 63, Nebraska 38 |
| 2011 | Lincoln, Neb. | Nebraska 34, Ohio State 27 |
| 1956 | Columbus, Ohio | Ohio State 34, Nebraska 7 |
| 1955 | Columbus, Ohio | Ohio State 28, Nebraska 20 |
Home-field advantage could make some difference for Nebraska in this year's game, as Memorial Stadium is typically a loud and hostile environment packed with Cornhuskers fans, but that probably won't be nearly enough to flip the game in Nebraska's favor.
It's weird to say about a road game at Nebraska, but it won't be a surprise if the Buckeyes cruise to a victory on Saturday night. Neither of the teams themselves, however, are looking at it that way.
Although Ohio State only has to look at the standings to see that it is the better team on paper, the Buckeyes expect Nebraska to make it as tough on them as it can.
"We are Ohio State, we get everybody's best shot so it doesn't really matter as far as somebody's record, we know that they're going to go out there and try their hardest and play their best against us," Barrett said. "And so we have to be prepared."
"I feel like you can never really take a team lightly, especially in the Big Ten ... Because any time you take an opponent lightly, anything can happen."– Ohio State left tackle Jamarco Jones
Nebraska, meanwhile, views Saturday's game as an opportunity to get its season back on track.
"Every week is an enormous opportunity. Last week was, this week certainly is. That's really all we can ask for is opportunities," Stoltenberg said. "Every week is kind of a fresh start. We're frustrated with some of the things that have happened, but our season's not over yet. We've got plenty of football left to play. It's a thing we have to take week by week."
---
ELEVEN WARRIORS STAFF PREDICTION: Ohio State 47, Nebraska 14