Ohio State is set to make its longest road trip of the regular season when the Buckeyes travel to Nebraska to play the Cornhuskers on Saturday night.
The Cornhuskers are likely to have revenge on their minds after suffering a 62-3 loss in Columbus last season, but they are just 3-3 in their first six games of this season.
Is Nebraska capable of giving the Buckeyes a bigger challenge on its home field this year, or will the Buckeyes cruise to an easy victory again?
We seek answers to that question, who to watch for the Cornhuskers and what traveling Ohio State fans should do in Lincoln in this week's edition of Across the Field.
Sam McKewon, Nebraska football beat writer for the Omaha World-Herald since 2011, joins us for this week's Q&A.
Q: Sam, how do this year's Cornhuskers compare to the team that Ohio State beat last season?
McKewon: It's a very different team. That squad had a bunch of seniors – walk-ons and scholarship guys alike – who'd been through a lot of ups and downs, played for two different coaches and kind of developed their own senior culture within the program. All that went bust last year in Columbus for a variety of reasons, not the least of which was Tommy Armstrong getting hurt. This Nebraska team is younger, far less experienced, embraces a pro-style offense and 3-4 defense, and probably has better overall team chemistry. Despite some ugly moments this season, they've stuck together well. Because they're so young, there are fewer seasoned playmakers. This Nebraska team struggles to just make a great individual play right now.
Q: There was a lot of hype surrounding Nebraska quarterback Tanner Lee going into the season. It doesn't seem like he's lived up to it. How would you assess his play through six games?
McKewon: He's played so-so. He got too much summer hype – not his fault – and it wasn't fair to him, because a quarterback needs guys around him who catch passes and block for him. Drops and mediocre pass protection have been an issue. When Lee gets time and he reads the defense right, he throws a great ball. When he's pressured, he's been prone to making a rash decision and trying to throw into coverage. He likes to throw deep. He's not going to run much, but he's shown better pocket presence in recent weeks.
Q: Who are some potentially under-the-radar Cornhuskers that Ohio State and its fans should be aware of entering this game?
McKewon: One of them was once committed to Ohio State – for lacrosse. That'd be JD Spielman, who chose to pursue football late in his high school career. He's really good as a slot receiver – tough, sure-handed, runs good routes. On defense, Nebraska's best players so far are outside linebacker Luke Gifford and defensive tackle Carlos Davis, both of whom are good pass-rushers.
Q: With the firing of athletic director Shawn Eichorst last month, how hot is Mike Riley's seat right now? Does he need to win a game like this to save his job?
McKewon: The seat is pretty warm and beating Ohio State sure wouldn't hurt. It'd help a lot, actually, since the Buckeyes are generally regarded as the class of the Big Ten. Riley's just in year three, but, as Eichorst said just days before he was fired, some fans have never embraced Riley as the head coach. While Riley inherited a program with talent, he inherited some players who were angry and ambivalent about Husker football. Still, in Nebraska, you don't get a pass for 6-7 seasons, and Riley didn't.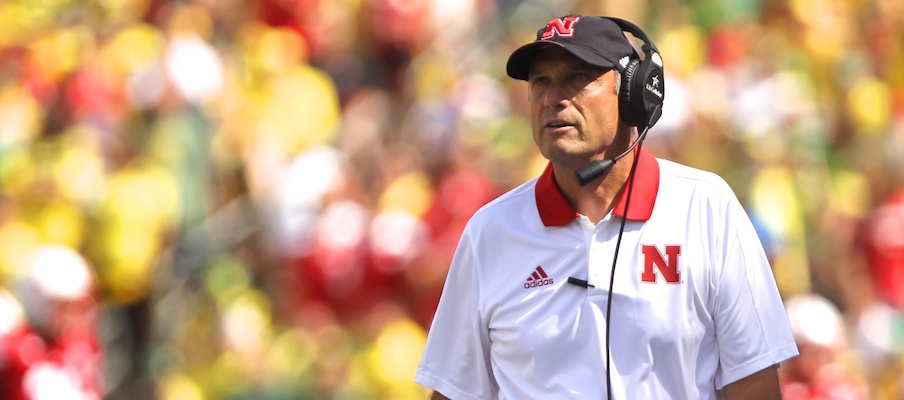 Q: What kind of environment should Ohio State fans expect in Lincoln? Any activities, restaurants, etc. you recommend for Buckeyes fans making the trip?
McKewon: Ohio State last visited in 2011, and the downtown is much better than it was then. The Haymarket district, within walking distance of the stadium, is one place to go, especially Friday night. Situated around the new basketball arena, there are several blocks of excellent local restaurants and bars, both family-friendly places and 21-and-over hangouts. Lazlo's and LeadBelly are great for American casual food, but the best burger is just east of the Haymarket, in downtown, at a place called Honest Abe's. "Old school" Husker fans go to the original Misty's steakhouse in Havelock; it's a great throwback, like stepping back in time a few decades. UNL's city campus is smaller than Ohio State's and festive on gameday. The Brook Berringer statue – on the north side of the stadium – is a natural gathering spot. Berringer, a former Husker quarterback, died in a 1996 plane crash just after his senior year.
Q: What must the Cornhuskers do to keep this game competitive, and do you think they will?
McKewon: Nebraska needs help from Ohio State, frankly, to keep it real close, and Ohio State has shown a tendency, once per season, to play down to its competition on the road, whether it was at Michigan State last season, at Indiana in 2015 or at Penn State in 2014. Nebraska is just as good as any of those teams. Nebraska has to commit zero turnovers, intercept J.T. Barrett a few times, and find a way to run the ball – enough to keep OSU's pass-rush a little honest. I'll be predicting Ohio State to win this game, but Nebraska has a shot if it plays an A game and the Buckeyes play their C- game. Last season, the opposite happened.