Let's get this out of the way first – camp check-in day is dumb. It's very dumb.
Hordes of grown men in sandals and cargo shorts stand outside a hotel lobby waiting to take pictures of #teens as they arrive to check in for extended football practice. It's strange, dumb and honestly pretty creepy – there's no real way around that.
But increasingly, it's also very entertaining! More and more players are starting to have fun with the event, wearing funny shirts, arriving in comical ways and bringing along ridiculous things. It gives them a chance to show off their personalities a bit, which is always appreciated.
With the team's camp check-in day later this afternoon, we decided to take a look back at some highlights from previous years. Here are my top-five favorite moments from Ohio State's fall camp check-in day, complete with a lot of recency bias.
5. Imported From Detroit
In 2015, three Buckeyes wore shirts making it clear the Ohio-Michigan border was open for Urban Meyer and Ohio State.
Mike Weber, Damon Webb and Joshua Alabi – all alums of Detroit's Cass Tech High School – showed up at the hotel wearing shirts that read "Imported From Detroit," in Buckeye Scarlet and Gray.
Damon Webb is imported from Detroit. Guess you could call Kerry Coombs an importer/exporter pic.twitter.com/f505r7x2dH

— Jeff Svoboda (@JeffSvoboda) August 9, 2015
Freshman RB Mike Weber shows up without any bags. Bold strategy, Cotton: pic.twitter.com/FJFZ74DdnE

— Tim Shoemaker (@TimShoemaker) August 9, 2015
Freshmen Josh Alabi and Mike Weber arrive to the Ohio State team hotel with "Imported from Detroit" shirts pic.twitter.com/4flsA8kkmq

— Bill Landis (@BillLandis25) August 9, 2015
"The pipeline is for sure open," Weber told Bill Landis of Cleveland.com.
4. GOAT Attire
Ezekiel Elliott can have his trademark crop top – Demario McCall's got his cut-off hoodie.
The then-freshman running back showed up at camp check-in day wearing sweatpants and a sleeveless hoodie with the hood up in early August, because of course he did.
Malik Harrison, Antonio Williams and Demario McCall - who is wearing a cutoff hoodie because naturally pic.twitter.com/3XrTzYtKJd

— Eric Seger (@EricSeger33) August 6, 2016
The attire is so good it makes the top-five of this list, but it probably wouldn't even crack the top-10 of all-time Demario McCall images – he's that legendary.
3. "Return of the Real"
Leave it to Braxton Miller to have arguably the most ridiculous camp check-in arrival yet.
Miller was dropped off at the team hotel in his friend's Camaro – fashionably late, of course – with a small entourage and a drone buzzing above him.
Braxton Miller is finally here (a camera drone was buzzing around him too) pic.twitter.com/afmxlHcUda

— Eric Seger (@EricSeger33) August 9, 2015
Miller and his friends were shooting footage for what was to become a film documenting the quarterback-turned-receiver's final year of college football, and they rented about $1,600 in gear to do it.
The film was to be titled "Return of the Real," but to the best of my knowledge was never published anywhere.
2. Clark Goes CABS
If there was an award for most creative mode of transportation to the team hotel, James Clark would win in a landslide.
Last season, the Clark arrived at the team hotel on a Campus Area Bus System bus by himself. He was literally the only person on the bus, which is supposed to service only the campus area.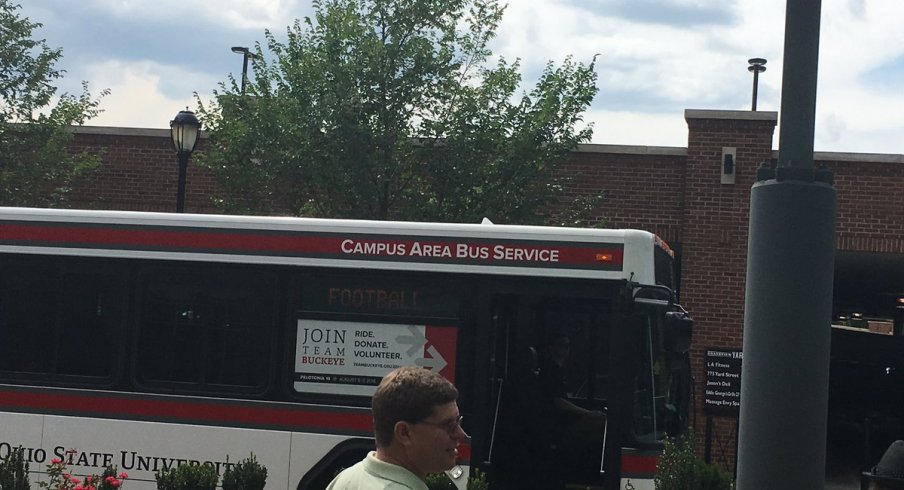 Also, he appeared to have a sizable box of donuts.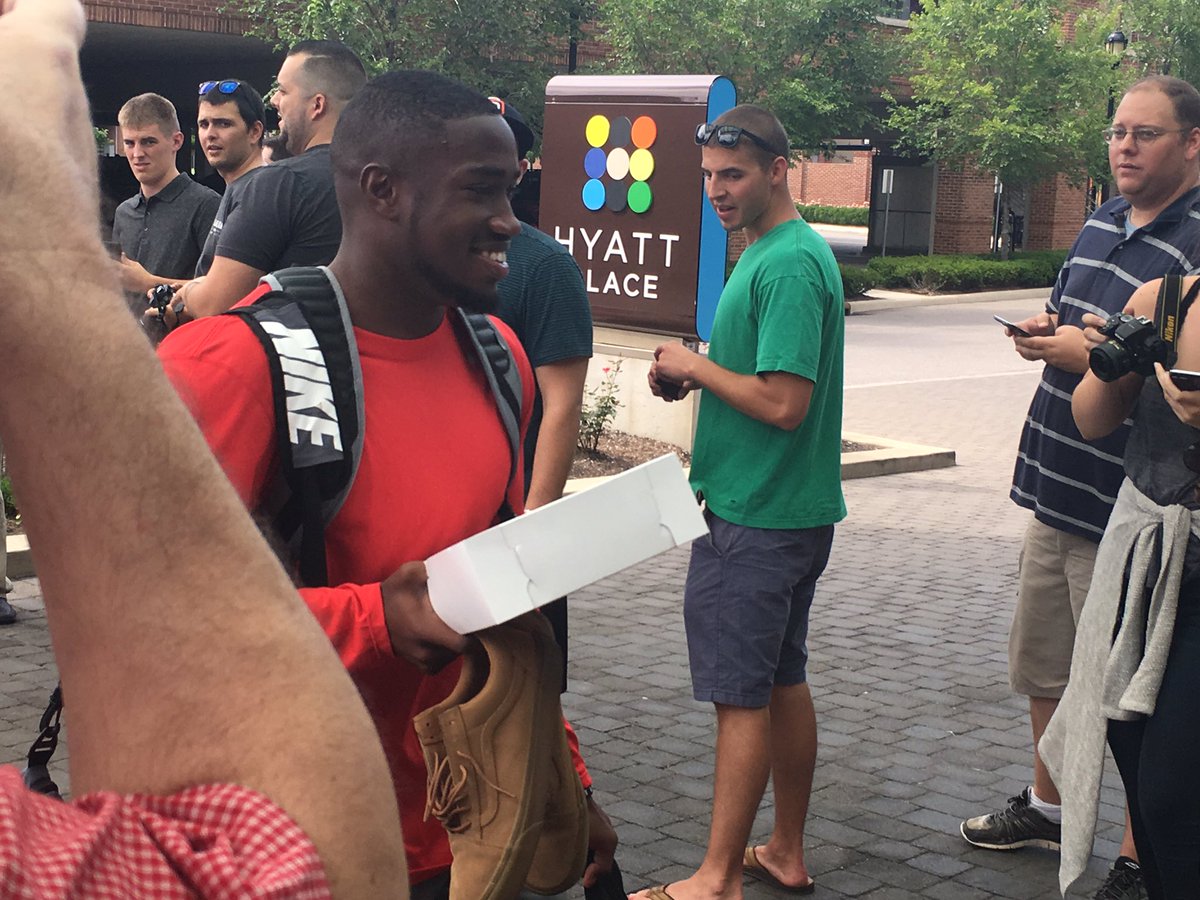 We still don't know all the details of how he got a ride from a campus area bus to somewhere decidedly not within the campus area, or why he was the only one on the bus, and that probably makes it even better.
1. Who Are You Wearing?
Clark had the best arrival, but Liam McCullough takes the crown for best wardrobe.
The Buckeye long snapper showed up to the hotel wearing a custom shirt featuring him arriving at camp the previous year.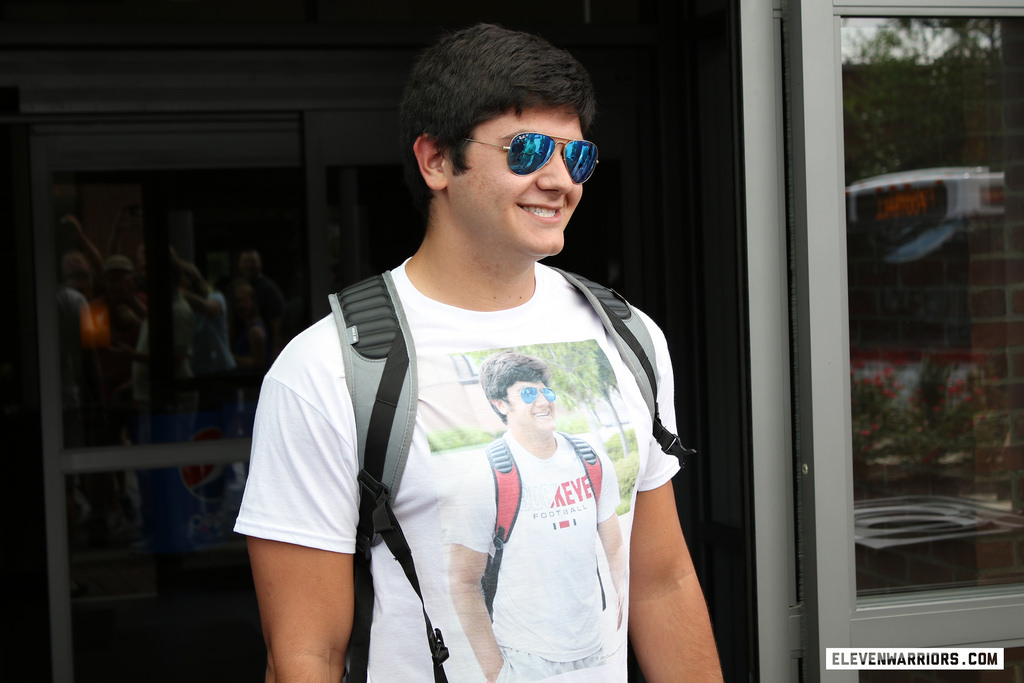 We can only pray McCullough has his shirt ready for this year, which should feature him arriving at camp the previous while wearing a shirt of him arriving at camp the previous year.
His senior season is going to be fantastic.