Braxton Miller shut the door of his friend's Camaro, took a step back and smiled.
Buzzing above him was a Phantom 3 Vision camera drone, inciting nervous laughter and playful jabbing from his teammates walking around the grounds of the Hyatt Place at Grandview Yard Sunday. The Ohio State football team checked in for fall camp at the Hyatt, but for Miller, this was the first leg of a narrative documenting his final season of college football.
Braxton Miller is finally here (a camera drone was buzzing around him too) pic.twitter.com/afmxlHcUda

— Eric Seger (@EricSeger33) August 9, 2015
"This is 'The Return of the Real, I'm thinking," said Regis Williams, an Ohio State journalism student and good friend of the Buckeye quarterback turned wide receiver.
Miller missed the entirety of the 2014 football season — one where his teammates won the first-ever College Football Playoff National Championship — recovering from a second surgery in six months on his throwing shoulder to repair a torn labrum.
That led to a multitude of rumors and speculation about whether he would transfer elsewhere to ensure a better chance at playing quarterback, a reaffirmation to his home state and school, then finally a position switch to wide receiver or H-back.
Miller missed an entire year of competition, watching J.T. Barrett morph into a Heisman Trophy candidate and then Cardale Jones win the team's biggest three games of the year.
He's healthy enough to play this year — but still a month or two away from throwing — which is why Williams and filmmaker Korey "Kmagic" Faulks plan on following him around and chronicling his final year in the Ohio State football program.
"This is an idea that me and my friend Regis came up for him for his return to football. It's new and in the workings," Faulks said. "We're capturing a lot of footage and start putting it together."
Faulks said the equipment for this project — the drone, an iPad, camera, warranty and memory card — cost him roughly $1,800.
When he and Williams picked Miller up to take him to the hotel Sunday, the drone followed them high in the sky capturing the route they took to Grandview Yard.
"I can see a lot. It streams in 720p from the drone to my iPad," Faulks said of the camera. "It goes about 40 MPH and keeps up with the car."
Closer look at the drone that was flying over Braxton Miller's car as they pulled in today pic.twitter.com/XVH5DNIEds

— Eric Seger (@EricSeger33) August 9, 2015
Faulks is from Dayton along with Williams, both one year older than Miller. They've all been friends since high school and Williams came up with the idea to compile the documentary.
"I do this for a living. Shoot music videos, documentaries, commercials," Faulks said. "This is something personal just for Braxton. Hopefully I'll be able to gain access to a couple more games and practices."
But what do teammates of the two-time Big Ten Player of the Year think about all this?
"I mean, we were at the Woody earlier and they were amazed," Faulks said. "There was no negative response about it. Got a little footage of that up there."
Even Ohio State head coach Urban Meyer saw the drone flying around as he pulled into the Woody Hayes Athletic Center.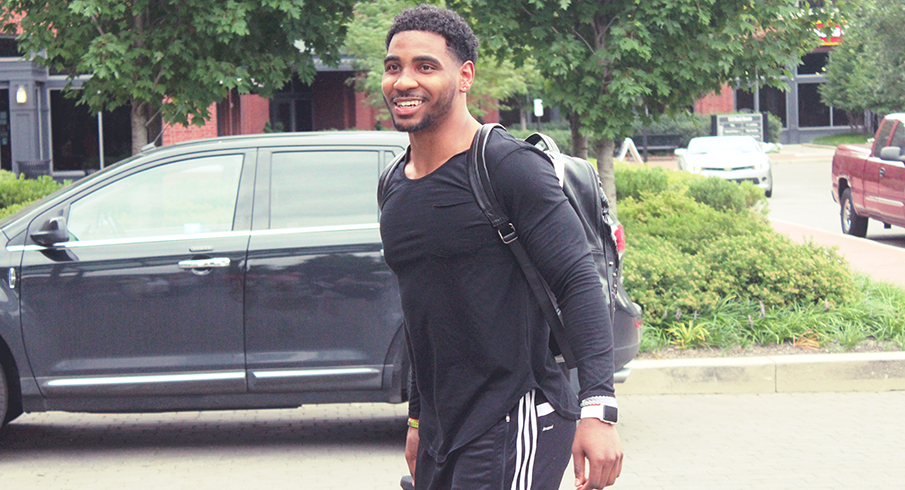 "I don't think he was really paying attention when I had it in my hand," Faulks said, smiling.
One man who did see it, though, was co-defensive coordinator Luke Fickell.
"Coach Fickell came out and was like, 'Is that a droid?' I was like, 'No sir, it's a drone,'" Faulks said.
Faulks added he plans on painting the drone scarlet and gray to represent Ohio State and he has already been flying it across the state of Ohio getting footage of where Miller grew up and has made a name for himself playing college football.
"Just a normal day for me," Faulks said.
Apparently, this was just a normal day for Miller as well, who when asked as he walked into the Hyatt Place if it was his drone, just smiled and said, "Yeah."