Your sour attitude ain't winnin' Ohio State any championships, son.
Braxton Miller's debilitating case of dangling shoulderitis has you feeling sad, because neither of his backups are as explosive as he is. You know who else is not as explosive as Braxton? Everyone. Everyone is not as explosive as Braxton. 
Well, except for maybe Terrelle Pryor - but this isn't like losing Pryor either. That's because losing Pryor was accompanied by losing Jim Tressel, which took Tresselball out of his capable hands and put it in Jim Bollman's, whose strategic responsibilities should always be limited to just being Team Grandpa.
Joe Bauserman and true freshman Miller were then left under the tutelage of pretend-QB coach Nick Siciliano who has since left football and is now a Leadership Professional. J.T. Barrett, Cardale Jones and Stephen Collier have Urban Meyer, Tom Herman and Ed Warinner instructing them. So this is nothing like losing Pryor.
It's also nothing like losing Tim Tebow either, since neither Barrett or Jones are 2006 Gatorade Player of the Year John Brantley.
This ROSTER has been preparing for Football Without Braxton Miller since last season ended.
All of the stars in the world don't mean a thing if the offense doesn't fit your skills, as Brantley deftly proved in Meyer's offense (though it would have been fun to see that Cam Newton kid stick around at Florida and run it). Barrett is the prototypical dual-threat QB Ohio State's offense needs. Jones is a battering ram with a cannon arm.
Oh, there are also 81 other scholarship players not named Braxton who are all pretty good too, and there are no future Leadership Professionals or Team Grandpas charged with their development or game strategy. This is a roster that has been preparing for Football Without Braxton Miller since last season ended.
Your sour attitude is not helpful, nor is it warranted. It's football: Brains get rattled, knees explode and arms occasionally fall off unexpectedly. Save your panic for when your best friend chooses to get married during the Michigan game.
Besides, football season is finally here. You should be euphoric. Let's get Situational.

The Course: Uncharted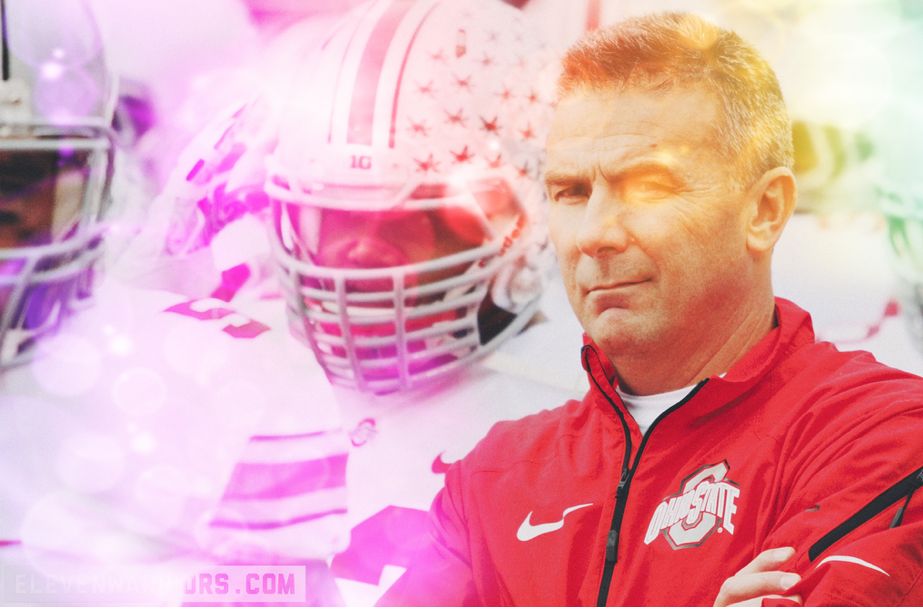 Urban Meyer has never lost a regular season game to a Big Ten team - his first Bowling Green squad even took down Northwestern in 2001. The next loss will be his first loss within the scheduled frame.
His postseason-ineligible Buckeye team won the 2012 Leaders Division (RIP) title outright but had to forfeit the conference championship game ticket that came with it to second-place Penn State. The Nittany Lions aren't/weren't allowed to have nice things either, so they regifted that ticket to third-place Wisconsin.
The Badgers then went to the Rose Bowl and Bret Bielema parlayed this epic six-loss double-regifted "title" into a gig at Arkansas. The Buckeyes unshackled themselves from purgatory in 2013, ran the table again and kept the ticket this time. They stumbled out of the gate against Sparty before ripping off 24 unanswered points. Then they collapsed, forfeiting another championship game ticket.
That Year Two is supposed to be Urban's year: BG won nine games, Utah ran the table, Florida won the BCS title game against Ohi[FILE NOT FOUND] and his Buckeyes won 12 straight. But then they lost two straight, the second coming without Noah Spence, Christian Bryant or Bradley Roby and yet somehow Clemson only scored 40 points instead of 400.
Ohio State had a 24-game WINNING STREAK AND WON EXACTLY NOTHING.
Year Three doesn't have a history of unqualified success on Urban's resume because it barely has a history at all. This is only the second time he's made it three seasons in one place - his 2007 Florida team dropped four games, including one that resulted in Lloyd Carr being carried off the field on the shoulders of seniors who had just gone 0-4 against Ohio State. Gross. Still, 12 months later his Gators won a second title.
Ohio State's offense - with or without #5 - should still be statistically superior to anything Jim Tressel brought because different philosophers subscribe to different philosophies. Ohio State's defense - more on that shortly - should be significantly better than anything we've seen since Meyer arrived, since the bar is that goddamn low.
The culture and philosophy are both installed, and unlike Year Three at Florida there was a two-game slide that siphoned away any sort of entitlement, just like the sudden absence of the two-time B1G MVP under center does. This is a team with a 24-game winning streak that ended up empty-handed, so while Year Three might be uncharted - the destination is unchanged.
They just have to find a way to get there with one less guy. They can do that.
---
The Breakout Coordinator: Chris Ash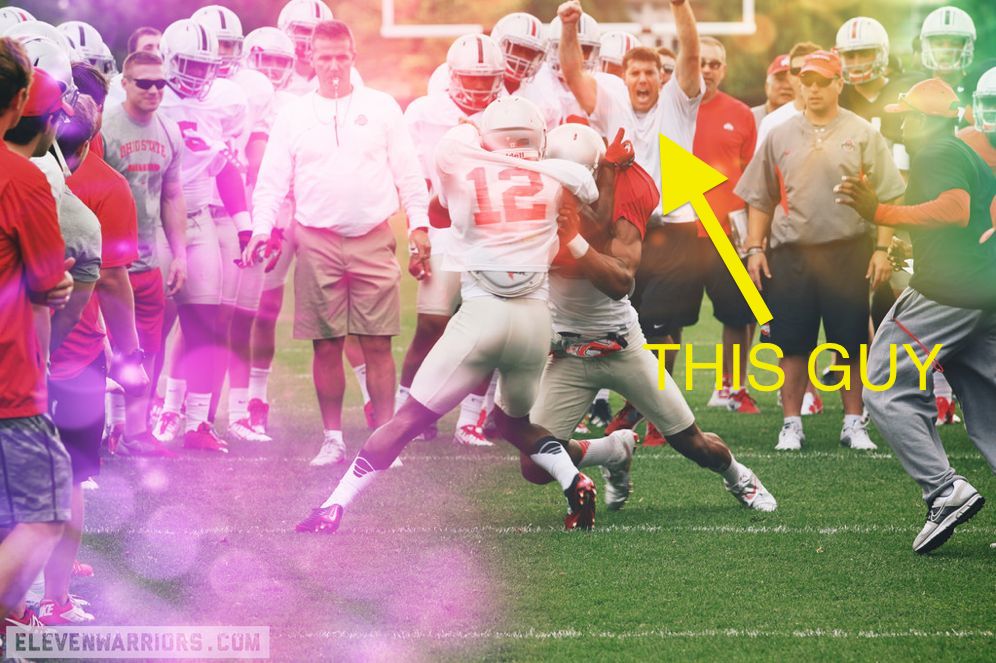 Last year the defense lost its Braxton Miller when Christian Bryant's ankle exploded on a play where he shouldn't have even been on the field. Unfortunately his backup wasn't Barrett or Jones-caliber. 
Pittsburgh Brown plugged that hole for reasons of extreme necessity, while coaches kept the shrink-wrap on Vonn Bell until the very end of the season. They probably regret that now, but Bell is back and he has exciting new backfield mates (who probably shouldn't have been redshirted) joining him. Linebackers appear to have been upgraded, Ryan Shazier aside. And the defensive line is as deep and good as it has ever been.
But the guy who will get the credit for Ohio State's inevitable 50-spot jump in pass defense (which would still put the Buckeyes in the bottom-half of FBS) will be new DC Chris Ash. He replaced Everett Withers, who took the blame for everything a promotion at James Madison that pays him almost a quarter of a million dollars less than he made in Columbus.
The Buckeye defense struggled for the second year in a row post-Jim Heacock, and while there have been some significant misses recruiting-wise, that comforting Silver Bullet scheme that took no prisoners was a large part of the missing link separating Tressel defenses from the 2013 team's anchor.
The strategy is now more aligned with how it was pre-Withers. It will be especially familiar to Luke Fickell, who doesn't deserve to be persona non grata on the defensive staff because he was one of the two guys in charge of those efficacious pre-Withers defenses.
But while the defense went south when Heacock left, it will return to form under Ash - and no one will ask so was it scheme or personnel because Ash will get the credit.
Situationally - we don't care who gets the credit. We just want that defense back.
---
The BackupS: ACCIDENTAL STARTERS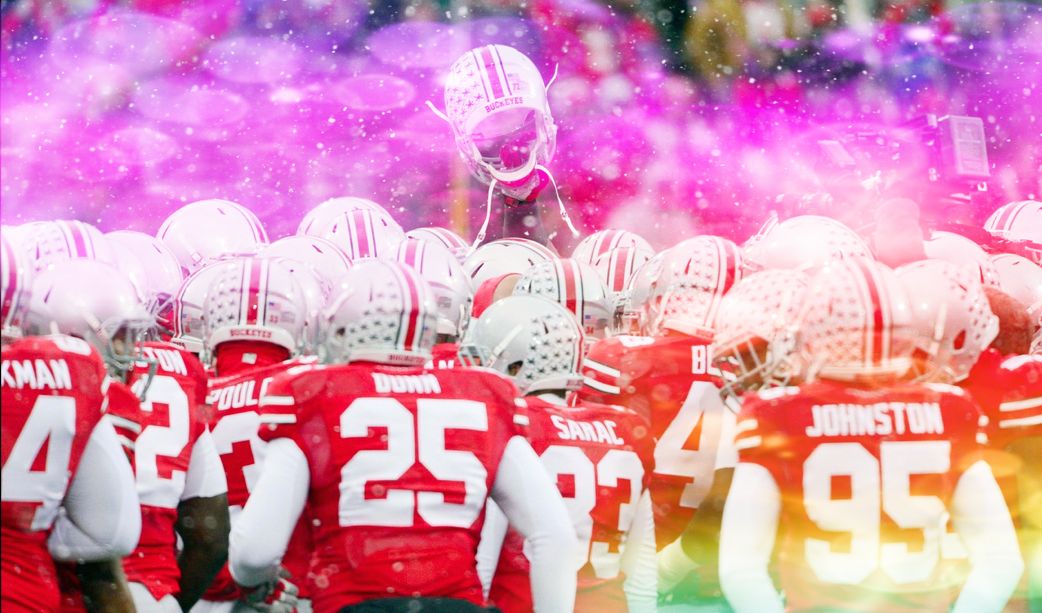 Twenty-two starters on a football team: Add kickers and special teams - which is stocked primarily with starters under this regime - and you've got over 50 guys who came to Ohio State with big dreams watching other guys live them from the sidelines.
J.T. Barrett didn't turn down LSU, Nebraska, Arizona, Baylor or any of his other offers so he could come watch Ohio State games from the bench. Cardale Jones didn't decline scholarships from Michigan, Penn State, Iowa, West Virginia and his other suitors so he could only play school in Columbus. They both came to play.
Jones committed to Jim Tressel and then Urban Meyer, with a year of prep school in between. His dream is right in his grasp, but Barrett appears to have a slight advantage. What that means is the competition to get in and stay on the field is exactly that: Competition. Both are acclimated to college, both understand what is required and both are quite talented.
You'll see both of them play this season. They have different skill sets: Jones is huge, while Barrett is closer to Braxton's size. Jones has the ridiculous arm, while Barrett is more accurate. Jones is run-first; Barrett is run-second - and that's why he's slightly ahead right now.
But they can both run. Also, there's been confusion over their names: Cardale is pronounced Cordale, which has produced some spelling variants, while J.T. underwent some changes as recently as yesterday:
Left: JT Barrett's OSU bio this morning. Right: His OSU bio now, i.e. "uh crap we should learn his name, guys." pic.twitter.com/fysOJqNPLW

— Ramzy Nasrallah (@ramzy) August 19, 2014
(Ohio State corrected Barrett's OSU bio after the Braxton announcement from John to Joe) (Good timing).
Last thing here - have you seen how many Plan A running backs and receivers the Buckeyes now have? Everything you've heard about them in practice has come at the receiving end of one of Ohio State's Plan B quarterbacks.
Barrett and Jones have been rolling with the ones and twos all year. There are no accidents.
---
The FORGOTTEN BRUTE: Adolphus Washington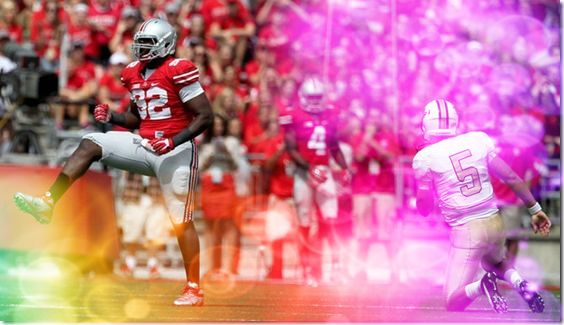 His nickname is Diesel. He had offers from Alabama, Texas, Notre Dame, Michigan, Michigan State, Texas A&M, Oregon, USC and plenty of other schools. He's the guy you're not hearing about among Ohio State's defensive line starters.
There are two reasons for that - one, Adolphus Washington was slowed down by a nagging groin injury last season and two, Joey Bosa showed up and gave his absence some cover. Michael Bennett and Noah Spence get a lot of attention, so the fact that Diesel is somehow the obscure one on that line should be terrifying for opposing teams.
Urban says Washington may be the key to unit, probably because rushing four effectively without having to blitz often is a nice way to get the defense off the field quickly. The Buckeyes now have 19 defensive linemen and will be rotating many of them in college-style in a significant departure from Mike Vrabel's NFLish tendencies of playing the same few guys for all four quarters.
That depth resulted in Washington moving inside from the end position, of which his new position coach - Larry Johnson, who's more of a technician than a screamer - said:
"You always want a three-tackler, a guy that's going to get a lot of one-on-ones and have an ability to rush the passer....so you have to take a skilled guy who's rushed on the edge and play inside and play as a guard position, it's going to give you a different edge on the inside. That's what I'm excited about. 
Adolphus next to the Big Ten's best defensive lineman with Bosa and Spence on the edges, backed by a legion of physically-gifted linemen receiving instruction better-suited for the college game: Prepare for unforgiving chaos in all the right backfields.
Diesel's now healthy, still terrifying and only a few weeks from being conspicuous once again.
---
THE BOURBON: CLASSIC BOURBON SOUR
There is a bourbon for every situation. Sometimes the spirits and events overlap, which means that where bourbon is concerned there can be more than one worthy choice.
This has been a football-heavy edition of The Situational series, but the pillar upon which it was originally constructed is and and will always be gambling bourbon. That pillar isn't going to abruptly disappear. It can't be academically ineligible and it doesn't have a labrum to tear. It might show up at the Grown & Sexy Lounge in Lorain - but that's okay. It won't get suspended.
Still, despite the relentless optimism you've been subjected to thus far, you still might be feeling...sour. Your sour attitude still ain't winnin' Ohio State any championships, son - but you could put it to good use with a little whiskey.
Whiskey Sours have been around since Socrates was coaching tee ball in Reno, but they're often mixed together in haste. Slow down and make a real cocktail for once in your life. Take your time, sourpuss. 
Here's what you'll need:
2 oz Buffalo Trace
1 Lemon
¾ oz Simple Syrup
1 Egg White
Bitters
Pour your bourbon and simple syrup (it only takes five minutes, dude - make it yourself) into a shaker. Separate the egg white into it, cut the lemon in half and squeeze everything in there - and don't worry about the seeds or the egg shell pieces you inevitably drop in.
Shake it to the Ohio State fight song of your choosing while imagining Barrett lifting the Heisman Trophy in a few months. Now add ice to the mixture and shake it again to the different Ohio State fight song of your choosing while imagining Washington equaling his season sack total from 2013 (2) against Navy prior to halftime.
Now strain your Classic Bourbon Sour into a handsome Eleven Warriors whiskey tumbler. It will have a nice head to it, upon which you can make drops of Bitters into a Block O with the help of a toothpick.
Drink it while making another one for your annoying, chirpy friend who is way too optimistic about Ohio State's QB situation. Situationally, this cocktail is perfect for you and your sour attitude.
You'll come around. This will help.
---
The Playoff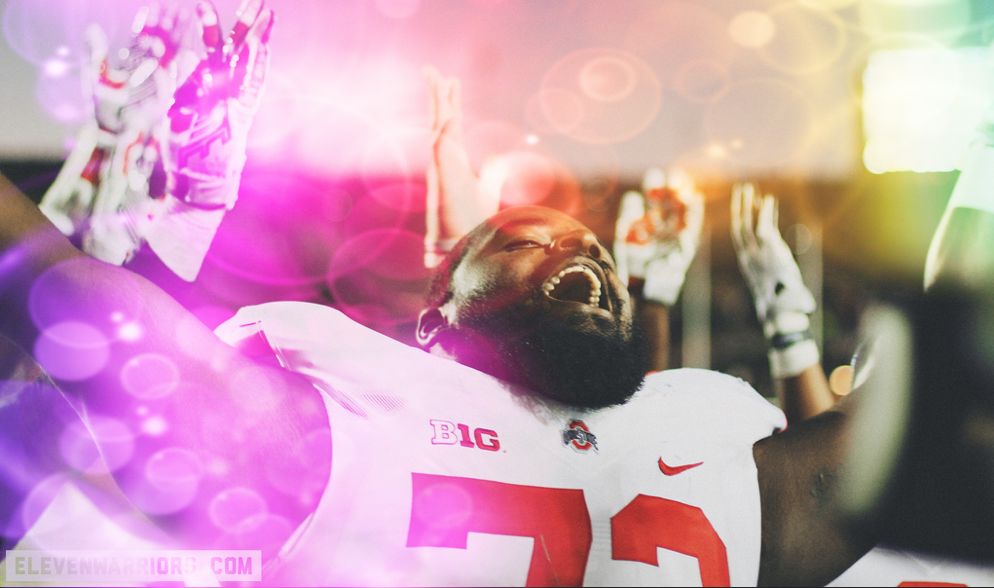 Normally the exit here is reserved for a video, but for this season - and for the first time in the history of college football - the Playoff is an actual playoff.
Ohio State football did not change its purpose because its starting quarterback - he of two consecutive Silver Football awards - is out for the season. It didn't change when the Buckeyes were shackled to a postseason ban in 2012 and it won't change as long as the state's flagship university fields a football team: Win all of the games. Every year. For Ohio.
You wouldn't want another coach, and you should be absolutely content with the players that will be running out of the tunnel behind him. There won't be any excuses, nor should there be any regrets. They were born for this. You live for this.
There are no moral victories - there never were. Go Bucks. Win all of the games.