Ohio State brought in the second-highest-ranked class in the country in 2021, and the Buckeyes are poised for more of the same in 2022.
In Part I of our two-part series looking at the 2022 cycle last week, we gave a rundown of the Buckeyes' top positional needs remaining in the class.
Today, in a similar fashion to Andrew Ellis' monthly Heat Check series, we offer up the top-10 remaining targets for the Buckeyes in the 2022 class.
Before we dive in, here is a quick look at Ohio State's group of 10 commitments, which currently tops 247Sports' team composite rankings with 225.91 points and an average player rating of 96.00, an unsustainable yet thoroughly impressive number.
Ohio State 2022 Commits

| NAME | POSITION | OVERALL RANKING | POSITION RANKING | DATE OF COMMITMENT |
| --- | --- | --- | --- | --- |
| JYAIRE BROWN | CB | 123 | 13 | APRIL 22, 2020 |
| TEGRA TSHABOLA | OT | 138 | 15 | APRIL 23, 2020 |
| C.J. HICKS | OLB | 38 | 3 | MAY 1, 2020 |
| GABE POWERS | OLB | 33 | 2 | AUGUST 1, 2020 |
| DASAN MCCULLOUGH | OLB | 54 | 6 (ATH) | AUGUST 18, 2020 |
| BENNETT CHRISTIAN | TE | 407 | 21 | SEPTEMBER 1, 2020 |
| BENJI GOSNELL | TE | 267 | 12 | NOVEMBER 4, 2020 |
| QUINN EWERS | QB | 1 | 1 | NOVEMBER 19, 2020 |
| CALEB BURTON | WR | 14 | 1 | NOVEMBER 23, 2020 |
| JAHEIM SINGLETARY | CB | 10 | 5 | JANUARY 2, 2021 |
The class is headlined by the No. 1 quarterback and No. 1 overall player (Quinn Ewers), the No. 1 receiver (Caleb Burton), the No. 5 cornerback and No. 10 overall player (Jaheim Singletary) and a couple of players (Gabe Powers, C.J. Hicks) who can make a run at becoming the No. 1 outside linebacker in America. Powers, after all, was the No. 1 OLB at one point in time before a small drop pushed him back to No. 2.
With some of the star power and talents on the following list, it looks like Ohio State has plenty of punch left to add to what could be the Buckeyes' best recruiting class yet.
1. Kiyaunta Goodwin, OT
We've been higher on Goodwin for longer than most and still probably are, though it seems like others are catching on. That brigade was started and led by Andrew, who had Goodwin as the No. 1 player on his initial 2022 big board.
The Buckeyes are lucky to have a stud OT just a few hours down the road when it's the No. 1 position of need, as they do with the Charlestown (Indiana) prospect.
OK. That's enough about Goodwin. Lord knows that Andrew and I have talked about him enough this week (something like 2,000-plus words just on him have been written) so we'll call it quits there. You can read up more on him here, here, here, oh and also here.
2. Zach Rice, OT
Ohio State has continued to find success in the DMV area in recent cycles, landing Mitchell Melton in 2020 and TreVeyon Henderson and Tyleik Williams in 2021. The Buckeyes were also a finalist for Demeioun Robinson last year, and they're in a good spot for 2022 linebacker Shawn Murphy as well.
However, as we stand here today, while Ohio State is in the thick of the race for the five-star offensive tackle Rice (in a public top eight and likely in a private top three), the Buckeyes could remain on the outside looking in as long as the dead period continues, since Rice has not made a visit.
He's the No. 21 overall player and No. 1 OT in the 2022 class.
3. Caden Curry, DT
In the same vein with Goodwin being nearby and his position being a huge priority, so goes it with the nation's No. 7 defensive tackle, Curry, who is also from Indiana (Center Grove High School).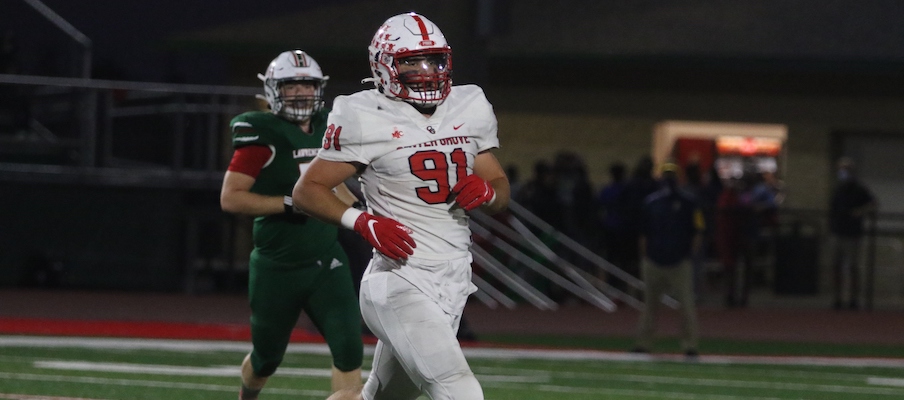 With defensive tackle being the No. 2 position of need (in our eyes), having Curry close by is a major plus. He wouldn't necessarily be a headlining splash like five-star Walter Nolen would be, but getting Curry would be a big boost for the Buckeyes' future at the 3-tech spot.
This is probably a recruitment that Ohio State wishes it had wrapped up by now or could wrap up soon, but Curry is doing his due diligence and wants to visit schools such as Alabama, Clemson and possibly Oregon, while Notre Dame is also fighting hard to keep him in-state.
4. Xavier Nwankpa, S
Nwankpa is the No. 76 overall player, No. 7 safety and No. 1 player in Iowa, and those first two rankings could arguably be higher. He might be the most complete safety in the country's 2022 cycle.
He is a physical, fast, pure safety prospect who would be ready to compete for a spot with the Buckeyes in year two. Clemson and LSU are making good pushes here, as are the Hawkeyes, but we like him to eventually wind up in Ohio State's class, backed by strong relationships with some of the defensive commits in the Buckeyes' 2022 group.
Las Vegas four-star Zion Branch, the No. 53 overall player and No. 3 safety, and California four-star Kamari Ramsey, the No. 100 overall player and No. 9 safety, are also top targets at the position.
5. Will Johnson, CB
6. Denver Harris, CB
Here is a disclaimer before you read up on the No. 5 and No. 6 prospects: Johnson set a commitment date of Feb. 28, and it's looking highly likely that he will be staying in-state and pledging to the Wolverines. Harris left the Buckeyes out of his top four, and it appears as if they won't be making their way onto his final schools of consideration.
February 19, 2021
Top 4... pic.twitter.com/jdlvUFflSc

— Denver Harris (@DenvoBandz) February 21, 2021
On Johnson: At one point in December, rumblings began to emerge that the five-star Detroit cornerback was nearing a decision. But in talking with those close to his recruitment, it was made clear to us that Johnson was not going to be making a decision any time over those next few weeks, and that proved to be true.
Michigan announced the hirings of defensive coordinator Mike Macdonald on Jan. 17 and cornerbacks coach Maurice Linguist on Jan. 19. Once those hires were official, they each (almost) instantly hopped on the phone with the Johnsons to start building relationships, and the Johnsons were willing to give it time to see how those relationships develop. And for Johnson to ask plenty of questions and find out their vision and path for his development and usage in their system. It looks like that was enough time for Michigan to keep the star in-state cornerback prospect at home.
On Harris: Kerry Coombs and Co. had been working on Harris for a while, with Coombs comparing him to fellow Texas five-star cornerback Jeff Okudah:
"I'm aware of the Okudah comparison, and he's an amazing player so I'm glad to be thought of as that caliber of player," Harris told Eleven Warriors in the spring. "Coach Coombs mentioned a couple of guys he's coached and let me know that he definitely knows what he sees and could see me following in their footsteps."
However, Steve Sarkisian countered by making Harris a priority in his first two months on the job, and cornerbacks coach Terry Joseph has done so as well.
Johnson and Harris are both five-star cornerbacks ranked in the top 10 overall, and neither has officially made a commitment yet. We're keeping them this high on the list for now, but if they commit elsewhere, other cornerback targets for the Buckeyes include Texas' Austin Jordan, St. Louis' Toriano Pride (who was recently Crystal Ball'd to Clemson) and Georgia's Ryan Turner.
Jordan's speed and athleticism has the Buckeyes' staff very intrigued, and he recently put Ohio State in his top 10. Turner, meanwhile, has started to make a Jordan Hancock-esque rise and could soon soar up the rankings.
7. Enai White, DE
Landing the five-star weakside defensive end out of Philadelphia's Imhotep Institute would transcend Ohio State's defensive end class between the 2021 and 2022 cycles from truly great to absurd levels. That's especially if the Buckeyes can work around the extension of the dead period to eventually land five-star Washington defensive end J.T. Tuimoloau.
White, the No. 29 overall player and No. 2 WDE in 2022, would be one of the headliners of a defensive class that is trending toward becoming a monster haul with three borderline five-star linebackers and at least one five-star cornerback (maybe two in the end).
8. Damari Alston, RB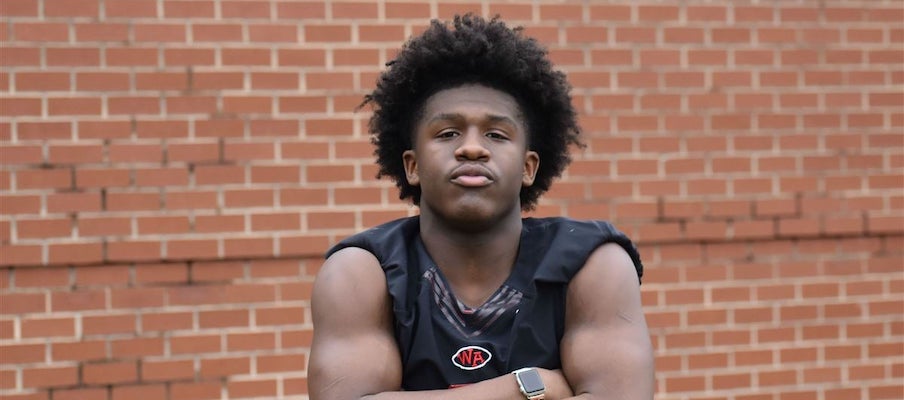 We could go with any of the three names here of Alston, Nicholas Singleton or Dallan Hayden. All three are high up on the Buckeyes' board, and we're not entirely sure who holds the No. 1 spot. But we believe it is the Woodward Academy (Georgia) four-star Alston, who we think would have cemented himself in the class already if visits had been allowed.
Alston will try to get up to Columbus as soon as he can, he has told Eleven Warriors. He had been hoping to come up for the Buckeyes' spring game or for the weekend of April 16-18 (those two weekends may coincide) to meet up with some of Ohio State's 2022 commits like C.J. Hicks and Dasan McCullough, but Ohio State will no longer be able to host visitors at the spring game after the dead period was extended through the end of May.
9. Jalon Walker, LB
Ohio State is extremely high on Walker, probably a bit higher than it is on Shawn Murphy even though Murphy is a five-star, as a potential fourth linebacker in the 2022 class.
Walker, who could earn a fifth star by the end of the cycle, is currently the No. 46 overall player and No. 4 OLB in the class. I think Murphy is likelier to join the class at this point, and that would still be a tremendous pull.
10. Kojo Antwi, WR
As I wrote last week, I do think it's going to be hard for Ohio State to pull the Lambert (Georgia) four-star receiver out of the South with the Bulldogs and Bama prioritizing him. But we will see what Brian Hartline and area recruiter Al Washington (and obviously Ryan Day) have in store with this shaping up to be a fun battle between Ohio State and the SEC.
You could easily and arguably have Chandler (Arizona) four-star receiver Kyion Grayes in this spot, but I think the Buckeyes might be a tad higher on Antwi. You can count Grayes as No. 11, as it could probably go either way.