The Hurry-Up is your nightly dose of updates from the Ohio State football recruiting trail, keeping tabs on the latest from commits and targets from around the country.
Background of priority OT Goodwin
If you listen to Chris Vaughn, the trainer and guardian of 6-foot-8, 305-pound offensive tackle Kiyaunta Goodwin, some of the four-star 2022 standout's top factors in picking a school seem to match up pretty perfectly with what Ohio State offers.
"A school that can develop him, one that has a proven track record of developing guys with his size and stature – you see 6-4, 6-5 tackles, but he's 6-8. Who knows? Maybe he winds up at 6-9," Vaughn told Eleven Warriors last week. "Working with bigger guys with his length and has some proven success. And a school that has great defensive linemen so that you can compete every day in practice. He's a big competitor, and he wants to be the best. He wants to play against the best so he can be better. He understands that iron sharpens iron. 
"So schools like Ohio State who have that, like with Chase Young and the Bosa brothers and all the guys who come out of there, the opportunity to block guys like that in practice is intriguing. Because you're blocking better guys in practice than you are in games. He understands that. He's up for a challenge."
Vaughn knows Goodwin better than most, and he's heavily involved in his recruitment. He met Goodwin when Goodwin was just 8 years old when Goodwin's mom, Kimberly, walked up to the 6-foot-4 Vaughn – a former receiver at Notre Dame and Louisville who also spent a season with the New Orleans Saints – and asked Vaughn to train her son. Vaughn remembers the 6-foot-3 Kimberly being able to look directly into his eyes, and he asked, "Your son's a big kid, right?"
Sure enough, she pointed him out, and Goodwin stood head and shoulders above every other player on the field.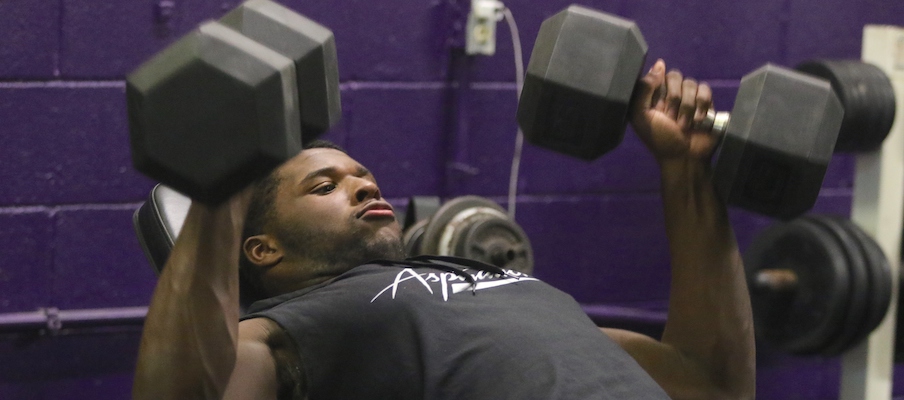 He's always been a big kid, but that came to a breaking point this past winter. Goodwin had let himself go and had shot up to 425 pounds by the time January hit, and both he and Vaughn knew he needed a massive change in his life in order to reach anywhere close to his ceiling as a football player.
So Goodwin put in the work. Hard work.
Goodwin lives with Vaughn in Charlestown, Indiana, and Vaughn hired someone to put together a nutrition plan and cook all of his food. And when it came to workouts, Goodwin worked his ass off.
He would work out from 5-7 a.m., often doing two hours of cardio on an elliptical machine. From 9-10:30 a.m., he gets a lift in with weights. From 1-2:30 p.m., he does positional work with offensive linemen. From 4-6 p.m. in the fall, he goes to team practice. From 8-9:30 p.m., it's back to Vaughn's Aspirations Fitness Institution gym in Louisville for another cardio session.
Goodwin does that Monday-Saturday, with Sunday his only off day.
The result after months of putting in those workout weeks? How about losing 125 pounds and getting down to less than 300 pounds by July 16? That was the first time Goodwin had dropped below three bills since before he was 12 years old. 
How it started : How its going pic.twitter.com/48zDlMZQmW

— Kiyaunta Goodwin (@K_Goodwin2022) October 7, 2020
"Super proud of him for making that choice to really go after it," Vaughn said. "A lot of people in life are scared to take chances and go after what it is they're dreaming of. He's all in, and I expect him to stay all in. His motivation is to try and get stronger through his consistency and his competitive habits. He's head strong, and he's got what it takes."
Goodwin was recently quoted as saying he believes he's "the hardest worker in America," and when we met with him last week he didn't back off of that claim.
"There's no one else in the country who wakes up at 5:30 every morning, works out, goes to practice and then when they leave practice, go work out again," Goodwin said. "I do that Monday through Saturday. And there's also no other guys in the summer working out every day from 5:00 to 10:00 at night. I feel like I'm the best, and I feel like I'm outworking everybody. When other people think they've caught up, I'm already past that point."
He feels as if that could prepare him for when he reaches a college football program.
"To be honest, maybe the players that are in college are used to waking up at 5:30, but the freshmen aren't. But I will be," Goodwin said. "It's like training camp all the time for me, it never ends, and it's never gonna end. I might take two weeks off after football season, but then it's right back to the grind. No one's gonna catch up to me. I can't give them the chance. It was a lot of weight to lose. I'll never get back to that point."
"He's a blue-collar guy"
For Goodwin, a behemoth of a recruit who's still underrated at No. 197 overall, No. 23 at offensive tackle and No. 5 in Indiana, it's at this gym in Louisville where he's developed that strong work ethic that's guided him to his physical transformation. It's not a fancy gym with fancy equipment. It's more akin to a boxing gym, a gritty, tough-as-nails environment where the noise bounces off the walls and the intensity ratchets up in a heartbeat.
"That's what he's cut from," Vaughn said. "That's where he grew up. It's a culture thing. It's a culture fit. It's a work mentality. He's a blue-collar guy."
STEPS, STRIKE, TRACKS on repeat pic.twitter.com/QciqnyaoNs

— Kiyaunta Goodwin (@K_Goodwin2022) September 30, 2020
So, when looking for where he wants to spend the 3-4 years of his life post-high school and post-Aspirations, Goodwin is looking for a similar feel. This gym has become his home away from home, and he has a great home life with Vaughn – a strong mentor to a lot of kids and athletes in the area who has trained elite players such as Rondale Moore, Wan'Dale Robinson, Stanford's Stephon Herron Jr., Duke's Tahj Rice and Illinois' Nate Hobbs.
Goodwin – who isn't shy about smiling and saying that he runs a 4.9 in the 40, a 4.49 in the shuttle ("Not a 4.5, not a 4.6, not a 4.9, a 4.49"), has 12-inch hands and 36-inch arms – has 55 offers, and he has been offered by basically every powerhouse program in the country except for Clemson, which has shown recent interest and is likely to offer at some point soon. From Ohio State, LSU, Alabama and Georgia to Michigan, Oregon, Oklahoma and Texas, Goodwin is going to have the choice to pick wherever he wants to go to school.
"I want a place where I'm always gonna have connections"
When it comes to Ohio State, the things that Vaughn says are factors are things that Goodwin mirrors when asked a similar question, and he feels like Greg Studrawa and the Buckeyes have made him a priority.
"Pros in practice. That's important for me, and they've had a bunch of pros," Goodwin said. "I talk to Coach Stud probably once every two days. They recruit me hard enough to the point where it's not overwhelming. They got it perfect, right on the line. 
"He's a really good coach. We've had Zoom meetings and all types of stuff, and he's a really good dude. We've sat there and watched Joey, Nick and Chase. Even though that's ends, but that's a really big selling point that Ohio State has. You had three top picks. That's very important. That's a really good selling point for offensive linemen. We've watched film and drills on feet, hands, the back, the posture. I can definitely use some of his stuff. I use a little bit from every coach because I want someone who's gonna be able to teach me and help me. If I can't get better from you, then I don't want you to coach me. I love being coached, I wanna be coached, I wanna be the best, and if you can't coach me then there's no point in me playing for you."
All of those things matter a lot. Critical importance for him. But when it comes down to the most important aspect of his recruitment, Goodwin says something unique that I haven't heard from any of the recruits I've spoken with in the past.
"I want a place that feels like home," Goodwin said. "I want a place where I'm always gonna have connections and have a place where I feel like I can always come back to. A place where I feel like I could raise my kids there one day because I love that place that much. I'm looking for more than just a place for four years. I'm looking for a place where I could maybe spend the rest of my life at. I want a coaching staff that has connections that are bigger than football. If I make it to the league or not, I want connections that I can always have and a program that I can always go back to."