Ohio State brought in the second-highest ranked class in the country in 2021, and the Buckeyes are poised for more of the same in 2022.
In Part I of our two-part series looking at the 2022 cycle this week, we are taking a look at the Buckeyes' top positional needs remaining in the class. On Sunday, we will have the top-10 overall targets left in the cycle (similar to Andrew's monthly Heat Check series).
With a group of 10 commitments, Ohio State currently holds the nation's No. 1 class with 225.91 points and an average player rating of 96.00, an unsustainable yet thoroughly impressive number.
Ohio State 2022 Commits

| NAME | POSITION | OVERALL RANKING | POSITION RANKING | DATE OF COMMITMENT |
| --- | --- | --- | --- | --- |
| JYAIRE BROWN | CB | 123 | 13 | APRIL 22, 2020 |
| TEGRA TSHABOLA | OT | 138 | 15 | APRIL 23, 2020 |
| C.J. HICKS | OLB | 38 | 3 | MAY 1, 2020 |
| GABE POWERS | OLB | 33 | 2 | AUGUST 1, 2020 |
| DASAN MCCULLOUGH | OLB | 54 | 6 (ATH) | AUGUST 18, 2020 |
| BENNETT CHRISTIAN | TE | 407 | 21 | SEPTEMBER 1, 2020 |
| BENJI GOSNELL | TE | 267 | 12 | NOVEMBER 4, 2020 |
| QUINN EWERS | QB | 1 | 1 | NOVEMBER 19, 2020 |
| CALEB BURTON | WR | 14 | 1 | NOVEMBER 23, 2020 |
| JAHEIM SINGLETARY | CB | 10 | 5 | JANUARY 2, 2021 |
The class is headlined by the No. 1 quarterback and No. 1 overall player (Quinn Ewers), the No. 1 receiver (Caleb Burton), the No. 5 cornerback and No. 10 overall player (Jaheim Singletary) and a couple of players (Gabe Powers, C.J. Hicks) who can make a run at becoming the No. 1 outside linebacker in America. Powers, after all, was the No. 1 OLB at one point in time before a small drop pushed him back to No. 2.
Yet even though the Buckeyes have gathered together an impressive set of 10 commits for the cycle and might take a bit smaller of a class this time around, there are plenty of holes that still need to be filled.
Below is the ranking, from No. 1 to No. 11, of the most important positions for the Buckeyes to fill throughout the next 10 months before the early signing period in mid-December, which has essentially become the real national signing day.*
*Though if the dead period continues getting extended and visits pushed back or canceled all together, I do wonder if we see more prospects elect to wait until the February period to sign.
Keep in mind that the following ranking assumes the major caveat that Ohio State will sign each of the 10 players it already has committed in the class.
1. Offensive tackle
This one feels pretty obvious and fairly unquestioned.
Ohio State could have lessened the importance of landing a can't-miss, five-star prospect at offensive tackle in the 2021 class, but Alabama came from behind (with some forces out of the Buckeyes' control) to steal JC Latham. That became the biggest miss of the Ryan Day era thus far.
And that's now created a can't-lose recruiting battle for another can't-miss prospect in Kiyaunta Goodwin. Andrew hit it on the head pretty hard in his analysis on the Goodwin recruitment, so I don't have too much else to add other than agreeing that it's likely an Ohio State, Alabama and Clemson battle there for now.
Thayer Munford will be gone after the 2021 season, and it's likely Nicholas Petit-Frere will be too if he follows up with another season like he had last fall.
Paris Johnson Jr. and Donovan Jackson both have the potential to be some of the best offensive linemen Ohio State has ever had, and both are likely to be multi-year starters – Johnson as the eventual left tackle; Jackson at guard, though he has the versatility to play tackle as well.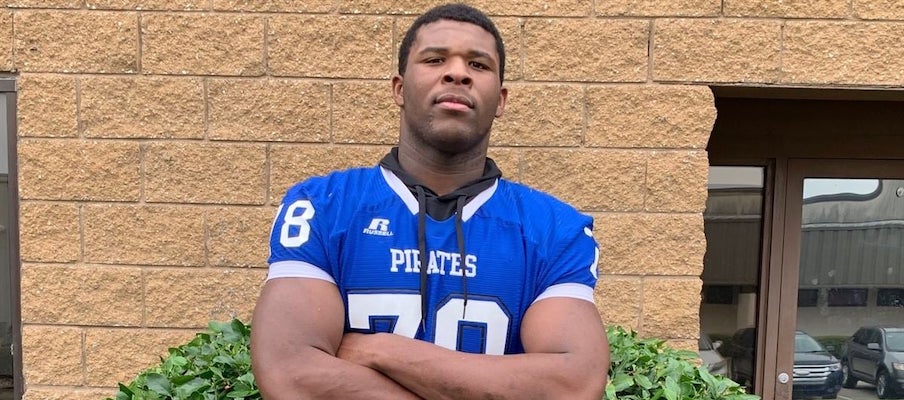 Beyond them, there lie question marks and developmental prospects who could still be a ways away from being reliable contributors at the tackle spot.
Ohio State is in the top eight for Zach Rice, and we've been told the Buckeyes are running in a private top-three for him. But as of yet, there doesn't feel like there is a ton of optimism there, and the same goes for Rice's good friend and fellow Virginia five-star Gunner Givens (though the Ohio ties for Givens do help).
Tegra Tshabola is already in the fold, though he's continuing to look and feel as if he might push inside to a guard spot. Aliou Bah is a player Ohio State is gaining some momentum for, but Bah is still probably going to have to visit. If the Buckeyes can strike it rich with Goodwin, it alleviates some worries here.
In a perfect world: Kiyaunta Goodwin, Zach Rice, Tegra Tshabola
More likely: Goodwin, Tshabola, Aliou Bah
2. Defensive tackle
Haskell Garrett and Antwuan Jackson are gone after this season. Jerron Cage and Taron Vincent won't be far behind, and behind all of those guys it gets thin.
Ty Hamilton was praised by the staff during the summer heading into his true freshman season, and even though that didn't materialize into much in 2020 there is some excitement about his potential. Mike Hall has a chance to become one of the best 3-techs the Buckeyes have ever had, and Tyleik Williams could be a hidden gem of the 2021 class. Those three guys are why defensive tackle slides down to the No. 2 slot – there's reason for optimism, but Larry Johnson and Co. need to stack onto the 2021 cycle by hitting on a couple big ones in 2022.
Walter Nolen would be a massive home run, and tacking Caden Curry onto him would be a grand slam. It doesn't feel like the Buckeyes will have enough to land Nolen, but getting Curry would be big-time and I feel good about their shot there. It's good timing that defensive tackle is such a pressing need in this class and there happens to be a top-85 overall player and top-10 DT in the area in Curry. (Which can also be said with the Goodwin situation.)
After that, there's a bevy of guys listed as defensive tackles that are intriguing such as Mykell Williams and Christen Miller. And there are some guys listed as defensive ends who the staff might see more as inside guys.
In a perfect world: Caden Curry, Walter Nolen
More likely: Curry, Christen Miller
3. Safety
There is no shortage of talent at safety on scholarship right now who are likely to still be on the Buckeyes' two-deep in the fall of 2022. Ronnie Hickman, Lathan Ransom, Jantzen Dunn and Kourt Williams (depending on where the staff elects to use him) are the top contenders to play the one-high safety once Josh Proctor and Marcus Hooker are gone.
Ohio State brought in a couple other defensive backs who have the versatility to possibly play safety in Andre Turrentine and Denzel Burke, though I think Turrentine is destined to be a slot corner and Burke destined to be a corner as well.
The Buckeyes don't need multiple safeties in this class, but it's imperative for them to lock in a big talent as a pure safety. They have zeroed in on Iowa's Xavier Nwankpa, the No. 76 overall player and No. 7 safety in America, who has the talent and will physically be in a position to compete for a starting spot in his second year on campus if he continues his current trajectory.
In a perfect world: Xavier Nwankpa
More likely: Nwankpa
4. Cornerback
This would have been slotted at No. 1 in the 2021 cycle, but Ohio State addressed that in a massive, massive way by landing the best cornerback duo in one class since getting Jeff Okudah and Shaun Wade in 2017.
With Jakailin Johnson and Jordan Hancock, the Buckeyes have their lockdown outside cornerback pair for the future, though we believe the plan is to start Hancock in the slot and work him outside. After that, the Buckeyes padded their numbers with Burke and Turrentine (again, likely a slot corner), but re-stockpiling the room is imperative for Kerry Coombs and Matt Barnes. Especially after the misses in the 2019 and 2020 classes.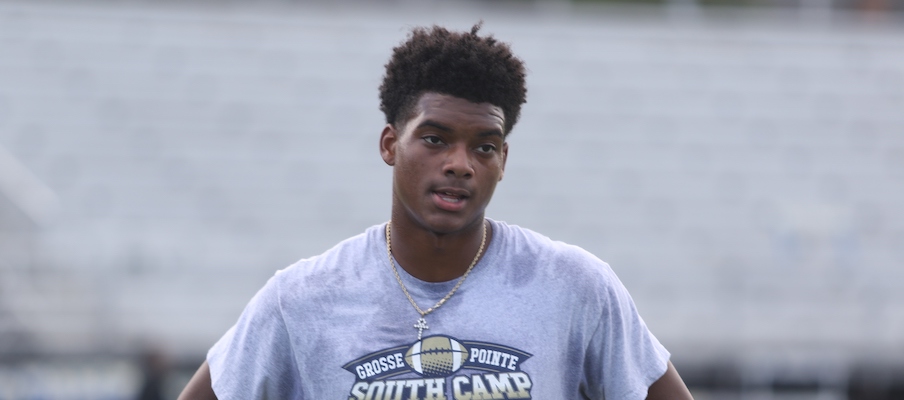 It's looking like this could be a big-time haul at cornerback with five-star talents across the board. However, the longer the Will Johnson recruitment goes, the less likely it feels that he will leave his home state of Michigan. Denver Harris has never been to campus, and Texas is making a concerted push there. And Domani Jackson is committed to USC. It will be hard for Ohio State to pull one or two of them from their home state, but it's still very early and the dead period still might be lifted.
Despite there being speculation that Jyaire Brown's commitment may not be standing on the firmest of grounds, and despite several schools that will be looking to pry Jaheim Singletary away, we are obviously keeping them in the class for now. I will predict Ohio State landing either Johnson or Harris, though I'm not very confident in that and it's based on Coombs' reputation and track record of developing successful NFL corners. Don't stray too far away from St. Louis' Toriano Pride or recent Floridian offer Ryan Turner as up-and-comers too.
In a perfect world: Will Johnson, Denver Harris, Jaheim Singletary, Jyaire Brown
More likely: Singletary, Brown, Harris/Johnson
5. Interior offensive line
Another area where developmental prospects along the offensive line have opened up this spot be of more importance. However, because Jackson, Luke Wypler, Harry Miller, Enokk Vimahi and a plethora of others are in place, that diminishes the stress of landing a big haul here in this class.
Landing a big fish, or at least a highly regarded one, still makes the interior offensive line (and especially guard) a slightly bigger priority than the next two on this list.
In a perfect world: Earnest Greene
More likely: Demon Moore
6. Defensive end
This comes in at No. 6 with the major caveat that we believe Ohio State will eventually land five-star J.T. Tuimoloau in 2021.
That would give the Buckeyes the best defensive line haul in the country headlined by five-stars Tuimoloau and Jack Sawyer, backed by Hall and Williams on the interior. And if the Buckeyes land Tuimoloau, then getting players like Enai White and Kenyatta Jackson would take defensive end from absurdly great in the 2021 and 2022 cycles into an even higher stratosphere.
In a perfect world: Enai White, Kenyatta Jackson
More likely: White, Jackson
7. Running back
Tony Alford came back swinging for the fences in 2021 and abruptly knocked it out of the park. He landed the nation's No. 1 running back in TreVeyon Henderson, one of the most-anticipated running back recruits in program history, to pair with the nation's No. 2 all-purpose back in Evan Pryor.
Henderson and Pryor are two pieces of a running back room that's heavy on numbers for the 2021 season. With them in place, plus Steele Chambers, Marcus Crowley and Miyan Williams, that puts less emphasis on landing a huge haul at running back in 2022.
It remains to be seen whether or not Ohio State will look to land two running backs in this class, but we believe it is gunning for just one. The Buckeyes could look to land a second running back later on in the process if one of Chambers, Crowley or Williams elects to transfer, but they may have look at an in-state player such as Cincinnati La Salle's Gi'Bran Payne at that point.
In a perfect world: Nicholas Singleton or Damari Alston or Dallan Hayden
More likely: Alston
8. Linebacker
Linebacker finds its way toward the bottom of the list for the factor we mentioned above. This was probably No. 1 or No. 2 in positional focus in this cycle, but Al Washington and the Buckeyes have addressed that in a major way with the commitments of Powers, Hicks and Dasan McCullough.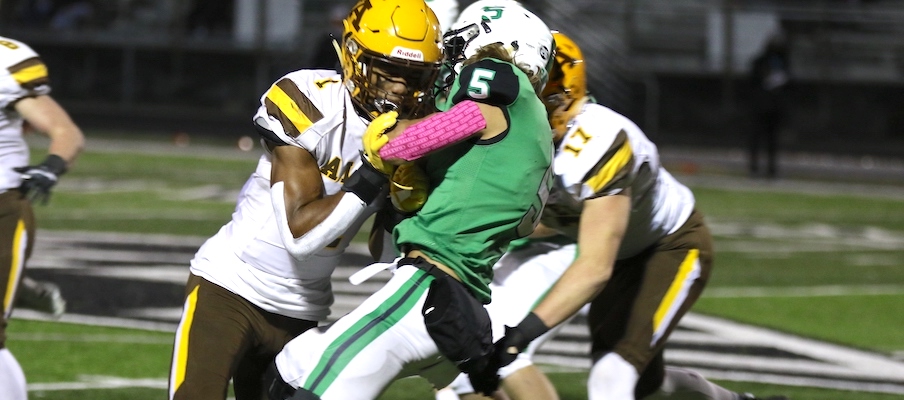 However, there are still things to be hashed out here, and you could possibly argue that linebacker should still be a bit higher on this list. The main reason is because of Powers and McCullough.
While Hicks seems destined to be a Sam linebacker, with their height and build it's possible (and very often talked about) that Powers and/or McCullough could wind up transitioning to defensive end down the line in their college careers.
"I'm an above-average height for linebacker," McCullough noted in a recent interview with Eleven Warriors.
And there's an outside shot he isn't quite done growing, and Powers could certainly transition that way as well. So Ohio State is still searching for at least one more linebacker in the class and possibly two.
In a perfect world: Gabe Powers, C.J. Hicks, Dasan McCullough, Jalon Walker, Shawn Murphy
More likely: Powers, Hicks, McCullough, Murphy
9. Wide receiver
We put receiver in the spot below linebacker for a couple reasons. One reason is for what we just discussed in that Ohio State will need to add some insurance, for lack of a better term, in case Powers or McCullough wind up with their hands in the dirt.
But the main reasoning is because the Buckeyes already have five-star Burton in the fold, and he is stacking onto what is the most impressive array of offensive skill position players from the 2020 and 2021 classes.
Julian Fleming, Jaxon Smith-Njigba, Gee Scott Jr., Emeka Egbuka, Jayden Ballard and Marvin Harrison Jr. will all still be around when the 2022 recruits make their way to the program. You always want to continue adding elite talents (and Brian Hartline will), but with the group the Buckeyes will have for the foreseeable future, that makes receiver less of a priority.
In a perfect world: Caleb Burton, Kojo Antwi, Kyion Grayes
More likely: Burton, Grayes
10. Tight end
After two straight cycles in 2020 and 2021 of looking to land two tight ends, the Buckeyes got that settled early in the 2022 class.
Benji Gosnell has a chance to compete for a spot on the two-deep as a freshman against incumbents Cade Stover, Joe Royer and Sam Hart, each of whom has virtually no college experience at the position heading into this season. Bennett Christian, more of a blocking tight end, is likely a year away from competing for a spot on the two-deep as he becomes more of a complete tight end. But the Buckeyes got the two guys they wanted early in the cycle and put the position to rest.
In a perfect world: Benji Gosnell, Bennett Christian
More likely: Gosnell, Christian
11. Quarterback
Just as offensive tackle is far and away the No. 1 position of need, quarterback is far and away the least-important position of need based on who the Buckeyes have in the class right now.
If he holds his current composite rating of 1.000, Ewers will become just the sixth recruit in the history of the modern recruiting era to have a perfect rating, and he will become the highest-ranked signee in Ohio State history.
So the position is set at the top. Ryan Day is always going to push to have four scholarship quarterbacks, so perhaps he looks to add a second quarterback such as in-state prospects Drew Allar or Chase Harrison. But the more likely route, assuming that at least one of the trio of C.J. Stroud, Jack Miller and Kyle McCord transfers out before Ewers arrives on campus, is bringing in a transfer quarterback to pair with Ewers.
In a perfect world: Quinn Ewers
More likely: Ewers
Did we get it right? Were we way off base? Let us know what you think Ohio State's hierarchy of positional needs should be for the rest of the class.