Athletic left tackle prospects aren't easy to find.
Ohio State's 2022 class is ranked No. 1 in the nation and has a healthy lead over Georgia and the rest of the competition. Ryan Day has the nation's top overall prospect in Quinn Ewers, yet another five-star receiver from the state of Texas, and a five-star cornerback from the Sunshine State. Needless to say, things are going quite well on the trail. 
But the Buckeyes absolutely need to land a future left tackle this time around. Alabama coming from behind and swiping IMG Academy five-star J.C. Latham was arguably the biggest recruiting loss we've seen since Day took over in Columbus. Big, long, and athletic linemen like Latham and Paris Johnson Jr. are hard to come by. There are plenty of 6-foot-6 tackles out there, but how many of them have the footwork to protect a quarterback's blind side? 
Greg Studrawa has taken some heat over the years. Truth be told, much of that has been unwarranted. Ohio State's offensive line consistently plays at a high level and is usually one of the best in the nation. Over the last three recruiting cycles (2019-2021), the Buckeyes have signed 12 offensive linemen. That includes a trio of five-stars in Harry Miller, Paris Johnson Jr., and Donovan Jackson. Four have been of the four-star variety with the remaining five being three-star signees. 
It's absolutely true that Ohio State has missed on some high-end targets like Latham and Tristan Leigh, but I just don't see any reason for too much concern at this point; especially given the play on the field. Most of the complaints have revolved around signing a bit too many developmental prospects. That's a fair critique as we wait and see what becomes of guys like Jakob James and Trey Leroux. But at one time Dawand Jones was viewed in a similar light, and that one has worked out quite well.
The focus for the Class of 2022 has long been on Indiana's Kiyaunta Goodwin. We've had the 6-foot-8, 290-pounder at the top of our board ever since its debut, and that's not going to change anytime soon. His hometown of Charlestown is located in the southern part of the Hoosier State less than 20 miles from Louisville.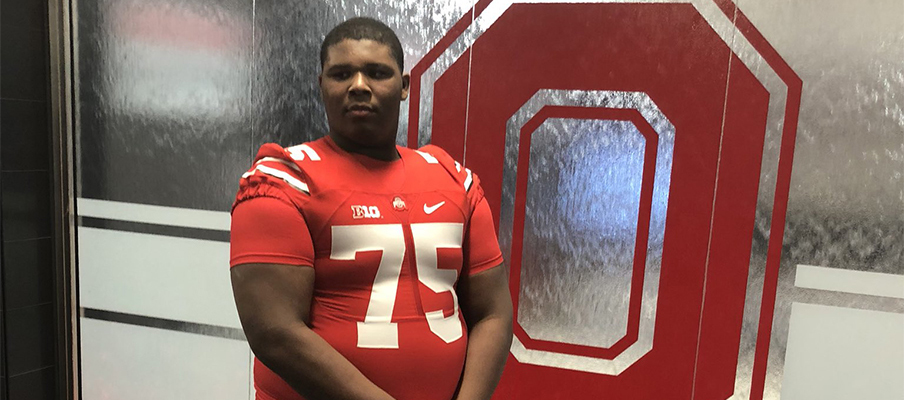 Ohio State, Alabama, Clemson, and the rest of the SEC all have their eyes on the nation's No. 10 tackle. His stock has been on the rise after he completely changed his once 425-pound body. That stock should continue to soar for a prospect who already has the look of an NFL tackle.
Goodwin put together a fine performance at this past weekend's Best of the Midwest Combine where he showed why he's being pursued by all of the nation's power programs. He visited Columbus multiple times back in 2018 and grew up idolizing Orlando Pace. Ryan Day and Greg Studrawa have built a strong relationship, and that's part of the reason the Buckeyes have been viewed as the early favorite. 
Alabama and Clemson are the other heavy hitters in what's sure to be a slugfest all the way until Goodwin signs with his school of choice. Ohio State has a future left tackle in Paris Johnson Jr., and he's likely to take over that role in 2022. Nick Saban just signed the nation's top two tackles with Latham and Texas's Tommy Brockermeyer; both of whom are ranked in the top-five regardless of position and were a part of what was probably the best offensive line haul in recent history. 
If the Goodwin recruitment does turn into a Buckeyes vs. Tide battle, the depth chart certainly looks more favorable in Columbus. But it's impossible to ignore what Nick Saban has done in terms of sending offensive linemen to the NFL. Kyle Flood spent two seasons coaching the position in Tuscaloosa before joining Steve Sarkisian in Austin. Former Jacksonville Jaguars' head coach Doug Marrone has since taken over for the Tide.
Just as it has for many others, the extended dead period has taken its toll on Goodwin's recruitment. He wants to visit several schools and get the opportunity to meet with coaching staffs in person. We should know more this week as to whether or not a quiet period could be implemented in April. That would allow Goodwin and other prospects to finally check out some college campuses. 
Ryan Day's top target is considering a number of different options. Though he doesn't appear too close to a decision, Ohio State, Alabama, Clemson, and perhaps Kentucky seem to be in the top group. In addition to the national powers, Goodwin has a strong relationship with Wildcat assistant Vince Marrow and is close with Wan'Dale Robinson. He and Robinson have trained together at the Aspirations Fitness Institute in the Louisville area. 
But this is a recruitment that may very well come down to Ohio State and Alabama. The Tide got the best of the Buckeyes on the field last month and on the trail with the J.C. Latham recruitment. There aren't too many must-get prospects these days, but Kiyaunta Goodwin certainly appears to be just that as Ohio State looks to fend off the Crimson Tide for its top 2022 target.