If you every wondered how a basketball game that pitted a team of Buckeyes against another team of Buckeyes would look, wait no longer.
Well, continue waiting if you want to actually see the game played. Regardless, Eleven Warriors beat reporters Colin Hass-Hill and Dan Hope put together rosters for a hypothetical game between two teams filled with Ohio State players. 
The rules are simple.
Each team has five starters and a sixth man.
Colin won the coin flip and chose to have the first pick in the Ohio State football draft, giving Dan the first pick in the Ohio State basketball draft. We used a snake draft format, which gave Dan and Colin back-to-back picks for everything but the first and last selections. 
We drafted as if these teams will face each other, meaning we accounted for positional need. Therefore, this shouldn't be viewed as a definitive ranking of each player on the roster. 
For this hypothetical scrimmage, we're only taking into account how the teams would match up right now, meaning we didn't consider future contributions in our selections. Since Justice Sueing isn't eligible this season – and because we wanted six players on each team – we didn't make him available to be picked. 
Let's get into the draft.
The Picks
1. Dan: Kaleb Wesson
Reasoning: Selecting Wesson with the first pick would have been a no-brainer for either one of us. He was the Buckeyes' clear-cut best player last season – the difference without him for the games that he was suspended, and in games in which he ran into foul trouble, was stark – and is still the only true big man on their roster with any collegiate playing experience. Ohio State's offense runs through Wesson, and landing him at the top of the draft means a clear advantage for that team in the post – regardless of how the rest of the draft played out.
2. Colin: E.J. Liddell
3. Colin: Luther Muhammad
Reasoning: Picking Liddell second overall, even though he hasn't played a single college game, didn't take too much thought. For a freshman, he's incredibly polished with a multi-level scoring package, a 6-foot-6, 236-pound frame that gives him positional versatility and a penchant for blocking shots. I wasn't sure which players would be available later in the draft, so his ability to play multiple positions clinched the Liddell decision.
Choosing between Muhammad and a couple other options proved to be much more difficult. I also considered DJ Carton and Andre Wesson but opted to go with Muhammad due to his impact on both ends of the court and potential for a second-year breakout. He slumped heavily in the second half of his freshman season, but he showed enough for me to feel comfortable taking him with the third pick. I ultimately decided against Carton because I knew CJ Walker would be available to me later in the draft.
4. Dan: DJ Carton
5. Dan: Andre Wesson
Reasoning: Carton was the No. 2 player on my draft board behind Kaleb Wesson, so I'm thrilled to land him with the fourth pick. The athletic point guard from Iowa offers an ability to drive to the basket and score that Ohio State hasn't had from his position since D'Angelo Russell, and I expect him to be an immediate difference-maker on the court for the Buckeyes this season. 
Using the fifth pick to draft Andre Wesson wasn't a particularly difficult choice either. The lone scholarship senior on this year's team, the older Wesson has improved significantly to become one of the Buckeyes' most well-rounded players, providing solid play on both ends of the floor as well as team leadership. He'll pair up with his younger brother in the frontcourt and play power forward on this team.
6. Colin: CJ Walker
7. Colin: Kyle Young
Reasoning: I couldn't wait any longer to take a point guard. Had I opted to bypass Walker and hope he falls to the 10th pick, Dan almost certainly would have snagged him with either the eighth or ninth pick, leaving me without a point guard. The Florida State transfer will run the offense and could be a value pick, considering he might open the 2019-20 season starting at point guard ahead of Carton. 
Though I debated on taking Young, Duane Washington Jr. or Musa Jallow with the seventh pick, I settled on Young due to his ability to play center. He's more of a power forward, but Ohio State doesn't have a ton of options at the five, and I need size to attempt to counteract Kaleb Wesson inside. Young offers an athletic big man who can run the floor and win on the glass. He has arguably the toughest task on my team, though, since he's the de facto center.
8. Dan: Duane Washington Jr.
9. Dan: Justin Ahrens
Reasoning: Washington is a streaky player who needs to improve his shot selection offensively and become stronger defensively, but he's flashed the potential to be a dynamic scorer out of the backcourt while also bringing noticeable confidence and swagger to the floor. Carton and Washington could be Ohio State's most dangerous backcourt combination offensively in 2019-20, and they team up as starting guards in this scenario.
The ninth pick was easily the most difficult pick I had to make. Alonzo Gaffney's length and athleticism give him upside that was tough to pass up here, and Musa Jallow's defensive ability arguably would have made the best fit with the rest of my starting lineup. Ahrens' 29-point performance against Iowa last season, however, stuck with me. He has to improve on the defensive end, but he might be the best shooter on the team and will help spread the floor for the Wessons inside and Carton's driving.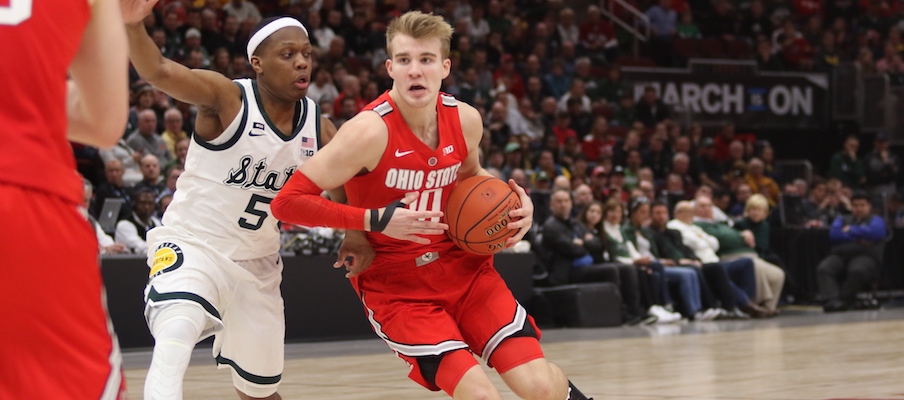 10. Colin: Musa Jallow
11. Colin: Alonzo Gaffney
Reasoning: Considering my team lacks a bit of shooting, I would have preferred to have Washington or Ahrens slide to my final two picks, but having Jallow and Gaffney available made for a pair of easy selections. Jallow will slide in as my team's starting small forward. He's far from a prolific scorer, so his contributions will trend toward the defensive end, transition offense and rebounding.
Even though Dan's team has Kaleb Wesson, I went with Gaffney as my sixth man over Ibrahima Diallo. Nobody on the roster is taller than Diallo, but he's also the rawest talent on the team. Gaffney also has plenty of room until he hits his ceiling, but he's more likely to be an early contributor. He has freaky athleticism for a 6-foot-9, 198-pound forward, giving my team another bouncy forward.
12. Dan: Ibrahima Diallo
Reasoning: Diallo is the pick by default here as the only scholarship player left on the board, but I'm happy to have him on my squad. He's the only other true big man on the roster aside from Wesson, which could make him an important contributor off the bench, and he should be able to affect shots immediately on the defensive end even if his offensive game takes some time to come around.
Lineup Comparison
| Dan's Team | Position | Colin's Team |
| --- | --- | --- |
| DJ CARTON (4) | PG | CJ WALKER (6) |
| DUANE WASHINGTON JR. (8) | SG | LUTHER MUHAMMAD (3) |
| JUSTIN AHRENS (9) | SF | MUSA JALLOW (10) |
| ANDRE WESSON (5) | PF | E.J. LIDDELL (2) |
| KALEB WESSON (1) | C | KYLE YOUNG (7) |
| IBRAHIMA DIALLO (12) | SIXTH MAN | ALONZO GAFFNEY (11) |
The Case For Each Team
Team Dan
Kaleb Wesson was the Buckeyes' leading scorer and rebounder last season, and there simply isn't another player on the team right now who can do all that he can do from the center position. Having the best individual player on the floor often makes a huge difference in basketball, and Wesson – along with Diallo off the bench – gives his team a clear advantage in the paint.
Pairing Wesson with Carton could give this team the two best offensive players on the floor, and they should cause problems for opposing defenses in pick-and-roll situations with Wesson's post presence and Carton's driving ability. Pairing them with Washington and Ahrens, arguably the two best shooters on Ohio State's roster, will only make this team more dangerous offensively.
Perimeter defense will likely be this team's weakness, but Andre Wesson will be a leader on that end of the floor – all the while he is also the team's second-leading returning scorer, behind only his younger brother, from last season. Kaleb Wesson and Diallo will make it difficult for an opponent who lacks size to get good looks inside, and the opponent's lack of outside shooters will allow the rest of the defense to play closer to the basket.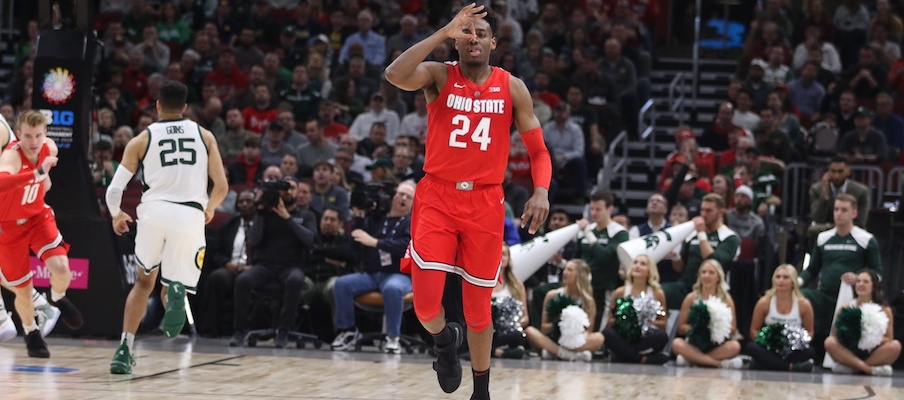 Team Colin
With an experience edge at point guard and the athleticism advantage at just about every other position, pace will be important. My team needs to push the ball as often as possible, get points in transition and wear out Kaleb Wesson. With all six players able to get out and run, that's a priority, and it should lead to buckets.
The half-court offense has to run through a combination of Walker, Liddell and Muhammad, with Young and Jallow contributing on the periphery. That might not sound as imposing as a Kaleb Wesson-led offense surrounded by shooters, but it's important to dig into the defensive matchups.
Both Washington and Ahrens had enough offensive skill to play more as freshmen, but their lack of defensive prowess contributed to them sitting on the bench in key moments. Those wings combined with Carton, a true freshman, could spell danger for Dan's team, giving an opening for Walker and Muhammad to take advantage on the perimeter.
In order to maximize the half-court offense, Young and Jallow have to contribute by knocking down open shots more often than they have in their first two seasons as Buckeyes. Young has to keep Kaleb Wesson moving in order to tire the big man out and potentially get him into foul trouble.
Then, there's Liddell. He has a tough matchup, likely defended by Andre Wesson, but he has enough of a multi-faceted game to do damage. 
On defense, everything starts with containing Kaleb Wesson. Dan's offense is simple: Wesson at center, Carton as a threat to drive and a trio of shooters surrounding the 3-point line. Defending that group? Far from simple. But that's where having Walker's toughness, Muhammad's pedigree, Jallow's athleticism, Liddell's versatility and Young's grittiness comes into play. Plus, Gaffney offers another tall, lanky wing not lacking for athleticism.
Cast Your Vote