The past three years of Andre Wesson's basketball story read like any feel-good novel.
It began on April 13, 2016 with the unzipping of his black jacket, which revealed a scarlet t-shirt featuring Ohio State's logo. He had chosen to play for the Buckeyes, spurning Chris Holtmann's Butler program and others to join his home state's flagship program that his father, Keith, once played for. Prior to the announcement at his school, Wesson hadn't even told his younger brother, Kaleb, who was already committed to the program.
In his first year at Ohio State, Wesson came off the bench, averaging just 2.3 points and 1.2 rebounds in 11.2 minutes per game. As a sophomore, in Holtmann's first year leading the Buckeyes, his minutes modestly increased to 18.5 per game. Last year, as a junior, he entered the starting lineup, managing career highs of 8.6 points and 4.1 rebounds in 30 minutes per game.
Wesson hasn't made any wild leaps in productivity. Nothing that has made him an All-Big Ten performer. He doesn't have a flamboyant highlight reel – unless you consider him getting three teeth knocked out of his mouth during a game and returning to action three minutes later flashy. Instead, he has steadily improved, with the arrow tracking the trajectory of his collegiate career always pointing up, now headed toward the peak.
Welcome to the final chapter.
The Buckeyes recently began summer workouts, marking the beginning of Wesson's final offseason in college.
"I haven't stopped and thought about it yet," Wesson said on Thursday. "Just hearing you say it is kind of crazy. But it's went fast. I've been enjoying my three years so far here, and I'm looking forward to the fourth."
Wesson will be the resident elder statesman in the locker room during the 2019-20 season. He's the only remaining player on the team who played during Thad Matta's run as head coach, and he'll be the lone scholarship senior on an underclassman-laden team.
"I don't have a ring, and that's something I really want is a ring, whether that's Big Ten, regular season, tournament, anything."– Andre Wesson on one of his 2019-20 goals
The Buckeyes had seven underclassmen last year, and they'll have seven freshmen and sophomores again this season. But this time, they won't have three seniors. It'll be just Wesson and walk-on Danny Hummer walking out of the tunnel with their families on Senior Night in March.
"I try to keep my youth. I try to a little bit," Wesson said. "But yeah, definitely being the older guy is kind of weird."
Though he would never describe himself as a vocal leader, and he laughed at the thought of even comparing his personality to that of Jae'Sean Tate, Wesson will have a host of younger players on the team looking up to him.
Four freshmen – including forwards Alonzo Gaffney and E.J. Liddell – will enter the program, along with Cal transfer Justice Sueing, who will sit out the 2019-20 season before potentially slotting into the starting small forward spot Wesson will eventually vacate. Rising sophomores Luther Muhammad, Duane Washington Jr. and Justin Ahrens return, too.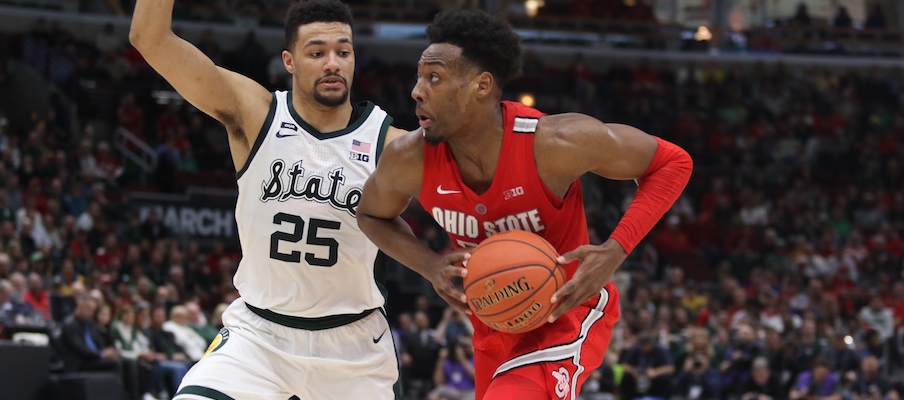 Wesson has already had discussions with multiple Ohio State coaches about the need for him to step into an even larger leadership role as a senior, though none of the conversations surprised him.
"I kind of already knew that going in," Wesson said. "My personality is not kind of like a rah-rah guy. I mean, if I need to, I can do that for the team. But, I mean, I'm more of a laid-back guy. And just showing guys how to work, that's the best way I know how to lead."
The leadership by example begins this summer.
Wesson spent a sizable portion of last offseason working on improving his playmaking abilities and preparing to play starter-level minutes.
As he begins his final collegiate summer of preparation, he already has a number in mind to target. After hitting 33.6 percent of his 3-pointers as a junior, he's targeting an improvement in his stroke that allows him to shoot 40 percent from beyond the arc as a senior.
While Wesson said he can score from the low block or in the mid-range, he sees where the game is trending.
"I mean, I just feel like that's what the NBA's going more toward and professional basketball is going more toward is shooting the 3, and they want people who can shoot upper 30's, 40 percent," Wesson said.
Forty percent might be teetering on out of reach considering he hasn't shot better than the 35.1 percent he made as a freshman, but an improvement in his spot-up ability would turn Wesson into a more valuable asset. His versatility, defense and toughness have always been apparent, and his skill development has continually taken him closer to his ceiling as a basketball player.
Wesson, who Holtmann called "crucial," will attempt in the coming months to continue that trend, which he'll pair with increasing veteran responsibility.
"I think he's got to take the next step as a player and as a leader, and we've challenged him in that area," Holtmann said. "I think that is a significant area for us. Listen, we all know that this is a critical summer for us in a lot of ways because we have a young team. I am excited about the fact that we have Andre, who has certainly got some experience and has showed some ability to do some things."
If that happens, Wesson could help take Ohio State to his ultimate goal, which he said has been on his mind "a lot, especially this last year."
"I don't have a ring, and that's something I really want is a ring, whether that's Big Ten, regular season, tournament, anything," Wesson said. "That's definitely been on the back of my mind."